Superior Industries: Progress But Challenges Remain
Summary
Today, we take a deeper look at aluminum wheel maker Superior Industries International, Inc., which is facing challenges on multiple fronts.
With little growth prospects as inflation eats into perceived pent-up demand – but reasonable valuations – the recent beneficial owner buying from another PE firm merited a deeper dive.
A full investment analysis follows in the paragraphs below.
Looking for a portfolio of ideas like this one? Members of The Insiders Forum get exclusive access to our subscriber-only portfolios. Learn More »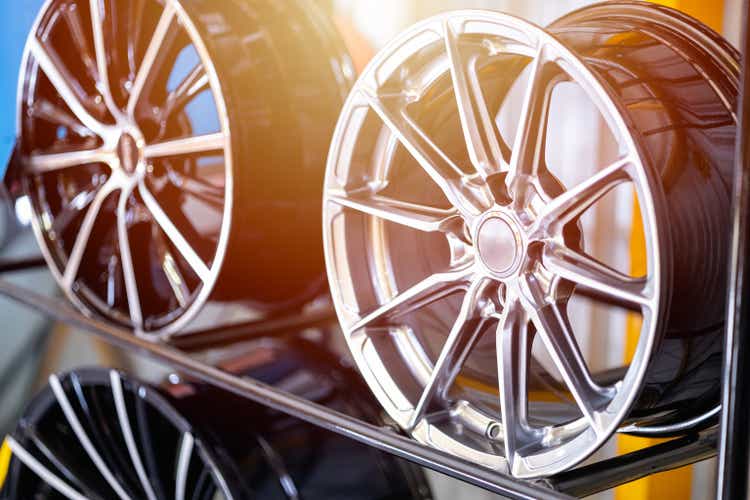 Americans will put up with anything provided it doesn't block traffic." - Dan Rather
Today, we take a much deeper look at a small cap concern that has the target of buyout speculation and has seen recent purchases from a beneficial owner in its stock. That said, the company is facing increasing challenges on many fronts. An analysis follows below.
Company Overview
Superior Industries International, Inc. (NYSE:SUP) is a Southfield, Michigan-based designer and manufacturer of aluminum wheels for sales to OEMs in North America and Europe, as well as the European aftermarket. The company's wheels are produced at four manufacturing facilities in Mexico, three in Poland, and one in Germany, which employ most of its 7,700 full-time workers. Superior was founded in 1957, began manufacturing chrome wheels in 1968 - aluminum wheels for OEMs in 1973 - and went public in 1969, raising gross proceeds of $4 million at $4.17 a share, after giving effect to two stock splits. Shares of SUP now trade at around $3.50 a share, translating to an approximate market cap of $100 million.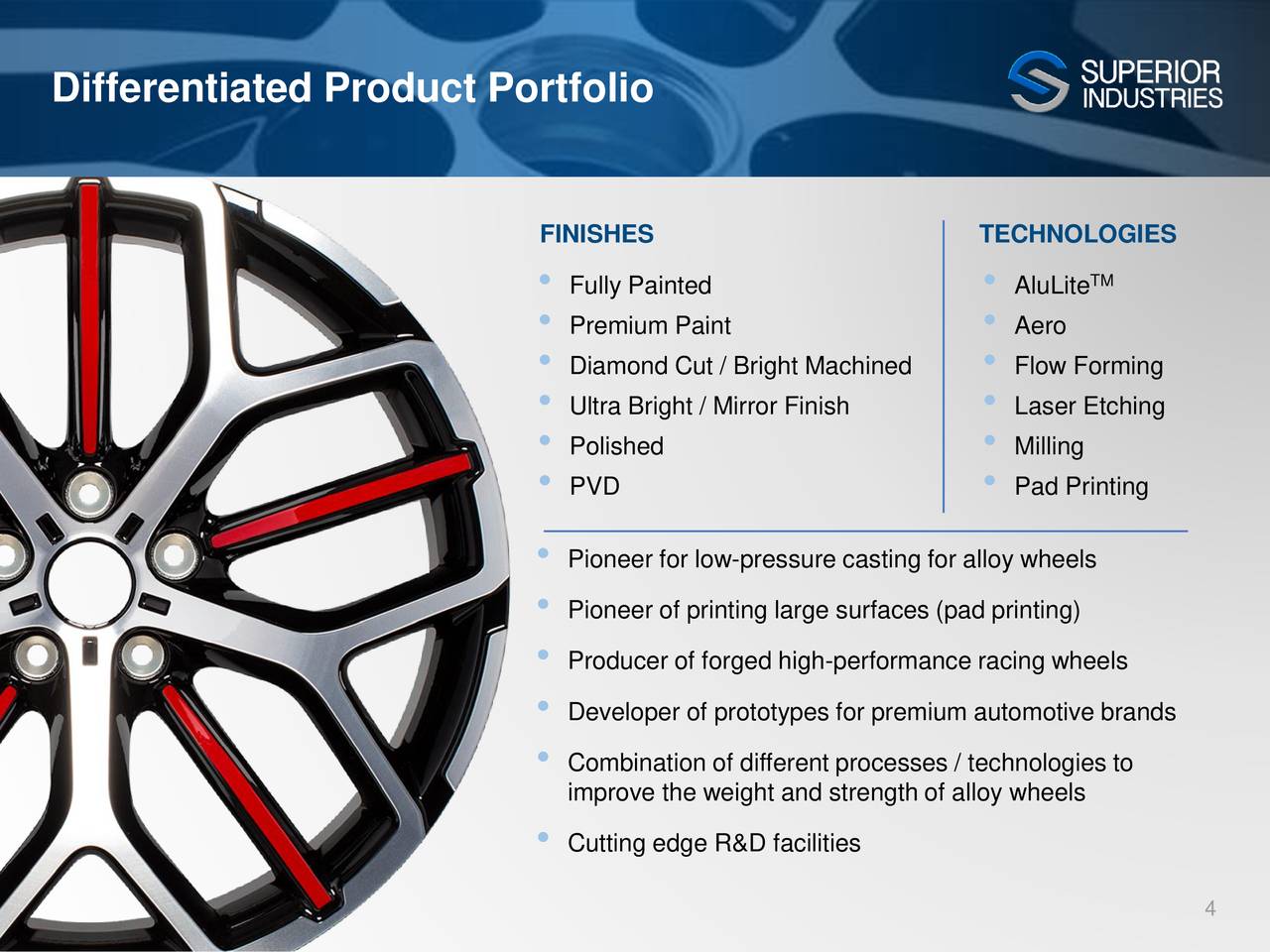 Background
Anchored by multi-decade relationships with nearly all the significant automotive OEMs, Superior is a major player in the wheel business, garnering a 14% share in the markets in which it operated in FY22 - namely, North America and Western and Central Europe. Contracts with these customers allow the company to pass on changes in aluminum prices. As such, fluctuations in underlying commodity prices do not directly impact its profitability.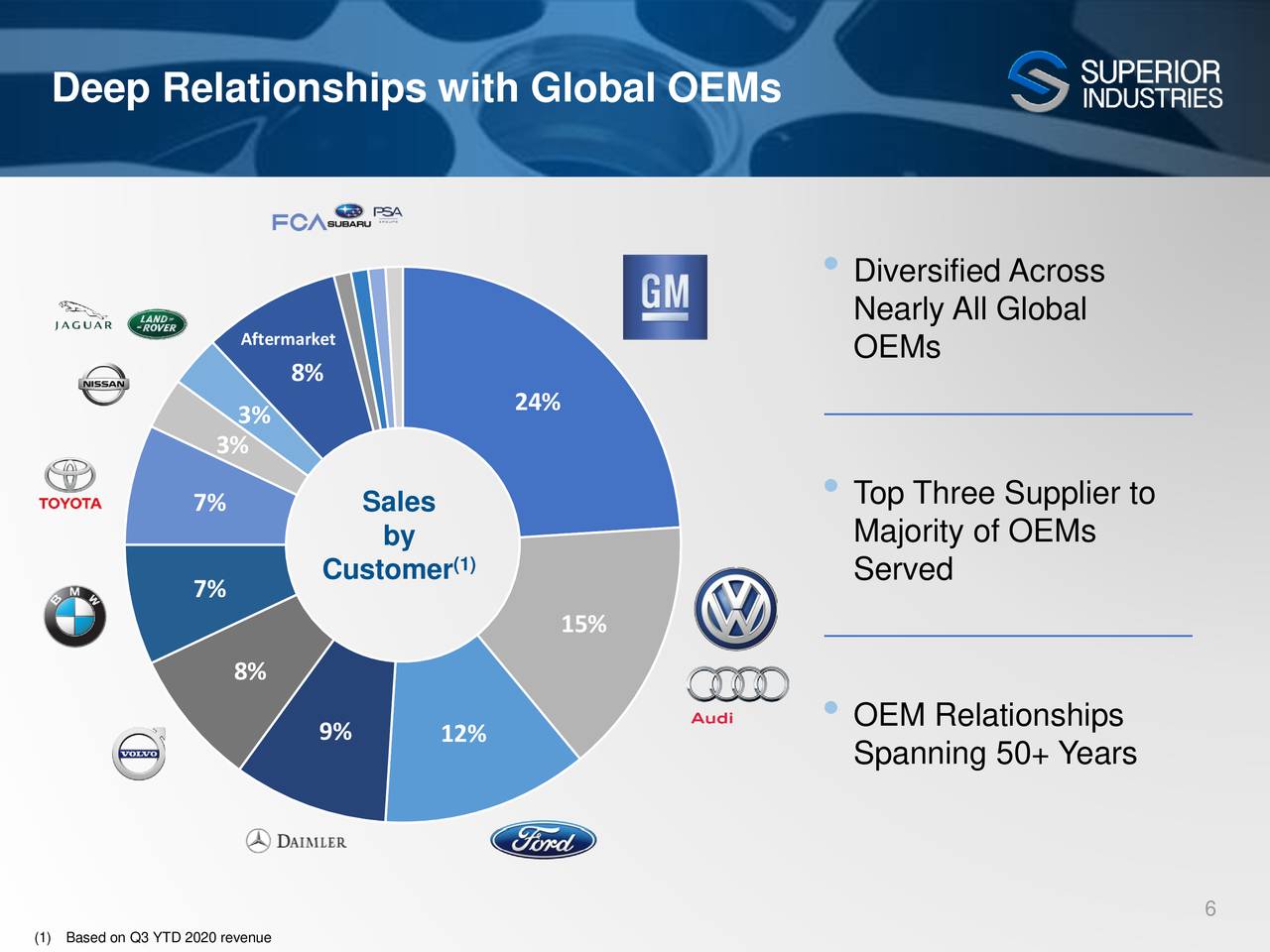 Superior was primarily (~80%) domestically focused until 2017, when it purchased (at that time) Europe's third-largest aluminum wheel supplier, Uniwheels AG, for $706.7 million - a transaction mostly financed by debt. Owing to this acquisition, net sales more than doubled from $732.7 million in FY16 to $1.50 billion in FY18. In the year prior to the pandemic, net sales fell 9% due to a UAW labor strike at General Motors (GM), a weaker Euro, and lower aluminum prices - the latter of which was passed on to customers; thus, lowering its top line. The pandemic then cratered automobile production, which fell in Superior's markets from 34.1 million units in FY19 to 26.6 million units in FY20. The pandemic also birthed supply chain disruptions, creating a shortage of semiconductor chips and electric vehicle batteries that kept the supply of new automobiles depressed in FY21, falling further to 25.8 million.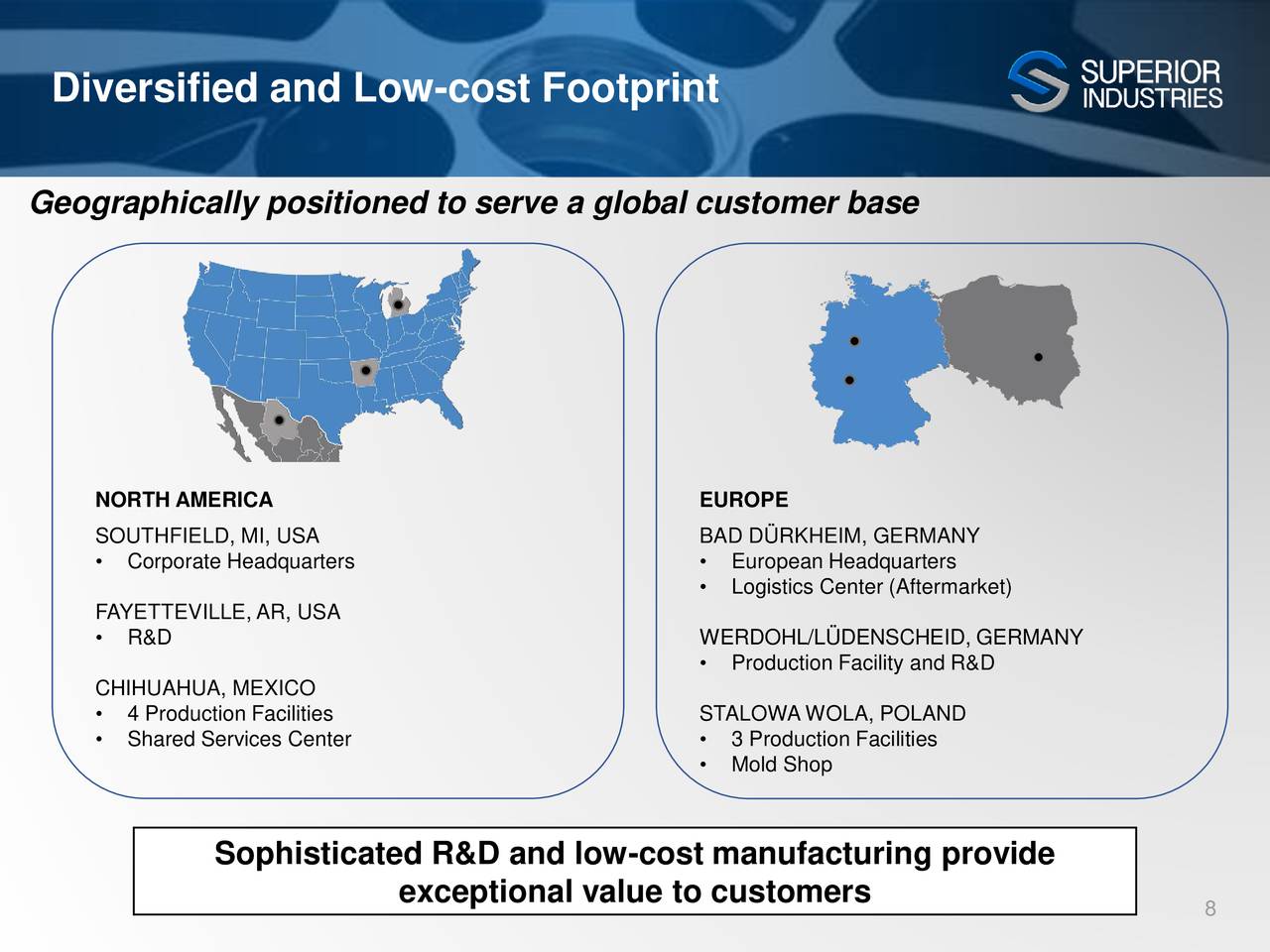 As such, Superior's wheel units shipped fell from 20.99 million in FY18 to 16.12 million in FY21. Value-added sales, which backs out the value of aluminum and services provided by outsourced service providers from net sales, fell from $797.2 million in FY18 to $753.7 million in FY21. These developments at the top line impacted profitability metrics with Adj. EBITDA falling from $185.6 million (23.3% of value-added sales) in FY18 to $166.7 million (22.1%) in FY21 and non-GAAP earnings declining from a loss of $0.05 per share to a loss of $0.71 per share over the same period. To the investment community, each year brought additional disappointment versus initial expectations. Unsurprisingly, its stock has traded lower ever since the announcement of the Uniwheels acquisition ($27.10 a share), falling below $1 a share during the pandemic selloff in March 2020 and finishing FY21 at $4.48 per share.
Buyout Interest
Except for a brief rally to $6 after the company's 2Q22 financial report, shares of SUP stock spent most of 2022 between the mid-$3 and mid-$4 area. Then, approximately one week after it reported 3Q22 earnings, Superior was courted in a press release by private equity firm M2 Capital Partners out of the UK, who stated its intention to make an offer of $5.85 a share for the company on November 11, 2022, up 36% from its previous close of $4.29 a share. Management issued several statements in the subsequent weeks, stating that M2 had not filed documentation required to commence such action; however, when a formal offer was received, the board would review it.
Fourth Quarter Results
Owing to many existential events beyond management's control, FY22 was the first year in many where results somewhat resembled its outlook at the onset. On March 2, 2023, Superior reported 4Q22 earnings of $0.21 a share (non-GAAP), and Adj. EBITDA of $57.5 million on value-added sales of $218.0 million versus a loss of $0.40 a share (non-GAAP) and Adj. EBITDA of $37.4 million on value-added sales of $188.7 million, representing significant improvements in all three metrics. Given the nearly absent following on the Street, there was no consensus versus which to measure.
As for FY22, total units shipped was the only metric that significantly missed the mark versus initial guidance, down 3% from FY21 to 15.59 million and off 9% from a range midpoint forecast of 17.05 million. Otherwise, FY22 value-added sales (adjusted for currency) at $816.5 million was better than the $810.0 million originally forecasted; FY22 Adj. EBITDA of $194.2 million (25.2% of value-added sales, up from 22.1%) was 11% better than initial guide of $175.0 million; and cash flow from operations was $152.6 million, exceeding management's first estimate of $127.5 million by 20%. These results were primarily a function of excellent product mix, with customers spending more on premium wheels, reflected in a 14% increase versus FY21 in content per wheel - essentially value-added sales adjusted for currency divided by the number of wheels shipped - to $52.61.
First Quarter Results
Superior posted its first quarter numbers on May 4th. They showed that business continues to remain challenged. The company posted a GAAP loss of 49 cents a share, expectations were for a loss of a penny. Net loss was $4 million for the quarter compared to a profit of $10 million in 1Q2021. It should be noted that the company took a $5.3 million charge in the quarter for 'workforce reduction' that will lower annual operating costs by $4.4 million going forward. This is part of a larger initiative to reduce manufacturing and administrative overhead by $10 million annually.
Revenue fell five percent on a year-over-year basis to $381 million, more than $30 million light of expectations. It should be noted that aluminum costs passed through to Superior's customers fell $33 million or by 16% compared to the prior year period. The company also grew year-on-year FX-adjusted value-added sales by 9% and content per wheel by 16%.
Management had this to say about forward guidance:
Macroeconomic uncertainty in the second half of 2023 is increasing. As a result, Superior is narrowing its full year 2023 outlook as follows:
| | |
| --- | --- |
| | FY 2023 Outlook |
| Unit Shipments | 15.0 - 15.8 million |
| Net Sales | $1.55 - $1.63 billion |
| Value-Added Sales | $755 - $795 million |
| Adjusted EBITDA | $170 - $190 million |
| Cash Flow from Operations | $110 - $130 million |
| Capital Expenditures | ~$65 million |
Balance Sheet & Analyst Commentary
Also occurring in 4Q22 was the refinancing of the company's term loan, which extended its maturity from 2024 to 2028 but with substantially higher interest rates, resulting in a $20 million increase in interest payments in FY23. Furthermore, the loan will come due in early 2025 if Superior does not repay or extend the maturity on $232.4 million of notes due in June 2025 beyond the maturity of the term loan, as well as $222.8 million of 9% redeemable preferred stock with a redemption date of September 2025 and a (current) redemption price of $300 million.
At the end of the first quarter, Superior had funded debt of $650 million and Net Debt, a Non-GAAP financial measure, of $421 million. That net debt was down $56 million from 1Q2022 and now is at the lowest level in five years for the company. Free cash flow was $17 million for the first quarter compared to $22 million in the first quarter of 2022.
There has been very little commentary on Superior from the Street. Barrington Research reiterated an outperform and lowered its price objective from $22 to $19 in November 2022. It lowered the price target again and now stands at $10.50 on SUP, and the analyst firm maintained its Buy rating yet again earlier this week. Benchmark also covers the stock with a hold rating, price objective unknown. Only one analyst currently has a forecast out for Superior calling for 63 cents a share loss this fiscal year, which will narrow to 13 cents a share in FY2024. Revenues are projected to fall four percent this year and then rise nearly eight percent in the 2024 fiscal year.
Despite the chatter from M2, it is private equity firm Mill Road Capital that continues to accumulate shares of SUP. The beneficial owner added just over 120,000 shares just below $5 a share over the course of March 31, April 3, and April 21st, upping its ownership interest to nearly 4.2 million shares, or over 15% of outstanding float. The entity also sold naked puts representing 50,000 shares at $5, effectively obligating it to purchase another 50,000 shares at that price. Although it doesn't constitute a $5 bid for 50,000 shares on the floor of the NYSE, this action should help put an eventual floor in for the thinly traded shares of SUP.
Verdict
From an operational standpoint, bulls will state that due to all the artificial supply constraints placed on automobile OEMs dating back to the onset of the pandemic, there is significant pent-up demand for automobiles and by extension Superior's wheels. Supporting that statement is the 7% rise in OEM output (in the company's markets) FY22 vs FY21, which is still far below pre-pandemic levels. However, that observation should be taken with a bit of skepticism, as inflation has the effect of significant demand destruction, whether it's specific to autos or more pressing needs such as $10 per dozen eggs. Management can fall back on semiconductor shortages as the reason for its low units shipped, and that has some validity. But if supply chain challenges disappear, there is no guarantee that demand will return with gusto.
On a free cash flow valuation basis, SUP seems cheap. And with potentially two private equity shops kicking the tires on Superior, it would stand to reason that something may transpire. Neither reason alone is compelling enough to buy, but taken together, the risk-reward is potentially skewed to the upside for aggressive investors, meriting a small 'watch item' position for now pending further developments.
The one thing that unites all human beings, regardless of age, gender, religion, economic status, or ethnic background, is that, deep down inside, we all believe that we are above-average drivers." - Dave Barry
Editor's Note: This article covers one or more microcap stocks. Please be aware of the risks associated with these stocks.
Author's note: I present an update my best small and mid-cap stock ideas that insiders are buying only to subscribers of my exclusive marketplace, The Insiders Forum. Our model portfolio has more than TRIPLED the return of its benchmark, the Russell 2000, since its launch.  To join our community and gain access to our market beating returns, just click on our logo below.

This article was written by
We are a team of analysts led by Bret Jensen, Chief Investment Strategist at Simplified Asset Management.
We run the investing group The Insiders Forum where we specialize in small and mid-cap stocks that insiders are buying. The Insiders Forum portfolio managed by Bret Jensen consists of 12-25 top stocks in different sectors of the market that are attractively valued and have had some significant and recent insider purchases. Our goal is to outperform the Russell 2000 (the benchmark) over time.
Analyst's Disclosure: I/we have a beneficial long position in the shares of SUP either through stock ownership, options, or other derivatives. I wrote this article myself, and it expresses my own opinions. I am not receiving compensation for it (other than from Seeking Alpha). I have no business relationship with any company whose stock is mentioned in this article.
Seeking Alpha's Disclosure: Past performance is no guarantee of future results. No recommendation or advice is being given as to whether any investment is suitable for a particular investor. Any views or opinions expressed above may not reflect those of Seeking Alpha as a whole. Seeking Alpha is not a licensed securities dealer, broker or US investment adviser or investment bank. Our analysts are third party authors that include both professional investors and individual investors who may not be licensed or certified by any institute or regulatory body.