Exxon Mobil: Great Companies Can Be Overvalued (Rating Downgrade)
Summary
Exxon Mobil Corporation is a great company with an impressive and low-cost portfolio of assets and substantial diversification.
However, being a great company doesn't stop Exxon Mobil from being overvalued, the company's profits are single-digits at 80+% Brent.
Overall, the company simply doesn't have the profit to justify its lofty valuation, it's overvalued at this time and a poor investment.
We're currently running a sale for our private investing group, The Retirement Forum, where members get access to portfolios, market alerts, real-time chat, and more. Learn More »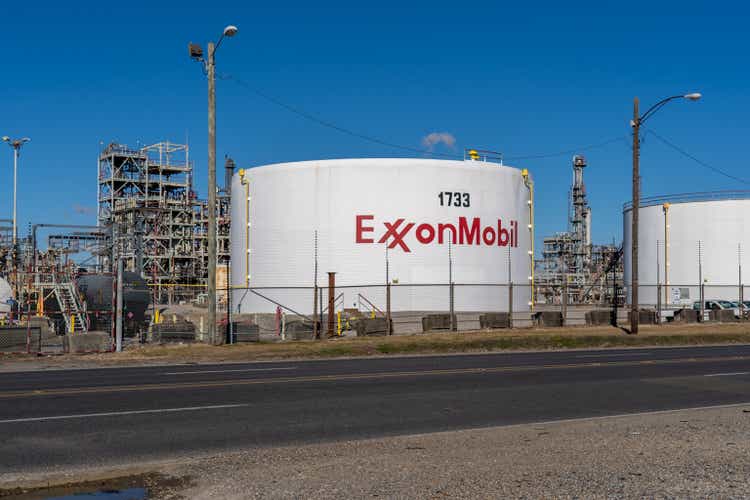 Exxon Mobil Corporation (NYSE:XOM), aka ExxonMobil, is the second-largest publicly traded oil company in the world, and the largest non-primarily state-owned one, with a market capitalization of roughly $425 billion. Despite the company's large size and low margin, its share price has been buoyed as a result of recent oil price spikes. Despite being a great company, one that we've recommended plenty of times, Exxon Mobil stock is heavily overvalued.
ExxonMobil Realized Margins
Overall, the company has been benefited by margins on average above its 10-year average.
The company's crude prices remained above average and the company's margins have been below the 10-year annual range. However, the company's natural gas and refining prices, both significant parts of the company's operations (more so than its chemical business) have seen prices well above the 10-year average.
We're not sure if that'll continue, but it's a risk worth noting. It's also worth noting that from a longer historical perspective, oil prices for the first part of this period (2010 - 2014) were considered abnormally high. Potentially, the company's margins are above average in this area, too, which would represent its largest operations.
ExxonMobil 1Q 2023 Financial Performance
The company generated $11.4 billion in earnings in the first quarter, with $8.1 billion in quarterly shareholder distributions.
The company managed to increase production by 300 thousand barrels/day, and it's continuing to guide for continued production increase. The company's shareholder distribution yield is 7.6% annualized, with a dividend yield just under 3.5%. That's in a quarter where Brent Crude prices averaged $83/barrel, relatively lofty from a historical perspective.
It's respectable financial performance, but it shows the company needs high prices to generate the double-digit returns to justify investing.
ExxonMobil Cash Flow Generation
The company's cash flow generation in Q1 shows its struggles to justify its valuation.
Even in a quarter where prices achieved more than $80/barrel Brent, the company saw $11.4 billion in free cash flow, or FCF. That's $45 billion annualized, or an FCF yield of 10.5%. The company's guidance is to continue its annualized dividend of just under 3.5%, and the company is on pace to complete its $17.5 billion in 2023 repurchases, a 4% share repurchase yield.
That implies 7.5% in total shareholder yield. The company's net debt is minimal, implying that theoretically most of the 10.5% could go towards shareholder returns. Still, given long-term shareholder returns, that's not a yield we're particularly excited about, especially at Brent Crude prices of more than $80 / barrel.
ExxonMobil Outlook
The company's outlook involves improving margins, but we don't think it justifies the company's valuation.
The company's targeted 2027 earnings at $60 / barrel Brent is ~$32 billion. That gives the company a P/E of ~13 based on its 2027 earnings. The company expects cost reductions to help earnings significantly going into 2025, however, from that point, we expect earnings growth rates to moderate for the company.
This is especially true given that the company is not expecting substantial volume growth. Unfortunately, at the company's valuation, its earnings yield doesn't justify investing in it. The company will generate high-single digit returns at $60 Brent, and it doesn't get to double-digit returns until $70+ / barrel crude oil.
Thesis Risk
The largest risk to our thesis is crude oil prices. At $70+ / barrel, Exxon Mobil generates double-digit shareholder returns, and well above that the company's profits increase substantially. Above $100+ / barrel, the company becomes massively profitable enough to continue generating valuable shareholder returns. Those returns would make the company a valuable investment.
Conclusion
Exxon Mobil Corporation has an impressive low-cost portfolio of assets. The company is highly profitable and has a strong and well-distributed portfolio of assets. This includes incredibly low-cost assets in the Permian Basin and in Guyana. The company is working on ramping up these assets, however, overall production isn't expected to increase substantially.
Exxon Mobil Corporation has seen its valuation increase substantially, and its valuation is now more than $425 billion. That means a single-digit return rate at $60 / barrel Brent, not growing to the double digits until $70 / barrel Brent. Exxon Mobil Corporation's high valuation, despite being a quality company, means it's a poor investment at this time.
The Retirement Forum provides actionable ideals, a high-yield safe retirement portfolio, and macroeconomic outlooks, all to help you maximize your capital and your income. We search the entire market to help you maximize returns. 
Recommendations from a top 0.2% TipRanks author!
Retirement is complicated and you only get once chance to do it right. Don't miss out because you didn't know what was out there.
We provide:
Model portfolios to generate high retirement cash flow. 
Deep-dive actionable research.

Recommendation spreadsheets and option strategies.  
This article was written by
The Value Portfolio specializes in building retirement portfolios and utilizes a fact-based research strategy to identify investments. This includes extensive readings of 10Ks, analyst commentary, market reports, and investor presentations. He invests real money in the stocks he recommends.
He is the leader of the investing group
The Retirement Forum
with features including: model portfolios, macro overviews, in-depth company analysis and retirement planning information.
Learn more
.
Analyst's Disclosure: I/we have no stock, option or similar derivative position in any of the companies mentioned, and no plans to initiate any such positions within the next 72 hours. I wrote this article myself, and it expresses my own opinions. I am not receiving compensation for it (other than from Seeking Alpha). I have no business relationship with any company whose stock is mentioned in this article.
Seeking Alpha's Disclosure: Past performance is no guarantee of future results. No recommendation or advice is being given as to whether any investment is suitable for a particular investor. Any views or opinions expressed above may not reflect those of Seeking Alpha as a whole. Seeking Alpha is not a licensed securities dealer, broker or US investment adviser or investment bank. Our analysts are third party authors that include both professional investors and individual investors who may not be licensed or certified by any institute or regulatory body.