MACRO AND HOUSING
Subprime Mortgage Lenders Don't Need Help From Fannie and Freddie -- Bernanke
In a letter to Sen. Charles Schumer released Wednesday, Fed Chairman Ben Bernanke said that "the Federal Reserve has... taken steps to increase liquidity in the markets.... Also, the Federal Open Market Committee has stated that it is monitoring the situation and is prepared to act as needed to mitigate the adverse effects on the economy arising from the disruptions in financial markets." However, Bernanke said it was unnecessary to relax portfolio limits on Fannie Mae and Freddie Mac. The regulator for the two government-sponsored enterprises [GSE] rejected requests August 10th to allow them to buy more home loans to help avoid a credit crunch. In his letter, Mr. Bernanke wrote: "The GSEs should be encouraged to provide products for subprime borrowers to the extent permitted by their charters. The current caps on GSE portfolios -– which were imposed for safety and soundness reasons -- need not be lifted to allow them to accommodate new borrowers. Currently, the GSE portfolios include substantial holdings of GSE-guaranteed mortgage products, which are easily placed in the private secondary market even under current conditions." The letter helped drive the S&P 500 up 2.2% Wednesday. Fannie Mae shares rose 3.4%, while Freddie Mac shares climbed 3.3%.
Sources: Schumer Letter, Bernanke Letter, Bloomberg, Wall Street Journal
Commentary: Markets Watch the Fed — What Does the Fed Watch? • Schumer Enlists "Big Four" To Fix Subprime Problem
Stocks/ETFs to watch: FRE, FNM
Bernanke Challenges Investor Perceptions -- WSJ
The Federal Reserve has been in no hurry to cut the benchmark federal-funds rate because it wants to counter an investor perception that the Fed is there to bail out the markets, the Wall Street Journal reported Thursday. Journalist Greg Ip explains that the Fed has two primary roles: 1) to maintain financial stability; and 2) to maintain macroeconomic stability by controlling inflation and averting recession. Former Fed Chairman Alan Greenspan conflated the two, notably by cutting rates after the 1987 market crash and the 1998 near-collapse of hedge fund Long-Term Capital Management. Those cuts were intended to reassure investors that it remained safe to take risks, thus protecting the economy's growth prospects. Current Fed Chairman Ben Bernanke, on the other hand, distinguishes more sharply between the Fed's responsibilities. On August 17, the Fed cut the discount window rate but not the federal-funds rate -- a move intended to smooth the waters in the turbulent credit markets but not to boost growth. "There's no doubt they were trying to draw a distinction between using the main tool of monetary policy, which is the federal-funds rate, and aiming the discount rate at restoring the plumbing," said former Fed vice chairman Alan Blinder. Ip contends that Bernanke is trying to correct the "moral hazard" implicit in Greenspan's interventionist approach, which "encourag[ed] investors to act more recklessly because they [thought] the Fed will protect them."
Sources: Wall Street Journal, Reuters
Commentary: Mortgage Lenders Don't Need More Help From Fannie and Freddie -- Bernanke • Markets Watch the Fed — What Does the Fed Watch? • Fed Weighed Policy Action Ten Days Prior to Rate Cut
Stocks/ETFs to watch: SPY, AGG, DIA
TECHNOLOGY
Goldman: New iPods Due Soon, Another Reason to Own Apple
Apple shares jumped 5.7% after Goldman Sachs analyst David Bailey predicted Apple will launch a "full line-up of revamped iPods with significantly greater functionality... including the much-anticipated full-screen video iPod" in time for the holiday season, providing "another reason to own the stock." The note cites invitations Apple sent for a product launch September 5th, which bear the title "The beat goes on" and an image of a silhouetted man dancing while listening to an iPod. Bailey expects that with a new line, Apple will sell at least another 10.5 million iPods during the present quarter, and 19.8 million in Q4. The release of new iPods has been predicted by technology buffs, including industry consultant Carl Howe (full note). The remake comes in the face of growing competition to Apple's market-dominating iTunes online music store. Nokia Wednesday unveiled a new online music store and high-end handsets (full story). Earlier

this month, Viacom's MTV Networks online music store joined with RealNetworks (full story), and Univeral Music has recently begun testing DRM-free music sales through Amazon, Wal-Mart and Google (full story). But to take Apple on, Creative Strategies' Tim Bajarin says, any store will have to move its music "to the devices that consumers really want, and that's where Apple kind of stays ahead of everybody." ITunes music sales represent approximately 11% of Apple's $22 billion revenue, and drive iPod sales. It last revamped the iPod a year ago when it boosted storage to 80 gigabytes, and rolled out a thinner iPod nano and Shuffle.
Sources: Bloomberg, Reuters, Dow Jones,
Commentary: Predicting Apple's New iPods: Evolutionary, But iPhone Inspired
Stocks/ETFs to watch: AAPL, NOK, VIA, RNWK, GOOG, WMT, AMZN
Earnings call transcripts: Apple F3Q07, Nokia Q2 2007, Amazon.com Q2 2007, Viacom Q2 2007
TiVo Posts Unexpectedly Wide Q2 Loss on Charge
Shares of digital video recorder provider TiVo Inc. fell 4.5% to $5.92 in AH trading Wednesday after the company announced a wider-than-expected Q2 loss. TiVo posted a net loss of $17.7 million ($0.18/share) versus a loss of $6.4 million ($0.07) in the year-ago period (see earnings call transcript). Analysts were expecting a loss of $0.05 per share. Revenue was up 6% to $62.7 million, ahead of analyst expectations of $58.41 million. The unexpectedly wide earnings loss included an $11.2 million inventory purchase charge the company had not accounted for when it earlier forecast a $5-8 million loss. TiVo-owned gross subscription additions came in at 41,000 against 74,000 a year ago, reflecting the impact of "the pace at which retailers moved to sell high-definition" DVRs, the company said. The company posted a net decline in DirecTV TiVo subscriptions since DirecTV is "no longer deploying new TiVo boxes." TiVo will soon begin rolling out its service for Comcast. For Q3, TiVo is projecting service and technology revenue of $56-57 million and a net loss of $14-17 million. The company still anticipates it will break even on an adjusted Ebitda basis for fiscal 2008. Oral arguments have been cleared to begin on October 4 in EchoStar's appeal of a patent infringement ruling in favor of TiVo.
Sources: Press release, Forbes, Wall Street Journal, Reuters, TheStreet.com
Commentary: Amazon, TiVo Announce 'Buy on TV' • TiVo's Patent Reconsideration Shouldn't Affect Its EchoStar Action • Will Lycos Settle Claims Against Tivo, Blockbuster & Netflix Out Of Court?
Stocks/ETFs to watch: TIVO, DISH, CMCSA. ETFs: PBS
Blackstone Interested in Wind Stake -- Reuters
Private equity firm Blackstone is in negotiations to acquire a minority stake of the Italian phone operator Wind, Reuters report, quoting a source familiar with the situation. Wind is the second-largest fixed-line phone operator and the third-largest mobile phone operator in Italy. It is owned by Egytian billionaire Naguib Sawiris, who outbid Blackstone for the company in May 2005. The $16.45 billion deal was one of the largest leveraged buyouts in European history. An Italian newspaper reported that Sawiris is interested in selling a 20% to 30% stake in the company, but it is unknown how much Blackstone is interested in obtaining. Blackstone traded down 0.4% to $22.95 in midday trading on Wednesday.
Sources: Reuters, Wall Street Journal
Commentary: Blackstone Seeks To Capitalize On Market Downturn • Blackstone Is A Dog • Blackstone Beats Estimates Despite Challenging Conditions
Stocks/ETFs to watch: BX. Competitors: KFN, GS. ETFs: XLF, PSP
Earnings call transcripts: The Blackstone Group Q2 2007
Microsoft Buys Enterprise Chat Vendor Parlano
Microsoft announced Wednesday evening it had agreed to buy privately held Parlano for an undisclosed sum. Parlano makes MindAlign, an application which provides chat and instant messaging capabilities on an enterprise level. In a statement released yesterday, Microsoft said it "expects to add Parlano's group chat functionality as a new feature of Microsoft Office Communications Server and Microsoft Office Communicator,

Microsoft's server and client software for presence, instant messaging, conferencing and VoIP." The deal is expected to close in the fourth quarter.
Sources: Press Release, Reuters, Seattle Post Intelligencer, MarketWatch, ZDNet
Commentary: Analysts Miss The Big Picture on Microsoft/Limelight Deal • How Microsoft Can Become More Innovative • Microsoft Investment Requires Too Much Patience - Barron's
Stocks/ETFs to watch: MSFT. ETFs: SWH, IXN, VGT
Earnings call transcript: Microsoft F4Q07
Novell Boosts Outlook as 3Q Loss Narrows
Novell Inc. posted a fiscal third-quarter loss of $3.4M ($0.01/share), half of the $6.5M ($0.02/share) loss reported a year earlier, as revenue rose 2.9% to $243.1M from $236.3M. Excluding items, earnings were $16M ($0.05/share) compared to $24M ($0.06/share) a year ago. Analysts had been expecting adjusted earnings of $0.02/share and revenue of $234.8M, on average, according to Reuters research. Revenue from Linux Platform Products jumped 77%. The company also said it was encouraged by the stronger-than-expected showing of its Workgroup product line where revenues, which had been skidding, dropped just 2%. Sales in the identity and security management business were a weak spot, up just 3% because of poor sales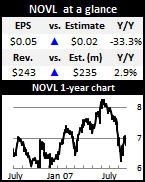 execution. Against that backdrop, the distributor of open source software said it now believes adjusted earnings will "exceed previously stated guidance of between break-even and $10M." It continues to expect revenue of $925M to $955M. Analysts were expecting earnings of $0.10/share and revenue of $942.5M for the fiscal year, on average. Shares gained 1.2% to $6.87 AH after rising 2.1% in the regular trading session.
Sources: Press release, Reuters, MarketWatch, The Street.com
Commentary: Court Says Novell, Not SCO, Owns Unix • Credit Suisse Says Odds Of Novell Buyout Are Low
Stocks/ETFs to watch: NOVL, IGV, SWH, PSJ. Competitors: IBM, MSFT, RHT
INTERNET
Yahoo! Reorganization Continues
Yahoo! president Susan Decker announced late Wednesday the company's executive VP of global sales, Gregory Coleman, is resigning in a mutual agreement in order to pursue other opportunities. Decker named executive VP Hillary Schneider to succeed Coleman, and outlined plans for building advertising relationships. In a memo to employees, Decker appointed Schneider head of a new division called "Global Partner Solutions" [GPS], responsible for all of Yahoo!'s partners including advertisers, agencies, resellers, publishers, ad networks and developers.

GPS is in charge of creating, delivering and coordinating global best practices for solutions across all ad formats and customer types and sizes. Business development for Yahoo!'s content divisions will continue to operate separately. Coleman agreed to assist with the transition through February 2008. He helped Yahoo! grow its advertising revenues to more than $6 billion annually, from $600 million in 2001.
Sources: New York Times, Reuters
Commentary: Predictably, Yahoo's Market Cap Is Down • Subprime Meltdown Could Pinch Online Ad Revenues -- FT • Yahoo Tops Google in Customer Satisfaction
Stocks/ETFs to watch: YHOO. Competitors: GOOG, MSFT, TWX, IACI. ETFs: HHH, FDN
Earnings call transcript: Yahoo! Q2 2007
Related: Susan Decker's memo to staff [WSJ]
RETAIL
Chico's Misses Forecasts as Sales Skid
Chico's Inc. reported second-quarter results that fell short of analysts' expectations and warned of lower profits in the third-quarter, as well, noting a downward sales trend. Earnings at the women's clothing retailer slid 28% to $38.7M ($0.22/share) from $53.8M ($0.30/share) a year ago as sales rose 8.1% to $436M from 403.4M. Analysts expected earnings of $0.26/share and sales of $443.2M, on average, according to Reuters estimates. Same-store sales dropped 5.6% in the quarter. Gross margins also were below plan, particularly in the White House/Black Market brand, which Chico's attributed to increased mark downs. The company expects lower margins and deleveraging of SG&A, which grew 21%, to continue into the third quarter, as well, noting that August comparable store sales were trending down in the high single-digit range. Therefore, it said it is "likely" the third quarter would reflect another decrease in earnings. Analysts, on average, were expecting earnings of $0.26/share and sales of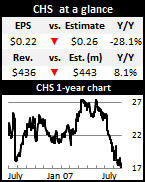 $480.1M. "No one at Chico's is pleased with our performance so far this year, but we continue to take aggressive steps to improve this performance," said CEO Scott A. Edmonds. In an effort to improve comparable store sales and profitability, the company plans to slow down its store square footage growth rate to 12%-15% in 2008 and to around 10% in 2009, which it expects will protect and enhance its market share. Chico's shares slid 5.9% to $16.50 AH on the news.
Sources: Press release, Reuters
Commentary: Can Chico's Rediscover Its Magic Touch? • Are Chico's Inc.'s Disappointing Results Cause for Concern?
Stocks/ETFs to watch: CHS, RTH, XRT, PMR. Competitors: M, CWTR, TLB
Altria to Spin Off International Unit, Unlock Value
Altria Group, the world's largest tobacco company, announced plans to spin off Philip Morris International in order to unlock value in its faster growing international unit. Altria spun off Kraft foods in March, and plans to complete the present spin off in January 2008. PM International is thought to have greater growth opportunities, especially in developing countries, while the PM USA business has watched U.S. cigarette consumption drop steadily since 1981. "We view PM USA as a declining cash cow, and PMI as an attractive growth vehicle," Gimme Credit analyst Craig Hutson noted. The two units also face different regulatory environments. PM international will now be able to operate without the legal and public relations problems that Altria has faced in the U.S. Altria CEO Louis C. Camilleri said his company's share price has been hurt by a "conglomerate discount," meaning he believes the company split up will be worth more than it is as a whole. "I've yet to hear a compelling argument to keep the status quo," he said. In addition, the company said it should save at least $250 million from the split. It also upped its dividend 8.7% to $0.75/share. Altria closed up 1.1% to $69.80.
Sources: Bloomberg, Reuters, Wall Street Journal
Commentary: Altria: Now Is The Time For PMI's Spin • Altria Beats, But Lowers Full Year Outlook • Altria: Marlboro Smokeless Product Will Be A Hit
Stocks/ETFs to watch: MP Competitors: BTI, RAI. ETFs: KXI, ELV
Earnings call transcripts: Altria Group Q2 2007
FINANCIAL
Moody's: I-Banks Are Safe. Standard & Poor's: Not Necessarily
Ratings agency Moody's Investors Service said Wednesday that the major U.S. investment banks are liquid enough to avoid any negative impact on their credit ratings from their leveraged loan commitments. Moody's said Goldman Sachs, Morgan Stanley, Merrill Lynch and Lehman Brothers have enough earnings strength to be able to handle loan markdowns and still generate positive earnings, though those earnings will be depressed. Many Wall Street banks are saddled with commitments to finance leveraged buyouts in the face of an abruptly stagnant market for low-rate loans. "This situation has potential liquidity and revenue implications for the firms, given the difficulties in distributing the loans in the secondary market and the decline in the market values of leveraged loans resulting from higher spreads," Moody's said. It believes, however, that the firms will remain liquid even if they have to fund their commitments and hold them on their own balance sheets. Standard & Poors, meanwhile, conducted a "stress test" to evaluate the ability of Wall Street banks to withstand crisis scenarios. Its conclusion was that conditions are worse than they were in H2 1998 and investment banking and trading revenue could fall 47% in H2 2007. 24/7 Wall Street notes that the ratings agencies themselves have been called on the carpet recently for failing to monitor their ratings properly.
Sources: MarketWatch, Reuters, 24/7 Wall Street, Bloomberg
Commentary: Do S&P, Moody's Deserve the Street's Heat? • Moody's Downgrading Subprime Mortgage-Backed Securities; S&P to Follow • Rating Agencies Could be Liable for Investor Losses -- Study
Stocks/ETFs to watch: BSC, DB, GS, MS, MER, LEH, C, MCO, MHP. ETFs: IAI, PKW, XLF, UYG, KCE
HEALTHCARE/BIOTECH
Tenet Says It Has the Resources for a Turnaround
Healthcare service provider Tenet responded to Tuesday's Credit Suisse analyst report, which alleged Tenet may have to file for bankruptcy within the next three years, saying it has the financial resources to stage a turnaround. On Tuesday, Tenet analyst Ken Weakleysaid the company could not sell its hospitals for enough money to turn the company around. "Without an industry recovery in volume or patient insurance, a Chapter 11 filing may be necessary," he said, causing shares to drop more than 9%. On Wednesday, Tenet CFO Biggs Porter responded by saying the company had the resources

to stage a turnaround without selling resources. With the company's "cash on hand and bank credit line, we would have the ability -- although it is not anticipated -- to tap the credit markets using our asset base," he said. As of June 30th Tenet had $675 million in cash and a credit line of up to $500 million. Stanford Group analyst Gary Lieberman noted that the company is in a "catch-22": it needs to preserve cash, but to spend it to increase the quality of its hospitals and increase revenues. Last week CEO Trevor Fetter and a director spent $486,400 to buy 129,500 shares on the open market. In intraday trading Wednesday, traders are thus far unmoved by the company's response: shares are flat at $3.34. Over the past year, Tenet stock is down 55%.
Sources: Press Release, Bloomberg, Reuters, Barron's
Commentary: Time to Take Another Look at Tenet Healthcare? • Tenet Healthcare Makes Good With the SEC
Stocks/ETFs to watch: THC. Competitors: CYH, KND. ETFs: PTH, RXL
ENERGY AND MATERIALS
Joy Global Misses Target
Mining equipment company Joy Global Inc. reported disappointing earnings for the quarter ending on June 27th, as profits slid 61% and fell short of analysts' targets. The company's net income was $73 million ($0.67/share), vs. $188.6 million ($1.55/share) last year. Analyst expected $0.70 per share. Earnings were boosted last year by an accounting gain of nearly $0.91/share. Revenue increased 4% from $598.7 million to $621.8 million, also short of analyst estimates of $662.4 million in sales. CEO Mike Sutherlin commented on the company's outlook: "Overall market conditions continue to be positive, especially in our international markets." He expected high growth countries, like India and China, to keep demand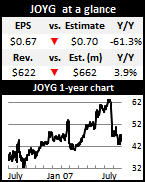 for commodities elevated as they continued to industrialize and modernize. However, acknowledged weak demand for coal, noting "the weakness in the U.S. coal market has continued for longer than we anticipated and we will continue to position ourselves so we are not dependent on the timing of its recovery." Joy Global traded lower in pre-market trading, down 5.8% to $42.38.
Sources: Press Release, MarketWatch, AP
Commentary: Joy Global: Mining Equipment Giant Headed For Better Days - Barron's • Russell 1,000 Stocks With Highest, Lowest Betas
Stocks/ETFs to watch: JOYG. Competitors: BUCY, CAT. ETFs: EMG
INTERNATIONAL
Chinese Demand Driving Diamond Prices and Stocks
China's imports of diamonds rose more than threefold in the first half of 2007, according to the July issue of the diamond industry publication Rapaport TradeWire, fuelling a rise in diamond prices of 8.4%. De Beers concurrently stated that it expected "very strong" jewelry demand in China and India to boost prices; India's diamond imports rose 14% in Q2. Supply, however, is constrained. Stockpiles have declined 75% since 2000, according to Canada's National Bank, and RBC Capital Markets says no new diamond mines are scheduled to start production in the next three to five years. As a result, fund managers are warming to diamond mining stocks. Pure play diamond stocks Aber Diamond and (South African-traded) Trans Hex trade at forward P/E ratios of 20x, almost double those of diversified miners BHP Billiton and Anglo American, while BHP Billiton, Anglo American (which owns 45% of De Beers, the largest diamond mining company) and Russia's closely held ZAO Alrosa control 75% of diamond output. Some diamond industry insiders downplay the rise in prices: Alberto Calderon, who heads BHP Billiton's diamond & specialist products division, says that the demand/supply imbalance "...will amount to higher prices – slowly, but it will," while De Beers' financial director Stuart Brown views synthetic diamonds as a risk.
Sources: Bloomberg, MiningMx
Commentary: Seven Ways to Invest in Belgium • Precious Metals, Commodities and The Innovation Threat
Stocks/ETFs to watch: ABER, AAUK, BHP, RTP. ETFs: DBP
MUST-READS ON SEEKING ALPHA TODAY
Have Wall Street Breakfast emailed to you every morning before the market opens.