Why Progyny Caught My Eye; Is It A Buy?
Summary
Sparsely followed Progyny, Inc. is quietly making industry waves.
The target market is in its infant stage with intriguing secular tailwinds.
The company increased clients by 44% and gross profit by 78% over the last year; it's time investors took notice.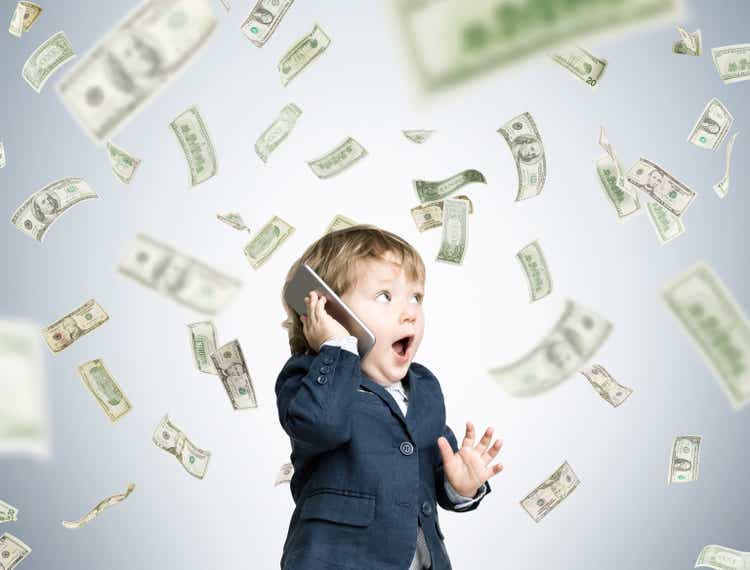 Tremendous secular opportunity
Women are having babies much later in life now than in the past. Many women and couples focus on careers, education, traveling, and becoming financially stable in their 20s (and even 30s) before taking the plunge.
The median age of mothers at birth in the early 1970s was 21. This reached 25 by 2008 and rocketed past 30 today. Many have children into their 40s, and fertility or adoption services are often necessary.
There is also a growing number of nontraditional couples using assisted reproductive technology or adoption services.
These trends open up a tremendous market opportunity for investors.
Meanwhile, employers confront a labor market where superior employees command terrific benefits. A first-rate benefits package can often sway employees even more than a base salary due to rising healthcare costs. In fact, a 2022 study notes that nearly half say they prefer better benefits over more pay. This is probably doubly true for higher-wage earners where taxes limit compensation upside.
What does Progyny do?
This market presents a fantastic opportunity for family-building coverage provider Progyny (NASDAQ:PGNY).
Progyny is the leader in comprehensive coverage, including a large and growing network of providers, coordinated member services, data-driven solutions, and pharmacy benefits.
This health coverage option is still in its infancy (I couldn't resist), but employers are taking notice. Industry-leading companies from technology to energy to healthcare are offering coverage. As Progyny management points out, companies generally compete for the same talent pool. So once one signs up, it creates a snowball effect in that industry.
For example, Progyny reported its first healthcare system client four years ago. They have more than 30 healthcare system clients today.
The critical measure of Progyny's progress at this stage is its ability to attract clients.
Progyny increased its client base by 44% in the last year, as shown below.
The increasing win rate is evidence of the snowball effect, as shown below.
The company counts some recognizable brands among its clients, as shown below.
Signing clients up is terrific, but do these clients stick around? According to Progyny, its retention rate since 2016 is nearly 100%.
How does Progyny make money?
The company's primary revenue driver is its fertility benefits solution, Smart Cycles. This is a treatment bundle available to participants through the provider network. Clients can also include pharmacy benefits as an add-on. In 2022, 65% of revenue came from fertility services and 35% from pharmacy benefits.
Revenue comes from the utilization of services and a monthly fee per employee or plan participant. A typical model for similar services.
Progyny's potential customer base is vast, with large corporate clients and self-insured health and welfare plans that serve union members. Progyny estimates there are 8,000 US employers with more than 1,000 employees and millions more in the labor population, representing an addressable market of 100 million participants. Progyny covers 5.4 million members as of Q1 2023.
Is Progyny stock a buy?
Let's start with the risks.
The stock is a speculative play in a growing industry, so it's most appropriate for long-haul investors who are okay with some ups and downs and understand the risks.
The industry is competitive, and other large insurance carriers are formidable foes. For example, UnitedHealth (UNH) provides coverage options and a network of providers in all 50 states. For perspective, UNH produced $324 billion in sales in 2022. Infertility coverage is mandated in 15 states, so the large insurers offer some benefits but don't specialize as Progyny does. The UNH plan is considered affordable but doesn't offer all the advantages of Progyny. Progyny is regarded as premium coverage in the industry.
Progyny received 26% of its sales from two clients in 2022. This is down from 34% in 2021 and should continue to decline as it adds clients at an impressive clip. Still, losing one of these would be a significant dent in revenue.
Speaking of revenue...
Progyny has increased revenue at an incredible clip in recent years, going from $230 million in 2019 to $873 million over the trailing twelve months. This 51% compound annual growth rate (CAGR) is impressive, as is the 44% year-over-year growth reported in Q1 2023.
The company is GAAP profitable, and its operating income appears headed in the right direction after increased expenses compressed margins in 2022, as shown below.
Progyny projects that sales will exceed $1 billion in 2023, and diluted earnings per share (EPS) will come in between $0.42 and $0.48.
The great thing about the business model is that it is extremely capital-light. This means that cash flows aren't swallowed up by significant investments in property and equipment like other industries. In fact, only $3.2 million was spent on CapEx in all of 2022.
Progyny expects $180 million in adjusted EBITDA in 2023, a solid 17% of sales. Most of this should translate to free cash flow and continue to fill the coffers. The balance sheet is rock solid, with $320 million in working capital and zero long-term debt.
These are impressive numbers for a company in a growth phase.
The market was impressed with Q1 earnings; the stock has risen 17% this year, as shown below.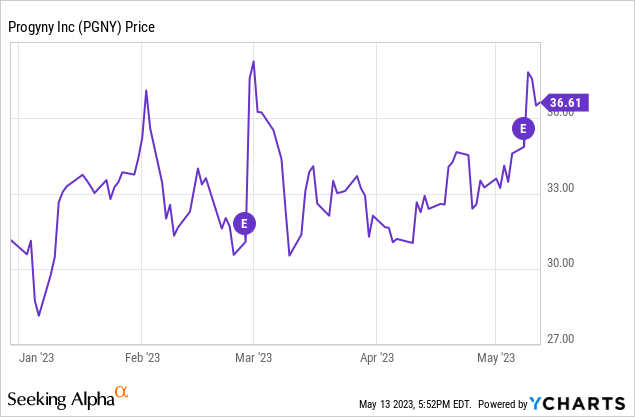 It's a problematic stock to value due to its growth and specialization. With a market cap of just $3.5 billion, it has massive potential for gains if it continues to land customers. However, the forward price-to-earnings (P/E) ratio (~80) and forward price-to-sales (P/S) ratio (~3.3) don't tell us much at this point.
Profits have the potential to multiply over the next several years. I will look for cash flow, margin expansion, and increasing clients as key performance indicators.
Progyny is an interesting stock in an industry that could see exponential growth due to demographic and social trends. The financial results are compelling, and the company appears well-managed. The stock price will be volatile, so interested investors should accumulate shares over time to lessen risk and take advantage of dips. I'm not ready to jump in with both feet quite yet, but the unique opportunity convinced me to dip a few toes in the water.
This article was written by
If you are a medium to long-term investor looking for an analysis of equities focused on cash flow, growth, and other critical metrics from a financial professional who knows financial statements inside and out, consider giving me a follow.While I am Tech-focused, I have a diversified portfolio, including growth and value equities, REITs, and dividend stocks. I like to use options for income and risk management when the opportunity arises. I have over 15 years of experience in the market. I am a practicing CPA; however, I have learned about investing more from avid reading, market watching, experience, and of course, making mistakes over the years. Also, am an admitted Excel junkie. I believe Benjamin Franklin when he said: "An investment in knowledge pays the best returns," and Warren Buffet that "The most important quality for an investor is temperament, not intellect." I am constantly learning and focusing on long-term goals - even when the market misbehaves.  Thank you very much for reading, and please feel free to leave me a message in the comments or send a private message. All the best!
Analyst's Disclosure: I/we have a beneficial long position in the shares of PGNY either through stock ownership, options, or other derivatives. I wrote this article myself, and it expresses my own opinions. I am not receiving compensation for it (other than from Seeking Alpha). I have no business relationship with any company whose stock is mentioned in this article.

Investors' goals, financial situations, timelines, and risk tolerances vary widely. The stocks mentioned may not be suitable for all. As such, the article is not meant to suggest action on the part of the reader. Each investor should consider their unique situation and perform their own due diligence.
Seeking Alpha's Disclosure: Past performance is no guarantee of future results. No recommendation or advice is being given as to whether any investment is suitable for a particular investor. Any views or opinions expressed above may not reflect those of Seeking Alpha as a whole. Seeking Alpha is not a licensed securities dealer, broker or US investment adviser or investment bank. Our analysts are third party authors that include both professional investors and individual investors who may not be licensed or certified by any institute or regulatory body.