Netflix Didn't Start The Fire, But It May Have Fanned The Flames
Summary
The current writer's strike has brought Hollywood to a slowdown, and while chaos may look to be reigning supreme, it depends on who you ask.
The biggest difference between now and the last writer's strike over a decade ago is the seat the streamers have at the table.
While Netflix itself didn't cause the strike, a lot of its policies and approaches are at the center of the controversy leading many to call it the "Netflix Strike."
The issue is that Netflix's changes to the traditional model have now largely been adopted by other streamers/studios leading to a decrease in overall earnings for creatives.
For now, the studios/streamers aren't in a rush to be flexible because the strike could eventually allow them to shed unprofitable long-term deals - but that's also a dangerous long-term game.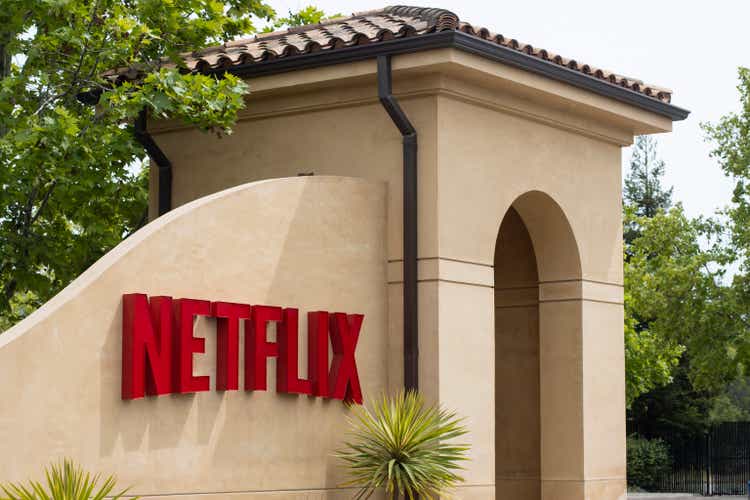 The revolution was televised.
Well actually it was streamed - and while you may have thought the shockwaves had passed, they're still causing damage.
As you may be aware the entertainment industry is reeling at the moment as the Writer's Guild of America - WGA - are on strike, with the possibility of the Director's Guild of America - DGA - and Screen Actors Guild - SAG - preparing to join as well.
Things are most definitely not OK.
Yet to investors, the studios and streamers are projecting a different point of view where things are more status quo in hopes of not causing a panic.
And for the record - the studios and streamers aren't entirely wrong. For them, things are somewhat status quo, but the problem is it won't last and that's where things get more interesting.
We've also been down this road before over a decade ago when the WGA walked out for over three months - which may be the case again here.
The biggest difference between then and now is the seat the streamers have at the table. Make no mistake Netflix (NASDAQ:NFLX) is a key player here and many have even labeled this "The Netflix Strike." To be fair, this is not solely Netflix's fault (there's more than enough blame to go around), but suffice to say they aren't in the clear either and it's important for investors to understand the full story.
First as always, some background.
So let's start with the basics - the strike occurred after the various Hollywood entities failed to negotiate a new contract with the writers. The two sides has been in talks for a month prior to this point, but the WGA walked away when they felt they weren't be taken seriously.
While the WGA will say this was never a pre-destined conclusion (and they hoped it wouldn't be), they knew it was coming.
The industry knew it was coming as well.
The issues here actually go deeper than paying writer's fairly - yes that's what set the spark, but there's more at play here.
On the surface what the WGA is asking for is not that complex. They want an adjusted living wage and essentially to stop being taken advantage of.
Not exactly an unreasonable ask.
In fact, the writer's claim that if Hollywood met their demands it would amount to only a small loss in their bottom lines… again, on paper not unreasonable.
Yet there's more here than simply a battle of wills.
What's happening is that the rise of streaming has created a gray area in terms of payment and the studios are reluctant to carve out more of their share to make the distribution more even. This is something we have seen with each evolution in entertainment.
With streaming involved, that now brings Netflix and Amazon (AMZN) (among others) to the bargaining table and that has made things more complicated.
And that's not even getting to the next innovation that writers are trying to safeguard against now - AI.
As I said, Netflix didn't start the fire here, but they've been tending to it for years.
The larger issues at play are largely as a result of Netflix's success in changing the game. They weren't the first to create these problems but they exacerbated them and made them more commonplace.
For example, pay windows are one area of contention. While in the past we've seen 22 episodes seasons which created roughly a 10-month period of consistent work a year, that episode count has now been largely been cut in half (or worse).
Yes, cable and premium networks like HBO, Showtime and FX have never been frequent users of the 22-episode model (they usually stick to 13), but Netflix shrunk that down even further to 10 episodes or in some cases - less.
And made it profitable... that's the key word.
Profitable and duplicatable.
In essence writers are being paid less because they're employed for less time. Part of their ask is that there be a set number of writers employed throughout the production to help with edits/re-writes/etc.
The bigger problem is that there are now "mini rooms" where a smaller group of writers come together to plot out various elements of a season - again though at a lower pay rate. To add insult to injury those rooms also eliminate the possibility for new writers to get the experience they may have had previously in the larger rooms.
So now they're being paid less and getting less experience that down the road would have help them could earn more.
Doesn't exactly sound fair right?
Netflix knew the overall optics here weren't going to be a good look for them so that's why they shifted their first-ever upfront presentation from in-person to virtual. This way they could promote their "wins" and upcoming slate while avoiding the optics of a picket line outside.
There's a whole other story about Netflix's upfront that I can touch on in future pieces as there were some fascinating little nuggets dropped there that raised some eyebrows - which again is kind of the point.
Netflix's ability to force the industry to evolve is part of how we got to here.
The streamer at one point was single-handedly pulling Hollywood into the future... which is not that different from what Apple does with the tech world. And that's not (fully) a bad thing either as these innovations are important and if used right could be of massive value.
The problem - the studios and streamers know this and they want to keep the edge.
Ratings are a great example.
They had previously been the barometer and they weren't always the best metric - but it was an agreed on stat.
What I still find stunning in all of this is that while everyone previously just accepted that you had disclose ratings/data, Netflix came out and said "nope, we are the exception."
And everybody caved and decided "OK this is the new normal."
Again profitable and duplicatable… to the point that's how streaming works now.
And the ratings we do have are not great - they are either skewed, time-delayed or not fully representative of the overall picture.
The industry saw what Netflix did and realized it could do that as well…which for the writers, directors and actors it hurts their bottom line. Previously they could point to a project and say "this made X million" and was a success, whereas now they don't have quantifiable data like that they can use in negotiating for new deals.
That's also part of the reason for this strike… the writers want more transparency (as will the directors and actors).
You can see why Netflix is taking the brunt of the anger here.
And that's just only a portion of what this strike is about.
The twist and the reason why the studios/streamers aren't looking immediately to settle…
They aren't losing money yet.
In fact, as odd as it sounds they're saving money.
While the WGA can claim that studios are losing $30 million a day in output - which may be true - the real truth is this allows Hollywood to potentially shed development deals which amount in the long run to a lot more than $30 million a day.
The strike allows them to enact very specific clauses that let them suspend and possibly eventually terminate various deals that are no longer beneficial to them. They couldn't do that without the strike which may explain why they've been so steadfast in their initial seemingly "lowball" offers.
In other words, the longer this drags out, the more the studios could save.
In either case it's a dangerous game the executives are playing because at some point their pipeline will run dry and that loss output will take a toll - and while right now it's just the writer's out on strike, it could get a lot worse real quick.
The directors and actors are preparing for their own negotiations - and you can bet whatever concessions are made for one group will have to be made across the board.
Realistically you could be looking at a real-life perfect storm in Hollywood where all three guilds go out - and then the sky may really be falling.
This article was written by
A long time entertainment industry professional, I have worked with a number of top Hollywood studios and networks. With over a decade in the field I use my in-depth knowledge of film and television to inform potential investors about the viability of the many upcoming projects in the industry. Questions? E-mail me at TheEntertainmentOracle[at]gmail.com.
Analyst's Disclosure: I/we have no stock, option or similar derivative position in any of the companies mentioned, and no plans to initiate any such positions within the next 72 hours. I wrote this article myself, and it expresses my own opinions. I am not receiving compensation for it (other than from Seeking Alpha). I have no business relationship with any company whose stock is mentioned in this article.
Seeking Alpha's Disclosure: Past performance is no guarantee of future results. No recommendation or advice is being given as to whether any investment is suitable for a particular investor. Any views or opinions expressed above may not reflect those of Seeking Alpha as a whole. Seeking Alpha is not a licensed securities dealer, broker or US investment adviser or investment bank. Our analysts are third party authors that include both professional investors and individual investors who may not be licensed or certified by any institute or regulatory body.