Apple Inc. (NASDAQ:AAPL) CEO Tim Cook's visit to China this week underscores the importance of China to Apple's future, both on the supply side, as well as on the demand side.
China has grown to become Apple's largest market for its products following the U.S.A., while it is the largest mobile market in the world. At the same time, although Apple manufactured its products in the U.S.A. prior to the early part of the last decade, currently most of Apple's hardware end products, such as the iPhone, are assembled in China, with the majority of components originating from outside the U.S. including China, Taiwan, Korea, and elsewhere.
If something unexpected was to happen, whereby Apple could no longer deal in China or with Chinese companies, as a result of an extraordinary event such as a trade embargo, military confrontation, natural disaster or other, would it be business as usual at Apple Inc.? Not at all. In the short term, it would be very difficult to replace current Chinese capabilities for several reasons.
1. Supply Side
When Steve Jobs told Obama that jobs associated with the production of its products were not coming back to the U.S.A., he was referring to the fact that it is no longer a matter of cheaper labor. It has become a matter of supply chain, logistics, qualified human resources and more. The New York Times published an excellent article on January 21, 2012, "how the U.S. lost out on iPone work", whereby it provided an excellent detailed account of how current Chinese capabilities do not exist in the U.S. The following quotes from such article outline how dependent Apple has become on China:
"The entire supply chain is in China now," said another former high-ranking Apple executive. "You need a thousand rubber gaskets? That's the factory next door. You need a million screws? That factory is a block away. You need that screw made a little bit different? It will take three hours."

"They could hire 3,000 people overnight," said Jennifer Rigoni, who was Apple's worldwide supply demand manager until 2010, but declined to discuss specifics of her work. "What U.S. plant can find 3,000 people overnight and convince them to live in dorms?"

Another critical advantage for Apple was that China provided engineers at a scale the United States could not match. Apple's executives had estimated that about 8,700 industrial engineers were needed to oversee and guide the 200,000 assembly-line workers eventually involved in manufacturing iPhones. The company's analysts had forecast it would take as long as nine months to find that many qualified engineers in the United States.

In China, it took 15 days.

But such calculations are, in many respects, meaningless because building the iPhone in the United States would demand much more than hiring Americans - it would require transforming the national and global economies. Apple executives believe there simply aren't enough American workers with the skills the company needs or factories with sufficient speed and flexibility.
Although it is possible that Apple may find other countries outside the U.S. which may match such capabilities, the odds are that companies with substantial Chinese connection would be operating in such countries. For example, one of Apple's main suppliers is the Taiwan headquartered company Hon Hai Precision Industry Co., Ltd., also known as Foxconn (FXTCF.PK), which has also replicated its low-cost fully integrated manufacturing model (adopted at its 13 Chinese factories) in other countries such as India, Malaysia, Slovakia, Czech Republic, Mexico and Brazil, where it is launching a $12 billion expansion to also produce iPads in Brazil.
From a supply side perspective, it is evident that Apple as it exists today cannot be the same without China. Without China and companies with deep Chinese connections, Apple would need possibly several years to replicate such manufacturing capabilities elsewhere, in order to produce the over 190 million iPhone, iPad, iPod and Mac it has sold during the past year. In addition, in the absence of China, assuming Apple is able to ultimately replace its supply needs, Apple's sizable gross margins would likely come under substantial pressure.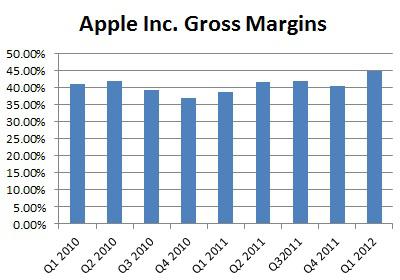 2. Demand Side
Although China is currently the second largest market for Apple outside the U.S. (with 2011 sales estimated at $13 billion), China's potential remains largely untapped. As Tim Cook recently said:
"If i look back at 2007," Cook reiterated, for greater China, Asia, India, Latin America, the Middle East [the developing world], revenues then sat at $1.4 billion, whereas Apple's share of that developing market ballooned to $22 billion in revenues last year.

"All that being said, we're only on the surface."
According to the International Telecommunication Union, it is estimated that global mobile cellular subscriptions total as much as 5.981 billion, representing a global penetration rate of 86.7%. Over 80% of such subscriptions are in developing nations, while about 2.9 billion, equivalent to 48% of the global market, are actually in Asia and Pacific.
In China alone, it is estimated that there are about 963 million mobile subscribers, of which 118 million are 3G users. According to Strategy Analytics, although Apple has sold as many as 93 million cell phones globally in 2011, such number represents a mere 6% of the global total handset market of 1.56 billion for 2011. Naturally, Apple has substantial room for growth in market share, especially in China. In addition, Asia Pacific currently represents about 40% of global broadband subscriptions, with 277 million mobile internet users in China alone. According to Mobithinking, "China is on track for having mobile Internet users more than there are people in the US - the world's third largest nation."
Although Apple has struck deals with China Telecom (NYSE:CHA), with 123 million mobile subscribers (33 million 3G), and China Unicom (NYSE:CHU), with 196 million (37 million 3G), it has yet to finalize an agreement with the largest Chinese operator, China Mobile, with 644 million subscribers (48 million 3G).
Given such numbers, it is evident how the Chinese market offers tremendous growth potential for Apple, not only for its iPhone, but also for its iPad and other products. So although today there can be an Apple without China from the demand side (albeit a smaller Apple), given the tremendous Chinese potential, it is hard to imagine a future competitive Apple Inc. without China.
At the end of the day, maybe it is not about whether there is Apple without China, but the fact that an Apple with China is a combination that investors simply cannot afford pass on, especially that Apple shares continue to trade at a reasonable forward PE ratio of 13.6 for the current fiscal year, and 12 for next year.
Disclosure: I have no positions in any stocks mentioned, but may initiate a long position in AAPL over the next 72 hours.