Summary
Graco could beat expectations and reported solid top and bottom-line growth in Q1/23.
And GGG has a wide economic moat around its business leading to stability and consistency over time.
But the economy is heading for a recession, and a declining housing market is a challenge for Graco.
GGG stock is also not trading for cheap valuation multiples.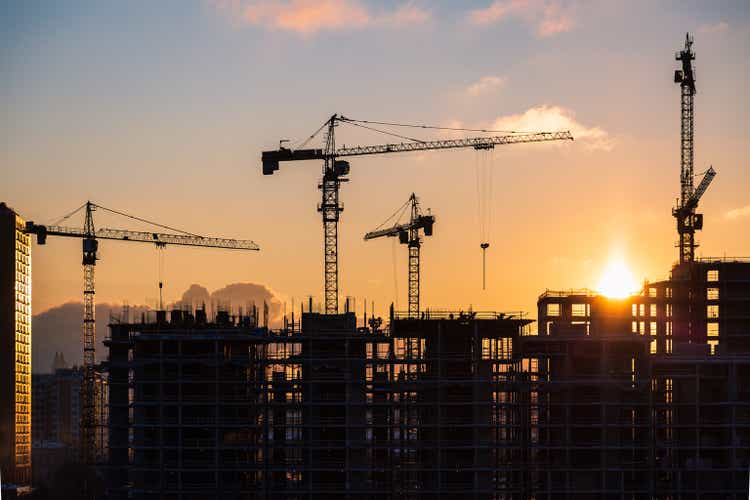 When talking about Graco (NYSE:GGG), we can tell two different stories. On the one side, we can tell the story of good quarterly results, a great business with a wide economic moat and ambitious long-term growth targets. On the other side, we can also tell the story of a business performing mediocre during recessions, being very dependent on construction and housing, as well as the story of an economy that seems to be heading for a recession. And the story of a stock trading for rather high valuation multiples. And both stories can be true.
Great Business, Wide Moat
Let's start with the positive side of the equation and look at the last quarterly results Graco reported at the end of April 2023. Not only did Graco beat expectations for revenue as well as earnings per share, but the company also reported solid growth rates for the top and bottom line. Net sales increased from $494.3 million in the same quarter last year to $529.6 million in this quarter – resulting in 7.1 % year-over-year growth. Currency exchange rates had a negative effect of approximately $11 million on Graco and organic sales growth was 10% in Q1/23. Operating earnings increased from $128.4 million in Q1/22 to $156.7 million in Q1/23 – resulting in 22.0% year-over-year growth – and diluted earnings per share increased 29.3% year-over-year from $0.58 in the same quarter last year to $0.75 this quarter.
And after Graco had to report a negative free cash flow in Q1/22, the free cash flow in Q1/23 was $52.5 million. Additionally, Graco achieved record first quarter revenue and operating earnings. And Graco also reported the highest quarterly operating margin in its history.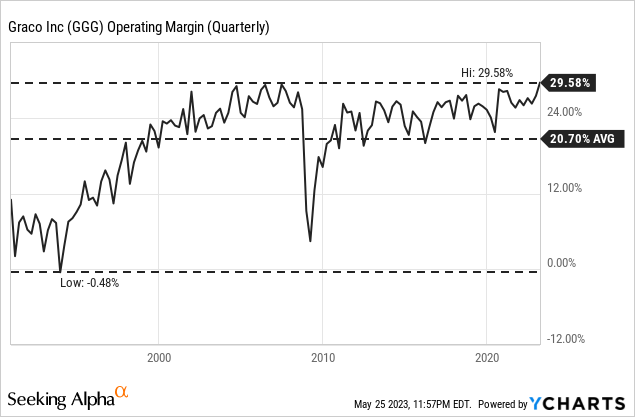 During the earnings call, management also mentioned its pricing actions of the last few quarters, which drove sales and led to margin expansion, several times. While it is not really a headline that a business is raising prices in times with high single digit or even double-digit inflation rates, improving margins are worth mentioning. Many businesses are increasing prices, but due to higher costs and expenses, most businesses see declining margins as well as a lower bottom line.
Graco on the other hand reported a record operating margin and increased its gross margin by 230 basis points in the first quarter of 2023, which is a strong sign for a wide economic moat around the business. I already have written about the economic moat of Graco several times in past articles and don't want to repeat all the arguments I made (see here for more details).
Stability and Consistency
And Graco is not only reporting solid results right now but is demonstrating high levels of stability and consistency in its results over time. When looking at the revenue growth rates, we see stable numbers in the mid-to-high single digits.
And when looking at the gross margin (see chart above) we also see stability over time – since 2000 (aside from the Great Financial Crisis) the gross margin is fluctuating in a range and demonstrating consistency. Finally, Graco is also reporting a high return on invested capital over the last ten years (10-year RoIC average was 25%) and this is clearly hinting towards a wide economic moat around the business.
Unfavorable Macroeconomy Meets High Valuation
While Graco is a solid business, growing at a stable and healthy pace and reporting good quarterly results, the macroeconomic situation is unfavorable for Graco (as well as for many other businesses). And despite the unfavorable macroeconomic climate, Graco remains a great business, but maybe it is not the best time to buy the stock.
As I have explained in countless articles, the economy seems to be headed for a recession – and as we now know, Germany is already in a recession (although nobody seems to care) – with countless warning signs flashing since 2022 – like the inverted yield curve or collapsing banks.
And Graco is rather dependent on several end markets that must be seen as rather cyclical and not really recession resistant. About 9% of fiscal 2022 sales stemmed from automotive, an industry usually struggling during recessions as customers will postpone huge investments and purchases (and buying a car is one of the biggest). But the biggest problem of Graco is its dependency on construction.
However, there is also the story of Graco being dependent on several end markets that must be described as cyclical and are not performing well during a recession or economic contraction. By the way, the heavy dependence on construction was probably the major reason for the extremely steep decline of Graco during the Great Financial Crisis (a factor that I did not really realize in the past – although it seems obvious).
We can argue at this point, whether we will see another financial crisis and if the housing market is in similar situation as in 2007/08 (and close to collapsing). But even if we are not headed for another financial crisis and a collapse of the housing market, the Great Financial Crisis should be at least a warning sign for Graco and once again we are seeing construction clearly weakening. When looking at several different metrics, we see at least a slow-down. Starting with one of the most important and leading indicators – the new housing permits – we saw a decline over the last few quarters.
Aside from the new housing permits, we see other housing and construction indicators showing signs of weakness as well. Of course, most metrics leave room for interpretations, and we can see them as still solid results and not a reason to worry or as a harbinger of what is to come. The growth of employees in construction for example is slowing down, but year-over-year, jobs are still added. And while the new privately-owned housing units under construction are clearly taking a nose-dive, year-over-year there is still a small growth rate reported.
During the earnings call CEO Mark Sheahan clearly acknowledged the slowdown in construction, but also mentioned positive aspects:
Growth in EMEA during the quarter was a bright spot as product availability improved and they had strong price realization. Asia Pacific, on the other hand, declined 8% as the shipping container business and construction markets have weakened. As expected, new single-family housing starts in North America have slowed during the quarter, but improving commercial and multifamily residential were more than enough to offset the decline. Professional painting contractors remain busy with order books extending throughout much of 2023 and even into 2024 for commercial applications.
Analysts are also rather optimistic and assume Graco to continue its path of growth in the years to come and despite lower growth rates in fiscal 2024, it does not seem like analysts are expecting a recession (or at least no real impact for Graco).
Valuation
Aside from the high risk of a recession and high probability of the recession having a negative impact on Graco's business, the valuation multiples of Graco are also worth mentioning. In times when NVIDIA is trading for 218 times earnings as well as 250 times free cash flow (and some people still think we are talking about a great investment), Graco must seems like an absolute bargain.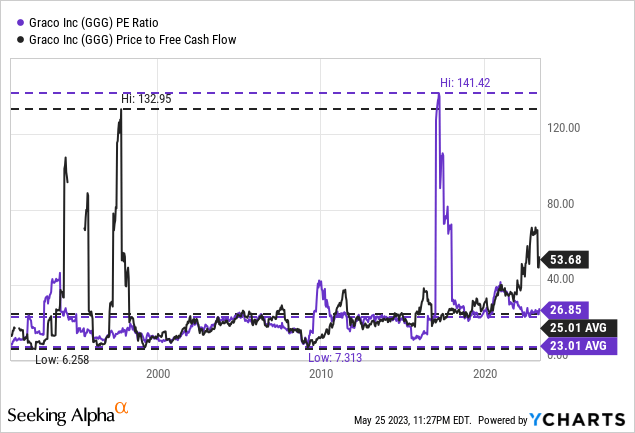 Right now, Graco is trading for 27 times earnings and 54 times free cash flow and while the P/FCF ratio is rather high, I would not make the argument that Graco is (extremely) overvalued. Considering the great business, wide economic moat, and solid growth rates (see section above), we can make the case for Graco being fairly valued. In previous articles I calculated an intrinsic value of $60 to $70 – implying that the stock is probably trading for a small premium right now.
But taking into account the risk of a recession and growth slowing down (or earnings even declining), a multiple contraction seems likely for Graco, and I don't know if market participants will see a P/E ratio close to 30 being justified for Graco.
Conclusion
So far, Graco is struggling to move above $80 and in the last few weeks, the stock bounced off that level for the second time. In my opinion, the probably for a double top (2021 and 2023 the stock reached $80) is rather high and we might see another decline leading us potentially to the previous lows of $56 again. And the risk for a double top is high as the risk for a recession is high – as well as the risk for a declining housing market, which will have a negative effect on Graco's business. And Graco might be a great business and long-term hold, but right now is not the time to buy.
In my opinion, Graco stock is still a hold, but I would not buy (or add to an existing position). And I would certainly not short the stock as we are talking about a great business with a wide economic moat – and shorting such a company is very dangerous (especially as Graco is not extremely overvalued at this point).
This article was written by
My analysis is focused on high-quality companies, that can outperform the market over the long-run due to a competitive advantage (economic moat) and high levels of defensibility. Focused on European and North American companies, but without constraints regarding market capitalization (from large cap to small cap companies).My academic background is in sociology and I hold a Master's Degree in Sociology (with main emphasis on organizational and economic sociology) and a Bachelor's Degree in Sociology and History.I also write about wide economic moats in my Substack: https://stockmarket101.substack.comI also write about investing, economy and similar topics on Medium: https://medium.com/@danielschonberger
Analyst's Disclosure: I/we have no stock, option or similar derivative position in any of the companies mentioned, and no plans to initiate any such positions within the next 72 hours. I wrote this article myself, and it expresses my own opinions. I am not receiving compensation for it (other than from Seeking Alpha). I have no business relationship with any company whose stock is mentioned in this article.
Seeking Alpha's Disclosure: Past performance is no guarantee of future results. No recommendation or advice is being given as to whether any investment is suitable for a particular investor. Any views or opinions expressed above may not reflect those of Seeking Alpha as a whole. Seeking Alpha is not a licensed securities dealer, broker or US investment adviser or investment bank. Our analysts are third party authors that include both professional investors and individual investors who may not be licensed or certified by any institute or regulatory body.