Saying 'Yes' To The Apple Headset
Summary
The Apple Rumor Mill Industrial Complex is on overdrive. The persistent expectation is that we will see the new Apple AR/VR headset on June 5 at WWDC.
Apple says, "No" to most everything, but they said, "Yes" to the headset.
This is despite the fact that rumors portray it as expensive with a lot of rough edges. I always await the actual device to pass judgement.
But Tim Cook said, "Yes" to the headset because he believes the long-term survival of the company depends on it. I agree.
If the rumored high price is true, then this will be a very low-volume product, with few network effects for partners, and will likely be portrayed as a failure. But so was Watch.
This idea was discussed in more depth with members of my private investing community, Long View Capital. Learn More »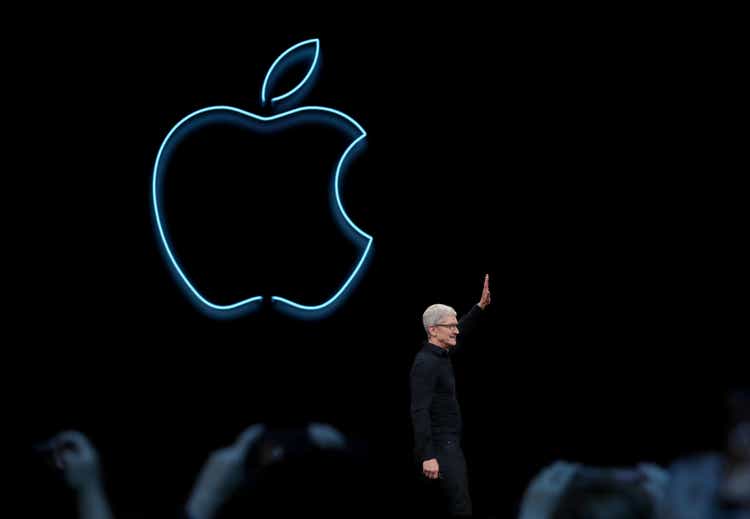 The Apple Rumor Mill Industrial Complex
The Apple (NASDAQ:AAPL) Rumor Mill Industrial Complex has been on overdrive lately, and the subject is the upcoming VR/AR headset: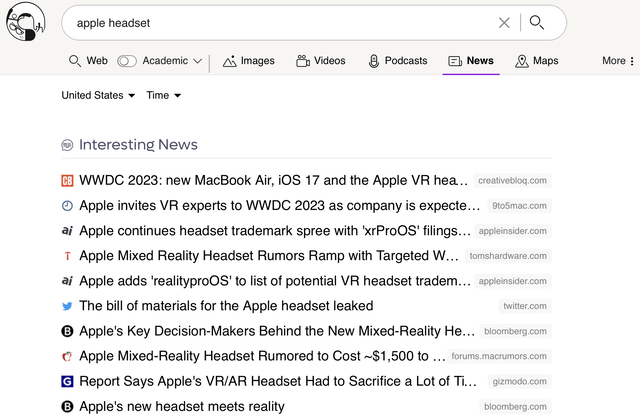 The rumor mill is much better than it used to be, largely due to the work of Marc Gurman and Ming Chi Kuo. It is also still terrible. As Apple (AAPL) got bigger, and then really, really big, it became much harder to control leaks from their supply chain, despite repeated efforts to clamp down. What emerges are little slices of truth, without any context. While I frequently cover Apple at Long View Capital, I last covered them on the public site in November 2021.
There are four main reasons rumors turn out to be wrong:
Just plain wrong, or a hoax. This is actually the least common now.
The leak

is something that Apple was working on, but decided against.

The leak is true as far as it goes, but without context, misses the point.
Recently, Apple has started taking countermeasures, including "leaking" fake information, as well as measures to root out the leakers through identifiable errors.
The third one is why I always wait to see The Thing before I pass judgement, even if I believe the rumor to be true as far as it goes. Since Apple is creating the hardware, software and services in a wholistic fashion, it's hard to understand what a hardware leak means outside the context of the software and services that go with it.
For example, pre-iPhone launch, there were rumors about gyroscopes and accelerometers in iPhone. Unlike most of the phone rumors from 2006, these turned out to be correct. But it was impossible to understand the meaning of those chips until we saw the whole package, and the features enabled by those components. It's nothing now, but in 2007 a phone that knew whether you were holding it in portrait or landscape orientation was magical.
So, I don't want to talk about specific rumors except two that are persistent and don't require a ton of context:
That this thing is going to cost $3000, and even at that price Apple may be forgoing any profit on it. A purported bill-of-materials put that at $1400. Keep in mind, the persistent rumors about iPad were that it would cost $1000-$1500, and the first one was $499.
There is a separate belt-mounted battery pack.
This all adds up to something that, in a very un-Apple fashion, is a somewhat experimental product, maybe aimed primarily at developers, with a ton of compromises. It is not going to be a high volume thing that will make a large dent in their Wearables, etc. segment for some time. Gurman says internal estimates are 900k units in the first year, pretty close to my own estimate at that price, which was "I can't believe they are thinking about even a million in the first year." Kuo says 500k and others say as low as 100k.
If those two rumors are true, this is almost guaranteed to be portrayed as a failure in the media because of the low volumes by Apple standards, and the unfinished nature of it that the battery pack speaks to. It will add to the Tim-Cook-Can't-Innovate Meme that defies logic and facts. I expect a lot of ridicule, the same ridicule to which Facebook has been subject.
At 900k units, and a $3,000 price tag, we are talking about $2.7 billion in the first year, 6.8% of TTM Wearables revenue and 0.7% of Apple's top line. It will also likely be additive to Services, but at those volumes the effect will be very small.
For comparison, Facebook (META) has sold about 20 million Quest headsets total, 16 million of those in 2021-2022. The Quest 2 starts at $400, and the Quest Pro was announced at $1500, but the price was lowered to $1000 before launch. The Apple headset is a much more ambitious product than the Quest Pro, if even a portion of the rumors about it are true.
But more than any Apple product ever, this is one where development will bring the largest changes over time. Sixteen years later, iPhone 14 has more or less the same form factor as the original. Same for the original 2010 iPad and 2015 Watch. These are entirely recognizable as the same devices, years apart.
The headset is not going to be like that. This is the first step on a long road that ends in a pair of AR glasses that look and feel like a normal pair of glasses. Judging by where we look to be in 2023, that may be a decade or more off. But if Tim Cook is right (and I think he is), the entire company's long-term survival is riding on it.
The Most Important Thing Apple Does Is Say, "No"
Apple executives have expressed this in may ways over the years: that they say "No" to things far more than they say "Yes". This gives them the opportunity to focus on making everything "insanely great," as Steve Jobs liked to put it. It stands in contrast to many of their competitors.
Most recently, we heard this from SVP of Services, Eddy Cue, in an interview on CNBC:
I think it starts with saying, "No" to a million things; we say, "No" to almost everything, to say, "Yes" to a few things.

And hopefully those few things you say, "Yes" to, they have two things in common. Number one they're things we're good at, or that we think we can be very good at. And number two, the things that consumers are going to value deeply and care about…

But it starts by saying "No" because when you get as large as we are, it's easy to think you can do anything, or everything. And it's just not true.
This goes all the way back to Steve Jobs' return to Apple in 1997. One of the first things he did was kill a lot of projects, to the consternation of many developers who had invested time and money into these technologies. At 1997 WWDC, Jobs did a Q-and-A with developers. In response to a question about the killing of one of these technologies, OpenDoc, Jobs uttered the now-famous phrase, "Focusing is about saying, "No"." But that was an Apple with far fewer resources than now, and focusing was a matter of survival. As Cue noted, that is not the Apple of today.
So now here we are, 26 years later, and another WWDC is upon us. WWDC is the Worldwide Developers Conference. Unlike other presentations in the Apple calendar, WWDC has two audiences: developers and the media/general public. It tends to be more technical than the others, and mostly about software. Its ostensible purpose in June is to present beta versions of the new operating systems to developers, so they can have their apps ready in the fall when they launch. Hardware launches used to be unusual at WWDC, but recently Apple has used it as an opportunity to launch their back-to-school Macs, which sell well in the quarter beginning July.
In the Eddy Cue quote above, "hopefully" is doing a lot of work. If rumors are true, Apple said, "Yes" to this headset and we will see it at the WWDC keynote on June 5. Apple has made numerous pre-announcements in the past few weeks, generally an indication that the program is jam-packed, and these are the things that didn't make the cut. I expect that the headset is what is pushing them out.
I don't doubt they can do it well, the first of Cue's criteria. But to his second criterion — something "consumers are going to value deeply and care about" — I have my doubts.
Go-To-Market Strategies: iPhone vs. Watch
When Apple was working on iPhone in 2005-2007, smartphones had been around for a while, and were both popular and terrible. Everyone knew what they wanted from these things in 2007, they just wanted them to work well:
Portable music and video.
A great phone for voice and texting (these were not common in 2007).
The internet, which at the time was largely email and web browsing.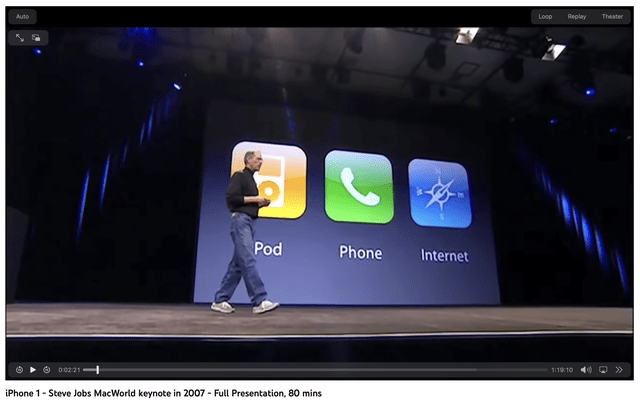 Apple was able to laser focus on those three things, sell them like crazy at the keynote, and we know what happened next.
Watch's debut in 2015 was very different. Smartwatches were a very new category, and there was not a lot of competition to look at, and assess the strengths and weaknesses like they were able to do with smartphones: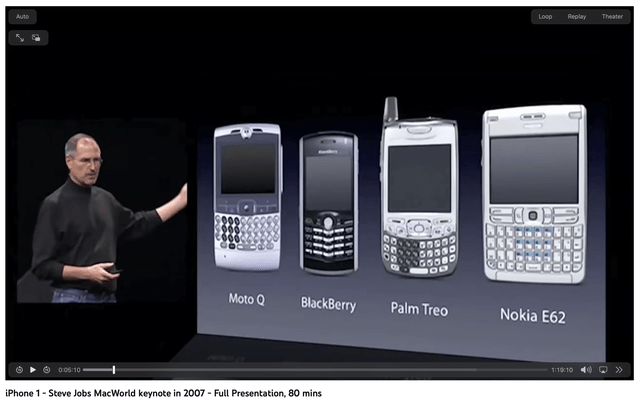 In contrast to iPhone, they didn't quite know how people would want to use a small wrist-computer with a ton of sensors that was linked to their phone. So Apple took a different development and go-to-market strategy. They sort of threw a lot of things at the wall in the initial release, got a sense of what features were important to customers, and then focused on those things: health/fitness/safety, and helping people separate from their phones more. In effect, 2015-2017 Watch customers were a very large test group. Watch 4, released in 2018, was the first really good Apple-level version in my opinion, and is still better than a lot of brand new smartwatches.
So it started off very slowly, but now there's this: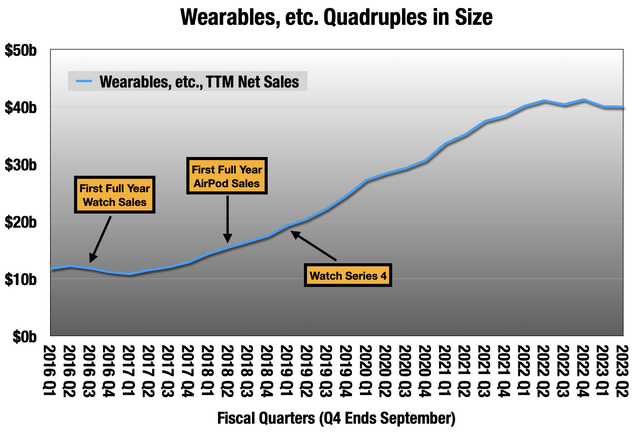 So the headset is much more like Watch than iPhone in terms of development and go-to-market. They have one competitor, Facebook, and this looks to be a much more ambitious product than even the $1000 Quest Pro in many ways. But beyond gaming, it is unclear what people will want to do on this thing, and Facebook has proven that metaverse is not ripened yet.
The major differences with Watch:
Watch started at $349, not $3k.
People already wear watches, and many spend quite a lot more than $349 on jewelry watches. People wear glasses, but this is much more expensive, bigger, less comfortable, more isolating and cumbersome.
Even though Watch was a little half-baked, it was immediately very useful for health/fitness, and as a phone peripheral.
Watch was (and still is) a quick and easy way to wealth signal. No one is going to be wearing a face computer out of the house yet.
That battery pack, which speaks to an unfinished product.
Apple is looking for a test group, not customers, to help them figure out what the killer apps are here. They are going to keep working on making this thing better, lighter, faster, and cheaper, focusing on how those testers are using it. Beyond gaming, I have little sense of what that will be.
There Is A Lot of Risk In This Product
I await the actual product, because so often these rumors get some details right, but still manage to miss the whole point of the thing. But I still don't see where this thing fits in 2023. This is the first time I've thought this since Newton, but I feel like Apple is sending this thing out too early, because they have poured so much R&D into it, and they want to ship something to actual users.
The risk is reputational damage. No brand is stronger than Apple's, so there is a lot to lose. I think it is almost inevitable that this thing will be framed as a failure by the media, but so too was Watch. But with Watch, there was a pretty obvious path to it becoming a core Apple offering:
Make the hardware faster.
Add more sensors.
Make the software smoother, and more feature rich, leveraging all the sensors and faster hardware.
Most importantly, focus on what was important to users.
They can do 1-3 here, but beyond gaming, I don't know what 4 is.
There is a very shiny halo around the Apple brand that this product could tarnish.
Why Did Cook Say, "Yes?"
If these rumors are true, and we can expect very low sales numbers from a product with some very rough edges, why is Apple doing this? The quick answer is, "Because Tim Cook thinks the long term survival of the company depends on it."
Someday, something is going to replace the touchscreen smartphone as people's primary device. Many think that will be AR glasses, probably some time after 2030. Tim Cook and I are in that group. The interface will be a combination of voice and hand gestures, with AR lenses substituting for the screen. Cook thinks this is an existential project that extends out a very long way.
Gene Munster at Loup Ventures predicts that these headsets will be 10% of Apple revenue by 2030, on the scale of iPad and Mac. Munster is pretty smart about Apple, but I think he misses the point here. By 2030, this will be a very different device than we will see on June 5; it will be much smaller, lighter and much less burdensome to the user, while at the same time doing a lot more. Much more like a regular pair of horn-rimmed glasses. At that point, people may start wearing them out of the house, and for some, it will have replaced their iPhone as their primary device. If Apple is on a successful road, this thing will be much higher than 10% of revenue by 2030, and iPhone revenue will be declining, along with all smartphones.
We are nowhere near those glasses being a reality, but in the meanwhile, Apple wants to start understanding what this thing should do once we get there. This headset is going to keep evolving every year until it becomes those AR glasses. Unlike every other Apple device, what these become in a decade will be unrecognizable from what Apple is going to soon show us.
Collateral Winners?
Apple is a colossus astride the tech world, so a new product is a catalyst for many others. Typically we would look at the supply chain to see who benefits. If you sell Apple a chip for iPhone, be ready to make over 200 million a year of them. But if you sell a component for the headset, 900 thousand is probably enough.
Let's take Apple's foundry, TSM (TSM) as an example. If this were a high volume product, they would be sitting pretty. The most recent rumors are that the headset will have 2 main Apple Silicon chips: the M2 that goes in MacBook Air plus a new one just for all the sensors on the headset. Both of these will be fabbed at TSM, and TSM will probably see around $275 revenue per unit, over 9% of the purported retail price. That's a lot! But at 900k units, that only translates into about a quarter billion a year for a company with $75 billion in revenue in the TTM. The rumor is that Samsung will make the micro OLED screens, even more expensive at around $300 per headset, about $270 million at 900k units. Samsung had $221 billion in revenue in the TTM.
That brings us to software and services, and that is really where this thing is going to live or die. Apple has reportedly already loaded this thing with software, but they are going to need the hive mind of Apple developers to really bring out the best in it. And this is where we get into the limp network effects that a product at that volume brings.
Apple does not have to do much convincing to get software developers on iOS. Apple has over 2 billion devices out in the wild, and most of them are iPhones. iPhone owners are also much easier to separate from their money than Android owners, which is why apps are typically released first on iOS.
But the potential market here is a much smaller group of big spenders. Either Apple will have to subsidize development the way they do with Arcade, or they may find they have a lot of reluctant developers who would prefer to devote time and resources to iOS apps.
But there will be a group of developers who will take up the challenge because they see themselves on the same road as Apple. Likely a few of them have gotten a peak at the headset, enough to do a 2 minute demo of their app for the presentation.
The most obvious application is gaming. I imagine Apple will have at least some Arcade games ready for this at launch, and maybe some other gaming partners. While Facebook continues to flounder in their metaverse pivot, a small group of gaming companies are already building it without an AR/VR headset, step-by-step, disguised as gaming platforms. Fun will be the killer app for the metaverse. It already is. One company that is pretty friendly with Apple and is also on this long road with Apple is Roblox (RBLX). I'm very much hoping they got an early peak so we can see a demo from them. Also, I can tell you from personal experience that AR Minecraft (MSFT) is tons of fun, and has been demoed before at WWDC on iPhone.
Beyond gaming there is the wider conception of the metaverse, a bit fuzzy: immersive social, business, and recreation virtual activities, also interacting with the real world. Facebook has shown us one thing with their pivot: outside of gaming applications, the metaverse is not ripe yet. Neither the hardware or the software is there, and there aren't enough people to create the network effect necessary to make this work. Apple is about to take a big whack at the hardware and software parts, but you can't buy network effects. No one wants to hang out in an empty metaverse.
There have also been rumors that Apple sees this as a creative device, and will have creative apps at launch. Some of the patents we've seen are pretty wild, like an app that lets you build 3D worlds with voice and hand gestures. Keep in mind that Apple patents everything, even their pizza box, and the vast majority of their patents never see the light of day.
Next Up
I'll be sharing my thoughts on the actual product with Long View Capital members after the presentation.
This article was written by
Trading Places Research is a macroeconomics specialist with decades of experience identifying geopolitical factors that lead to market trends. With a focus on technology, he focuses on where the sector is headed as opposed to where investments are currently.
Trading Places is the leader of the investing group
Learn more
.
Analyst's Disclosure: I/we have a beneficial long position in the shares of AAPL, MSFT, RBLX either through stock ownership, options, or other derivatives.
Seeking Alpha's Disclosure: Past performance is no guarantee of future results. No recommendation or advice is being given as to whether any investment is suitable for a particular investor. Any views or opinions expressed above may not reflect those of Seeking Alpha as a whole. Seeking Alpha is not a licensed securities dealer, broker or US investment adviser or investment bank. Our analysts are third party authors that include both professional investors and individual investors who may not be licensed or certified by any institute or regulatory body.