Google: The Only Real AI Threat To Nvidia
Summary
Nvidia holds a monopoly like grip on the GPU market.
This is costing companies like Google a lot of money, which is why they are taking action.
Google is already developing and using technology that will compete with NVDA's chips.
I believe Google has what it takes (motivation and resources) to challenge Nvidia to the throne.
Looking for a portfolio of ideas like this one? Members of The Pragmatic Investor get exclusive access to our subscriber-only portfolios. Learn More »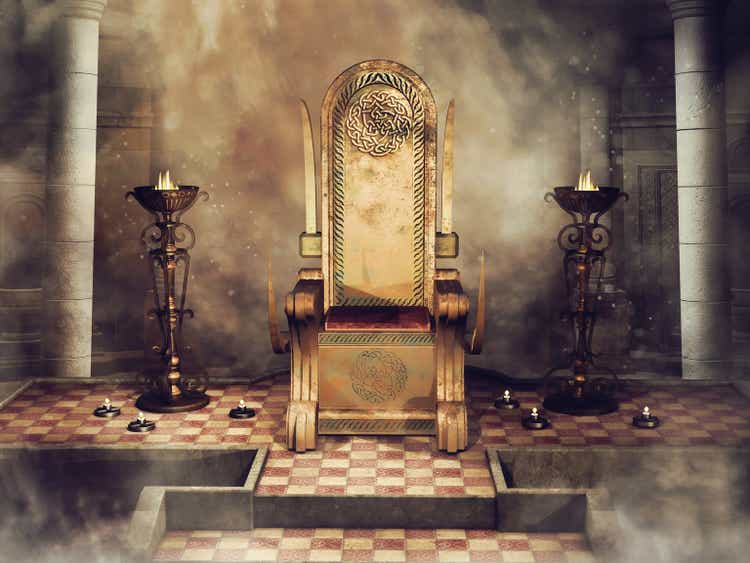 Thesis Summary
NVIDIA Corporation (NVDA) has, quite justifiably, gained a significant amount of interest following its latest earnings report. NVDA is at the head of the AI revolution, thanks to its best-in-class GPUs and accompanying software. There is not much competition at this point for NVDA, but this will eventually change, as the opportunity presented is too great.
I believe Alphabet, Inc. (NASDAQ:GOOG),(NASDAQ:GOOGL) is in a great position to challenge NVIDIA, as it possesses the right incentives and the necessary resources. Google is already developing and using a few products that will compete with NVDA's chips.
It will take some time and a lot of money, but the rewards for Google are just too big not to try.
There's Only One NVIDIA, For Now
In a recent conversation with fellow SA contributor Trading Places Research, we discussed the implications of AI technology, how it works and why NVIDIA is so far ahead of the curve. While NVDA has led a lot of other chip makers up in its rally, the truth is that NVDA stands head and shoulders above the rest, offering a unique product that gives it a monopoly-like control over the market.
But before we get into that, we must understand a little bit better what the product is here. Graphic Processing Units were originally designed to accelerate the rendering of 3D graphics, but today they do so much more. GPU's today can break down complex problems into smaller more manageable tasks, and solve them simultaneously.
But the hardware (GPU) is only half of the caution. NVDA's success in this business is due to its combination of hardware and software. NVIDIA doesn't just sell chips; it also has best-of-is class software to go along with it called CUDA.
CUDA is what allows NVDA to programme its GPUs to go far beyond rendering Graphics. CUDA makes it possible for its GPUs to address general purpose computing problems. In other words, the GPU (hardware) holds the power, and the software (CUDA) enables it.
Nvidia starts making software and Hardware that works together to solve all these big problems and now they're not just making these quote-unquote gaming GPUs right for graphics for their old purpose but they make data center GPUs which are very very very very very expensive and all the software that goes with it and it's a complete system and it's the only because they've been doing this for so long it's the only complete system of software and Hardware that works together and does this stuff well, right.
Source: Pragmatic Investor Podcast
NVDA is pretty much the only option for big players like Alphabet, Inc. and Microsoft (MSFT) to actually develop commercially usable AIs, but it is costing them a pretty penny.
Proof of this can be found in the specifics of NVDA's GPUs. However, for those investors not so well versed in cutting-edge technology, the proof is also evident in NVDA's earnings and guidance. NVDA is responding to a real surge in demand for its chips. And this is not a surge that we are seeing across the board, but growing demand specifically for NVDA's chips.
Other chip manufacturers like Advanced Micro Devices (AMD) and Intel (INTC) will not benefit this much from the surging demand coming from AI applications because their GPUs are simply years behind NVDA, which has been developing this technology for over a decade.
Google Is Ready To Step In
But if traditional chip makers aren't going to compete with NVIDIA, who will? Perhaps someone with deep enough pockets and large enough interests. That's where Google comes in.
Google has a lot to gain and lose from AI. The introduction of AI technology is the natural next step for both Google Cloud and Google Search, and something that has already been introduced in the last year.
But as mentioned before, this technology requires expensive hardware and software, which mostly comes from NVIDIA's incredibly expensive GPUs. This is why Google has already poured a lot of investment into developing its own solution to this, which they have, and it is called TPU.
Tensor Processing Units (TPUs) are Google's custom-developed application-specific integrated circuits (ASICs) used to accelerate machine learning workloads.
Source: Google
These TPUs, also known as AI accelerators, can be used, as advertised, to accelerate the training of large machine-learning models. Google is on its fourth iteration of TPUs, and this is what Bard runs on.
This is only one of two ways that Google is fighting NVIDIA's "AI monopoly". In its latest I/O conference, Google showcased Palm2, its newest large language model. The key here though, is that Google presented Palm2 as a family of models, ranging in sizes.
What we found in our work is that it's not really the sort of size of model - that the larger is not always better,
Source: DeepMind VP Zoubin Ghahraman
There is even a PaLM 2 model that can run on smartphones. This is important because the size of models is one of the limitations today. The larger the model, the more GPUs. Reducing the size while keeping the functionality is another workaround.
Market Opportunity
Google is in a good position here to challenge NVIDIA. The company has the right motivation, is already showing increased focus in this area, and has the capital to catch up. To put things into perspective, Google's R&D budget for 2022 was $39.5 billion, compared to NVDA's $7.34 billion during the same period.
Google has the chance here to gain a foot in a segment that is predicted to grow at a 25% CAGR in the next decade, reaching a total market of $400 billion, according to Global Market Insights.
And this is just an idea of what Google stands to gain if it commercializes this technology. However, the biggest gain for Google would be from powering its own suite of AI applications in-house. At the very least, much more affordably, and eventually, with better technology than the one provided by NVDA.
Other considerations
With that said, we must understand that there are some other major players in this race. Microsoft is one, and so is Meta Platforms (META), which has recently unveiled its own AI chip.
Lastly, I'd like to finish off with a word of caution. Even though AI holds a lot of potential, companies should also be wary of giving AI too much responsibility too soon. Companies like Google have to be aware of the limitations of AI, as well as its possibilities.
Large language models are very good at predicting the next thing to say, but they still lack the reliability demanded in a commercial setting.
Final Thoughts
There's no denying the growth story behind NVIDIA, but that does not necessarily justify today's valuation. While the stock could easily continue to run higher, this is a speculative move now. A more sensible bet, at this point, could be to bet on Google being able to disrupt the GPU market. As mentioned above, they have the means necessary and the motivation. AI is a complex subject, so investors must work hard to understand it before investing in it.
This is just one of many exciting cryptocurrencies you can buy right now!
Join Technically Crypto to stay ahead of the latest news and trends in the crypto space. Learn the ins and outs of blockchain technology and how you can profit from it.
Here's what you will get with your subscription:
- Access to our Crypto Portfolio.
- On-chain analysis of Bitcoin and Ethereum.
- Deep dive reports on Altcoins.
- Technical Analysis of major cryptocurrencies.
- News updates.
Crypto is changing the future, don't just watch it, be a part of it!
This article was written by
James Foord is an economist by trade and has been analyzing global markets for the past decade. He leads the investing group The Pragmatic Investor where the focus is on building robust and truly diversified portfolios that will continually preserve and increase wealth.
The Pragmatic Investor covers global macro, international equities, commodities, tech and cryptocurrencies and is designed to guide investors of all levels in their journey. Features include a The Pragmatic Investor Portfolio, weekly market update newsletter, actionable trades, technical analysis, and a chat room.
Learn more
.
Analyst's Disclosure: I/we have a beneficial long position in the shares of GOOGL either through stock ownership, options, or other derivatives. I wrote this article myself, and it expresses my own opinions. I am not receiving compensation for it (other than from Seeking Alpha). I have no business relationship with any company whose stock is mentioned in this article.
Seeking Alpha's Disclosure: Past performance is no guarantee of future results. No recommendation or advice is being given as to whether any investment is suitable for a particular investor. Any views or opinions expressed above may not reflect those of Seeking Alpha as a whole. Seeking Alpha is not a licensed securities dealer, broker or US investment adviser or investment bank. Our analysts are third party authors that include both professional investors and individual investors who may not be licensed or certified by any institute or regulatory body.