With newspapers, television and radio full of all kinds of Labor Day sales, I thought that it would be a good idea for IsraelNewsletter shoppers to get a heads-up on 3 Israeli stocks selling at discounts that even my wife, Yael, would appreciate.
Our first pick is an IsraelNewsletter favorite, Comverse Technology (NASDAQ:CMVT). In fact, earlier in the day on Wednesday, I was speaking with a well-known analyst who follows the Israeli market, and he agreed that his top pick now is Comverse. The stock has continued to get smashed, and is 32% off it's 52-week high. It makes sense that the continued drop is a result of the current market climate regarding how M&A deals are going to get done, and many investors who figured Comverse to be "in play" are now worried that a deal won't get done. Regardless of the M&A angle, the stock is now trading with a market cap of $3.3 billion, and let's not forget that it still has $1.8 billion in cash, plus the value of its holdings in Verint Systems (NASDAQ:VRNT), and Ulticom (OTC:ULCM). The stock looks really cheap at these levels, and my hunch is that today's buyers will be able to fund next years Labor Day BBQ with their gains.
Our second pick is Mellanox Technologies (NASDAQ:MLNX), a leading supplier of semiconductor-based, high-performance, InfiniBand and Ethernet connectivity products that facilitate data transmission between servers, communications infrastructure equipment and storage systems, who recently had its shares listed on the Tel-Aviv Stock Exchange as well. I mentioned in early July that this would be an interesting trading opportunity. In fact leading up to, and shortly after the dual listing, the stock moved up, and then over the last 2 weeks it has come way down as insiders have been selling its shares after the initial IPO lock-up expired. The shares are down over 30% in the last month, but the fundamentals of the company haven't changed. It has produced four consecutive quarters of revenue growth, and that trend should continue. I suspect that most of the insiders are done selling and we will see the stock start moving back up.
Our last pick is Orckit Communications (NASDAQ:ORCT), a leading provider of advanced telecom equipment targeting high capacity broadband services. Why you ask? I know that it is losing money, only have one real client, and keep pushing back announcing when it will add another big client. The reason that I like Orckit is that I do believe that at some point it will announce a big deal or two, and I also I wouldn't be surprised if its big Japanese customer KDDI decides to expand their relationship. It has about $5 a share in cash, and the stock is down 50% from it's 52-week high. For all you traders out there, over the last three years, the stock has done very well during the 4th quarter, and with it trading so low, this may be the fourth year of success.
Enjoy your long weekend!
Disclosure: The author has a position in CMVT.PK, VRNT.PK, or ULCM.PK as of August 29, 2007. The author has no holdings in any other stock mentioned.
CMVT.PK 1-yr chart: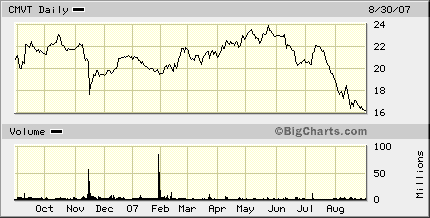 MLNX 1-yr chart: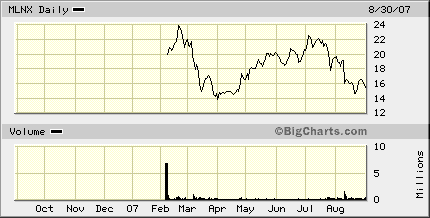 ORCT 1-yr chart: