Why Meta Quest May Outshine Apple Vision Pro In The Near Term
Summary
Apple Vision Pro, a combination of AR and VR, is set to be released in early next year, but its high price may limit mainstream adoption compared to Meta's more affordable Quest 3.
The market for AR and VR devices is still in an early stage, bringing uncertainty about scalability and profit generation for investors.
Meta's Reality Labs' financial performance shows increasing operating losses and higher R&D spending, indicating that achieving profitability in this new industry takes time and patience.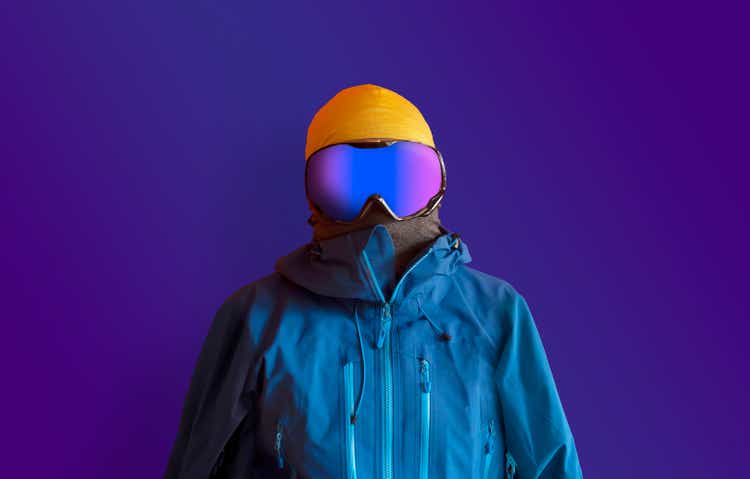 The Debut of "Ski Goggle"
In the WWDC presentation, Apple (NASDAQ:AAPL) unveiled Apple Vision Pro, a new "jaw-dropping" product that has immediately captured significant attention and made headlines on numerous news websites. This announcement marked another milestone to the company. The product will be released in early next year. From a user's perspective, it will revolutionize people's lifestyles, especially in today's decentralized work environment. However, from an investor's perspective, I'm concerned about the product's scalability and long-term value creation for shareholders. Following the news, many investors can't wait to compare this "ski goggle" to Meta (NASDAQ:META)'s Quest 3. My initial thought is that this announcement won't be a catalyst to consistently push the stock higher after a 45% rally YTD. I'll discuss some takeaways based on the announcement.
What is Apple Vision
Pro
In a nutshell, Apple Vision Pro is a combination of Augmented Reality (AR) and Virtual Reality (VR) that includes many advanced features, such as HD sounds systems, ultra-high-resolution display, integration with other Apple products, and a video game console. According to the presentation, Apple Vision Pro includes 12 cameras, 5 sensors and 6 microphones, powered by its own M2 chip and new R1 chip. These features significantly enhance the user experience, with each eye enjoying more than 4K resolution imagery. The battery life is expected to be 2 hours, in-line with Quest 2.
Compared to Meta's Quest, I like the idea that Apple Vision Pro minimizes the need for physical tools to maintain its functionalities. For example, rather than relying on redundant dual joystick accessories, the product employs gesturing in midair to control the interface.
In addition, the presentation highlighted a variety of external apps that will be available when it's released. Apps like Disney+ (DIS) and Unity apps (U) saw their stock prices rise after being included in the presentation. I believe Apple will announce more partnerships in the coming months, creating a complete ecosystem for users to fully engage with this new goggle.
Although Apple Vision Pro has a lot of growth potentials, we should keep in mind that the current market for these types of devices is still very limited compared to iPhones. This will bring some uncertainties about how well it will scale and generate profits in the long run, which are the top concerns for investors.
META's Quest 3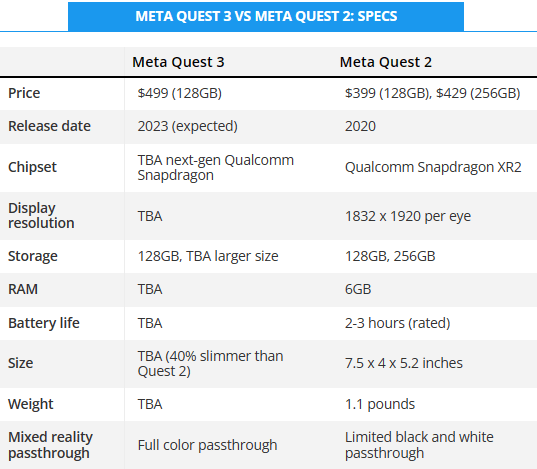 On June 1st, META announced their next major headset, Quest 3, which is scheduled for release in this fall. The product offers a higher resolution display and better visual quality compared to the previous version. Particularly, this new product will be using the next-generation Snapdragon chipset, which is expected to deliver more than double the graphical performance compared to the previous generation in Quest 2. According to Meta Newsroom, the company is very confident in having the "world's best library of immersive content." Quest 3 will also be compatible with the existing Quest 2 catalog, which includes over 500 VR games, apps, and experiences.
Affordability
No matter how great a product is, I believe affordability is always the biggest priority for customers. AR and VR are still in their early stages, which means the demand for these "elastic" products are very low. I think Apple Vision Pro may struggle to gain traction from the mainstream in a near term. The standalone price of Apple Vision Pro, at $3,500 (or over $3,800 after tax), is 7 times higher than the $500 price of Meta's Quest 3 headset. Moreover, starting from June 4, META reduced the price of Quest 2 to $299.99 for the 128GB SKU and $349.99 for the 256GB SKU. While Apple Vision Pro may offer more power and capabilities than Quest, the pricing difference raises concerns about competition.
Due to its cheaper price, I expect that the mainstream will prefer Quest over Apple Vision Pro. Consequently, unlike Apple's previous products such as iPhone and iPad, I don't see Apple Vision Pro can easily dominate the market due to its high price level. This suggests that it's unlikely to generate profitability and FCF for Apple in the short and mid-term. In the next section, I will examine the financial performance of Meta's Virtual Reality Lab to make a comparison.
META Reality Labs
While it may not be appropriate to directly forecast the operating profit of Apple Vision Pro, Meta's Reality Labs can provide some insights that this business will take some time before becoming profitable. Looking at the chart, we can see that Meta's operating loss in the Reality Labs division has been widening due to heavy spendings in capex and research and development. The total loss increased from $4.5 billion in FY2019 to $13.7 billion in FY2022. We should keep in mind that Meta's shareholders are funding the development of this project.
Furthermore, regarding the quarterly performance, we can see that the Reality Labs has consistently maintained a significant negative operating margin. It's hard to see any margin expansion in the near term based on its track record. As mentioned earlier, concepts like virtual reality and metaverse are still in the experimental phase and have not gained widespread acceptance in public. Therefore, investors should be cautious and understand that product announcements in these areas may not immediately translate into positive earnings and FCF, which will be discounted by the market participants after the price knee jerk reaction.
Conclusion
In sum, I admit the debut of Apple Vision Pro will significantly enhance user experience and improve people's lives and work, but investors should focus on the product's scalability and long-term value creation. The competition from Meta's Quest 3, which is way more affordable, raises concerns about whether Apple Vision Pro will be widely adopted by the mainstream. While Apple's new product offers more advanced features and user-friendly interface, the huge price gap will give Meta's Quest a comparative advantage.
Looking at Meta's Reality Labs' financial performance, we can see that the company has been facing challenges. They are suffering from increasing operating losses due to higher spending on capex and research and development. We should anticipate that achieving profitability takes time and patience in this industry. Also, it's important to keep in mind that AR and VR are still in an early stage and haven't gained widespread acceptance yet. Therefore, I would be cautiously optimistic because these products won't immediately lead to a positive return on investment for shareholders.
This article was written by
I'm specialized in fundamental equity research, global macro strategy, and top-down portfolio construction. I graduated from UCLA with a degree of Business Economics and UMich Ross School of Business with a Master of Accounting. I'm a senior analyst at a multi-strategy hedge fund. In my opinion, HODL can't generate significant alpha or maintain a high Sharpe ratio over the long run. Seeking Alpha requires active management and minimizing opportunity costs. Investors should understand seeking a high positive return doesn't necessarily mean you are generating high alpha.
Analyst's Disclosure: I/we have a beneficial long position in the shares of AAPL, META either through stock ownership, options, or other derivatives. I wrote this article myself, and it expresses my own opinions. I am not receiving compensation for it (other than from Seeking Alpha). I have no business relationship with any company whose stock is mentioned in this article.
Seeking Alpha's Disclosure: Past performance is no guarantee of future results. No recommendation or advice is being given as to whether any investment is suitable for a particular investor. Any views or opinions expressed above may not reflect those of Seeking Alpha as a whole. Seeking Alpha is not a licensed securities dealer, broker or US investment adviser or investment bank. Our analysts are third party authors that include both professional investors and individual investors who may not be licensed or certified by any institute or regulatory body.