Apple: Vision Pro Could Be Terrible News For Apple
Summary
Apple just showcased the Vision Pro on Monday.
There are some cool functionalities, but I have a lot of concerns.
AAPL runs the risk of cannibalizing the rest of its products.
META already has a strong hold on the AR/VR market, and it won't be easily displaced.
Looking for a portfolio of ideas like this one? Members of The Pragmatic Investor get exclusive access to our subscriber-only portfolios. Learn More »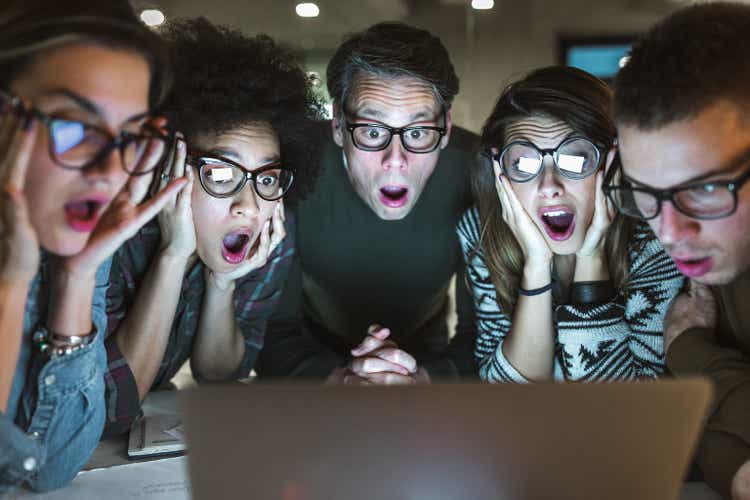 Thesis Summary
Apple Inc. (NASDAQ:AAPL) recently presented an array of new features, upgrades and products at the 2023 Worldwide Developers Conference. The most anticipated announcement was the launch of the Vision Pro Headset, an AR headset that will work in conjunction with existing products to take the computer experience to the next level.
While I expect Apple's headset to do well initially, I have some concerns about the long-term viability of the Vision Pro Headset. What will be its ultimate use? And how will it compete with the already popular Oculus Quest developed by Meta Platforms (META)?
In this article, I dive into the pros and cons of the Apple headset and reach my conclusions on the future of this technology.
Here's What We Know
The last time Apple launched a major new product was the Apple Watch in 2014. Almost 10 years later, they finally launched a new product with the Vision Pro Headset. The headset will be available for sale next year, at a retail price of $3,499.
So what is the Vision Pro? In the words of Tim Cook himself, "It's the first Apple product you look through, and not at". The Vision Pro headset creates a limitless canvas on which users can experience the digital world. Users will be able to connect their devices to the headset by simply looking, and everything on your Mac will be displayed on the headset.
This AR headset, unlike others on the market, will be controlled fully by voice, vision, and hands without the need for any additional hardware. Another neat feature will be the integration of a 3D camera.
But what exactly will this headset be used for? Everything you can do in a 2D device, you will be able to take to the Vision Pro, but the real innovation will be in the use of apps that can be improved through the 3D experience. Gaming, entertainment, and video conferencing are just a few.
In Monday's presentation, Apple showcased a 3D version of FaceTime, which also includes the use of AI-generated avatars, "personas".
Though I am personally very curious to see what more the Vision Pro can do, there are also a fair few issues with the problem, and one of them is a biggie.
Issues With The Vision Pro
Like with any new technology, there are a fair few issues with Apple's now headset.
For starters, the AR experience is unnatural to most humans. Nausea is common, and the VR is also reportedly quite heavy. These two issues were reported by The Wall Street Journal's Joanna Stern.
Battery time is another issue. The headset should allegedly carry a 2-hour battery life, which is not that long, and using the device plugged in might not be an option.
And of course, the price is a big one; at $3,499, this piece of hardware is seven times more expensive than the Oculus 2. Even if the Vision Pro is significantly better, is it seven times better?
The above are just some minor problems with the headset which we can overlook. However, I see two major problems for Apple moving forward.
Firstly, we still have no idea what Apps will be available for the headset. Apple will have to entice developers to create Apps before the product launch.
We always viewed this first generation device as a new tool/platform for developers - who now have 6+ months until the headset launches - to create the 'killer app' that takes AR/VR from niche to mainstream,
Source: Morgan Stanley analyst Erik Woodring
Apple will make developer kits available so third parties can start working on new software immediately. Still, stocking the Vision Pro app store will be a big challenge, and the offering might be limited.
More importantly, though, I fear that the Apple headset could cannibalize the rest of its products. So far, Apple's products have all been developed to work seamlessly and simultaneously. You type on the MacBook while listening to music on your AirPods and scroll through social media on your iPhone.
Supposedly, through the Vision Pro headset, one could do all of these things simultaneously. No need to buy the 4K Apple TV, or the iPad, when you can track your movements through the headset and enjoy the complete 3D experience on the headset.
The Vision Pro will only succeed if all else fails.
Apple Is Not Alone
Beyond this, my other main concern is that Apple is late to the game. This market is already highly dominated by one of the largest corporations in the world, META, which I wrote about a few months ago.
In 2022, 80% of the AR headsets sold were Oculus Quest 2. META is a dominant player in this market, which is expected to grow at a CAGR of 37.8% through 2030.
META just recently announced the release of the Oculus Quest 3, while simultaneously lowering the prices for the Oculus 2.
While I am sure that the Apple Vision Pro will garner the attention of millions of Apple fanatics around the world, I don't think it will be able to compete for a significant share of the broader market. If you ask me, Apple is late to the game.
Final Thoughts
While I am excited to see what Apple has to offer, I have some major concerns about the Vision Pro. The biggest one is the possible cannibalization of its other products, followed by the lack of apps developed for this specific hardware so far. I am bullish on AR/VR, but I believe that META is much better positioned to profit from the growth of this segment.
This is just one of many exciting tech stocks you can buy right now!
Join The Pragmatic Investor to stay ahead of the latest news and trends in the tech space, and you will receive:
- Access to our Portfolio, which features "value tech stocks".
- Deep dive reports on tech stocks.
- Regular news and macro updates
- Weekly Newsletter
Technology is changing the future, don't just watch it, be a part of it!
This article was written by
James Foord is an economist by trade and has been analyzing global markets for the past decade. He leads the investing group The Pragmatic Investor where the focus is on building robust and truly diversified portfolios that will continually preserve and increase wealth.
The Pragmatic Investor covers global macro, international equities, commodities, tech and cryptocurrencies and is designed to guide investors of all levels in their journey. Features include a The Pragmatic Investor Portfolio, weekly market update newsletter, actionable trades, technical analysis, and a chat room.
Learn more
.
Analyst's Disclosure: I/we have a beneficial long position in the shares of META either through stock ownership, options, or other derivatives. I wrote this article myself, and it expresses my own opinions. I am not receiving compensation for it (other than from Seeking Alpha). I have no business relationship with any company whose stock is mentioned in this article.
Seeking Alpha's Disclosure: Past performance is no guarantee of future results. No recommendation or advice is being given as to whether any investment is suitable for a particular investor. Any views or opinions expressed above may not reflect those of Seeking Alpha as a whole. Seeking Alpha is not a licensed securities dealer, broker or US investment adviser or investment bank. Our analysts are third party authors that include both professional investors and individual investors who may not be licensed or certified by any institute or regulatory body.