Oil performs strongly in April, which makes sense as the seasonality suggests higher demand as more people use oil for air conditioning. Additionally, driving is more popular in the Spring as people travel and use gasoline more. Overall, oil has shown great strength in the month of April. Here are some of the statistics about West Texas Intermediate's performance in the month.
(Click charts to enlarge)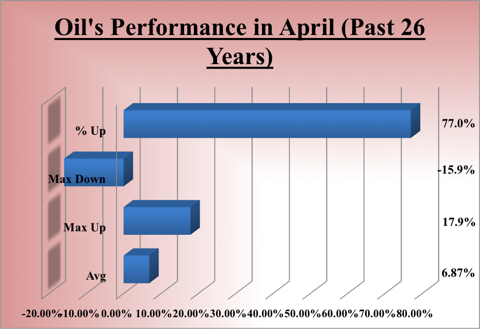 As we can see, oil has averaged a gain of around 7% in the month of April. That type of gain in April would take us just south of $115. What is also interesting to see is that gains have been made 77% of the time in April. Overall, it is interesting to see how strong oil has been historically, but we have seen oil be overvalued for the first few months. The data seems to suggest more upside. If that is the case, what can we expect from oil companies. We investigated ExxonMobil (NYSE:XOM), ConocoPhillips (NYSE:COP), Chevron (NYSE:CVX), Halliburton (NYSE:HAL), Schlumberger (NYSE:SLB), Weatherford (NYSE:WFT), Nabors (NYSE:NBR), and Helmerich & Payne (NYSE:HP). Here is what average gains we found for the past 18 years: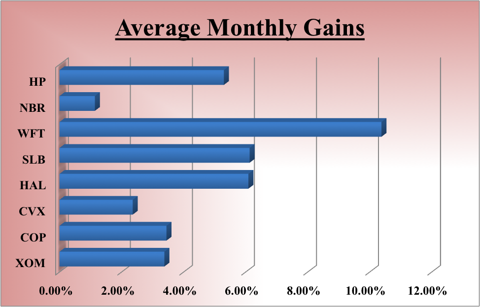 The best average performers are Weatherford, Schlumberger, Halliburton, and HP. Interestingly, the best companies were all oil services companies. Oil services have been laggards this year, so they may be due for a strong April, especially if oil prices stay strong. All three companies do report near the end of April with HAL on April 18, and SLB on April 20. WFT is on April 24. Something to keep in mind with averages, though, is max drawdowns. A high average does not mean low beta, so we want to be aware of this. Here are max drawdowns as well as % of times up: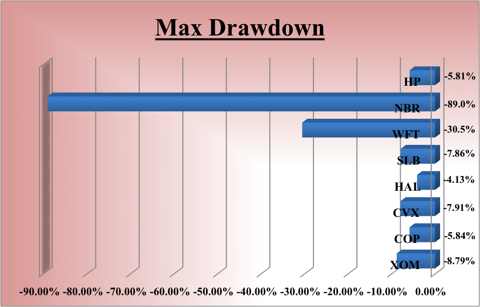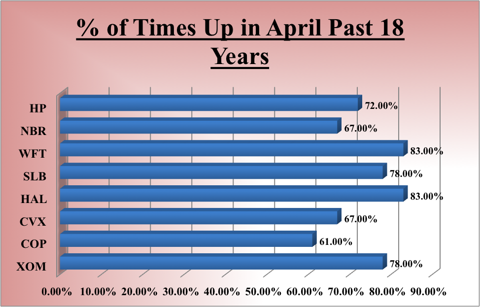 Take a look at the three leaders (HAL, SLB, and WFT). We see that the three are in the top in the number of times up. The only issue we really see, though, is that WFT had a max drawdown of 30%. HAL and SLB, though, were much more respectable with 4% and 8%, respectively. We are interested, therefore, in these two stocks. ExxonMobil has pretty good statistics with almost 80% up April months, 9% drawdown, and over 3% gains on average in April.
With this information, we suggest the following trades:
Trade #1
Position: Halliburton , Apr20, 31/30 Bull Put Spread
Entry: 0.11 or higher.
Exit: 0.01 or lower.
Max Gain: 12.4%
Stop Loss: 0.20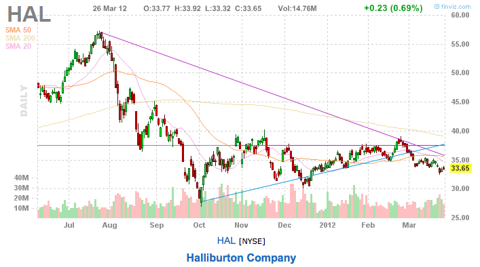 Trade #2
Position: ExxonMobil , May19, 82.50/80 Bull Put Spread
Entry: 0.30 or higher.
Exit: 0.05 or lower.
Max Gain: 11.4%
Stop Loss: 0.50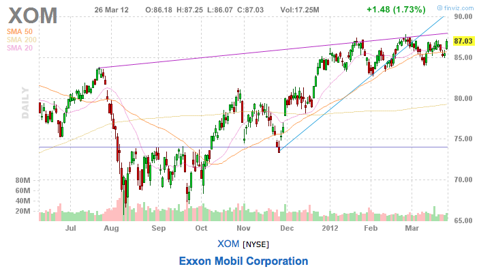 Disclosure:
I have no positions in any stocks mentioned, but may initiate a long position in HAL, XOM over the next 72 hours.