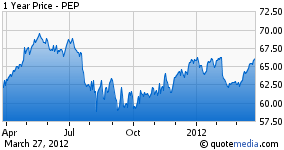 After the strong rally in the equities markets that we have seen since October of 2011 investors must be confident that they are obtaining an adequate margin of safety in each investment that they make. In the words of Warren Buffett, "It's far better to buy a wonderful company at a fair price than a fair company at a wonderful price." We believe that Pepsi (NYSE:PEP) is a perfect example of Buffett's mantra, as recent operational missteps have obscured the longer-term prospects for this international giant. Pepsi offers an attractive and growing dividend yield, with above average long-term growth prospects, and a reasonable valuation.
PepsiCo manufactures and markets a variety of snacks and beverages through a variety of top tier consumer brands. Their portfolio consists of iconic franchises such as Pepsi, Mountain Dew, Gatorade, Tropicana, Lay's, Doritos, and Quaker. In 2010 Pepsi closed its acquisition of the Pepsi Bottling Group and Pepsi Americas, Inc. By controlling two of their largest bottlers the company is able to cut costs and more efficiently control the packaging process. While Pepsi has thus far generated close to $600MM in synergies from these acquisitions, the company's return on invested capital has dropped to around 14% versus the high 20% range experienced in the last decade. This is due to the company going from an asset-light model, which allowed Pepsi to leverage their high margins and efficient distribution network, to a more vertically integrated operation in which they control production, packaging, and distribution.
The stock has been stagnant due to some market share losses in the beverage business, and the overall gradual decline of the soft drink market in the United States. Pepsi's CEO Indra Nooyi recently announced that the company is going to increase its marketing spend on its brands by between $500-$600 million in 2012. The focus of the increased marketing budget will be on the larger brands including Pepsi, Lay's, Mountain Dew, Gatorade, and Doritos among others. To accomplish these goals Pepsi will be reducing the headcount and continuing to streamline operations to reap out more efficiencies. The lack of focus on these brands has been a critical disappointment in the evaluation of Nooyi's tenure, as at times it seems like she has lost track of where the company makes its money. Despite this critique I do applaud the company's execution in developing healthier products, as exemplified in the growth of their non-carbonated beverages, and baked chips segments.
Over the last five year period Pepsi's core operating profit and core EPS have compounded at 9% and 8% respectively. Dividends grew even faster at 12% annually and through both dividends and share buybacks the company has returned in excess of $30 billion to shareholders. The company has put a great deal of effort into adding healthier products to its portfolio. The "secret sauce" to Pepsi is both brand management and distribution. As you walk through virtually any supermarket, you'll notice whole aisles dedicated to Pepsi and Coca-Cola (NYSE:KO) products. These companies have distribution networks that take their products directly to the retailers that sell them throughout the world. For a company to compete with a Pepsi or Coke on an international scale is extremely difficult, as these firms have spent the better part of the last century creating this infrastructure. This moat is what allows these companies adequate pricing power in excess of inflation.
There has been a lot of speculation that the company should split its snack and beverages business which was quelled in the last conference call. While this type of split might bring about a short-term spike in the share price, we think it would be a terrible long term move as it reduces the scale advantages that Pepsi has in terms of distribution, marketing, and procurement. Pepsi is a long-term growth play that will benefit from emerging market development. Between 2006 to 2011 emerging and developing market revenue has grown from $8 billion to $22 billion, and this revenue stream now accounts for 34% of revenues versus 22% before. Pepsi is a very nice hedge on the US dollar due to the fact that about 50% of revenue is generated outside the United States, and because the company possesses reasonable pricing power the company provides the investor with a reasonable amount of protection versus inflation.
At $65.61 Pepsi is trading at about 14.6 times forward earnings and has a market cap of $103 billion. The current dividend yield is about 3.15% and we expect the dividend payout to increase by about 10% per annum over the next 5 years. While Pepsi might see earnings decline slightly or stay flat this year due to higher commodity costs, and the increase in marketing spending, we believe that these efforts are likely to harvest revenue growth of about 5-6% per year over the next decade, and EPS growth of 7-10% over the same time period. Pepsi generates ample free cash flow which will serve to reduce the share count and increase the dividend. Due to the high quality of earnings and the longer-term earnings growth potential that the company employs, we believe it is likely that the stock deserves a multiple expansion to about 17 times earnings, particularly when you consider that 10 year treasuries are yielding 2.25%.
To make the trade a little juicier over the short-term we are recommending a covered call strategy. While there is a risk of getting called away, when we want to be long-term owners; we usually will only cover some of our positions as it is important to be willing to take profits as target prices are met, and to take advantage of more attractive opportunities that might present themselves.
By buying 100 shares at $65.61 and selling the January 2013 $70 call for $1.20, two things can happen assuming we hold the stock till expiration.
1) If Pepsi expires above $70 we will make $439 from the stock appreciating, at least $153 from the dividend over the next three quarters, and you'll keep your premium of $120. This total return of $712 equates to a return of 11% in 298 days on $6,441 of risk. The drawback of course is that you would end up selling your stock as your call option would be exercised.
2) Your worst case scenario is that you end up owning the stock at a break-even of $64.41. We would encourage dollar cost averaging into your position on any decreases in price in excess of $2.50 below the $65 level.
We see Pepsi as a lower risk, yet solidly rewarding play as a longer-term holding, and we think it is the type of stock that a Warren Buffett would buy at these prices if he wasn't so big into Coca-Cola. For retirees desperate for yield and cautious about the interest rate risk inherent in their bond portfolio this type of strategy on Pepsi might make a lot of sense.
Disclosure: I am long PEP.