Littelfuse: Fairly Valued After The Run-Up So Far
Summary
Littelfuse is viewed as a good investment due to its consistent performance, diversified segments, and recent acquisition of Western Automation, which is expected to increase revenues and market presence.
The company's exposure to major trends like renewable energy and energy storage units also presents high growth opportunities.
Despite a 21% increase in share price this year, LFUS stock is considered fairly valued at a forward P/E of 19, with room for upside potential.
The company's strong expectations of improved cash flows and low net debt/EBITDA ratio also make it an attractive investment.
However, risks include the potential impact of a weakening economy and the cyclical nature of LFUS's business. LFUS is preferred over Coherent due to its higher net margins and consistent share count.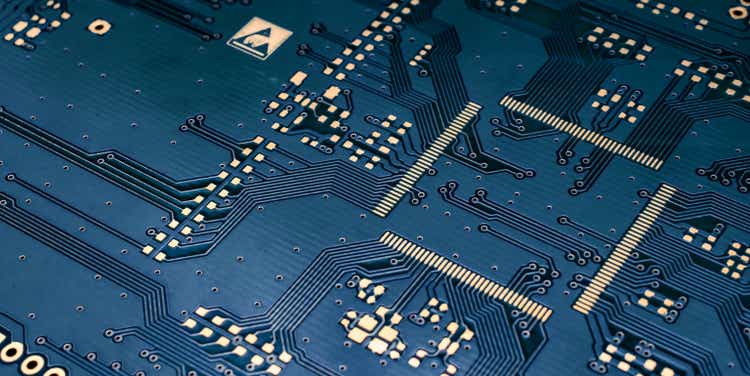 Investment Rundown
Littelfuse, Inc. (NASDAQ:LFUS) operates as a highly diversified company in the electronic components industry, an industry that is expected to see solid growth. LFUS has had a solid run-up this year so far, boasting a share price increase of around 21%. This would lead most people to say it's not the time to invest now but instead, wait for a pullback. But I view LFUS as fairly valued right now and think it's a good time to invest. The last report showed them that growing FCF 26% YoY and strength across the industrial sector present an optimistic future.
Estimates suggest that LFUS will be able to continue growing its bottom line at a decent rate in the long term and I tend to agree. I'd further argue that the acquisition of Western Automation will funnel more revenues to the company as they build up its market presence there. LFUS is a buy rating.
Company Segments
Within LFUS there are three main segments, they are as following, electronics, transportation and finally industrial. The last segment was the only one posting a YoY increase in revenues in the last report. Given the different industries it has exposure to it has aided in making LFUS rather cyclical with margins trending upwards in valleys and peaks.

The last few years for the company have been rather consistent though and I view this helps in LFUS deserving the p/e it currently has. Consistency like this is a major benefit for the investor seeking to be in LFUS for the long haul.
For the largest segment in LFUS, we have the electrification segment, this is where the last acquisition the company performed will have an impact. Western Automation plays out as an addition to the electrification portfolio for LFUS. The focus lies on EV charger fault detections and RCD protection. It also brings access to expanded technologies regarding eMobility and off-board charging infrastructure, which should yield high growth opportunities for LFUS.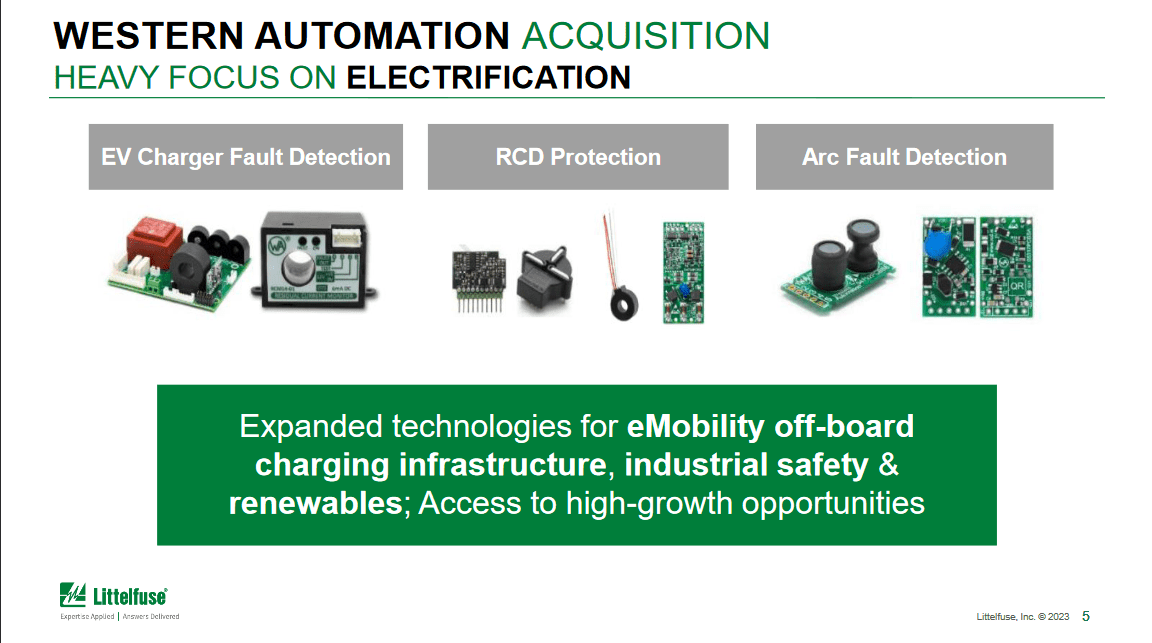 I think the most exciting part of LFUS right now is the industrial part as it exposes LFUS to major trends like building out renewables and energy storage units. The expansion of renewables in the US market is exponential and I think that whatever exposure and growth LFUS can capture will be highly beneficial. But with growing renewables also comes a need to ensure to get the most from the production and not waste anything. Here energy storage units play a major role and that market is expected to have a CAGR of 9% between 2022 - 2032.
The last segment benign the transportation segment is where a decent chunk of the revenues are generated around 27% in the last quarter. Some of the end market growth tailwinds that LFUS are experiencing is around a broad global demand for electrician and commercial vehicles. Seeing as LFUS provides some of the components for the manufacturing of these vehicles they should steady demand and growth. Some of the lower sales that occurred in the sector did become a setback for the segment as it decreased by 9.7% YoY, highlighting some of the cyclical nature I mentioned earlier. The long-term outlook for EV sales remains very strong and should bounce back quite hard.
Valuation
One of the main points around investing in LFUS right now is that it seems quite fairly valued at a forward p/e of 19. The estimated earnings growth seems to average out at around 10 - 12% YoY until 2027. I think that as long as LFUS continues making the investments they have then growth like that should be possible.

Historically, LFUS has been trading at a higher p/e than it is at right now. The average might be a little higher than it should be, given LFUS had a massive run-up in share price until November 2021, much like other companies in the same sector. But an average 5-year p/e of somewhere around 22 seems more fair and realistic, and that leaves room for some upside potential here. I view LFUS as a buy as long as it sits under that number which would equate to around a 12% discrepancy in valuation. That's a decent margin of safety, but for investors seeking a better deal might want to wait for a potential correction. What I think would cause the share price to fall is a failure to maintain margins and grow from its recent acquisition.

With that said, I think LFUS is a buy under a 22x p/e. What further makes it a good buy now is the strong expectations of improved cash flows. The FWD p/fcf is just over 10, far under the 5-year average for LFUS of 17. With FCF growing 27% YoY I think that the current share price looks even better to get in at.
Risks
The primary concern for investors is the potential impact of a weakening economy. The company's performance is currently affected by the economic headwinds in its target markets. As mentioned, earnings are likely to be cyclical to some degree, but the solid margins the company has been able to build upon the last several years do offset some of that. Worth mentioning is that LFUS boasts a low net debt/EBITDA of just 1.06 right now which helps bring more confidence to the financial state the company is in right now.
Industry Comparison
Operating in the same industry we have Coherent Corp. (COHR) a company that works with developing and manufacturing engineered materials and components around the world. Just looking at the valuation of the two, COHR might look like the better buy, but I think the lower margins of the business play a big role in this discrepancy of p/e multiples. Net margins of 13% LFUS are far above the negative 0.78% for COHR using the TTM numbers. If COHR however can achieve the projected EPS of $2.95 in 2023 the net margins would land at 7.87%, still below the margins of LFUS. The final straw that would make me go with LFUS instead is that COHR has been very consistent with diluting shares over the last few years, whilst LFUS's outstanding shares have largely remained the same.
Final Words
The last earnings result from LFUS didn't show them performing incredibly well or add a surprise factor to the mix, instead, it was solid results a little above the guidance the company had previously provided. I think exciting times are ahead and with the acquisition of Western Automation the impact will be more visible in the coming quarters I think.
With that said, the nature of LFUS business is cyclical as they are exposed to such markets, but that doesn't mean it's a bad investment, quite the opposite. The current share price I think offers a good entry point and the FWD p/e sits under my threshold of 22 where I would consider it a buy.
This article was written by
I write about companies that fascinate me and that also offers investors with potential as a long-term position. I primarily focus on the energy and industrial sector but every now and again venture out to other sectors too.
Analyst's Disclosure: I/we have no stock, option or similar derivative position in any of the companies mentioned, and no plans to initiate any such positions within the next 72 hours. I wrote this article myself, and it expresses my own opinions. I am not receiving compensation for it (other than from Seeking Alpha). I have no business relationship with any company whose stock is mentioned in this article.
Seeking Alpha's Disclosure: Past performance is no guarantee of future results. No recommendation or advice is being given as to whether any investment is suitable for a particular investor. Any views or opinions expressed above may not reflect those of Seeking Alpha as a whole. Seeking Alpha is not a licensed securities dealer, broker or US investment adviser or investment bank. Our analysts are third party authors that include both professional investors and individual investors who may not be licensed or certified by any institute or regulatory body.