Carrefour: Surprisingly Exciting
Summary
Carrefour is a hugely underappreciated industry giant with a strong growth outlook.
The company's focus on private labels, discount store formats, digital presence and omnichannel strategies are expected to drive meaningful financial growth.
Carrefour's geographical exposure, particularly in South America, positions it favorably for growth, with the company's strong balance sheet allowing for significant shareholder returns.
With a target price of €23, a remarkably strong outlook, and a shareholder yield of over 9% in 2023, it is hard not be get enthusiastic about this investment opportunity.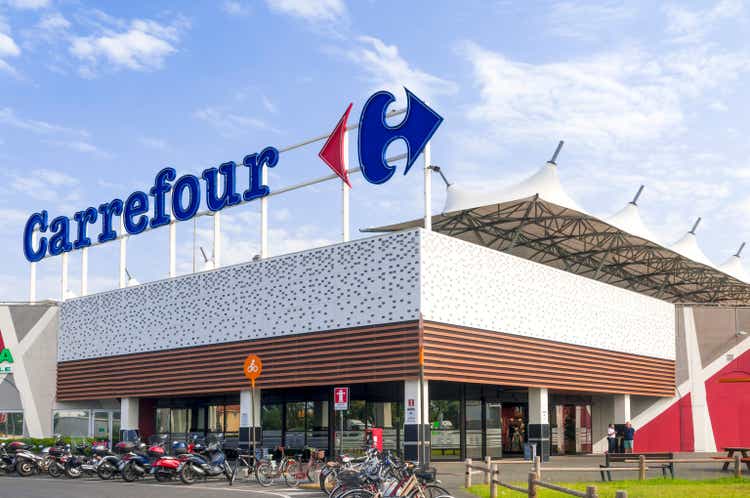 Investment thesis
I initiate my coverage of Carrefour SA (OTCPK:CRRFY) with a buy rating following my in-depth analysis of the company and management's solid 2026 strategic plan, which should drive solid financial growth over the next several years.
Carrefour is an underappreciated industry giant in the food and grocery retail sector. Despite the industry's perceived lack of excitement, Carrefour stands out as a trusted multinational corporation with a strong presence in Europe and Latin America. The company's geographical exposure, particularly in South America, positions it favorably for growth, as this region is projected to outpace other markets in the food and grocery retail industry.
Carrefour's focus on private labels and discount store formats, along with its emphasis on digital presence and omnichannel strategies, further drives the expectation of meaningful financial growth. The company's efforts to improve customer satisfaction, increase market share, and achieve cost savings demonstrate its solid strategic plan. Furthermore, Carrefour's strong balance sheet allows it to return cash to shareholders, invest in growth, and pursue opportunistic acquisitions. And just how shareholder friendly and cheap the company is today is highlighted by a total shareholder yield of over 9% based on the current share price, the 2023 share repurchase program, and a solid and growing dividend. Overall, Carrefour's growth potential, cost-saving strategies, and shareholder-friendly approach make it an attractive investment opportunity.
In this article, I will take you through the company fundamentals, latest developments, and financial results to end up with a revenue and EPS forecast through 2026 to help determine whether this company is an attractive buy today.
Carrefour is an underappreciated industry giant
The food & grocery retail industry is definitely not one of the most exciting ones to invest in. The business is quite boring and does not create many if any, headlines. Meanwhile, the industry offers great stability and financial consistency due to the simple necessity of food and grocery products, no matter the severity of macroeconomic issues. Also, the industry does hold some more exciting companies that are expected to show above-industry growth by taking on a little more risk. One of these underestimated industry gems is French giant Carrefour.
Carrefour is a renowned multinational retail corporation that has established itself as one of the world's largest and most successful retail chains. With a rich history spanning several decades, Carrefour has become a trusted name in the global retail industry, providing customers with a diverse range of products and services. Founded in 1959 in France, Carrefour has expanded its operations to numerous countries across the globe, solidifying its presence in Europe and Latin America. The company operates through a vast network of hypermarkets, supermarkets, convenience stores, and e-commerce platforms, catering to the diverse needs of millions of customers worldwide.
Carrefour is a true industry giant with 14,000 stores globally servicing over 80 million households across 9 main countries, with an additional 40 markets through partnerships. The company does over €80 billion in sales and processes 8 billion transactions annually. And the company is not just any player in the markets it operates in as it holds strong market positions across its most important regions with a #1 position in Brazil and a #2 position in both France and Spain.
Yet, what really sets this company apart from its European peers is its geographical exposure. Whereas European peers tend to focus on Europe and the US, like Ahold Delhaize (which I covered here), Carrefour has chosen a completely different and unique approach that positions it favorably in terms of growth expectations. This is thanks to the company's focus on South American markets (Brazil and Argentina) in addition to Europe. In 2022, South America accounted for 30% of total sales and 40% of operating income versus 70% and 60% for Europe, respectively.
To put this advantage into perspective, Grand View Research projects the global food & grocery retail market to grow at a CAGR of 3% through 2030, with mature markets like the US and Europe growing slightly below this and the Asia Pacific region growing slightly faster. Meanwhile, the real standout here is the South America region which is projected to show a CAGR of closer to 9-10%, far outpacing other regions. With Carrefour currently being the second largest retailer in this geographical region, it is well positioned to benefit from this growth and the company has a strong foothold as well with a total of 1500 stores. Especially in Brazil, the company is a market leader as it holds a 24% market share in the country following the acquisition of Grupo BIG.
That this geographical exposure is driving meaningful growth for Carrefour is shown in its 2022 full-year results as sales derived from Latin America increased by an impressive 28.2%, far outpacing the approximate 6% sales growth in Europe. With this pattern expected to continue over the remainder of the decade as well, Carrefour is well-positioned to outpace European competitors in terms of sales growth. As a result, I view this exposure to so-called emerging markets as a huge positive for this generally boring company versus most of its competitors, despite the risks of being exposed to somewhat underdeveloped and underregulated countries. For the food and grocery retail industry, these risks seem very limited.
Over the last several years, Carrefour has also been exiting many markets. The company used to be very active in the Asia Pacific region but chose to exit this market to be able to focus on Europe as its largest and most mature market and Latin America as its growth engine. And whereas this seems to have been an excellent choice by management, it has resulted in relatively stagnant growth over the last decade, resulting in the lousy share price performance of a negative 30% as well. Yet, today the company is very well positioned with a strong focus on two geographical regions, a much leaner and well-diversified business, and a solid strategy to show more convincing financial growth through 2026.
That the business has been improving over recent years already is highlighted by the over €5 billion in cost-savings over the last four years which resulted in recurring operating margins expanding by 60 bps, underscoring the company's ability to increase margins while gaining market share across its largest markets. In 2022 the company expanded its market share across all regions, including its key markets. In France, its market share expanded by 20bps to 21.2%, in Spain its market share reached 10.3% and was up 30bps, and in Brazil, excluding Grupo BIG, the market share expanded by 80bps.
Overall, this business has great value, which could very well materialize over the next several years, allowing for a higher valuation as well. Yet, one factor that could be seen as a drag on its valuation is the company's focus on sustainability and ESG. I am not necessarily against these efforts, but I believe it is important that the company focuses on green and sustainable solutions that work out for the company financially by driving cost savings or improving customer and supplier relations. Yet, this vision does not seem to be shared by management as, for example, this wants to obligate the top 100 suppliers to adopt a 1.5°C trajectory by 2026 as part of its new strategy, as highlighted in its 2026 strategic plan. Any suppliers that fail to do so will be delisted, and, in all honesty, as a supplier, I would not be very enthusiastic about working with a company demanding these sorts of things. The above is just an example of one of the actions from Carrefour management focusing on sustainability. However, I am worried that following some of the statements and actions from management regarding this could have a negative impact on the company's performance. I believe it would be better to focus on the factors that improve the business instead of its image.
At the same time, investors and institutions that value environmental initiatives, ESG, and impressive climate-preserving targets are definitely at the right address here as the company is a frontrunner in its industry in these initiatives. For example, the company aims to decrease the waste created by its products significantly, wants to be completely carbon neutral by 2040, and is actively fighting against deforestation in Latin America.
Now, let's dive a bit deeper into the company's efforts, prospects, and recent performance by looking at the Carrefour 2026 strategic plan and its latest quarterly results.
Carrefour has a solid strategy in place to improve its business and drive meaningful financial growth
In November 2022, Carrefour launched its new strategic plan which should accelerate the company's already-initiated transformation, improve customer satisfaction, and above all, further boost growth through 2026. The new plan considers today's challenges, including geopolitical, macroeconomic, and climate issues.
One of the focus areas of Carrefour to both improve customer satisfaction and drive financial growth and margin expansion is its focus on private labels. Private labels generally hold higher margins as these are typically manufactured or sourced directly by the supermarket or retailer, bypassing the need for intermediaries. Also, these give the company more control over pricing and drive greater customer brand and company loyalty. Yet, the most crucial factor here is the fact that private-label products are often priced lower than their branded counterparts, allowing the company to leverage this pricing advantage to offer more competitive prices to customers, which is especially important in times of high inflation and decreasing consumer purchasing power like we are seeing today.
Carrefour believes that this more competitive pricing through private labels will allow them to increase traffic and customer satisfaction. Therefore, Carrefour aims to increase private label sales to 40% of total sales by 2026 from 33% in 2022 and 25% in 2018. That this is the strategy to go with today can be seen in its latest quarterly results as private label sales as a percentage of total sales increased from 32% to 35% YoY. This upward trend is expected to continue over the next few quarters as consumers become increasingly price-conscious and look for lower pricing, which could strengthen the position of Carrefour further, benefitting it in the long term.
Another way through which Carrefour aims to use the current high inflation and low consumer purchasing power to its advantage to attract more customers to its massive collection of stores is by accelerating the development of discount store formats as it does in Brazil through its Atacadao (OTCPK:ATAAY) subsidiary. Atacadão stores offer a wide variety of products at competitive prices in bulk quantities and are designed to cater to both individual customers and small to medium-sized businesses. One of the key features of Atacadão stores is the emphasis on volume-based pricing. Customers who buy in larger quantities can benefit from discounted rates, allowing them to achieve cost savings for their businesses or personal use. This pricing model is particularly advantageous for small businesses that require bulk purchases to meet their operational needs while maintaining affordability.
Especially in these challenging times, these business models that offer savings to customers in different forms are expected to do well. Therefore, and to also offer customers continued opportunities to save costs, Carrefour aims to expand the Atacadao brand by opening an additional 200 stores in Brazil and introducing the brand in France by 2026. Furthermore, Carrefour wants to increase the density of its convenience store network in general and aims to open an additional 2400 stores by 2026.
Both the increased focus on private labels and the accelerated development of discount store formats should drive meaningful growth for Carrefour over the next several years as the business uses the lower consumer purchasing power to its advantage to increase traffic and customer loyalty. I believe this will benefit the company in the long term and improve its global position.
In order to capture a larger audience and improve accessibility, Carrefour also focuses on its digital presence and omnichannel approach. The strength of the omnichannel strategy is highlighted by company data which shows that omnichannel customers are increasingly spending much more than offline-only customers. Data shown in the 2026 strategic plan presentation shows these omnichannel customers spend 27% more through a higher purchasing frequency and ticket price as digital channels make grocery shopping more accessible. Therefore, to maximize this positive effect, the company aims to increase the number of customers leveraging multiple channels to 30% from just 11% in 2021. An important part of doing this is increasing the number of loyalty members by offering personalized and more valuable promotions. By 2026, 10% of promotions for loyalty members should be personalized and the rollout of subscription programs in Spain and more countries should further contribute. Of course, this focus on customer loyalty will further solidify the company's long-term stability and competitive position.
As part of its strategic 2026 plan, Carrefour wants to increase its initiatives in the popular e-commerce industry as it aims to reach €10 billion in e-commerce GMV by 2026. Over the last four years, the company already increased e-commerce GMV by 4x.
Another part of its 2026 strategic plan is to become a much leaner business by, for example, reinforcing the integration across European countries by combining expert and support functions and decreasing its headcount. Another contributor to the process of becoming a leaner company is the integration of digital solutions to drive efficiencies across the business by, for example, improving the supply chain and automating certain processes. Add to this the company's approach toward private labels and some energy cost savings, and a goal of over €4 billion in cost savings through 2026 seems not that far-fetched.
At the same time, the company also remains ambitious and wants to grow. Therefore, it expects to grow Capex to over €2 billion annually by 2026, driven primarily by business expansion plans. Still, the growth in EBITDA is also expected to be strong, driving net free cash flow generation to over €1.7 billion by 2026, compared to €1.26 billion in 2022. This means Carrefour expects to grow net FCF at a minimum CAGR of over 10% through 2026. Considering we are talking about a very defensive and generally slow-growing industry, this is impressive.
As explained earlier, management believes South America will be its growth engine over the next few years, with additional gains to be made by finding synergies from the Grupo BIG acquisition in Brazil. In addition, the company aims to boost growth in Europe by making sustained market share gains as it has done over recent years. Overall, these efforts discussed above should drive meaningful financial growth and cost savings.
This financial growth also allows Carrefour to further reward its shareholders. Shares already offer a very attractive yield of around 3.2%, which is well covered by free cash flow. And this gets even more attractive when considering that the company aims to increase the dividend by over 5% per year, which is obviously well supported by the 10% annual growth expected in free cash flow. The latest dividend hike was 8% and I believe it is safe to assume that if the company were to indeed reach its financial targets, the dividend could continue to grow at a similar rate as well (between 5-8%).
In addition to this, the company also wants to use its strong cash generation to make opportunistic bolt-on acquisitions over the next several years to further drive sustainable growth and repurchase its own shares to increase shareholder value. Over the last two years, the company has already repurchased €750 million and €700 million in shares. For 2023, it has launched an €800 million share buyback program which equals approximately 6% of the outstanding shares. Adding to this the current dividend brings us to a total shareholder yield of 9.4% in 2023 which is simply stellar, while being fully covered by free cash flow.
The company has one of the strongest balance sheets among its peers, allowing it to return large amounts of cash to shareholders and aggressively invest in growth. At the end of 2022, it had a net debt position of €3.4 billion but the €2 billion the company made from the sale of its Taiwan business is expected to come in this quarter which will positively impact the balance sheet.
Q1 shows strong continued momentum
Carrefour reported its Q1 results on April 25 and delivered another strong quarter as it reconfirmed its long-term financial targets. Sales growth remained strong as it reported 12.3% YoY growth driven by all its key regions with robust growth in Latin America of 26% YoY, while growth in France came in at 7.1% and 8.8% for the rest of Europe. This resulted in total sales of €22.1 billion. Yet, it should be noted that these YoY increases were driven by record-high inflation across key markets as actual volumes decreased. Still, Carrefour volumes are holding up better than its competitors, driven by the company's focus on private labels, promotions, and discount formats. As a result, the company reported a net gain of 560,000 customers YoY in Q1, reflecting the strength of the company's approach. E-commerce GMV was up 26%, showing strong continued momentum in the digital transition.
Overall, Q1 showed strong continued momentum in the business, partly driven by high inflation and further market share gains. Carrefour did see some weakness in non-food sales (-3.4) in France, but this was largely offset by strength in food sales (8.3%). Meanwhile, In Europe, growth was driven by a strong performance in Spain (+9.3% YoY) as the company strengthened its position there. Carrefour's efforts to expand its hypermarket format in Belgium and Romania also bear fruit as these regions saw growth of 9.9% and 12.5%, respectively. In Latin America, growth was broad-based as all individual segments recorded strong growth with Brazilian e-commerce GMV being especially strong with this increasing 43% YoY due to the ramp-up of Atacadão's online business and the integration of Grupo BIG. In Argentina, the company reported another quarter of impressive sales growth, with this increasing 117% YoY, driven by market share gains, increasing volumes, and accelerating inflation rates.
As Carrefour only provides a trading update in Q1 and Q3, I will use the FY22 results to better understand the company's margin profile. This shows that Carrefour has struggled to maintain its margins in 2022 as high inflation made it challenging to push all price increases onto its customers. As a result, the gross margin decreased by 100 bps and came in at 20%, while the EBITDA margin came in at 5.7%. The net income margin also decreased from 1.6% in 2021 to 1.5% in 2022. I do not view this as a massive negative right now as the business simply prioritizes growing its customer base by keeping its prices low. This has resulted in market share gains across every single market, which will benefit the company long-term. As inflation eases, margins should improve as well, boosting growth in EPS further from an already strong performance over the last several years. I don't doubt the company's abilities here as it has shown over recent years that it is capable of expanding margins and saving costs, highlighted by the fact that EPS has been growing consistently and is up 50% over the last three years. With the company already projecting FCF growth of around a 10% CAGR through 2026, I believe the potential EPS growth could be even stronger.
Overall, the margin profile is very thin as seen across the food and grocery retail industry, so there are no surprises there. If we compare it to its peers, we can see it is sitting around its peer average, especially in the somewhat better years when the company's margins are higher. Especially its EBITDA and net income margin are on par with competitors in both Europe and the US.
Outlook & valuation
Following my in-depth analysis of the company, the excellent recent financial results and momentum in the business, and the FY26 targets laid out by management, I now project the following results for the years until FY26.
Shortly explaining these, I now expect Carrefour to report net sales of €87.49 billion in FY23 and EPS of €1.75, driven by a continued strong performance in 2023, although with growth slowing down in the second half of the year as inflation eases and volumes remain low. In addition, I expect margins to remain under pressure but to improve towards the end of the year, again due to inflation easing. Yet, this will still result in EPS growth coming in slightly below top-line growth.
For the following years, I project sales growth to slow down to the mid-single digits as the inflation impact largely disappears and volume growth picks up again. Meanwhile, I project a significant improvement in EPS in FY24 as I expect margins to improve significantly YoY. Also, continued share repurchases will have a positive impact on EPS. In the following years, EPS growth will ease off but remain rather high due to the impact of further margin improvements and share buybacks.
Moving to the valuation, shares are currently valued at a forward P/E of 10x, which is somewhat below its 5-year average valuation of 11.55x and 48% below the sector median. Also, shares seem relatively cheap compared to its peers, with Ahold Delhaize (OTCQX:ADRNY) valued at a forward P/E of over 12x and Kroger (KR) at 10.4x. Meanwhile, Carrefour has a much stronger balance sheet and better growth prospects. Of course, the exposure to emerging markets in Latin America brings with it some risks and margins are somewhat lower for Carrefour as well. Still, I believe shares are trading below their fair value. A P/E of 11 seems more appropriate when considering the company's long-term growth prospects, strong cash generation abilities, and solid strategy.
Therefore, using my FY24 EPS projection and a forward P/E of 11x, I calculate a price target of €23 per share, leaving an upside of 32% for this defensive industry leader. (Please note, this target price is solely based on its forward P/E and is only for indicative purposes.)
Conclusion
Carrefour's underappreciated status as an industry giant, unique geographical exposure, strategic initiatives, and strong financial performance make it an attractive investment opportunity in the food and grocery retail sector. The business is a real standout in this generally boring industry and its recently introduced strategic plan should drive strong growth through at least 2026 with FCF expected to grow at a CAGR of around 10%.
In addition, the company looks very attractively valued at a share price of around €17 per share. With the company currently valued below its 5-year average valuation and the sector median despite very strong growth prospects and an industry-leading balance sheet, shares currently look very attractive. This is highlighted by the 32% remaining upside to my price target of €23 per share.
Considering the over 9% yield the company offers through dividends and share repurchases in FY23, I believe shares provide decent value at any price below €19 per share. Therefore, I rate Carrefour shares a buy as this impressive industry leader has some of the best prospects in the industry while trading at a depressed valuation.
Editor's Note: This article discusses one or more securities that do not trade on a major U.S. exchange. Please be aware of the risks associated with these stocks.
This article was written by
Daan Rijnberk is an independent investor and author who focuses on finding businesses with a strong moat, healthy financials, and a promising growth outlook to deliver investors stable and above-average long-term profits. This includes a combination of both value and growth opportunities across industries to help readers build well-diversified portfolios. The articles aim not to make quick gains but to achieve long-term sustainable growth by identifying the most promising opportunities in the markets at a fair price. The leading strategy is to buy and hold for as long as the investment thesis is intact. Therefore, an update on most of the covered equities will be provided every 3-6 (In some cases 12) months to keep the rating and thesis up-to-date. Built upon professional experience and personal interests, Daan has specific expertise in semiconductors and fintech. Articles and analyses are published exclusively on Seeking Alpha.
Analyst's Disclosure: I/we have a beneficial long position in the shares of CRRFY either through stock ownership, options, or other derivatives. I wrote this article myself, and it expresses my own opinions. I am not receiving compensation for it (other than from Seeking Alpha). I have no business relationship with any company whose stock is mentioned in this article.
Seeking Alpha's Disclosure: Past performance is no guarantee of future results. No recommendation or advice is being given as to whether any investment is suitable for a particular investor. Any views or opinions expressed above may not reflect those of Seeking Alpha as a whole. Seeking Alpha is not a licensed securities dealer, broker or US investment adviser or investment bank. Our analysts are third party authors that include both professional investors and individual investors who may not be licensed or certified by any institute or regulatory body.