Specialty clothing retailer Charming Shoppes (NASADAQ:CHRS) said Tuesday it narrowed its fourth-quarter net loss, but continued to grapple with higher product costs and a challenging promotional environment.
The retailer runs stores and e-commerce websites under the Lane Bryant, Fashion Bug and Catherines Plus Sizes brand names.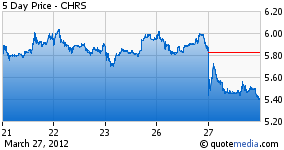 Its retail stores offer everything from plus-size to junior and sportswear, dresses, coats an intimates as well as accessories and casual footwear.
Net sales for the quarter ended January 28 slid 2.9 percent to $559.1 million. This compares with $575 million last year.
Charming Shoppes attributed the decline to fewer operating stores, partly offset by a comparable store sales increase of 1 percent.
The company narrowed its net loss to $13.2 million, or negative 11 cents per share, compared with a year prior net loss of $30.4 million, or negative 26 cents per share.
Removing one-time items, such as restructuring costs and other items, adjusted earnings were negative six cents a share versus negative eight cents a share, last year.
Analysts polled by Bloomberg were projecting a loss of two cents a share, on revenue of $544 million.
In a statement, chief executive Anthony Romano noted: "Our fourth-quarter results were below our expectations as the impact of higher product costs and a challenging promotional environment created gross profit pressures, specifically at Lane Bryant."
"In response, we went on the offensive and chose to offer deeper-than-planned discounts to ensure seasonal unit sell-throughs."
Sales from established stores at Lany Bryant grew 2 percent. Catherines posted same-store revenue growth of 5 percent, while same-store sales at Fashion Bug fell 2 percent. This is considered to be a key measure to gauge a retailer's financial health as it excludes stores recently opened or closed during the year.
E-commerce sales jumped 17 percent. Sales from Established stores rose 3 percent, if e-commerce sales are included.
Quarterly gross margin fell to 42 percent from 43 percent, mainly due to deeper than expected planned promotions at Lane Bryant, partly offset by improvements at Catherines and Fashion Bug.
Looking ahead, the company said it plans to open around 125 new stores and 125 relocations from malls into lifestyle and power strip centres over the next few years.
For 2012, Charming Shoppes expects to open 20 new stores. Of that number 12 are planned to be Lane Bryant and also expects to relocate 25 mall locations to lifestyle centres. Also, the retailer added that it plans to refurbish 40 locations.
In addition, the retailer is upgrading to a more efficient information technology and distribution infrastructure. When fully realized, it foresees cost reductions of between $25 and $30 million.
The company's share price lost 27 cents, or 4.63 percent, falling to $5.56 each in trade on the Nasdaq on Tuesday.
Disclosure: None