O'Reilly Automotive: 4 Reasons To Buy
Summary
O'Reilly Automotive has shown consistent growth in revenue and free cash flow over the past decade, with a total growth of 116.71% and 405.90% respectively, driven by industry trends and strategic acquisitions.
The company's profitability metrics outperform the sector median due to its strong brand and operational efficiency; analysts predict solid earnings growth in the fiscal period ending in December 2023.
Despite competition from online rivals, O'Reilly's aggressive store growth strategy and investments in e-commerce position it for continued success.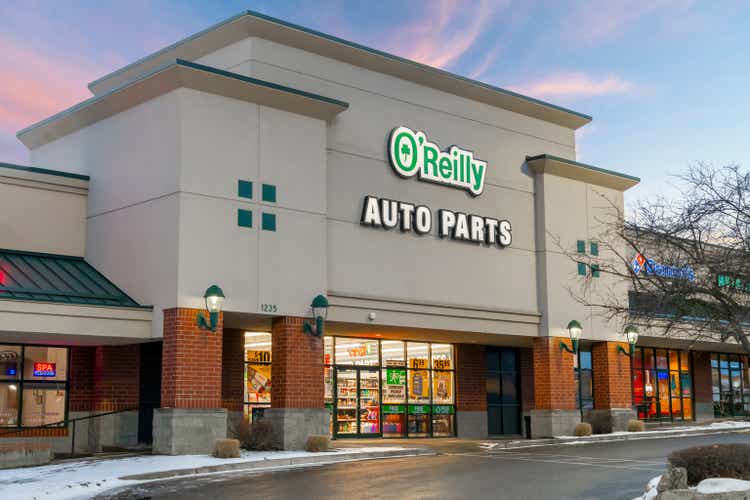 Intro
O'Reilly Automotive, Inc. (NASDAQ:ORLY) is a prominent retailer and supplier of automotive aftermarket parts, tools, supplies, equipment, and accessories in the United States. The company offers a comprehensive range of new and remanufactured automotive hard parts, maintenance items, and accessories, catering to both do-it-yourself and professional service provider customers. With a vast network of 5,759 stores in the United States and 25 stores in Mexico, O'Reilly Automotive is well-positioned to serve a wide customer base. The company also provides enhanced services and programs, including recycling initiatives, diagnostic testing, loaner tool programs, and more, further enhancing its value proposition to customers.
In this article, we will undertake a thorough examination of ORLY's financial performance and growth potential. Our analysis will encompass an assessment of the company's revenue trends, profitability measures, and its capacity to generate free cash flow. Furthermore, we will evaluate ORLY's strategic position within its industry and provide an outlook for its future. By considering these important factors, investors can gain valuable insights into ORLY's potential and make informed decisions about its suitability as an investment opportunity in the present market environment.
Growth
A high growth rate is crucial for companies like ORLY as it signifies their ability to expand their operations, increase market share, and generate more profits. It indicates that the company is effectively capturing new customers, launching innovative products, and successfully penetrating the market. A consistent and robust growth rate is indicative of a company's financial strength, market competitiveness, and its potential for future success.
ORLY has demonstrated an impressive track record of consistent growth in both revenue and free cash flow over the years. Revenue has shown steady growth for the past ten years, increasing from $6,649 million in 2013 to $14,410 million in 2022, representing a total growth of 116.71%. The compounded annual growth rate (CAGR) for revenue stands at an impressive 8.04%.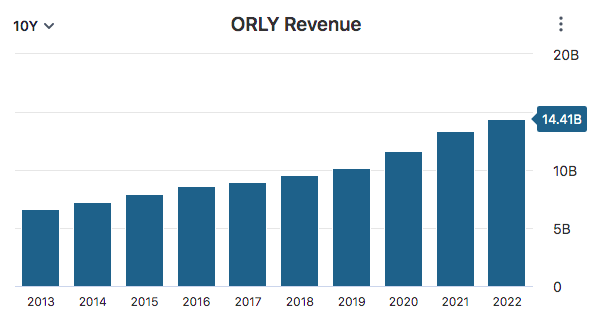 Similarly, free cash flow has also experienced significant growth, rising from $513.88 million in 2013 to $2,599.71 million in 2022. This represents a remarkable total growth of 405.90% and a CAGR of 17.60% over the same period.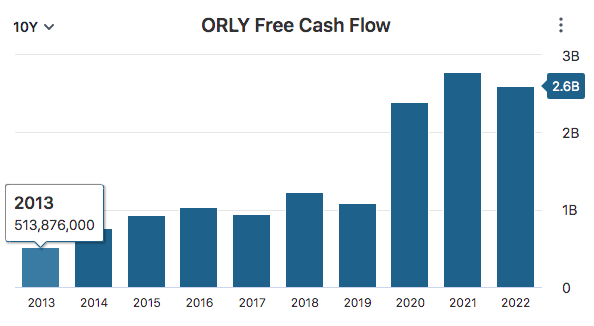 ORLY has been able to achieve these excellent growth due in part by a few favorable tailwinds. First, the automotive aftermarket is a large and growing industry, as more and more vehicles are on the road and in need of maintenance and repair. ORLY has been able to capitalize on this growth by expanding its store network and offering a wide range of products and services. Just last year the company opened 187 new stores to bring its total store count to 5971.
Furthermore, ORLY has pursued an assertive growth strategy through strategic acquisitions. In 2016, the company made a significant move by acquiring Bond Auto Parts, a privately held automotive parts supplier in the Northeast. This strategic acquisition expanded ORLY's market presence and enhanced its product offerings.
In 2019, ORLY achieved another milestone by completing its first expansion beyond the U.S. through the acquisition of Mayasa Auto Parts, a Mexico-based company. This partnership not only marked ORLY's international presence but also resulted in the addition of 1,100 team members, 21 ORMA branded parts stores, and the establishment of six distribution centers serving over 2,000 jobbers. The acquisition bolstered ORLY's distribution network and reinforced its position in the automotive parts industry.
ORLY's track record of growth in both revenue and free cash flow highlights its ability to consistently deliver positive financial performance. This sustained growth is a testament to the company's strong business strategies, effective execution, and the ability to adapt to changing market conditions. With its impressive growth trajectory, ORLY is well-positioned to continue its success and generate value for its shareholders in the future.
Profitability
Over the years ORLY has been able to achieve higher margins than its competition. The company's gross profit margin, EBIT margin, EBITDA margin, net income margin, and levered free cash flow margin are all substantially higher than the sector median.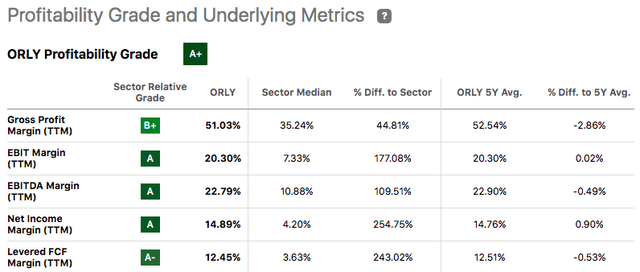 ORLY has leveraged its key strengths to attain these remarkable outcomes, beginning with its powerful brand presence. As a renowned and esteemed brand in the automotive aftermarket, ORLY has cultivated a solid reputation for delivering exceptional quality and customer service over its 60-year history. This reputation provides ORLY with substantial pricing power, as customers are willing to invest in ORLY products and services, recognizing the value they offer.
Furthermore, ORLY excels in operational efficiency, boasting low operating expenses relative to sales compared to its competitors. This efficiency contributes to higher net margins for the company. One key factor in ORLY's operational success is its well-trained workforce, ensuring optimal productivity. Additionally, ORLY implements advanced inventory management systems that effectively control costs.
The company's inventory management and distribution systems establish electronic connections between each store and one or more distribution centers (DCs), enabling streamlined inventory control and management. With a network of 28 regional DCs, ORLY ensures its stores have prompt access to an extensive range of approximately 154,000 stock keeping units (SKUs), including unique and rarely stocked items not typically found at other auto parts retailers.
Outlook
Analysts expect ORLY to achieve solid earnings growth in the fiscal period ending in December 2023, with an estimated EPS of $37.32, reflecting a year-over-year growth rate of 11.61%. The company's revenue is also projected to experience positive growth, with an estimated revenue of $15.54 billion, representing a year-over-year growth rate of 7.85%. These earnings expectations indicate the market's optimism regarding ORLY's ability to continue its positive financial performance and capitalize on growth opportunities in the automotive aftermarket industry.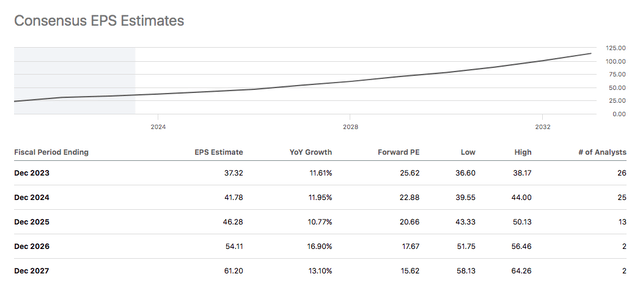 One of the primary catalysts for ORLY is its aggressive store growth strategy as part of its long-term plans. ORLY aims to consolidate the fragmented automotive aftermarket by strategically expanding its store footprint. In 2022, the company successfully opened 170 net new domestic stores and an additional 17 stores in Mexico and by the end of 2023, ORLY aims to open 180 to 190 net new stores.
This expansion strategy aims to strengthen the company's presence in existing markets while also facilitating entry into new, adjacent markets. Each new store location is chosen strategically, focusing on clusters within specific geographic areas that complement ORLY's distribution network. This approach allows for economies of scale in management, advertising, and distribution, optimizing operational efficiency and enhancing customer reach. Through this store growth strategy, ORLY is poised to solidify its position in the automotive aftermarket industry and drive further success.
However, investing in ORLY does come with certain risks, particularly due to heightened competition from online rivals. The rise of online and mobile platforms enables customers to easily compare prices, product variety, and availability across a wide range of competitors, potentially leading to pricing pressures for ORLY. Additionally, some online competitors may benefit from a lower cost structure compared to ORLY. This discrepancy arises from ORLY's strategic focus on delivering exceptional in-store experiences, superior parts availability, and leveraging its extensive store network and robust regional distribution footprint. While these factors contribute to ORLY's competitive advantages, they can also create pricing pressure in the face of online competition.
To combat this risk ORLY is investing in its own e-commerce operations. ORLY has made substantial investments in e-commerce, recognizing its potential to drive future growth. The company is strategically positioned to capitalize on the increasing demand for online automotive parts and accessories. ORLY's commitment to e-commerce is exemplified through various initiatives, such as the introduction of online ordering options tailored for professional customers via the dedicated platform, www.FirstCallOnline.com, offering local delivery services.
Additionally, ORLY's retail platform, www.OReillyAuto.com, provides online ordering capabilities, including the convenience of "chat with a parts professional" and parts look-up assistance, catering to DIY customers. These initiatives are bolstered by the availability of convenient store locations for in-store pickup or home delivery, further enhancing the customer experience and solidifying ORLY's presence in the e-commerce landscape.
Valuation
We will utilize the discounted cash flow (DCF) analysis to evaluate the true worth of ORLY. By determining the present value of projected future cash flows, we can derive the company's intrinsic value. Beginning with ORLY's previous year's free cash flow of $2.59 billion, we will apply an initial growth rate of 11.61% for 2023, followed by growth rates of 11.95% for 2024, 10.77% for 2025, 16.90% for 2026, and 13.10% for 2027 based off average analysts estimates for earnings growth in the future.
Beyond this period, we will employ a growth rate of 12.82% for years 6-10 based on the average of ORLY's average compound annual growth rate of revenue and free cash flow over the past decade. Using a discount rate of 10% based on the average return of the S&P 500 with dividends reinvested and a conservative perpetual growth rate of 2.5%, we determine ORLY's intrinsic value to be $1,162.97. This suggests that ORLY may currently be undervalued, presenting investors with a potential gain of 21.27% compared to the company's current market price.

Takeaway
ORLY has shown impressive growth in revenue and free cash flow over the years, driven by favorable industry trends and strategic acquisitions. ORLY's profitability metrics outperform the sector median, highlighting its strong brand and operational efficiency.
Analysts have positive earnings expectations for the future, and ORLY's aggressive store growth strategy and investments in e-commerce position it for continued success. Considering the company's strong financial performance, growth prospects, and current discount to intrinsic value, we will give the company a buy rating.
This article was written by
I seek to invest in companies with business models I understand and have a proven track record for growth and profitability, little to no debt, and selling for an attractive valuation. I believe holding a concentrated portfolio of these types of businesses will generate results, perhaps not immediately but eventually. "Rule Number One: Never Lose Money. Rule Number Two: Never Forget Rule Number One" - Warren Buffett
Analyst's Disclosure: I/we have no stock, option or similar derivative position in any of the companies mentioned, and no plans to initiate any such positions within the next 72 hours. I wrote this article myself, and it expresses my own opinions. I am not receiving compensation for it (other than from Seeking Alpha). I have no business relationship with any company whose stock is mentioned in this article.
Seeking Alpha's Disclosure: Past performance is no guarantee of future results. No recommendation or advice is being given as to whether any investment is suitable for a particular investor. Any views or opinions expressed above may not reflect those of Seeking Alpha as a whole. Seeking Alpha is not a licensed securities dealer, broker or US investment adviser or investment bank. Our analysts are third party authors that include both professional investors and individual investors who may not be licensed or certified by any institute or regulatory body.