Right Tail Capital - NVR Corp: Fantastic Returns On Incremental Capital
Summary
NVR, Inc. operates differently from other home builders by not owning the land it builds on, reducing risk and freeing up capital.
NVR has a strong presence in select markets, often being the low-cost producer due to market share concentration, vertical integration, and tight SG&A control.
NVR's returns on incremental capital have been impressive, averaging well over 30%, and its market cap has grown by more than $16bn since 2010, indicating significant value creation for shareholders.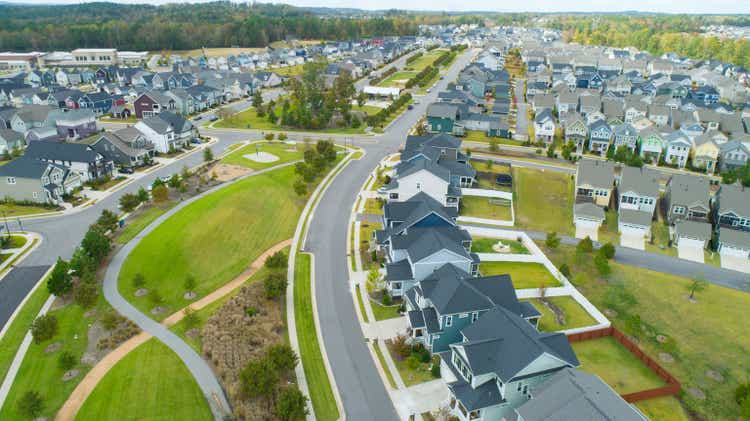 The following segment was excerpted from this fund letter.
---
Investment Spotlight: NVR, Inc. (NYSE:NVR)
One investment where I've been a patient long term holder over much of the past 5 years has been NVR.
NVR is one of the largest homebuilders in the US, operating in over 30 markets. There are several attributes that are underappreciated about NVR. First and foremost, it's not your normal land-owning homebuilder: NVR options their land which leads to outsized returns and less risk by having less capital tied up in land. Many homebuilders cite the positives of owning land such as more control over the entire building process and higher margins.
NVR mitigates the lack of control inherent in their option strategy by working extremely closely with local land developers. These partners appreciate NVR's trustworthiness, pristine balance sheet and quick turnarounds. As one developer tells me, "They do what they say they'll do and they honor their commitments to buy a set number of lots." While owning land may lead to higher margins during most economic times, it takes up much capital and is incredibly illiquid. It's also likely worth much less during tougher economic times…exactly when you might want to have more cash on hand.
NVR is so focused on not owning the land that they even refuse to own the model homes for each community – instead, they'd rather free up the capital and pay an above market rent to a local resident who's willing to own it. The model homeowner also may receive the benefit of that home's price rising as NVR further builds out the community, creating a win-win for all parties.
Another underappreciated advantage is having a dominating presence in select markets. NVR has a huge share (>20% in largest markets) in some of its largest markets which leads to local economies of scale. Through their market share concentration, vertical integration, and tight SG&A control, NVR is often the low-cost producer in their markets.
I often find myself thinking about this quote from one of investor Josh Tarasoff's essays[4]:
I think of the highest quality companies as being in a class of their own: the 99th percentile is not 10% better than the 90th percentile but 10x better. Linear thinking and analysis—though they play an important role in building a full understanding— are insufficient for revealing superlative quality…Because the best companies are so good, are so rare, and defy standardized methods of analysis, I suspect they remain undervalued for a long time.
In NVR's case, the most often cited advantage they possess is not owning their land. This seems like a simple and easy to replicate advantage. However, it's hard for larger homebuilders to clone when a part of their culture and profitability is tied to land ownership. A new company can organize this way but will not only struggle to access capital, they'll face NVR's less visible moats, such as its network of partners who can help with issues like local permitting. Of course, NVR's success is much more than any one factor and is due to doing several little things well. For example, their excellent balance sheet and longterm approach allow NVR to keep investing and opportunistically enter new markets during more difficult economic environments.
NVR's returns on incremental capital have been fantastic. Over multi-year time periods, they have averaged well north of 30%...not surprising, given that the business requires little capital and turns its inventory so quickly (4-5x per year). NVR also scores well on Buffett's retained earnings test. Since 2010, its market cap has grown greater than $16B while retained earnings have grown ~$400M. This indicates that the earnings reinvested in the business are creating significant value for shareholders. Not surprisingly, this has shown through in the stock's return over the last 10 years with NVR rising >6x or ~21% CAGR.
I remain confident that over long periods of time NVR will remain well run and continue to gain market share. It's not hard for me to pencil out a mid-teens IRR from today's prices. While the housing market seems to be under-supplied, anything can happen in the short term with the economy and housing market. I consider position-sizing more so with NVR than other companies, and it's an investment that is less likely to be Right Tail's largest position after a longer period of company fundamental and stock price outperformance.
As an aside, if you'd told me that a homebuilder would be one of our best investments since Right Tail's inception, I would not have guessed it. It speaks to the importance of partnering with a diverse set of great companies, even within a concentrated portfolio, and not trying too hard to predict macro events and stock market movements. It also speaks to the importance of dampening the noise of stock market news as most housing-related news has been negative.
---
DISCLAIMER
This review (the "Review") is being furnished by Right Tail Capital LLC ("Right Tail" or the "Firm") for informational purposes only. This Review does not constitute an offer to sell, or a solicitation, recommendation or offer to buy, any securities, investment products or investment advisory services offered by the Firm (the "Offering"). Any offer or solicitation may only be made to prospective eligible investors by means of an Investment Advisory Agreement and Form ADV, which contain a description of the material terms relating to the Offering, including the numerous risks involved. This Review is being provided for general informational purposes only.

Right Tail Capital ("Right Tail") is registered as an Investment Adviser with the states of Virginia and Louisiana. Interested parties should read Right Tail's Forms ADV I and II, available at adviserinfo.sec.gov.

Certain information set forth in this Review is based upon data, quotations, documentation and/or other information obtained from various sources believed by the Firm to be reliable. No representation or warranty, expressed or implied, is made as to the fairness, accuracy, completeness, or correctness of the information and opinions contained herein. The views and the other information provided are subject to change without notice. This report and others posted on www.RightTailCapital.com are issued without regard to the specific investment objectives, financial situation, or needs of any specific recipient and are not to be construed as a solicitation or an offer to buy or sell any securities or related financial instruments. Company fundamentals and earnings may be mentioned occasionally but should not be construed as a recommendation to buy, sell, or hold a company's stock.

Predictions, forecasts, estimates for markets should not be construed as recommendations to buy, sell, or hold any security -- including common stocks, bonds, mutual funds, futures contracts, and exchange traded funds, or any similar instruments. Investment strategies managed by Right Tail involve a significant degree of risk, and there can be no assurance that the strategy's investment objectives will be achieved or that significant or total losses will not be incurred. Nothing contained herein is or should be relied upon as a promise, representation or guarantee as to the future performance of Right Tail's strategies. Past performance is not indicative of future results.

Images, graphics, logos, and other designs used in the Review are believed to be in the public domain. A reasonable, but not exhaustive, effort has been made to verify that such images, graphics, logos, and designs are not protected under copyright. However, if any party feels that this Review is in breach of copyright law, it should immediately contact the Firm.

Performance data for the Right Tail Portfolio is based on the advisor's brokerage account which was invested beginning on May 16, 2022. This performance figure has not been audited by any third party. Individual account performance will vary depending on a variety of factors, including the initial date of investment, inflows/outflows, account size, fee class, and transaction costs. Please see your individual account statement(s) for actual account balances and performance.

Performance comparisons to benchmarks such as the S&P 500 Index and the SPDR S&P 500 ETF Trust ("SPY Index ETF", "SPY", or "S&P 500 Index ETF") are provided for information purposes only. The SPY is an exchange-traded fund which seeks to provide the investment results that, before expenses, correspond generally to the price and yield performance of the S&P 500 Index. The S&P 500 Index is a diversified large cap U.S. index that holds companies across all 11 GICS sectors, and as such may differ materially from the securities managed by Right Tail in client accounts. Benchmarks such as the S&P 500 Index and the SPY may be of limited use in understanding the risks and uncertainties inherent in the investment strategies managed by Right Tail.

The information in this Review is not intended to provide, and should not be relied upon for, accounting, legal, or tax advice or investment recommendations. The Recipient should consult the Recipient's own tax, legal, accounting, financial, or other advisers about the issues discussed herein. Nothing in this Review regarding tax strategies, tax savings, tax rates, tax efficiency, or any other statements related to taxes should be relied upon as an indication of Right Tail's suitability to give advice or make decisions with respect to taxes in any jurisdiction
---
Editor's Note: The summary bullets for this article were chosen by Seeking Alpha editors.
This article was written by
Single stock ideas excerpted from fund letters published by Seeking Alpha.