Labor day weekend signals both the end of summer, and the return to school. In fact my oldest daughter started first grade today, and if any of you care, she had a great day. But for most of you, in a few days you will be sending your children off to school, and will start having meetings with teachers and hear how much potential your child has. Here I present two stocks that so far have disappointed investors, but are full of potential.
Radvision (NASDAQ:RVSN), which specializes in video conferencing over IP and 3G networks, has enjoyed a very cozy relationship with Cisco (NASDAQ:CSCO) over the years, and as a result, it produced some nice growth. Unfortunately, while last quarter's numbers were as expected, Radvision forecast third-quarter per-share earnings of $0.16, or $0.23 excluding items, on revenues of $25 million. Analysts were looking for a per-share profit of $0.26 on revenues of $26.6 million, so the stock has gotten pummled. Once again we have a company with cutting edge technology that can't seem to produce consistent numbers. At current levels, the stock looks attractive and, as always, the potential of Cisco buying them out is very real. Keep in mind that Cisco CEO John Chambers recalled that he closed the WebEX acquisition, for $2.9 billion, through a ten-day marathon of meetings, which he conducted by conference call using Radvision technology, without leaving his office. Chambers went on to say that he is spared the need to travel so much because of this technology. John, do us a favor and buy them already!
Next comes Metalink (OTCQB:MTLK), who makes WiFi chips for the wireless, digital home. About a month and a half ago it announced that its chipset had received WiFi certified 802.11n draft 2.0 Certification. Since I took physics for poets in university I can't exectly explain what this means, but I can tell you that this is a very important milestone for the company. It means that it has become the industry standard. Metalink's Chairman and CEO, Tzvika Shukhman, said,
Over the past two years, we have succeeded in positioning our WLANPlus as the wireless home networking industry's best-of-breed chipset. The recent certification process started by the Wi-Fi Alliance, followed rapidly by the certification of our WLANPlus chipsets, is a major milestone for the industry and for Metalink. The transition of the market to the 802.11n standard represents a major disruption in the Wi-Fi chipset market. By leveraging on the proven superiority of our technology, the strong partnerships we have established with industry leaders, and the design-in momentum we have established, we expect to become a significant player in this huge market.
It seems that it should start signing major deals by the end of the third, or early fourth quarter, and I would expect the stock, which is 30% off its' 52 week high to make a strong move to the upside.
Disclosure: The author has a position in RVSN of August 31, 2007, but has no holdings in any other stock mentioned.
RVSN 1-yr chart: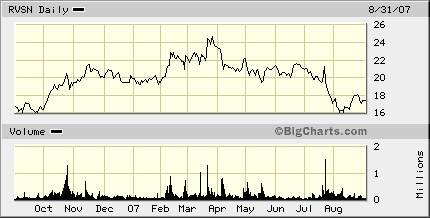 MTLK 1-yr chart: