Adecoagro: Undervalued And Poised For A Breakout As Commodities Cycle Higher
Summary
Adecoagro emerges as a major player in the production of crops, rice, dairy, sugar, ethanol and renewable energy in Latin America.
It distinguishes itself by output diversification, vertical integration and, in recent years, growth.
This analysis suggests that Adecoagro appears to be in the middle of an unfolding agricultural commodity up-cycle, and that it is still undervalued.
I do much more than just articles at The Natural Resources Hub: Members get access to model portfolios, regular updates, a chat room, and more. Learn More »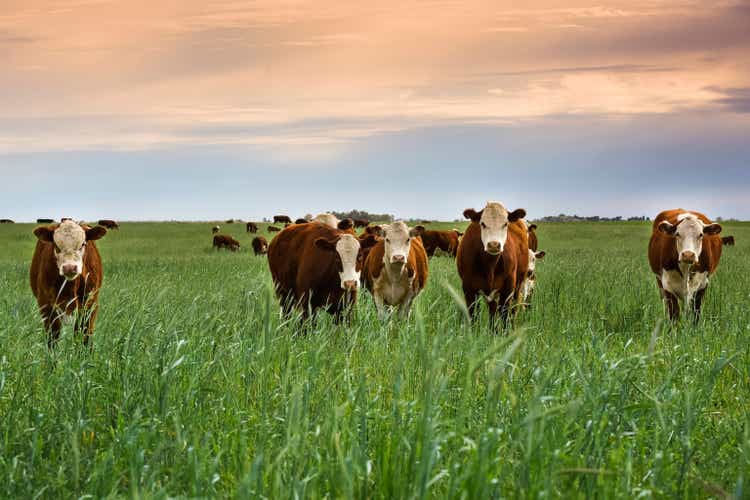 Recent news concerning the disrupted Black Sea grain trade once again sent grain ETFs, such as Teucrium Wheat ETF (WEAT), surging, as illustrated in Figure 1. Additionally, the Indian government banned the export of non-basmati white rice with immediate effect. India accounts for over 40 percent of the world's total rice export, so it is no wonder panic buying of the commodity was triggered in global markets.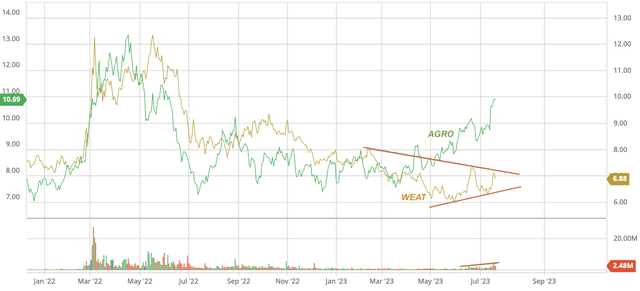 Meanwhile, an El Niño climate pattern has started and will persist through the Northern Hemisphere 2023-24 winter. In general, El Niño can lead to droughts in some parts of the world and floods in others. These extreme weather conditions can have a major impact on agricultural production. According to a study by the International Food Policy Research Institute (or IFPRI), El Niño can reduce global grain production by 3% on average.
These events occurred at a time when, according to U.S. State Department Office of Global Food Security, there are relatively low global stockpiles of grain by historical standards. Therefore, it is probable that we may enter a bullish period in the grain market.
Investors may be mulling over how to invest around such a theme. Below, I present Adecoagro S.A. (NYSE:AGRO), a diversified, vertically-integrated agricultural company.
A business overview
Luxembourg-headquartered Adecoagro S.A. is a major agro-industrial company operating in Argentina, Brazil, and Uruguay. It completed its IPO and listed its shares on the NYSE on January 28, 2011.
Land
Adecoagro is one of the largest owners of productive farmland in South America, with a total of 219,850 hectares of land (over 184,000 owned and productive hectares) as of the end of 2022, as illustrated in Figure 1. The company's land holdings are located in Argentina (18 farms), Brazil (eight farms), and Uruguay (one farm), as shown in Table 1.
Adecoagro acquires undeveloped or under-utilized farmland, transforms it, and occasionally sells the fully-developed farms for capital gains. It is worth noting that all of the land acquisitions occurred from 2002 to 2011. Over the past 20 years, the company has put more than 171,000 hectares of land into production that were previously undeveloped or under-managed. In the last 16 years, it has sold 25 fully mature farms, generating capital gains of US$250 million. These land divestitures result in a gradual decline in total land holdings. Therefore, it is safe to state that land acquisitions have not been a driver behind its top-line growth since becoming a publicly traded company in 2011.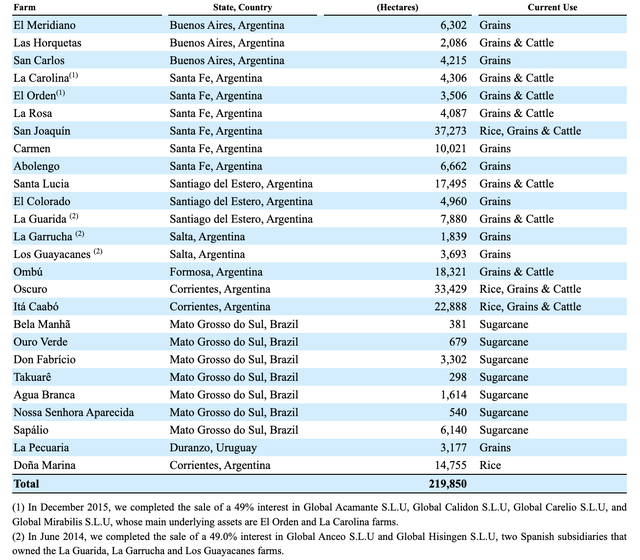 Farming
In 2022, Adecoagro harvested 230,986 hectares, including 124,887 leased hectares and 36,750 second crop hectares, producing 769,524 tons of crops. These crops include soybeans, corn, wheat, peanuts, sunflower, cotton, among others. Additionally, the company planted 60,857 hectares, including 17,844 leased hectares, during the 2021-2022 harvest year, producing 416,735 tons of rough (unprocessed) rice.
Adecoagro also owns grain handling, storage, and processing facilities, including one peanut processing facility and one sunflower processing facility, two grain handling and conditioning plants, all in Argentina.
Adecoagro has been increasing the planted areas for both crops and rice since 2019, as depicted in Figure 2. While the company has held soybean production flat, it has been producing increasingly more corn, wheat, peanuts, and sunflower over the last four years, as evidenced in Figure 3. Rice production increased by 113.3% from 2018 to 2022, as seen in Figure 4.



Furthermore, Adecoagro is a leading dairy producer in South America. Its free-stall dairies in Argentina produced 185.6 million liters of raw milk in 2022, with a daily average of 14,415 milking cows. Dairy is a major growth area for Adecoagro; from 2018 to 2022, the company grew dairy production by 691.0%, as shown in Figure 4.
The company pursued vertical integration in its dairy business:
In October 2017, Adecoagro constructed a biodigester capable of generating 1.4 MWh of electricity by burning biogas extracted from effluents produced by the milking cows.
In 2019, Adecoagro acquired two milk processing facilities in Argentina that produce UHT milk, milk powder, semi-hard cheese, yogurt, and chocolate milk for sale in both the domestic and export markets. In 2022, the facilities processed 359.4 million liters of milk, producing 161 million liters of fluid milk, >4,260 tons of semi-hard cheese, >19,000 tons of milk powder, and >4.6 million liters of cream and cocoa-flavored milk.
Adecoagro is a leading retailer of dairy products, including three popular brands — Las Tres Niñas, Apóstoles and Angelita.
Sugar, Ethanol and Energy Business
Adecoagro cultivated 192,987 hectares of sugarcane in the Brazilian states of Mato Grosso do Sul and Minas Gerais in 2022. The harvested sugarcane is then processed in three owned mills — Usina Monte Alegre Ltda. (or UMA), Angélica and Ivinhema, with a total crushing capacity of 14.2 million tons of sugarcane per year and installed cogeneration capacity of 241 MW — to produce sugar, ethanol and electricity. The mills give Adecoagro some flexibility to adjust production between sugar and ethanol (from 40% to 80%), to take advantage of more favorable prices at given points in time. The Angelica and Ivinhema mills are equipped with high-pressure steam boilers and turbo-generators, to use sugarcane bagasse (the fiber portion of sugarcane that remains after the extraction of sugarcane juice) to generate electricity.
In 2022, Adecoagro crushed 10.5 million tons of sugarcane, producing 481,919 tons of sugar and 540,231 cubic meters of ethanol. Adecoagro used approximately 31% of the electricity generated to power the mill and sold the excess electricity - amounting to 608,964 MWh - to the local power grid. As shown in Figure 5, production of sugar and electricity sales have declined in the last three years, while ethanol production was more or less flat.

Improving profitability
Adecoagro has not only been increasing the production of crops, rice, and dairy by planting more hectares of land, as shown above, but it has also benefited from appreciating prices of crops, rice, ethanol, and especially dairy in the last 3-5 years, despite the fact that the prices of sugar and electricity exported to the grid did not show any appreciable improvement, as illustrated in Figure 6.

The combination of rising production and improving commodity prices resulted in a sharp increase in revenue from crop, rice, and dairy sales in the last five years, as illustrated in Figure 7. The strength of ethanol prices even helped lift the revenue of the sugar-ethanol-energy division to a historical high, as evident in Figure 8.


The combined effect of the commodity price uptrend and economies of scale is evident in the margins. As shown in Figure 9, there is a general trend of improvement in Adecoagro's gross margin, operating margin, net margin, EBITDA margin, and FCF margin since 2013-2014.

Improving profitability suggests that Adecoagro is in the middle of an unfolding up-cycle. The question is whether it is too late to ride the trend.
Valuation and risks
It is challenging to peg an intrinsic value on a cyclical business such as Adecoagro, as I stated elsewhere. Adecoagro has been expanding production, and the management has done an excellent job in driving down costs through economies of scale. It is obviously a thriving business experiencing steady growth. Additionally, the agricultural commodity bull market seems to still have some legs. Therefore, it appears to be an opportune time in the agricultural cycle to invest in Adecoagro.
Adecoagro has an EV/EBITDA multiple of 6.0X, which falls between the low of 3.2X and the high of 19.5X during the last decade. It also has a P/B ratio of 0.99X, falling between the low of 0.48X and 3.05X over the last 10 years. Adecoagro has a quickly growing dairy business with well-known brands, whose value appears yet to be priced in, as evidenced by comparing it with Canadian dairy business Saputo Inc. (OTCPK:SAPIF), which commands an EV/EBITDA multiple of 11.1X and a P/B ratio of 1.67X. Additionally, when compared with agricultural peers Bunge Limited (BG) and Cresud Sociedad Anónima, Comercial, Inmobiliaria, Financiera y Agropecuaria (CRESY), Adecoagro seems to be undervalued, given its significantly lower EV/EBITDA and P/B multiples, despite having a history of stronger, more consistent growth.
Investors in Adecoagro are exposed to the cyclical nature of agricultural commodity markets, inflation and political uncertainties in South America, and foreign exchange volatility, among other risk factors.
Investor takeaways
This analysis indicates that Adecoagro is a consistently growing agricultural business in the middle of an unfolding agricultural commodity up-cycle. Insiders, including directors, executive officers, and employees, own 6.5% of the stock and seem to have done a good job in driving down costs, resulting in expanding margins. The combination of a thriving business operation and a bullish environment suggests that it is a good time to go long on the stock.
Adecoagro is believed to be undervalued relative to competitors such as Bunge. As shown in Figure 10, after having been in consolidation since mid-2021, Adecoagro appears to be poised to break out due to the anticipated interest rate cuts by the Brazilian central bank and wheat and rice supply disruptions.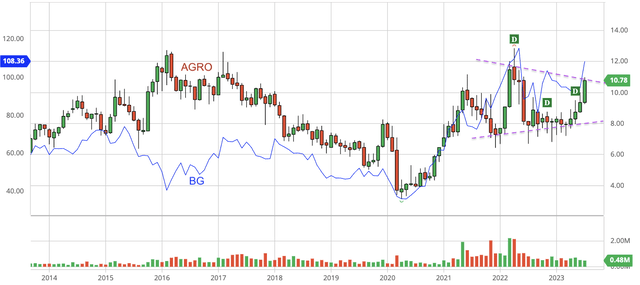 Editor's Note: This article discusses one or more securities that do not trade on a major U.S. exchange. Please be aware of the risks associated with these stocks.
Join The Natural Resources Hub today and gain exclusive access to high-quality investment ideas and expert insights from Laurentian Research. Experience the power of informed decision-making and maximize your gains with moderate risk.
Sign up for a free trial now and take your investment strategy to the next level. Click HERE to get started.


This article was written by
Laurentian Research is a resource industry veteran with a Ph.D. in geoscience and decades of investment experience. He leads the investing group
The Natural Resources Hub
, with an aim of helping membes uncover undervalued opportunities in the energy and mining sectors with multi-bagger potential. He is also passionate about helping members find dividend growth opportunities from long-term growth industries. Members get weekly newsletters, proprietary in-depth analyses, trade alerts, model portfolios, private access to him, and a community of fellow investors to share investment ideas with.
Learn more
>> Members get weekly newsletters, proprietary in-depth analyses, trade alerts, model portfolios, private access to me, and a community of fellow investors to share investment ideas with.
Learn more
about The Natural Resources Hub today and start growing your wealth alongside Laurentian Research!
Analyst's Disclosure: I/we have no stock, option or similar derivative position in any of the companies mentioned, but may initiate a beneficial Long position through a purchase of the stock, or the purchase of call options or similar derivatives in AGRO over the next 72 hours. I wrote this article myself, and it expresses my own opinions. I am not receiving compensation for it (other than from Seeking Alpha). I have no business relationship with any company whose stock is mentioned in this article.
Seeking Alpha's Disclosure: Past performance is no guarantee of future results. No recommendation or advice is being given as to whether any investment is suitable for a particular investor. Any views or opinions expressed above may not reflect those of Seeking Alpha as a whole. Seeking Alpha is not a licensed securities dealer, broker or US investment adviser or investment bank. Our analysts are third party authors that include both professional investors and individual investors who may not be licensed or certified by any institute or regulatory body.