Apartment Investment And Management: Strong Quarter, But Still Not Profitable
Summary
Apartment REITs have been the fifth-best performing sector this year, outperforming the Dow but lagging behind S&P indexes.
Oversupply concerns in the apartment market have been overblown, with strong job growth indicating that demand is outstripping supply.
Apartment Investment and Management Company is a small-cap REIT focused on value-add and opportunistic apartment acquisitions, with plans for future development projects in Southeast Florida.
The company reported strong quarterly results, but questions about its profitability and growth strategy linger.
This idea was discussed in more depth with members of my private investing community, Hoya Capital Income Builder. Learn More »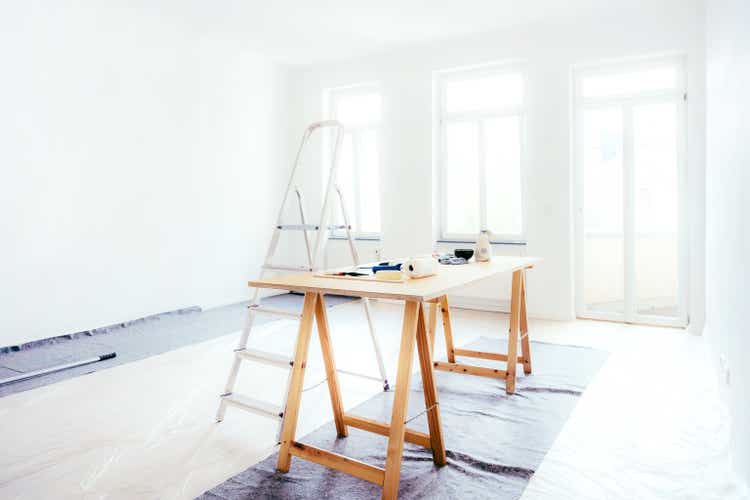 Apartment REITs as a whole have been the fifth-best performing of the 18 REIT sectors this year, lagging the S&P indexes, but outperforming the Dow.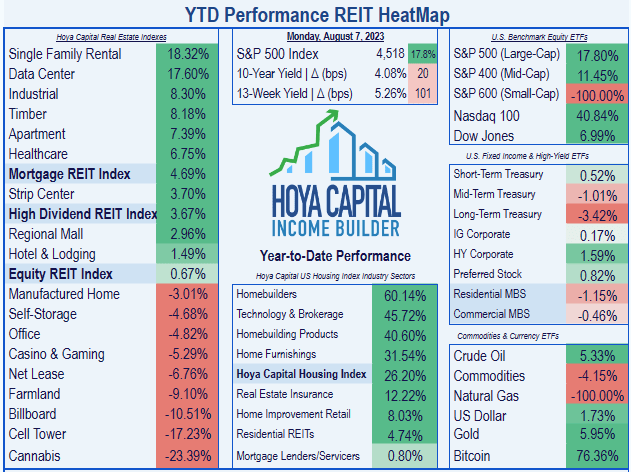 Oversupply concerns have proved to be overblown. Hoya Capital's most recent sector report on Apartment REITs reads in part:
. . . soaring rents sparked a wave of new development that will come to market over the next 18 months, but elongated development timelines make some often-cited pipeline metrics showing historic levels of under-construction units look more menacing than reality. . .

While rent growth on new leases has cooled to around 3.5% thus far in 2023, renewal spreads remained firm at above 6%. Buoyed by these firm renewal spreads, Apartment REITs expect average same-store NOI growth of nearly 7% and FFO growth of roughly 4% in 2023 - among the highest in the REIT sector.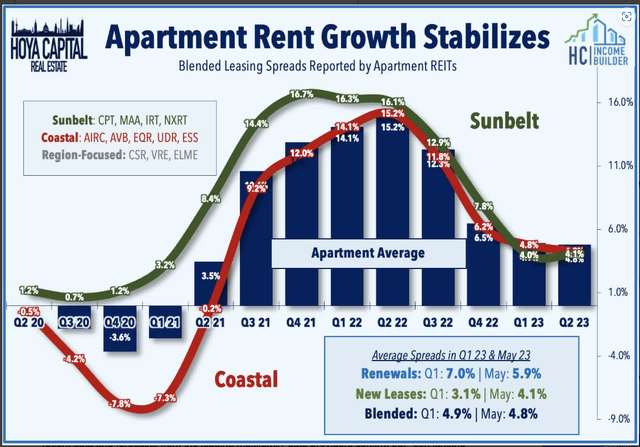 Looking more closely at the markets in which supply growth is largest, we see that for the most part, job growth in those markets is even stronger. Since job growth typically is the best predictor of apartment demand, it would appear that demand is outstripping supply.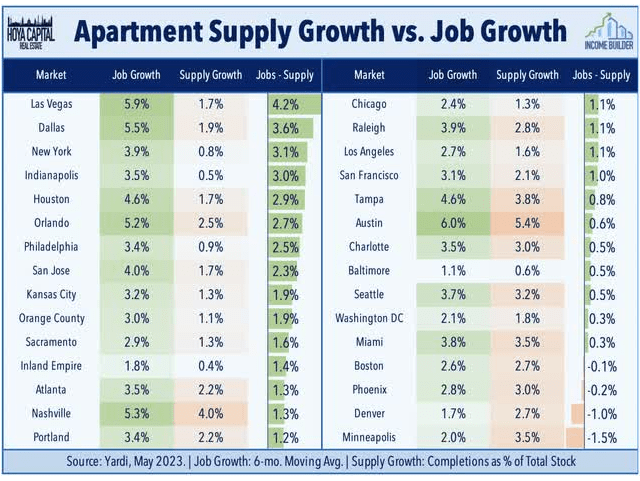 Meanwhile, Freddie Mac estimates that the U.S. housing market is still more than 3 million housing units short of what's needed to meet the country's demand.
This article focuses on growth, balance sheet, dividend, and valuation metrics for a small but intriguing, highly localized apartment REIT.
Meet the company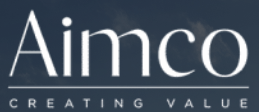 Founded in 1975 and headquartered in Denver, Apartment Investment and Management Company, also known as Aimco (NYSE:AIV), incorporated as a REIT in 1994. In December of 2020, AIV split into two companies, spinning off Apartment Income REIT (AIRC). AIV is a small-cap, at $1.22 billion. Since splitting from Apartment Income REIT, AIV has been reinventing itself as a highly leveraged REIT focused on value-add and opportunistic apartment acquisitions.
AIV owns and operates a stabilized portfolio of 5600 apartment units in 8 U.S. markets. These break geographically into 3 regions:
Northeast (49% of NOI), centered around Washington, DC
Southeast (21%), centered around Miami and Broward County, and
Central (28%), centered around the Anschutz Medical Center in Colorado's Front Range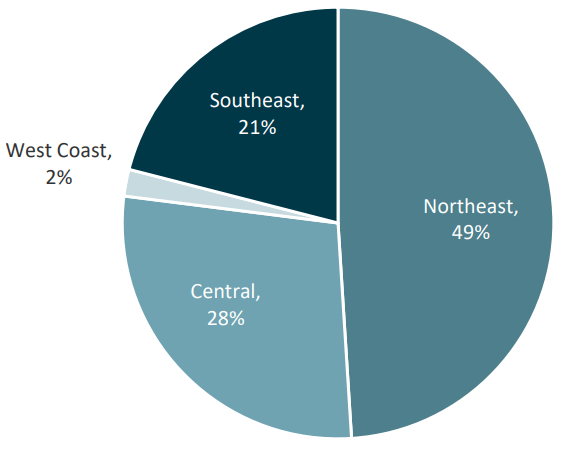 Currently, AIV's portfolio is 10% Class A, 64% Class B, and 26% Class C units, with an average rent of $2291 and 98.0% average daily occupancy. The company reports a rent-to-income of 19.2% for its tenants, which would put the average annual tenant income at approximately $143,000. Seems high, considering the preponderance of Class B properties. Incomes like that are more usually characteristic of Class A renters. The company is expecting 7.5% - 9.0% NOI growth from this portfolio in 2023.
The company also has an active development pipeline of 5 projects totaling 1315 units at a cost of $815 million, expected to provide NOI of $55 million when stabilized by the end of 2026. Of these units under construction, 65% are in the Washington DC metro area, with another 20% in Southeast Florida, and 9% in the Colorado Front Range.
However, the company also has a future development pipeline that will take them in another direction, namely Southeast. AIV plans up to 6500 new residential units and another 1.7 million msf of commercial space, at a total cost of more than $5 billion, with AIV's total equity investment not more than $800 million. Of these projects, 80% will be in Southeast Florida, 17% in Colorado's Front Range, and only 3% in Washington, DC. Management expects these projects to yield NOI 150 - 200 basis points above cap rates.
AIV usually takes on the General Partner role in each project, making extensive use of joint ventures. As management's hypothetical project below shows, by providing only 20% of the investment cost in their role as GP, they believe they can return 50% to the limited partner while amping up their own return to about 35%, compared to 20% if they provided all the financing.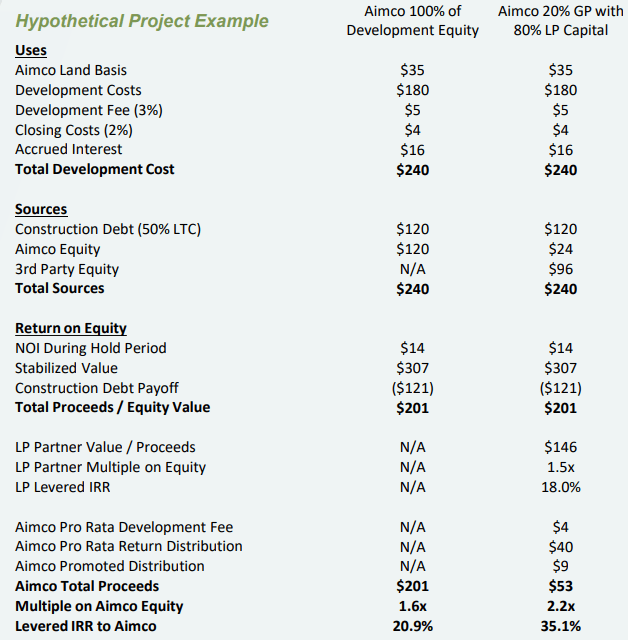 AIV's capital for these development projects is coming from:
about $1 billion worth of dispositions over the past 3 years
$780 million in fixed rate debt, and
up to $1 billion ($360 million already accessed) from the Alaska Permanent Fund
AIV has also bought back more than 3 million shares at an average price of $7.54 over the past 7 months, and has authorization to purchase an additional 9 million shares.
As the table below indicates, AIV management intends to significantly increase the proportion of its portfolio devoted to value add and opportunistic real estate investments from 35% currently, to as much as 60%, using target leverage of 65% for that segment of its assets.

It plans to reduce its alternative investments accordingly, and let the stabilized portfolio account for as little as 35%, compared to its current 45%.
Quarterly and first-half results
According to the company's earnings report, released after the close on Monday, August 7, while occupancy in the stabilized operating portfolio sagged by 1.4%,
Q2 revenue of $37.0 million rose 9.5% YoY (year-over-year)
Expenses of $11.5 million rose 8.8% YoY, and
NOI of $25.5 million rose 9.8% YoY.
For H1 2023, occupancy sagged by 100 bps to 97.1%, but
revenue rose 10.5%
expenses rose 8.1%, and
NOI rose 11.4%.

The company raised guidance for revenue, expenses, and NOI growth by 225 bps at the midpoint.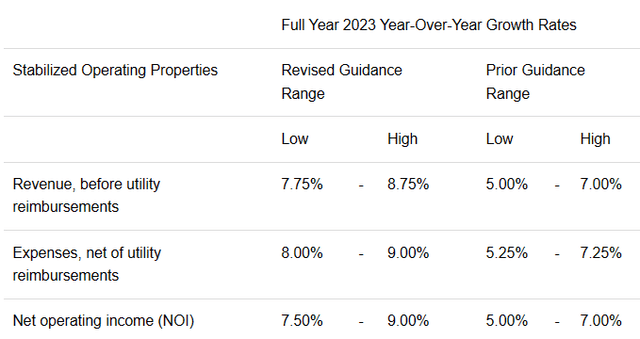 Nevertheless, the company still expects to lose (-$0.28) to (-$0.18) per share this year.
Growth metrics
Here are the 3-year growth figures for FFO (funds from operations), and TCFO (total cash from operations). AIV has not reported total FFO since 2019. The split from AIRC happened in 2020, so comparisons based on 2019 as a baseline are misleading.
| | | | | | |
| --- | --- | --- | --- | --- | --- |
| Metric | 2019 | 2020 | 2021 | 2022 | 3-year CAGR |
| FFO (millions) | $327 | NA | NA | NA | -- |
| FFO Growth % | -- | NA | NA | NA | NA |
| FFO per share | $3.10 | $2.94 | (-$0.04) | $0.49 | -- |
| FFO per share growth % | -- | (-5.2) | (-100.0) | NA | (-45.9) |
| TCFO (millions) | $374 | $48 | $13 | $204 | -- |
| TCFO Growth % | -- | (-87.2) | (-73.0) | 1469.2 | (-18.3) |
Source: TD Ameritrade, Hoya Capital Income Builder, and author calculations
Meanwhile, here is how the stock price has done over the past 3 twelve-month periods, compared to the REIT average as represented by the Vanguard Real Estate ETF (Vanguard Real Estate Index Fund ETF Shares (VNQ) Stock Price Today, Quote & News).
| | | | | | |
| --- | --- | --- | --- | --- | --- |
| Metric | 2020 | 2021 | 2022 | 2023 | 3-yr CAGR |
| AIV share price Aug. 7 | $4.93 | $6.88 | $8.28 | $8.27 | -- |
| AIV share price Gain % | -- | 39.6 | 20.3 | 0.0 | 18.8% |
| VNQ share price Aug. 7 | $82.39 | $106.91 | $97.33 | $84.07 | -- |
| VNQ share price Gain % | -- | 29.8 | (-9.0) | (-14.6) | 0.7% |
Source: MarketWatch.com and author calculations
Even while stagnating this year, AIV shares have outperformed the VNQ in each of the past three 12-month periods. AIV was one of the few REITs that gained in share price in 2022. Investors who bought shares 3 years ago have been treated to an average annual gain of 18.8%, compared to the VNQ's mere 0.7%.
Balance sheet metrics
AIV's liquidity ratio, debt ratio and Debt/EBITDA are all considerably worse than average, yet in spite of that, the company's balance sheet is investment-grade rated, at BBB.
| | | | | |
| --- | --- | --- | --- | --- |
| Company | Liquidity Ratio | Debt Ratio | Debt/EBITDA | Bond Rating |
| AIV | 1.53 | 52% | 13.6 | BBB |
Source: Hoya Capital Income Builder, TD Ameritrade, and author calculations
The company is currently holding $189 million in cash, against total debt of $1.07 billion. Total liquidity stands at $339 million, including $150 million in borrowing capacity from their revolving credit facility.

Debt maturities are currently very favorable, as AIV faces payoff of only $75 million (7.0%) of its debt between now and the end of 2025, and barely more than half the debt is due by the end of 2029, with no payments at all in 2028.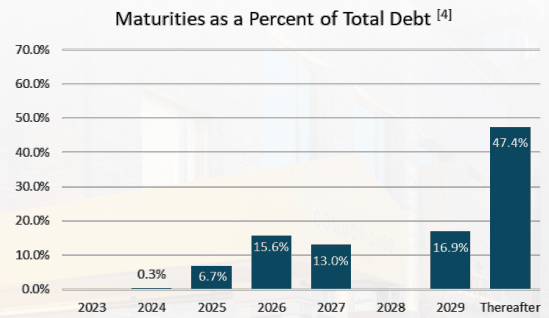 Although the company has done well in reducing its variable-rate exposure, 2% of its total debt is still held at variable rates with no caps, hedges, or restrictions. During Q2, AIV retired $60 million in floating-rate debt at 11.9%.
Dividend metrics
AIV discontinued its dividend in early 2021, and apart from a 2-cent special dividend last September, has not resumed paying investors since.
| | | | | | |
| --- | --- | --- | --- | --- | --- |
| Company | Div. Yield | 5-yr Div. Growth | Div. Score | Payout | Div. Safety |
| AIV | 0.0% | (-100.0)% | 0.0 | -- | -- |
Source: Hoya Capital Income Builder, TD Ameritrade, Seeking Alpha Premium
Dividend Score projects the Yield three years from now, on shares bought today, assuming the Dividend Growth rate remains unchanged.
Valuation metrics
Despite the lack of a dividend and the relatively heavy debt load, AIV's price/FFO '23 is almost exactly at the REIT average of 16.7, and its discount to NAV is also right in line with the average.
| | | | |
| --- | --- | --- | --- |
| Company | Div. Score | Price/FFO '23 | Premium to NAV |
| AIV | 0.00 | 16.9 | (-17.1)% |
Source: Hoya Capital Income Builder, TD Ameritrade, and author calculations
The company considers its NAV to be over $12 per share, but Hoya Capital Income Builder pegs it at $10.00. Activist investor Jonathan Litt has recently attempted to capitalize on this disconnect, advocating for the sale of the company, so investors can realize some of the 45%+ return implied by the company's own estimate of its discount to NAV.
In any case, with no dividend and a price that is dead average, AIV is clearly not a value investor's play. If anything, it is a growth play.
What could go wrong?
Because AIV is narrowly focused on 3 geographic areas, economic changes affecting those small regions can have an outsized impact on the company's revenues and profitability.
The company's strategy relies on a lot of moving parts, with multiple joint venture partners. If any of those partners proves unreliable or runs into trouble, AIV could be affected as well.
Although the company has done well in reducing its variable-rate exposure, about $20 million is still held at variable rates. If the Fed continues to raise rates, which most observers consider unlikely, then the company will pay still more interest expense.
AIV is still not profitable, reporting a loss of 2 cents per share in Q2. There is also considerable short interest in AIV (6.71%), which tends to work against share price increases.
Investor's bottom line
AIV is clearly a growth play, and the jury is still very much out on whether its growth strategy will work. Quarterly results are encouraging in that regard, but the lack of solid information about FFO is troubling. AIV's business model is complicated, high-leverage and high-risk, and there are no solid indications yet of major growth in revenue down the road. If you are holding shares, there seems to be no compelling reason to sell. However, there are better buys in Apartment REITs, including AIV's spin-off company AIRC. I rate AIV a Hold.
That puts me in company with The Street, Ford Equity Research, and TipRanks, all of which rate AIV as Hold or Neutral.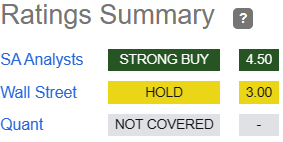 Seeking Alpha analysts other than me rate AIV a strong buy, while the one Wall Street analyst covering the firm says Hold. The company is still too new for the Quant Ratings system to have a read on it.
As always, however, the opinion that counts most is yours.
Whether your focus is High Yield or Dividend Growth, we've got you covered with actionable investment research focusing on real income-producing asset classes that offer potential diversification, monthly income, capital appreciation, and inflation hedging. Start A Free 2-Week Trial Today! 


This article was written by
Philip Eric Jones is a financial writer, educator, artist, and inspirational speaker. He writes about investing for retirement with a focus on Growth stocks and REITs.
He is a contributor to the investing group Hoya Capital Income Builder. The service features a team of analysts focusing on real income-producing asset classes that offer the opportunity for reliable income, diversification, and inflation hedging. Learn More.
Analyst's Disclosure: I/we have a beneficial long position in the shares of VNQ either through stock ownership, options, or other derivatives. I wrote this article myself, and it expresses my own opinions. I am not receiving compensation for it (other than from Seeking Alpha). I have no business relationship with any company whose stock is mentioned in this article.

A Buy, Sell, or Hold rating in this article does not constitute a Buy, Sell, or Hold recommendation. All investors should exercise their own due diligence, before investing in any stock.
Seeking Alpha's Disclosure: Past performance is no guarantee of future results. No recommendation or advice is being given as to whether any investment is suitable for a particular investor. Any views or opinions expressed above may not reflect those of Seeking Alpha as a whole. Seeking Alpha is not a licensed securities dealer, broker or US investment adviser or investment bank. Our analysts are third party authors that include both professional investors and individual investors who may not be licensed or certified by any institute or regulatory body.