Lovesac: Softening Demand And Falling Metrics Cast Shadows On Its Prospects
Summary
Lovesac is a premium furniture retailer specializing in customizable furniture.
Squeeze on the demand side is leading to implementing bigger and longer promotional strategies.
I rate LOVE as a "Sell", with a fair value of $22.77/share (which incorporates a 25% margin.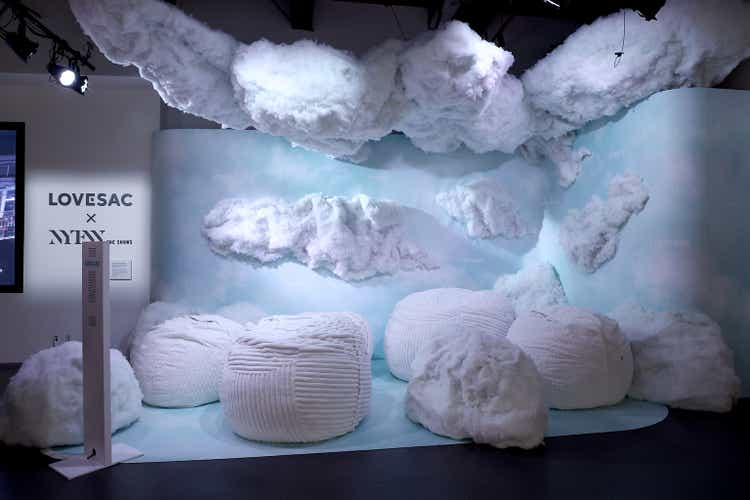 Company Description
Lovesac (NASDAQ:LOVE) - Household Goods - Premium goods
Founded in 1995, Lovesac ("the company") is a premium (target customers are people with an annual household income of over $100,000) furniture retailer specializing in selling unique and customizable furniture. It operates within a single reporting segment, and it currently offers 2-seating solutions: "Sactionals" and "Sacs":
Sactionals are patented premium modular couches, which are highly customizable not only during the "construction" of the couch but also through the additional accessories which can be added for all kinds of needs. The latest product innovation includes the "Sactionals StealthTech Sound + Charge" product, which offers an immersive home audio experience. This product represents 90.1% (TTM) of total sales, which is 9.4% higher with respect to the revenue share it had in 2020 (i.e., 80.7%).
Sacs are oversized

beanbags, which come in different sizes and can seat 3+ people. This product represents 8.1% (TTM) of total sales, which is 8.9% lower with respect to the revenue share it had in 2020 (i.e., 17.0%).
The above-described products are sold through first, showroom locations at high-end malls (as of 2023, 61.2% of total sales were generated through this channel); second, e-commerce channel (as of 2023, 27.1% of total sales which is significantly down from 47.1% in 2021); and third, other channels (as of 2023, 11.7%).
Investment Thesis
Lovesac is a narrow 2-product retailer which was able to effectively capture the pandemic tailwinds and convert it into double-digit top-line growth. Now, that tailwinds seem to be vanishing as we are experiencing a squeeze on the demand side which is leading to implementing bigger and longer promotional strategies. The consumers' squeeze coupled with an increase in freight costs is hitting the company's bottom line as the company is unable to pass the price pressure on the final consumer.
Lovesac appears rich on current and forward metrics and it does not offer enough margin of safety to treat it as a compelling investment. Moreover, the free-cash-flows profile is not supporting the bullish narrative in this kind of environment.
In the near-term (12-18 months), the company seems to offer more of an asymmetric to the downside opportunity as the potential headwinds are likely to outweigh potential tailwinds. However, I remain confident that if Lovesac is able to effectively navigate this tough environment, it is likely to see a boost during the early-economical cycle as the quality of its product is undeniable.
Can we do speculation that it may be acquired by a competitor? Yes, and no as the anti-takeover provisions are likely to represent a burden for a potential bidder.
Business Performance
The business, as well as the whole industry, keeps being under pressure due to consumers' pullback in home-related spending. We can see it from both the top-line, with ARPU being down 8.5% (TTM) as well as its bottom line.
The gross margins keep a downward trajectory driven by two factors: first, by an increase in total freight costs, and second, due to product margin decrease driven by higher promotional discounting. Meanwhile, on the operating margins, an increase in overhead expenses represents a significant headwind.
Operating leverage is falling and it currently stands at 0.77x (TTM), economies of scale don't seem to be there, and the whole picture suggests that revenue are volume driven (good) and not price/mix driven as the company is unable to pass inflation costs to its customers (demand squeeze).
The balance sheet remains solid, however, its profitability ratios keep deteriorating due to falling net margin and lower total assets turnover. The Net-debt/EBITDA keeps rising (slightly above the "optimal" level) as the company keeps expanding its showroom presence across the country, in fact, 100% of its outstanding interest-bearing debt is represented by operating leases. Finally, the cash conversion cycle is negative which suggests that the company is effectively managing its A/R, inventory, and A/P, optimizing the use of its resources and reducing the need for external financing.
On the cash-flows side, the picture is "ugly" with the FCFF margin standing at -7% (TTM) due to a negative change in working capital which suggests that current liabilities are growing much faster than current assets, hence, reducing its financial flexibility to manage "unexpected expenses" and its ability to invest in growth opportunities.
Valuation
Lovesac trades at a discount to its peers, which in my opinion can be justified by the product-concentration risk it carries (Sactionals represent 90.1% of total sales!). It currently trades at an FWD P/E of 13.88x vs a median FWD P/E of 15.81x and with the high-end is represented by Restoration Hardware (RH), a luxury-home furnishing brand that in recent years has gained a lot of ground thanks to its high-quality and aesthetic design products (plus, over the last 12 months, RH has been carrying a significant stock repurchase program).
Assuming multiple convergences toward the peers' median, and incorporating a margin-of-safety of 25% (I usually use 20%, more for high-Beta stocks) it suggests a target price of $22.77/share. Is this a reasonable price target? In my opinion yes, as the industry as well as business trends support a bearish narrative, moreover, the FCFF trends suggest that the company will need external financing to keep "the boat" going. Having said that, I do expect the company to be back FCFF positive in 2H24E.
In my opinion, in the next 12 months, we are likely to see a valuation contraction toward an "optimal point" that will offer a good entry opportunity. Overall, I rate LOVE as a "Sell", with a fair value of $22.77/share (which incorporates a 25% margin of safety).
Catalysts
In my opinion, the following should represent a potential tailwind to support a short-side position over the next 12 months:
1 - Macro-backdrop: The macro backdrop is likely to remain challenging, driven by elevated inflation and higher interest rates, which are causing consumers to exercise more caution in their spending. This is placing pressure on the luxury and discretionary home sector, impacting high-value purchases within this category. Moreover, as outlined in the Texas Manufacturing Outlook Survey:
Our manufacturing of home goods, like mattress components, comforters and pillows, has decreased. Talking to suppliers and customers, the consensus of the bedding industry outlook continues to look bleak. High interest rates appear to be the main driver, as home sales are weak, and the associated new-mattress purchase that is known in our industry to go hand in hand is not happening. We have had to downsize the company three times in the past nine months-from three production sites to one.
2 - Falling Margins: The business margins are falling not only due to the above-described issues but also due to the sales channels. One of the trends we have seen over the last 3 years is that company's strategy consists in expanding its showroom presence, which is not a bad thing as it boosts brand awareness, however, it is a lower-margin sale channel with respect to e-commerce and it is impacting negatively its free cash flow profile. Unless Lovesac is able to sign the new deals under good terms, it is likely to represent an additional headwind in the near term.
3 - Rising Customer Acquisition costs (CAC): Rising CAC coupled with demand squeeze and stronger competition are likely to represent a significant headwind on the company's performance and once we consider it along with the deteriorating balance sheet the headwind is even stronger
4 - Multiples Contraction and waning sentiment
Risks
However, in my opinion, there are also a series of risks on the upside which we should consider:
1 - Crowded Investment: one thing I don't like, and that makes me unwilling to short the name is that the investment is crowded. With short interest at 30.85%, the chances of being squeezed out are high and hence the risks of incurring significant losses are high.
2 - Top-line growth: Product innovation coupled with showroom expansion and cash conversion cycle deterioration may provide a significant boost to the top line, which may lead to a boost of confidence from the Street.
3 - Margins dynamics: better-than-feared margin dynamics driven by falling freight costs and competitive lease terms.
Technical Analysis
From a technical analysis point of view, in my opinion, there are two potential outcomes we may see.
First, there is a possibility that a "head-and-shoulders bottom" pattern is forming, which means that we are likely to experience a sell-off until a buying pressure hits at around the $21.5/share area.
Second, a point of concern I personally have, is the $28.5 area, which has been tested many times. In my opinion, a slight beat on some key metrics during the next earnings release may lead to a short squeeze, hence, going through this level and at the point momentum will do the rest of the job.
Final Remarks
In my opinion, Lovesac does not represent an appealing investment as it does not offer enough margin of safety. I do expect significant downward pressure on the stock performance over the next 12 months as the softening demand coupled with falling metrics is likely to cast shadows on its future prospects.
With that in my mind, even if I do believe that it is a good short-candidate, the investment is too crowded (as being represented by short-interest) and the risk of a short-squeeze is high.
This article was written by
Greetings, I have a grounding in both long and short-side investment strategies. My primary focus revolves around the consumer discretionary sector, where I specialize in seeking out promising companies based on Peter Lynch's investment style. My aim is to navigate the intricate tapestry of markets, seeking out promising pathways for generating alpha.
Analyst's Disclosure: I/we have no stock, option or similar derivative position in any of the companies mentioned, and no plans to initiate any such positions within the next 72 hours. I wrote this article myself, and it expresses my own opinions. I am not receiving compensation for it (other than from Seeking Alpha). I have no business relationship with any company whose stock is mentioned in this article.
Seeking Alpha's Disclosure: Past performance is no guarantee of future results. No recommendation or advice is being given as to whether any investment is suitable for a particular investor. Any views or opinions expressed above may not reflect those of Seeking Alpha as a whole. Seeking Alpha is not a licensed securities dealer, broker or US investment adviser or investment bank. Our analysts are third party authors that include both professional investors and individual investors who may not be licensed or certified by any institute or regulatory body.