Host Hotels & Resorts: Strong Balance Sheet, Stable Dividends
Summary
Host Hotels & Resorts recently released its Q2 2023 results, increasing its dividends by 25%.
The company has a strong balance sheet.
There is the potential for future dividend increases, given the current low dividend payout ratio.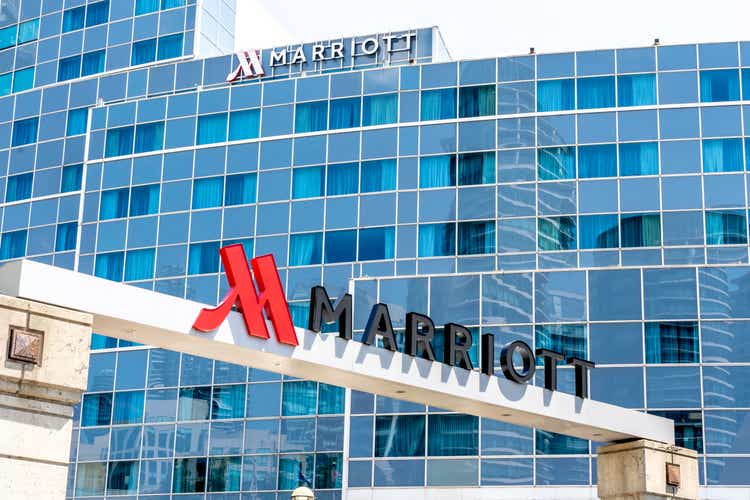 Introduction
I have written about several hospitality REITs in recent months, both select-service REITs and full-service REITs. The focus of this article, Host Hotels & Resorts (NASDAQ:HST), falls under the latter category. When I last covered the company a couple of months ago, I had a "Buy" rating for the company. With the recent release of the company's results for Q2 2023 earlier this month, I will re-evaluate the company to determine if my rating still stands.
The Business
Host Hotels & Resorts, with a market capitalization of almost $12 billion, is by far the largest publicly traded lodging REIT. With 41,900 rooms in 77 hotels, the company has a substantial footprint in the hospitality landscape. The company has a small international presence, with 5 of its hotels (and 1,499 rooms) located in Brazil and Canada. The company's focus is on upper upscale and luxury hotels, with an overwhelming 97% of its rooms positioned within this category, reflecting its status as a full-service hospitality REIT. A significant majority of its hotels operate under well-known brands such as Marriott and Hyatt, capitalizing on the prestige associated with these names.
The company's portfolio is geographically diversified, with no single market accounting for more than 10% of the company's revenue. This serves as a safeguard against any regional economic fluctuations, allowing for greater stability. Additionally, the company has a well-balanced distribution of demand types, evenly split between the business transient, leisure and group segments, reducing the company's dependency on any particular demand category.
Q2 2023 Earnings
At the start of this month, the company announced its earnings for Q2 2023. Compared to the same period last year, the company experienced a decline in its net income, from $260 million ($0.36/share) to $214 million ($0.29/share). There was also a decline in its adjusted funds from operations (AFFO), from $0.58/share to $0.53/share. It should, however, be noted that when looking at the first half of the year as a whole, the company has reported an increase in both its net income and AFFO, largely due to its impressive Q1 2023 showing.
The company revised its guidance for FY 2023, projecting a revised revenue per available room (RevPAR) of between 7% and 9%. While the midpoint of 8% is slightly below the 9% projected after the Q1 2023 results in May, it remains an impressive 60% above the original guidance of 5% issued in February.
Looking at the company's AFFO, the revised outlook has the AFFO between $1.82/share and $1.89/share. While this forecast is marginally below the range of between $1.84/share to $1.95/share announced in May, it stands significantly above the initial projections unveiled in February, of between $1.60/share and $1.83/share. Considering the company's FY 2022 AFFO was $1.79/share, the company remains poised to outperform its performance from the prior year.
Balance Sheet
Host Hotels & Resorts holds the distinction of being the sole investment-grade credit rated lodging REIT, and the strength of its balance sheet is a key reason. As of Q2 2023, the company boasts a liquidity position of $2.5 billion (inclusive of the utilization of a $1.5 billion credit facility). Remarkably, this figure represents an upswing from the $2.3 billion in liquidity recorded the previous quarter.
Looking at the company's debt profile, the company has a total debt balance of $4.2 billion. The weighted average interest rate on its debt is 4.5%, while the weighted average maturity is 4.7 years. The company has no significant maturities until Q2 2024, with its debt fairly well spread out over the next few years after that. This not only provides the company with a comfortable timeframe to manage its repayment schedule, but it also gives the company the financial flexibility to navigate any unexpected circumstances or opportunities.
Dividend
In the past 3 quarters, the company has maintained a consistent quarterly dividend of $0.12/share. In my previous article, I mentioned the possibility of an increase in dividends, stating "I would find it more probably than not that the company will increase its dividends later this year", given the relatively low dividend payout ratio. This possibility has become a reality, with the company increasing its dividend for Q2 by an impressive 25% to $0.15/share. During the earnings call, the company also expressed its intention to maintain its dividends.
With a quarterly dividend of $0.15/share, the company's annualized dividend stands at $0.60/share. Given the current share price of $16.29, this translates to a forward dividend yield of 3.68%. In light of the updated guidance, and assuming the company's FY 2023 AFFO comes in at the lower end of the projected range at $1.82/share, this gives the company a dividend payout ratio of approximately 33%. While this is a higher ratio compared to the 26% calculated the previous quarter, it remains a fairly low ratio and ensures the company's ability to comfortably cover its dividend obligations.
Considering the low dividend payout ratio, the prospect of a further increase to the company's dividends does not seem very far-fetched. For reference, the pre-pandemic quarterly dividend was $0.20/share, a substantial 33% increase on the latest dividend. Even assuming the company returns its quarterly dividend to $0.20/share, the resulting dividend payout ratio will still remain below 50%, resting at a comfortable 44%. Put another way, the company will still be able to cover its dividends twice over, further supporting my belief that the company may very well increase its dividends in the near future.
Share Price and Valuation
According to the Seeking Alpha quant system, the company receives a "B-" grade for valuation. Notably, two key aspects play a significant role in lowering this rating - the company's dividend yield and its price-to-book ratio (P/B ratio).
The company's dividend yield receives a "D+" grade for being lower than that of its peers. However, as established above, the company is well-positioned to enhance its dividends in the future. Management has also demonstrated a clear inclination to increase its dividends, with its dividends having increased by fivefold, from $0.03/share to the current $0.15/share, in just 6 quarters.
The company's P/B ratio receives a "C+" from the system, as it stands higher than its peers. It should be noted that the company's valuation appears to be in line with its historical prices, as it is currently trading at a level similar to its pre-pandemic levels. While the company's P/B ratio is higher than its peers, I believe the company's performance and potential for dividend growth justify this valuation.
Potential Risks
Investing in the company is certainly not without its risks. First, the company's Q2 2023 performance did not come in as strong as expected, which resulted in management revising its guidance downwards, albeit slightly. There is no guarantee that the company will perform well for the rest of the year, though the strength of the company's balance sheet means the company should be well-placed to navigate any unexpected situations.
Next, my optimism notwithstanding, it is entirely possible that the company will fail to increase its dividends. If so, investors would be stuck with a stock paying a dividend lower than the current risk-free rate, and exposing themselves to potential capital losses from market fluctuations as well. However, as noted above, the company's dividend payout ratio is at a very conservative figure, thus I would find it more likely than not for the company to increase its dividends over the next few quarters.
Conclusion
Since I last wrote about the company, its share price has fallen by about 7%. Nevertheless, having reviewed the results for Q2 2023, I see no change in the company's fundamentals and therefore no reason for me to change my rating. In fact, the current price makes it an even more attractive option compared to then, with the company priced cheaper. The company has a strong balance sheet and a stable dividend which has room for further increases. Hence, my rating on the company remains a "Buy".
This article was written by
My aim is to build a financial portfolio which will enable me to become financially independent. While I have a keen interest in the financial markets, and am constantly seeking to learn more about various sectors, this means I tend to gravitate towards dividend stocks as they will provide me with a steady stream of income to achieve my goal of becoming financially independent.
Analyst's Disclosure: I/we have no stock, option or similar derivative position in any of the companies mentioned, but may initiate a beneficial Long position through a purchase of the stock, or the purchase of call options or similar derivatives in HST over the next 72 hours. I wrote this article myself, and it expresses my own opinions. I am not receiving compensation for it (other than from Seeking Alpha). I have no business relationship with any company whose stock is mentioned in this article.
Seeking Alpha's Disclosure: Past performance is no guarantee of future results. No recommendation or advice is being given as to whether any investment is suitable for a particular investor. Any views or opinions expressed above may not reflect those of Seeking Alpha as a whole. Seeking Alpha is not a licensed securities dealer, broker or US investment adviser or investment bank. Our analysts are third party authors that include both professional investors and individual investors who may not be licensed or certified by any institute or regulatory body.