O'Reilly Automotive: A Big Shadow On Its Horizon
Summary
O'Reilly Automotive is the largest player in the auto parts industry with a strong business model and good financials.
O'Reilly has several long-term risks that put its terminal value and long-term cash.
The possible solution for fixing these problems is not easy to execute.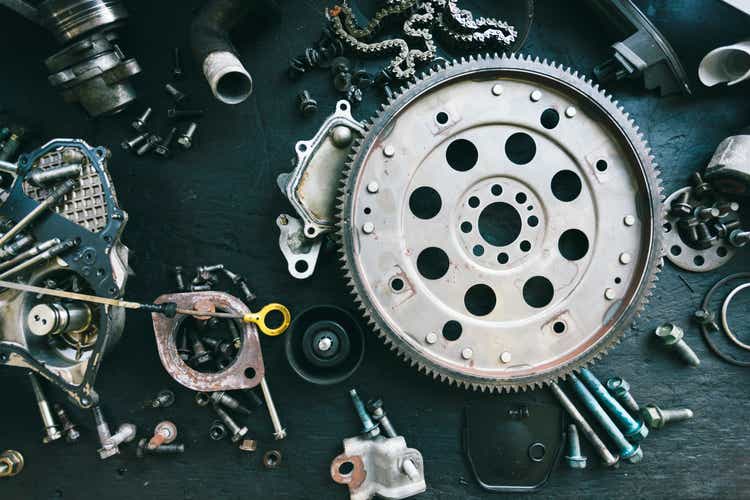 O'Reilly Automotive (NASDAQ:ORLY), ORLY from now on, is the biggest player in terms of market cap in the auto parts industry. Despite having a great business model with very good financials, competitive advantages, and competent management aligned with shareholders, there are some long-term concerns that prevent me from buying the stock, although there might be solutions for this problem.
Business model
ORLY was founded in 1957 and operates in the auto parts industry, a sector in which we can consider it an oligopoly, led by AutoZone (AZO) and itself. I like ORLY's mission statement, as it puts the customer as the main focus: "We will be the dominant provider of auto parts in all of our market areas by offering our retail and professional customers the best combination of inventory, availability, price, and quality, delivered with the highest level of service."
The business model is very similar to that of Lowe's, which I already covered, so it is pretty easy to understand, and we should focus on the same main points. ORLY tries to be a one-stop shop for all kinds of customers. They offer a wide range of products and services, such as: glow plugs, batteries, brake system components, belts, chassis parts, etc., while combining a mix of their own brands and third-party ones. Each of them represents around 50% of sales, but the own ones have higher margins.
There are 2 kinds of customers, DIY (Do It Yourself), which has been between 56% and 59% of sales, and PRO, representing 41%-44% of sales. Here are some differences. PRO customers are mechanics who operate in workshops. What matters most to them is the speed (since the cars take up space in the workshop) and the reliability of the parts (customer satisfaction). The price is something secondary since a large part of the bill usually comes from labor, and they usually charge an extra price for parts. AZO has the largest market share in both segments. ORLY occupies the third position among the professionals. According to the company, the more fragmented nature of the professional services industry offers a greater opportunity for consolidation and growth. PRO customers usually fix cars between 6 and 11 years old, somewhat newer than the non-professionals, and it is still profitable to do major repairs. Big companies are the only ones capable of combining depth of inventory with speed of delivery.
The second type is the DIY (Do It Yourself) people who have older cars. What matters to this group of customers is the price and the help that O'Reilly technicians can offer to fix the problem. Own brands are more popular among this type of customer.
In order to become a one-stop shop for customers, a great omnichannel is also important. There are many options for buying online on their own web, but customers usually buy them in person, but with prior reservation through the Internet.
Market growth opportunities
The vehicle fleet in the United States continues to grow, along with its average age (11.9 years). Better engineering and design make cars increasingly last longer, and it is profitable to change parts instead of replacing the entire vehicle. Higher mileage makes it more susceptible to breakdowns, and a higher average age puts it further out of the manufacturer's warranty. In addition, high car prices, due in large part to shortages in the supply chain, have caused the purchase of parts to increase. I expect overall growth rates between 3%-4% for the whole market, but a faster pace of growth for the big players (around 6% in the topline) thanks to their one-stop proposition and penetration of PRO customers.
Management is an important point on the thesis
By reading the first pages of the annual report, you already realize that this is one of those companies that thinks differently. Oriented in the long term, in the expansion and reinvestment in the business through the opening of new stores and improvements to logistics centers, but above all, in improving customer satisfaction and cost control (this will be achieved through software to improve logistics and productivity within the distribution centers), They also talk about capital allocation and why they think that buying shares is the best way to add value to shareholders, once they have first reinvested in their business and improved profitability. In addition, the vast majority of senior managers, district managers, and store managers have been promoted from within the company (all have been there for more than 14 years and much more than 20), a very positive fact that guarantees the durability of the talent within the company and the competence of its managers. The bad thing is that all the managers together own less than 1.73% of the shares, compensated by the great financial objectives for obtaining the stock option bonuses: organic growth, operating profits, ROIC, and FCF. Excellent.
Their main way of allocating capital is through the repurchase of shares. During the past 7 years, they have bought 32% of the shares outstanding, and the timing has been really good. When the price of the stock is depressed, the number of share repurchases increases a lot. On the other hand, ORLY does not share any dividends.
Competence
Its main competitor is $AZO. Their economies of scale and broad category of products make them a better value proposition for customers than other smaller players. As we can see in the image below, both companies show pretty similar financials, and it is difficult to infer which one is better in this sense. I think ORLY has greater growth opportunities thanks to its smaller penetration in the PRO segment and its smaller presence on international markets. In the picture below, the more important financial metrics of both companies are displayed, so you can make an easier comparison between them.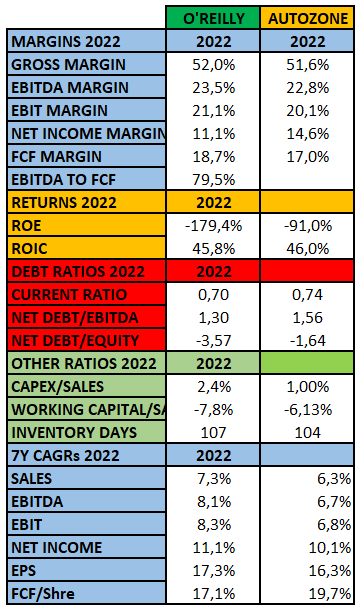 Another factor in which ORLY is better than AZO is its capital allocation. Despite both having the same capital allocation strategy (repurchase of common stock), ORLY has bought back 33% of the shares outstanding during the last 7 years, while AZO has bought back 31%. Moreover, the timing of repurchases has been better for ORLY, which tends to buy back shares aggressively when the stock price plunges. AZO has not bought back shares with such good timing.
Risk of terminal value
One of the most important questions that we should ask ourselves before investing in stocks for the long term is: What are the principal risks of terminal value that this company may have? This is important because on a DCF, the terminal value for the company represents between 70% and 80% of its valuation, so a small change of 1% on it, may make a huge difference in its fair value. I think ORLY should outperform AZO in the future, as it has been doing for the last 20 years.
The main risk of terminal value for these kinds of firms is the electric car and future autonomous driving, although I think we will have to wait several decades until this is completely implemented. On the other hand, electric cars are already a reality. The Tesla Model Y has been the best-selling car in Europe for the first half of the year, and there are two Tesla models that are in the TOP 11 best-selling vehicles in the States.
The main difference between an electric vehicle and a conventional one is the number of moving parts in the drivetrain (around 20 in a Tesla, compared to more than 200 in other cars) and the number of electronic components. For an in-depth analysis of this shift towards more electronic parts inside electric vehicles, I highly recommend reading this outstanding article of Best Anchor Stocks.
This means that the failures in this type of vehicle are mostly electronic and not so much part-related, reducing volumes for ORLY or AZO. It is true that these parts are more expensive, but I do not know if these companies will ever have access to the vehicle's software to fix any kind of electronic problem. This is something that should be monitored, as it can solve some problems with the thesis.
As I have mentioned, autonomous driving should be the biggest concern, as it may come to a point in which it will be safer than human driving, decreasing the number of accidents a lot. But in order for this to occur, mostly all the fleet of vehicles should be substituted by autonomous ones, and Tesla is the only company in autonomous driving phase 5. So this risk should not materialize in the short or medium term.
How to solve this problem?
After thinking a lot, in my opinion, the best way to avoid this problem is to penetrate international markets, where the transition to electric cars is far from materializing. South America could be a good destination, even Africa, but there are many risks related to expansion, as not only the number of shops must be replicated, but also the transport fleet, hub stores, supplier networks, etc. This can only be achieved with large economies of scale (they already have them in the States), but they have been building it since their foundation, so it is not something easy to replicate in a short period of time. They have a lot of know-how and financial muscle to carry it out, so I would not be surprised if the company makes huge efforts in the future, although they have already started with it.
Financials
ORLY financials are superb. Good CAGRs in all of its profit metrics, margins (20% EBIT margin and 19% FCF margin), returns (ROIC of 44%) expansion, and a good debt position (1.29x Net Debt EBITDA). It is also a CAPEX-light company (2% of sales) and has a negative working capital, a result of prompt payment from customers (low accounts receivable) and late payment to suppliers (high accounts payable).
Valuation
The best way to approach retail companies' growth is by using KPIs. For ORLY, I will use the 7-year CAGR number of shops (2.98%) and Sales per store in million dollars (7-year CAGR 4.55%), so by projecting these two KPIs with some more conservative assumptions, I get a 7.12% pace of growth for the next 5 years. Here, I am not taking into account the positive optionality that an international expansion may have, but the execution must be good, so there are risks of it not materializing.
ORLY is currently trading over $900 and at 25x EV/(FCF/share) a bit demanding in my opinion. I would not be willing to pay more than 20x for a business with this pace of growth and a risk of technological disruption whose solution is not an easy one to execute.
If we take a look at an inverse DCF, the market seems to be discounting a 10% FCF growth (thanks to the share repurchase, the FCF/share CAGR will be higher) with the following assumptions: 10% discount rate, the one that I normally use, and 2% TGR (as there are terminal value risks that are difficult to quantify). Share prices based on an FCF/share basis applying a 20x multiple are also displayed. Despite not demanding very high growth rates, in fact, I see them as reasonable, I would not feel comfortable holding ORLY due to my terminal value concerns. That is why I rate it as a sale, but I can understand people liking and owning it, which at the moment, is a marvelous business.
Other important graphs
The average drawdown from peak tends to be between 15% and 20%. There have been just 3 occasions in which the price has fell more than 40% (in 2008, 2017, and 2020), so we could argue that ORLY is a pretty stable company.
ORLY has outperformed both, its main competitor AutoZone, Inc. and the S&P 500 by a wide margin.
EPS and share prices tend to have a high correlation. When there are disparities among them (such as in 2022), opportunities usually arise.
Conclusion
Nowadays, ORLY is a great company. It has an easy-to-understand business model, with an oligopolistic position inside a market that suffers low disruption from smaller players, nice financial metrics, and great management and capital allocators. Nevertheless, I would not own the company in my long-term portfolio, as my terminal value concerns make my conviction in the company weak. I think there are many companies with more visibility in their future cash flows, and that is one of the things I try to look for when I invest in the long term. That is why I rate ORLY as a sell, but I will be happy to listen to other points of view, in order to keep learning or even changing my thoughts about the company.
This article was written by
I am a young enthusiast for investment. I like companies with strong competitive advantages, aligned management teams, high FCF generation, and high ROIC with many reinvestment possibilities. I am looking for the best businesses in the world in order to create a long term portfolio that can outperform the market.
Analyst's Disclosure: I/we have no stock, option or similar derivative position in any of the companies mentioned, and no plans to initiate any such positions within the next 72 hours. I wrote this article myself, and it expresses my own opinions. I am not receiving compensation for it (other than from Seeking Alpha). I have no business relationship with any company whose stock is mentioned in this article.
Seeking Alpha's Disclosure: Past performance is no guarantee of future results. No recommendation or advice is being given as to whether any investment is suitable for a particular investor. Any views or opinions expressed above may not reflect those of Seeking Alpha as a whole. Seeking Alpha is not a licensed securities dealer, broker or US investment adviser or investment bank. Our analysts are third party authors that include both professional investors and individual investors who may not be licensed or certified by any institute or regulatory body.