Sandy Spring Bancorp: Seems To Be Falling Behind On Some Metrics
Summary
Sandy Spring Bancorp is facing increased competition and struggling to generate solid returns.
The company's loans are increasing, but it is unable to translate this into higher interest fees.
SASR's share price has fallen, and it may take several quarters for the company to see margin expansion and loan growth.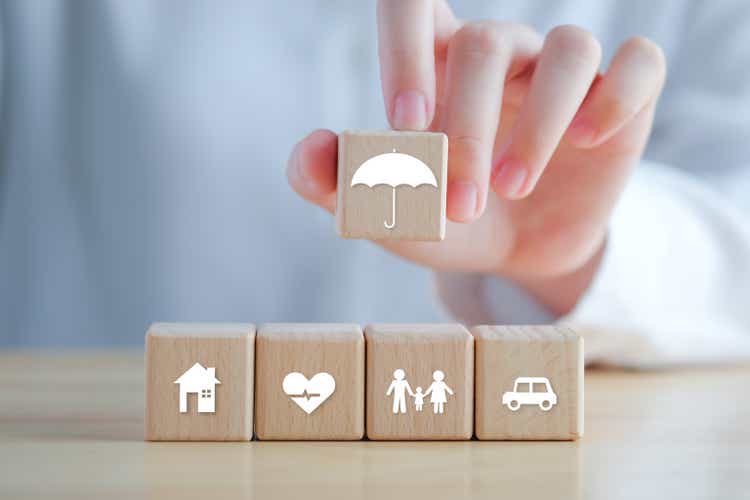 Introduction
The industry consisting of regional banks has been anything but stable this year as the meltdown of two of the largest players in the space caused a ripple effect across many markets. For Sandy Spring Bancorp (NASDAQ:SASR) there hasn't been a recovery and increased competition is making it difficult for the company to operate and generated solid returns. The last earnings report didn't bring any significant news that would suggest SASR is heading back to previous levels in 2021 anytime soon.
There seems to be a good reason for the share price falling as much as it has in the last 12 months and I don't think we are likely to see a recovery soon. But for investors already in the company, sitting back and collecting the dividend still looks quite appealing and this concludes me rating SASR a hold at least.
Company Structure
SASR has managed to gather up a decent market share and is a provider of commercial and retail banking in the regions of Central Maryland, Northern Virginia, and Washington D.C. The operations are divided into two various segments which are Community Banking and Investment Management.
SASR engages mostly in offering financial products and services within the first segment, but also includes loans and deposit products as well. Loans cover a wider array of areas like real estate, construction, and also business. In the last segment though the focus is instead more on wealth management and financial planning for individuals, families, and small businesses.
On a yearly comparison, we can see some positives and also some quite significant negatives. The fact loans are still increasing is great, but the fact that SASR isn't able to translate this into higher interest fees is worrying. With many companies in the sector able to do the opposite it seems that SASR is falling behind and providing more risk than returns to investors right now, at least from a buy perspective.
Looking at some highlights from the last quarter it seems that the total assets saw a slight decrease every quarter. With interest rates being quite high, a lot less activity is happening in many parts of the economy, but as it eases I think it's likely we see a revival in the asset growth of SASR. But with net margins decreasing as rates go higher it's difficult to phantom how SASR is going to drive dividend growth for decades to come. The payout ratio may be at 41% and growing since 12 years back, but it needs to be supported by growing earnings. Lacking the capabilities of SASR to do so will likely keep the share price at these low levels for the short to medium term at least.
Earnings Transcript
I think it's worth hearing some words from the management as well about their thoughts on the performance so far. Below are some comments from the last earnings call by CEO Daniel Schrider.
And in this case, the units have been slower to achieve targeted occupancy, therefore, creating some cash flow challenges for the borrower who is fully cooperating with the bank as we work through this. Given the slow lease-up phase and competitive market, our assessment is that was prudent to establish an individual reserve at this time while we continue to work with our borrower. But our review of the broader multifamily portfolio does not indicate any similar trends in other relationships".
With an increasingly competitive market, it is becoming clear that SASR needs to adapt quickly if they want to keep up and not let margins slip more in the coming quarters and years. Working to set themselves up the best they can when rates lower and activity resumes to higher levels I think is crucial here. Doing so would be done by ensuring loans remain similar and a slight growth is had too.
Valuation & Comparison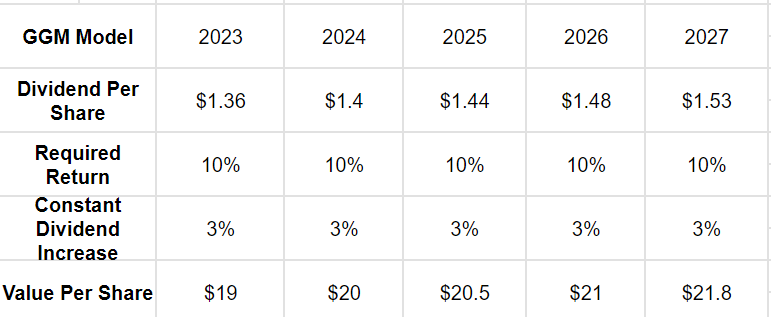 From the GGM model above here we can derive that SASR is at a pretty rich valuation rich now in comparison to my target prices. I am predicting a slightly lower dividend growth rate than the historical one given the challenges the company is facing and the high likelihood of competition taking a toll on margins and earnings for the company.
A required rate of return of 10% at least is sufficient for an investment in my opinion and even here it doesn't constitute SASR to be a buy. I think however, the dividend is likely to be maintained, and cutting it seems unlikely in all honesty. That means a hold rating at least seems viable here.
Risk Associated
The ability of a bank to secure funds at favorable interest rates plays a pivotal role in its financial health. Maintaining a balance between the cost of funds and the yield on assets is instrumental in achieving sustainable profitability. When a bank's cost of funds becomes excessive, it could hinder its capacity to generate robust earnings unless it extends loans and credit at elevated interest rates. In a healthy financial landscape, the yield on assets typically outpaces the cost of funds, ensuring a stable and profitable operation.
However, as we delve into the situation of SASR in the second quarter of 2023, an interesting development emerges. The traditional equation of yields on assets surpassing the cost of funds appears to be encountering a challenge in this context. This raises potential concerns regarding the bank's financial equilibrium and the factors driving this imbalance.
The allure of the money market's enticing interest rates has sparked a significant trend in recent times. Both businesses and households are finding it increasingly hard to resist the attractiveness of these rates, prompting a noticeable shift in their financial strategies towards more lucrative investment avenues.
Investor Takeaway
For investors seeking a growth story in the regional bank's industry, I think they ought to look elsewhere right now. SASR may have had its share price nearly cut in half in the last 12 months, but this has not meant that it's by any means a goodbye right now. Increasing competition is cutting into margins and strong dividend increases seem unlikely until the company gets back on its feet. I am rating SASR a hold right now and don't think investors should be buying shares until there is more clarity in terms of margin expansion and loan growth, which could be several quarters.
This article was written by
JB Research is focusing primarily on the finance sector and building up a solid dividend portfolio from the investments that are found. The long-term outlook is to always generate adequate capital returns from investments and build a solid foundation of wealth.
Analyst's Disclosure: I/we have no stock, option or similar derivative position in any of the companies mentioned, and no plans to initiate any such positions within the next 72 hours. I wrote this article myself, and it expresses my own opinions. I am not receiving compensation for it (other than from Seeking Alpha). I have no business relationship with any company whose stock is mentioned in this article.
Seeking Alpha's Disclosure: Past performance is no guarantee of future results. No recommendation or advice is being given as to whether any investment is suitable for a particular investor. Any views or opinions expressed above may not reflect those of Seeking Alpha as a whole. Seeking Alpha is not a licensed securities dealer, broker or US investment adviser or investment bank. Our analysts are third party authors that include both professional investors and individual investors who may not be licensed or certified by any institute or regulatory body.