Progyny: Strong Secular Tailwind, Great Performance, Recommend Long
Summary
Progyny's 2Q23 results demonstrate strong performance and resilience, with revenues increasing by 43%.
The company is benefiting from a strong secular tailwind in the fertility benefits market and has a promising pipeline of new clients.
Progyny's expansion into menopause care programs and untapped markets like large self-insured employers supports future growth prospects.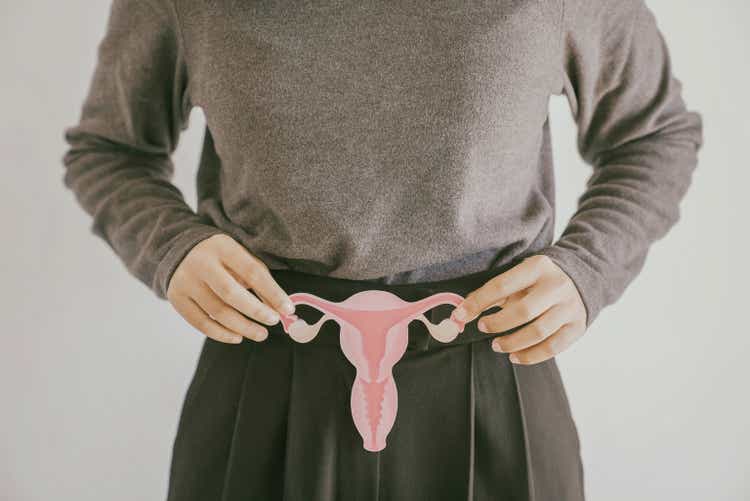 Investment action
Based on my outlook and analysis of Progyny's (NASDAQ:PGNY) 2Q23 results, I recommend a buy rating given the strong performance so far, demonstrating its resilience profile against this macro backdrop, and also the strong secular tailwind that the business is enjoying. The long-term growth remains visible and healthy, supported by reinvestments in previously underinvested programs and opportunities in untapped markets.
Basic Recap
PGNY operates as a fertility benefits management company in the US. The business offers patients a benefits solution with education and guidance from a Patient Care Advocate and access to a network of fertility specialists. From the employer perspective, it helps to reduce overall healthcare costs.
Review
PGNY reports 2 key segments, Fertility Benefit Services (65% of revenue) and Pharmacy Benefit Services (35% of revenue), of which both have demonstrated extremely strong growth rates over the past few years. Since 2016, the business has grown revenue by more than 35x from $22 million in Fy16 to $786 million in FY22.
PGNY's 2Q23 results were better than expected, with revenues increasing by a staggering 43% to $279 million. Underlying growth was broad based with revenue from Pharmacy Services increased by 56%, to $107 million, and Fertility Benefit Services increased by 36%. The company's $47.5 million in adj EBITDA represents a 17% margin, which is higher than consensus estimate of $45 million. Other key operating metrics that point to strong future growth were also very encouraging. PGNY saw strong growth in its client base, with 384 clients and 5.34 million members ending the year, an increase of 111 clients and approximately 1.8 million members. The utilization rate for all members also rose, from 0.49% in 2Q22 to 0.57% in 1Q23. This suggests that the rate of actual adoption is on the rise.
Evidently, from the 2Q23 results, the PGNY product offering is in high demand, which I expect to continue given the strong secular tailwind for fertility benefits. This point was also well conveyed by management, noting that more than half of large employers intend to improve health and well-being coverage in 2024, with a sizable proportion of these organizations also seeking to increase health equity. In addition, PGNY still has access to a sizable group of large, self-insured businesses. I don't see why PGNY wouldn't be able to crack the market for large businesses if they're successful with other large employers. In terms of TAM, to put things into perspective, PGNY is still a very small fraction of the entire market. The business currently accounts for about 5% of the market, ~5 million covered lives, vs the 100 million lives TAM cited by management in the 1Q23 call.
In fact, according to Mercer, nearly two-thirds of large employers report they're planning to make enhancements to their health and well-being coverage in 2024, of the other one-third duly all reported that they had already made those enhancements within the last few years.

Their study also reveals that 78% of large employers said they're looking to improve the health equity in their plans, including initiatives to support diversity, equity and inclusion.

There is over 8,000 large self-insured employers in the United States, and as of today, we have less than 5% of those as clients. 2Q23 call
I won't spend too much time worrying about the short-term employment market headwinds caused by layoff news because the strong secular tailwind should more than compensate for these negative sentiments. PGNY's improved performance is readily apparent; the company's revenue increased by nearly 50% in FY22 and is still expected to increase by >30% in FY23. Besides the favorable P&L, management has affirmed that PGNY is progressing toward boosting the count of new clients and covered lives annually. They have also reported a promising pipeline, indicating a substantial number of early commitments from diverse industries. My positive long-term growth outlook is also supported by research done by Allied Market Research, where they expected the industry to grow at a CAGR of 16.1% until 2031. Also, according to the report, growth is expected to be over-indexed to the North America market, which is where PGNY focuses on.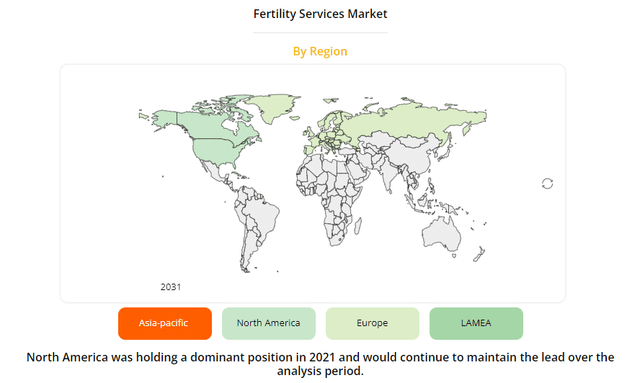 Furthermore, the recent extension of PGNY's menopause-related offerings signals its ability to sustain its existing growth trajectory. PGNY plans to set up a network of specialized menopause care providers, supplementing their conventional concierge services with an integrated care option for an extra fee. This comprehensive approach also covers health treatments to support their fertility journeys.
For an additional nominal fee, Progyny clients can provide their employees with access to convenient personalized treatment that addresses nutrition, mental health and hormonal health, which builds on the comprehensive concierge support our members. 2Q23 call
Historically an area of lesser investment, PGNY's move is promising for potential growth, driven by notable market demand in this field, as indicated by management.
Long-term profitability & balance sheet
As a result of economies of scale, I anticipate a rise in gross margin as better unit economics are realized in the areas of medical benefits (via more advantageous contracts with providers) and prescription drug coverage (via more advantageous unit costs net of rebates from drug manufacturers and lower dispensing rates). As the bulk of commissions are paid in the first year, I expect leverage on S&M expenses to reflect the increase in gross margin profitability. Profitability is expected to rise during the term of the contract as benefit utilization rises (driving revenue) and S&M costs fall. And as sales agents become more productive, the business will see further leverage from S&M cost.
PGNY also has a very strong balance sheet to support its growth as the business has always remained in net cash position since listing. As of LTM, PGNY has $282 million in cash and $19.6 million in debt. This clean balance sheet gives comfort that PGNY has substantial flexibility to draw debt to invest in the business to drive growth if required.
Competition
Given the lack of publicly listed peers to compare, I look at PGNY's NPS score as an indicator of its product offering quality vs peers. From the S-1, PGNY has significantly exceed the national average by a huge mile. While the data might seem dated, I point readers to PGNY recent AGM, where management cited that they have achieved their best ever NPS score, which suggests improvement since S-1.

We also achieved our best ever NPS score of 81 plus reflect in the exceptional levels of member and client satisfaction that we continue to achieve. AGM 2022
Valuation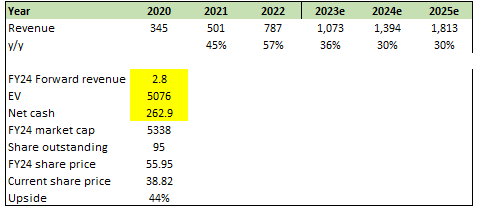 I believe PGNY can grow at 30% for the next 2 years and as guided for FY23 because of the strong secular tailwind, the re-focus on menopause care programs, and untapped markets like large self-insured employers. PGNY has historically grown at a much faster pace than what I am expecting (even FY23 is 600bps ahead), and as such, I don't see any reasons for growth to slow down much further than what I expect. All of these are favorable factors that should support a valuation of 2.8x forward revenue. I do not expect valuation to revert back to the historical average given the much lower growth rate ahead. Remember that PGNY used to grow in the 50+% range, and now I am expecting 30%, so the valuation deserves to be lower. My valuation multiple assumption is also supported when compared again peers. The peer group (healthcare service providers that are growing fast) now trades at a median of 1.5x forward revenue, and I believe PGNY should trade at a premium given it is printing much higher growth rate, and had similar margin profile.
Risk and final thoughts
Due to PGNY's structure, some businesses may be hesitant to forego the certainty of a fixed monetary value for benefits. Companies that haven't previously included IVF benefits may be more receptive to PGNY's novel approach because of how easily it can be implemented. Businesses that currently provide IVF assistance in the form of a fixed monetary amount may be hesitant to make the switch for financial reasons. Since only a fraction of employees actually use the IVF benefit each year, it can be difficult to identify, track, and quantify net cost savings (from the employer's perspective), which could slow PGNY's expansion. While the savings per unit are substantial, they may not be great enough on a per-company basis for businesses to make the switch.
I would conclude by saying that PGNY exhibits strong resilience and growth potential in the fertility benefits management sector. The impressive 2Q23 results with substantial revenue growth reflects the increasing demand for its offerings. The company's adept navigation of the macro backdrop, coupled with a robust secular tailwind favoring fertility benefits, underscores its long-term viability. PGNY's strategic expansion into menopause care programs and untapped markets like large self-insured employers further fuels growth prospects.
This article was written by
I consider an investment ideal if it performs its core business in a sector projected to experience structural (organic) growth in excess of GDP growth over the next 5-10 years; profits from sustainable competitive advantages that translate into attractive unit economics; In the hands of competent, ethical, and long-term thinkers; with a fair valuation
Analyst's Disclosure: I/we have no stock, option or similar derivative position in any of the companies mentioned, and no plans to initiate any such positions within the next 72 hours. I wrote this article myself, and it expresses my own opinions. I am not receiving compensation for it (other than from Seeking Alpha). I have no business relationship with any company whose stock is mentioned in this article.
Seeking Alpha's Disclosure: Past performance is no guarantee of future results. No recommendation or advice is being given as to whether any investment is suitable for a particular investor. Any views or opinions expressed above may not reflect those of Seeking Alpha as a whole. Seeking Alpha is not a licensed securities dealer, broker or US investment adviser or investment bank. Our analysts are third party authors that include both professional investors and individual investors who may not be licensed or certified by any institute or regulatory body.