Copart: Moat Built By Outstanding Management
Summary
Copart is enjoying market tailwinds in a dominant position that grows as the company gets bigger.
Management has strong skin in the game, and it is still led by its founder. The CEO has been receiving all his compensation in stock options since 2009.
Copart's highly defensive business model in both inflationary and deflationary environments comes with a valuation premium.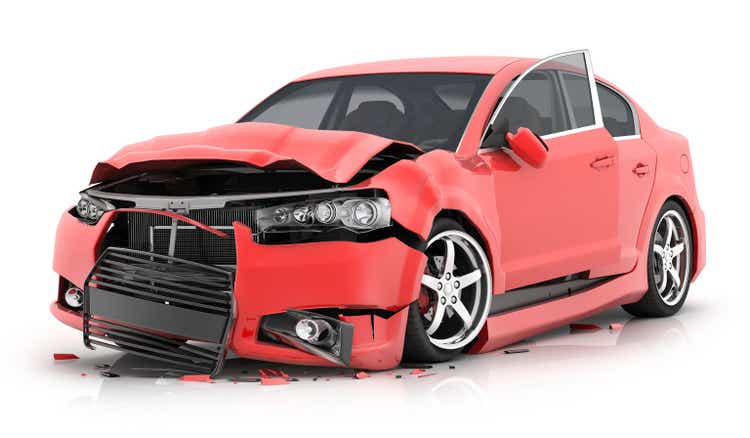 Investment thesis
Copart (NASDAQ:CPRT) is what I classify as an outstanding business. It operates in a niche market and enjoys a dominant position, which grows with the company's size. The company profits from both an inflationary environment, since their revenue is a percentage of used vehicle prices, and from a deflationary environment, since less spending grows average vehicle age, causing more total loss frequency.
The number of yards available to store salvaged vehicles close to metropolitan areas is limited, and new competitors have a hard time entering the business. Its considerable size (∼$40B) allows it to provide a better service for insurance companies and vehicle buyers because of network effects.
Copart has almost zero debt and generates strong free cash flows, which they reinvest in new market expansion as well as growing in the U.S. When the company is not able to deploy its growing pile of cash, it allocates its capital by buying back shares.
The company is still led by its founder, who acts as a chairman of the board, and his son-in-law who works at Copart since he was 19 is currently the CEO. The compensations structure couldn't be more aligned with shareholders and CEO's compensation is a $1 annual base salary and the rest in stock options. Its strong skin in the game provides a margin of trust for shareholders.
Even if the company is slightly overvalued (5%) using a DCF model, I believe it is a business worth paying the premium and could provide shareholders with an 8.6% CAGR return over the next 5 years.
Company background
Copart is an online provider of services related to vehicle resale and remarketing founded in 1982 by Willis J. Johnson, who still serving as chairman of the board of directors. He started the company with just one salvage yard in California and began expanding the business in the early 1990s.
Currently, Copart is the leading global provider of online auctions and vehicle remarketing services, with over 3 million vehicles sold every year and buyers in over 190 countries. Until 2003 they only operated in the U.S., but since then they have expanded to Canada, the U.K., Brazil, Ireland, Germany, Finland, U.A.E., Oman, Bahrain, and Spain.
Copart provides its Virtual Bidding Third Generation (VB3) sales technology to sellers and buyers of damaged vehicles, not economically repairable by insurance companies, or recovered stolen vehicles.
Business model
I remember once when I was a kid, driving back to town with my father after spending the weekend away, when our Toyota suddenly began to smoke. The tow truck came to pick up the car and, like most people, I never asked myself what happened to the car.
When a vehicle is crashed or involved in a natural disaster, the process is as follows:
Insurance companies tow the vehicle to a storage or repair facility until examination.
The vehicle is inspected by the insurance company, which estimates the cost of repair, and gathers information to estimate its Pre Accident Value (PAV).
The insurance company decides if it pays for repairs or classifies the vehicle as a total loss. To determine which one is worthier, they compare if the cost of repair is greater than the PAV (what they have to pay to the insured) less the estimated salvage value.
If the vehicle is classified as a total loss, the insurance company will assign the vehicle to an auction and remarketing services company, settle with the insured and receive the title of the vehicle.
Once Copart receives the assignments, they arrange transportation to one of their facilities (over 200 worldwide).
The vehicle remains in their facilities until the vehicle's ownership is transferred to the insurance company and the salvage title is received, usually between 45 and 60 days from pick-up.
The vehicle is sold on behalf of the insurance company or for their own account, depending on the contract, through the VB3 platform.
Copart suppliers are mainly insurance companies (80% of the total number of vehicles processed during 2022), but also banks, finance companies, charities, fleet operators, dealers, and individuals. Buyers are dismantlers, rebuilders, used vehicle dealers, exporters, or individuals.
Since the cost for insurance companies to take care of damaged cars would be higher, Copart acts as a link between many different insurance companies and buyers.
Copart makes insurance companies' lives easier by providing a full range of services that minimize administrative and processing costs while maximizing the sales price of the vehicles auctioned. Revenue mainly comes from auction fees which depend on the sales price. The company is also generating revenues from pre-sale and after-sale services, like transportation fees, title processing fees, vehicle storage, and loading fees.
They also generate revenues from buyers, since they charge members an annual registration fee for the right to participate in auctions and access their platform.
Finally, in the U.K., Germany, and Spain, Copart also purchases salvaged vehicles and resells them, but as we will see later, this segment has significantly lower margins than auction and service fees.
Tech focused
Copart has been focused on improving its services through technology since a long time ago when in 1997 they created the Copart Auction System (CAS), which was designed to improve access to information and report generation.
In 1998 they became the first vehicle auction company to allow buyers to submit bids over the Internet. In 2001 they introduced real-time bidding, which allowed members to compete in live auctions, and started posting vehicle images for buyers.
In 2002, already 31% of gross proceeds from vehicles sold were generated through Internet bidders, and in 2003 they launched its VB2 platform improving customer's experience by allowing them to enter preliminary bidding, receive an email if they were outbid, and giving them the chance to offer a higher price.
It improved its bidding platform in 2013 with VB3, eliminating the need for plug-ins and introducing new features such as a multi-auction dashboard, that allows buyers to participate in multiple auctions simultaneously.
Copart's focus on technology has allowed them not only to provide a better service for its customers but also to offer more services while increasing revenue and margins. Net income margins were 4.7% in 1993, and have been increasing to over 30% in 2022.
Currently, the company still focusing on constant improvements leveraging new technologies, which I believe will continue to pay off in the future.
Its IntelliSeller tool applies machine-learning techniques to the vast amount of data the company owns with the goal to assist sellers in making decisions such as when to establish a minimum bidding price or when to re-auction a vehicle.
In 2020 it launched its 360-degree views of the interiors and exteriors of vehicles, reducing the need to travel to its physical facilities, since buyers can view everything from their computer or mobile.
They have also digitalized much of the workflow with insurance companies and they can now process vehicles without needing to visit Copart's yards.
More recently, Copart has stepped up its investment in ProQuote, a proprietary machine-learning tool that provides accurate estimates for the value of damaged vehicles.
I believe the company's success and its current moat have been built over many years thanks to its focus on technology and productivity improvements. Copart works really close with its clients and maintains regular meetings with them to constantly improve their services based on customers' needs.
Market and competitors
The main drivers in the salvaged and used vehicle markets are the total loss frequency and the average age of vehicles. The average age of vehicles is correlated with the total loss frequency since repairing costs are similar between a new vehicle and a 10-year-old vehicle, but the vehicle value decreases over the years.
As we can see in the image above, over 30% of vehicles aged between 10 and 15 years are classified as a total loss.
The other main driver that affects Copart's business is prices for salvage and used vehicles since most of the revenues are generated with fees based on the selling price.
But, what are the expectations regarding total loss frequency and prices?
Total loss frequency is expected to continue its upward decades-long trend, which offsets the trend of declining accident frequency. Since automobile manufacturers continuously incorporate new features and the complexity increases with components such as navigation systems, advanced cameras, or warning systems, new vehicles are more costly to repair.
Average vehicle age has also been increasing in the U.S., which should increase the number of vehicles declared as a total loss for the upcoming years.
As the Co-CEO Jeff Liaw commented on the 3Q 2023 Earnings Call:
First, repairs are more expensive and less attractive over time, due to increasing accident severity, vehicle complexity, labor costs and rental car costs. And two, salvage economics are more attractive, because the fastest growing economies in the world in Central and South America, Africa and Eastern Europe lean on our damaged vehicles to provide the mobility they need.
From the price perspective, Copart has a business model that profits from inflation. Since most of the fees are based on the price of vehicles processed, an inflationary environment increases Copart's revenues.
Since 1997 used vehicle prices have been growing at 2.9% CAGR, and the U.S. vehicle auction market is expected to grow at similar rates for the upcoming years (3.4% CAGR until 2028).
The main competitors for Copart are other vehicle remarketers of both salvage and non-salvage vehicles since they present competition regarding long-term contracts and supply agreements with insurance companies and other sellers. They can also face competition for the acquisition of vehicle storage facilities.
The largest competitors are Auto Auctions Inc. (IAA), which has been recently acquired by Ritchie Bros, a Canadian marketplace for commercial assets and vehicles, Openlane Inc. (KAR), Manheim Inc., and ACV Auctions Inc (ACVA). Copart also faces competition from LKQ (LKQ), the largest national dismantler in the U.S.
I believe Copart has a strong competitive advantage since geographic coverage and the ability to respond on a global scale allow the company to provide superior value compared to its competitors. Copart enjoys strong network effects since it has a bigger size than its competitors, which creates an incentive for both buyers and sellers to use its platform.
Copart's revenues in 2022 were $3.5B, compared to $2B for IAA, $1.5B for Openlane, and $0.4B for ACV Auctions. Operating margins are also better when compared to its peers. While Copart had operating margins close to 40%, IAA's operating margins were at 20.1%, Openlane's were at 9.2%, and ACV Auctions were negative.
These superior returns clearly show Copart's competitive advantage and cost-optimized financial structure, since while other companies remarked vehicles through physical auctions or use a hybrid mode, Copart only sell their vehicles online.
Finally, from the market perspective, I believe the salvage vehicle market is a highly defensive business model, since during economic downturns, new vehicle sales drop and the average vehicle age goes up.
During the 2007-2008 GCF, Copart's revenue went from $560MM in 2007 to $772MM in 2010, and net income increased from $136MM to $151MM during the same period.
Management
I believe we will not find many $40B market-size companies with its CEO earning $1 a year as a base salary, but Copart has one of them.
Management is one of the aspects I take most into account when investing in a company, and Copart's management is outstanding. Their incentive program couldn't be more aligned with shareholders' interests, they have strong skin in the game, and the business is still managed by its founder Willis Johnson and his son-in-law Jay Adair.
Willis Johnson learned about business from his entrepreneurial father and founded Copart at the age of 34, served as CEO until 2010, and is currently the chairman of the board of directors.
In 2010, Jay Adair became the CEO of the company. He has been in the company since he was 19 years old and pioneered Copart's move into online auctions being one of the architects of the VB2 platform and transforming the industry.
Since 2009 he has been earning $1 a year as a base salary, and all his compensation has been the stock options received in 2009, 2014, and 2022. There couldn't be a compensation structure that better aligns CEOs' and shareholders' incentives, and he currently owns 3.75% of the company (over $1.5B).
The company is run by two CEOs, Jeff Liaw, who joined the company in 2016 as CFO, became Co-CEO in 2022. Even though he has a bigger base salary than Jay Adair, it is still small ($788,459) compared with his peers, and receives most of his compensation in stock options (95% of total compensation).
After Vanguard and BlackRock, the biggest shareholder is Willis Johnson with 6.66% of the outstanding shares. The rest of the management team combined owns 0.73% of the company.
Financials
Copart has been able to grow consistently over time and maintain its ability to deploy its strong cash flows while improving its already impressive ROIC.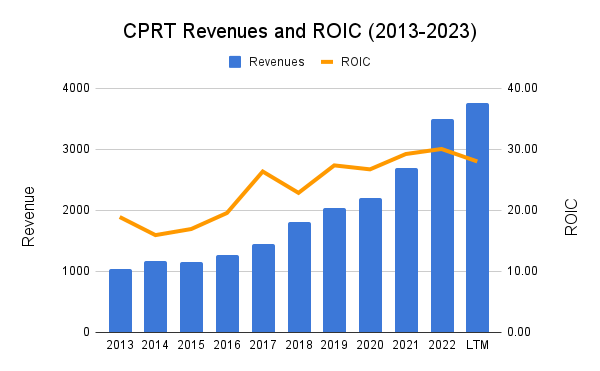 Since 2013, even though its revenues have more than tripled, its selling and administrative expenses just grew by 67%, which I believe is the result of an efficient business model based and constant productivity improvements thanks to technology.
Copart's main source of revenues is auction-related fees which represent 82% of total sales (3Q 2023). 88% of those revenues are generated in the U.S. and the rest internationally.
The other Copart business segment, which is vehicles purchased and remarketed on the company's own behalf, represents 18% of total sales, but as stated before, these sales are mainly generated outside the U.S. (52% are generated internationally). This business segment has significantly lower margins, and in 3Q 2023 it had 8.6% operating margins, while services margins were at 47.8%.
Copart revenues tend to be higher during winter because of weather-related accidents.
From a cost perspective, Copart is affected by energy and fuel prices. Most of its operating costs are related to personnel (over 9,500 employees), property-related taxes, and equipment maintenance. CapEx excluding new developments represents less than 10% of revenues (3Q 2023).
Since Copart is generating strong cash flows (31% FCF margins for LTM), they do not need debt to continue expanding the business and their debt is almost zero. Even though the company has a Revolving Loan Facility up to $1.25B maturing in 2026, they have just had $22MM outstanding in 3Q 2023 and interest expenses are insignificant.
Most of Copart's balance compromises its real estate, which provides protection against inflation and is currently valued at $3.7B, with some Goodwill from acquisitions ($0.45B), and cash ($2.1B).
Since Copart is a cash-generating machine, its cash piles fast into the balance, and the management is asked about that topic in every analyst call. Management likes to keep enough cash in the business to expand with new yard facilities and small acquisitions. In the most recent analyst call, the Co-CEO Jeff Liaw commented:
First, we can continue investing in our owned real estate portfolio, which provides strong durable protection against an inflationary environment and also ensures the sustainability of our service model for the next 50-years.

Second, we can provide superior service to our clients and catastrophic events even when doing so requires substantial capital investments in technology, trucks, land and people.

And third, we can invest in the tech platform and marketing resources that create and sustain our global buyer base. In short, we believe our long-term orientation is in itself a distinct competitive advantage.
When they are not able to find better uses for cash, they repurchase their own shares like they did in 2016 when repurchased 7.1% of the total outstanding shares through a tender offer, which management didn't participate in.
The company has a track record of conservative cash acquisitions that must meet a high bar. Its latest acquisition was Hills Motors in 2022 for $106MM, a recycler of vehicles used parts that operates four facilities in the U.K. Even though the company didn't disclose Hills sales, I estimate them to be in the $24MM range.
Its acquisition strategy is based on strategic acquisitions to grow its presence in certain markets, but they never pursue big acquisitions that could significantly affect the business.
Most of their capital is deployed into acquiring and developing additional vehicle storage facilities, which is capital intensive in the sense that they have to purchase the land, build the systems, acquire loaders and trucks, and hire the people to serve that particular market.
Expected growth
As stated before, Copart benefits from inflationary environments, as it demonstrated recently, and deflationary environments shouldn't hurt the business, since even used car prices could drop, less consumer spending would mean higher average age per vehicle.
Management is expecting vehicle prices to stabilize, and total loss frequency to continue raising, as stated in the 3Q 2023 Earnings Conference:
We are observing an apparent reversion to increasing total loss frequency trends. According to CCC, the total loss frequency bottomed at 17% or thereabouts in the second calendar quarter of 2022 and has subsequently rebounded to 19% in the first calendar quarter of 2023. The third consecutive sequential quarterly increase.
The main question from my point of view when forecasting Copart is if the company is going to be able to reinvest its FCF into the business or will buy back shares in case they are not able to expand to new markets.
In the 2023 fiscal year, Copart expanded to 7 new locations (5 in the U.S., 1 in Germany, and 1 in Canada) for the first three quarters. For the full year, I expect the number of locations to expand by 5-6% compared to the previous year. Adding a 3% growth in sales because of inflation and market growth in the long term, I expect sales to grow at 8% in 2024 (slower because of prices of vehicles stabilizing) and an average of 10% annually for the upcoming years.
I expect EBIT margins to decline to 38.5 in 2023 and 2024, and grow to 41% in 2028 because of scale efficiencies. As we have seen, the company has a scalable business where selling and administrative expenses grow slower than revenues.
I used an 8.38% discount rate, from a 4.8% cost on debt, a 9% cost of equity, and a 21% tax rate, which is consistent with the 3Q 2023 data.
I believe my base case scenario to be conservative since I am expecting that the company can reinvest only 30% of its FCF into expansion and CapEx, while for the 2016-2022 period, they have been able to deploy 48% of its FCF.
Since I am not expecting Copart to be able to reinvest its FCF at past rates, I expect them to buy back 11.4% of its shares during the next 5 years, which I believe is also conservative, since the company already has the cash to buy back 5% of its outstanding shares at current prices.
Using a 4% long-term growth rate, we get a $40.97 fair price per share.
From an FCF multiple valuation, I used a 25x TTM multiple, since it is the average of its average valuation over the last 5 years. I believe this is fair for such a quality business. From a multiple perspective, my fair price is $39.69 per share.
From both valuation methods, the company is slightly overvalued (5%), but I own it for the long term and don't mind holding regarding the current price, since I prefer to pay a premium for the most quality businesses than owning those with lower valuations but major risks on future growth.
Valuation
For the last 5 years, Copart has been trading at an average of 25x EBIT:
Valuation has risen significantly over the past years since it was trading at a range of 15-20x EBIT during 2000-2018, which I believe is a result of higher margins, growing ROIC, and a bigger competitive advantage from its size.
If the company performs as expected and valuation keeps at 25x EBIT, the Enterprise Value should be around $62B in 2028, providing investors with an 8.6% CAGR over the next 5 years.
In the short term, Copart is overvalued when compared to its fair price and historical average multiples, so the price could drop to the $35-37 range and it would be a good opportunity to buy.
Risks
Copart doesn't have much concentration on vehicle suppliers (mainly insurance companies) or buyers (it has 750,000 members), so I don't see a risk for the company from this perspective.
One of the risks that Copart faces when expanding, is the ability to find new facilities since they need to have some particular characteristics, like being close to a metropolitan area, permitted for storing vehicles and they usually look for many of them to offer a better service to insurance companies.
I believe the current size of Copart allows them to enjoy a big moat and limits the ability for new participants to enter the market and compete with them from the technological perspective and the yard facility perspective, but the ability to improve its services and the auction system will definitely affect to future growth.
In the long term, one of the major risks for Copart is autonomous vehicles, since they are expected to reduce car accidents.
Over the last decades, as road safety improves, vehicle accidents have been declining, even more recently this trend has stabilized. As we highlighted before, even if vehicle accidents reduce, the cost for repair grows, keeping total frequency loss at rates close to 18%.
I don't see much effect from EV in Copart growth rates, since they are still being driven by humans, but I expect autonomous driving vehicles to affect the business if car accidents reduce (weather damage will still happen).
It is hard to predict when autonomous vehicles will overcome human-driven vehicles, but taking into account that the U.S. is the most advanced market in that regard, and Teslas Autopilot is just level 2 (on the 6 levels SAE scale), I don't expect completely self-driving vehicles to overcome human-driven vehicles soon.
Currently, in the U.S. only 7 states do not require a driver to be behind the wheel or for the driver to be licensed. In other countries like Australia, self-driving vehicles are still illegal, and regulation is expected by 2026. In Europe, only level 3 is authorized under certain conditions.
Taking into account that the U.S. is the most advanced country regarding autonomous vehicles, and they still represent a small market share, I do not see it as a short-term risk for Copart's business, but I believe it is something we will have to monitor in the upcoming years to see the effects in total loss frequency.
Conclusions
Even though Copart is currently slightly overvalued and could see some short-term drop in share price, I don't mind paying a premium for such an outstanding business.
Copart has an earnings-defensive business since it is not sensible to economic cycles, and its growing size allows them to expand margins and strengthen its dominant position.
Even though there are some long-term risks that we will have to monitor over the next years, as autonomous vehicles, the effects are not clear since total loss frequency grows along with the growing complexity of vehicle repairs.
The outstanding management with strong skin in the game and the demonstrated ability to deploy its capital at a high ROIC through market expansion and technology development reduces the risk of worst-than-expected results over the next years.
Finally, I rate the company as a buy over the long term, but new investors could wait for a short-term drop in price to enter at a better valuation and increase its margin of safety.
This article was written by
My passion for financial markets started at a young age and I have been investing since 2006.Later on, I studied Economics and started as a buy-side equity research analyst. After studying for a Master's Degree in Economic Analysis and working as an accountant, I assumed the position of CFO for a holding company that operates in pharma, medical devices, textiles, food industry, and real estate.My experience as CFO has helped me to understand the ins and outs of a company from the management perspective. Also learned some accounting tricks that are not taught at university, which now help me to dive deep into the accounting of the companies.My mission is to identify the best quality companies with competitive advantages able to compound their cash flow exponentially and are trading at a fair price. I look for profitable businesses, operating in a growing sector, with high returns on capital, expanding margins, low debt, and management with skin in the game. I wish to provide my readers with a deep analysis where I explain the company's business model, the dynamics of the market, competition, financials, and management. Furthermore, I apply valuation measures (multiples and DCF) and qualitative analysis to determine expected growth and give readers a competitive advantage. Even if I look for the most recent developments, my investing approach is focused on the long-term in companies that can deploy capital at high ROIC for some years ahead.
Analyst's Disclosure: I/we have a beneficial long position in the shares of CPRT either through stock ownership, options, or other derivatives. I wrote this article myself, and it expresses my own opinions. I am not receiving compensation for it (other than from Seeking Alpha). I have no business relationship with any company whose stock is mentioned in this article.
Seeking Alpha's Disclosure: Past performance is no guarantee of future results. No recommendation or advice is being given as to whether any investment is suitable for a particular investor. Any views or opinions expressed above may not reflect those of Seeking Alpha as a whole. Seeking Alpha is not a licensed securities dealer, broker or US investment adviser or investment bank. Our analysts are third party authors that include both professional investors and individual investors who may not be licensed or certified by any institute or regulatory body.