Getting Ahead Of Itself: Reevaluating Copart's Economic Exposure
Summary
Copart's equity has performed well but has seen its earnings multiple significantly expand.
New industry reports show the secular trends are still holding strong and present more relevant statistics and data points.
I reevaluate Copart's exposure to the automotive market given unique inflationary and deflationary market forces.
I recommend waiting until the market presents a better opportunity to accumulate a stake in Copart.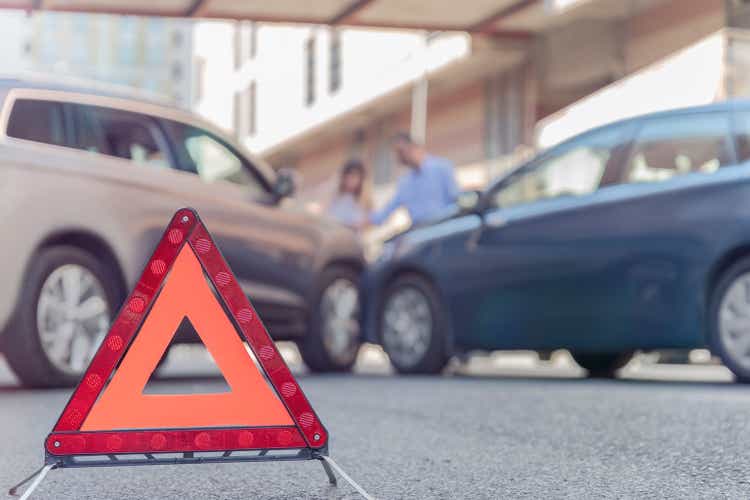 Since I last wrote about Copart (NASDAQ:CPRT), the company's equity had quite a run, now up ~45% YTD.
While I still stand by every point I made in my deep-dive analysis, every business, no matter how great, can get too expensive.
I recommend waiting until the market presents you with a better opportunity to build a stake in this one-of-a-kind compounder.
Fundamental Performance Update
If you haven't yet read my recent deep dive, I discussed several factors that make the company qualitatively attractive and concluded that:
Copart is mostly insulated from a short-term automotive slowdown
Copart will continue to dominate and capture market share from its only large competitor (IAA)
Barriers to entry only grow with time and solidify Copart's competitive advantage
Opportunities to disrupt international markets as they have done in the U.S. abound, and they

have already proven their ability to do so in the U.K. and Germany. They will be able to leverage their international buyer-base, cross-country relationships with large EU insurers, and operational expertise to change the industry as they have in the US.
Since then, the first change has been Ritchie Bros. (RBA) completing its acquisition of IAA, Copart's only large domestic competitor.
While it's too early to evaluate if my assessment that Copart's MOAT will remain mostly unchanged post-transaction, RBA's competitive approach and its effectiveness should be monitored closely, both in terms of insurer salvage share and buyer base size/engagement.
Otherwise, the release of the CCC Crash Course 2023 report has confirmed that the long-term industry trends I had discussed are so-far sustained.
However, the Mannheim Index has held surprisingly steady:
While I had previously judged such automotive market dynamics as immaterial to Copart's bottom-line due to the balancing effect between volume and pricing, I have since reassessed Copart's exposure in our current economic context.
I now appreciate how subsequent widespread inflationary and deflationary forces could have a whiplash effect on Copart's earnings in the short term. I'll discuss why and how in a section below.
Otherwise, I do recommend giving the CCC 2023 report a read; there are many new statistics and data points on relevant trends I had discussed (labor, ADAS, repair cost, etc.)
Expensive Current Valuation
Copart's equity clearly outgrew its fundamental business, as visible by the sustained multiple expansion, on which the current rally has depended.
Last time I discussed Copart, its equity was trading cheaper, from about 28x TTM P/E to now almost 37x: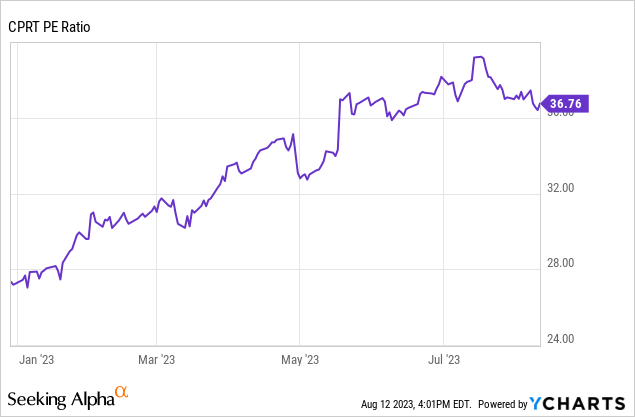 In the long-run, the equity returns of any business must reflect its underlying results. Therefore, buying at these levels could leave you exposed to a multiple compression risk.
If you seek to generate a market-beating return CAGR of 10%+ over 5 years, the green cells below are potential combinations of 5-year EPS CAGRs and ending P/E multiples which will yield such a return if starting with a 37x P/E.
The question then is which combinations of these figures offers good margin of safety, and whether these situations would generate market-beating returns.
Where I think EPS Growth is headed
Copart's historical diluted EPS CAGR:
Contribution from Market Share Gains
We can see from the rolling EBIT CAGR graph below that, since 2014, not only has the domestic segment earnings grown fastest, but its larger revenue base has made it by far the largest contributor to Copart's bottom-line growth: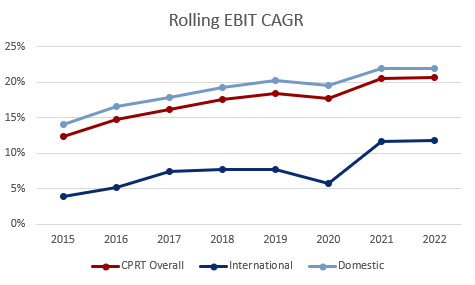 The first concern here is that, although difficult to quantify, we know that Copart's domestic growth over the past decade has in part come from market share gains at the expense of IAA.
I stand by my assessment that Copart will retain and continue to gain market share from its domestic competitors, but I also believe that since Copart has obtained contracts with almost all large U.S. insurers in the last 10 years, the pace of market share gains should be lower than it previously was.
The diminished contribution from this factor could prove a drag relative to historical levels.
We should also note that the recent jump in international earnings was made possible by the fact that its business model mix favors principal salvage sales, where Copart takes economic possession of vehicles and sells them for its own account.
Therefore, the recent automotive pricing environment has been beneficial to its international divisions and can explain its increase instead of it being attributable to market share gains, although I stand by my expectation that these gains will continue. Remains to see if its pace can eventually rival what has been seen domestically.
Understanding Copart's Economic Exposure
Recall that I had discussed how the company justifies its bottom-line stability: increased used vehicle prices caused salvage volumes to go down (and vice-versa). Through this self-balancing dynamic, the ASP of vehicles they sell would increase and neutralize the impact of decreased volumes.
This still holds true under normal circumstances, but I failed to consider the unique dynamic of the current auto market given all sorts of disruptions throwing regular market forces out of whack.
New data from the CCC 2023 report shows that over the past two years, the total loss rate has gone down (less volume for Copart) across the board:

Unlike what we would expect from simple market dynamics, the current volume decrease is not due to a significant increase in used vehicle prices.
Given that the Mannheim Index has held relatively strong and off its peak, I assume we've seen TLR decrease sharply due to used vehicle prices decreasing less than the repair cost and salvage value, pushing the scale in favor of repairing vs. scrapping in the eyes of the insurers.
Here's a visual with hypothetical numbers to better understand the dynamic I believe has been playing out: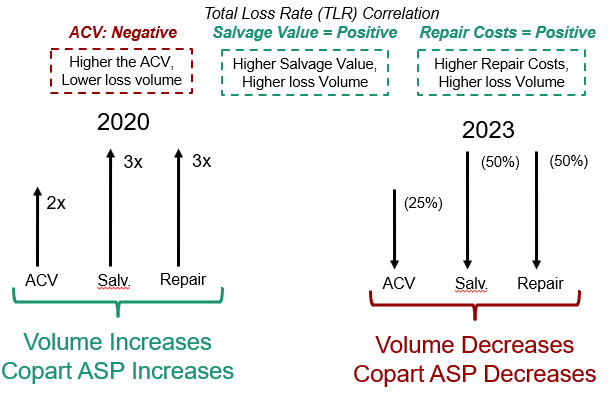 Recall that TLR depends on an insurer's multi-factor determination, so the conclusions presented for each year above are based on the net effect of all these factors.
Therefore, while the magnitude of Copart's ASP pressure remains relatively low relative to the peak, its combination with a decreasing TLR presents a headwind to both pricing and volume.
This effect should be worse for the international segment, where its larger share of principal model sales leave Copart negatively exposed to pricing fluctuations, after having benefited from the same dynamic as seen by the EBIT chart from above.
Investors may not appreciate this unique volume dynamic (as I had not either until recently) and, as such, may be looking at a steadier-than-expected Mannheim index in isolation, perhaps one of the factors supporting its recent performance.
This could be a short-term headwind to expectations. Out of its 9 equity research analysts, there have been 3 upward EPS revisions and none downward:
It's worth noting here even though I rarely put any weight, if any, on sell-side equity research, their EPS CAGR implied is of ~9.6% over the next 4 years.
Sensible Long-Term P/E Multiple
Since there is little value in predicting the multiple that will be paid years from now, I take the approach of taking an EPS growth range in which I have confidence, see the minimum multiple at which Copart will need to trade in 5 years for me to generate 10%+ returns, and judge if I'm comfortable with this conclusion.
I'll let you do the same with the information I've provided and your own assessment of Copart's business.
To be clear, this is not a prediction, but rather a sanity check. for example, if Copart needed to trade at 60x in 5 years, I would have little confidence in the equity's ability to generate solid returns in spite of its fundamentals.
Referring to the same table presented above, an EPS growth range between 10-15% requires a 5y ending multiple of at least 29x and up to ~35x.
Since a 29x multiple is relatively close to Copart's 10 year average, it's not an outrageous requirement. However, it's worth noting that there are clearly two distinct periods in the chart below; from 2019 to currently, Copart has traded much above the range it had up to late 2018.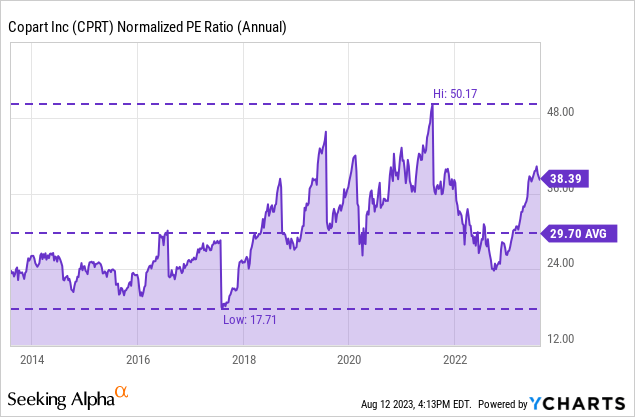 We could therefore come to the conclusion that the 29x is skewed down by including a period where Copart did not deserve a significant market premium, but it now does.
Alternatively, we could argue that the more recent-history multiple is due to COVID-market hype around its business growth.
Either way, I have trouble finding margin of safety in a 15%/29x combination to generate 10% return.
This is now less of a no-brainer than it was 6-months ago.
Conclusion
Copart is still as great of business as it ever was. Secular trends are sustained and its market positioning is not under serious threat.
Yet we're still buying a part of this business, and the price currently offered by the market seems too expensive given current growth expectations.
This is not a recommendation to market time, but to consider equity in the context of its underlying business. In a relative attractiveness game such as portfolio management, I'm convinced that at Copart's current valuation, alternative high-quality businesses can be bought at a more reasonable price.
This article was written by
Value-Focused equity research in long-only opportunities. Most experienced in TMT but sector agnostic. While finding true value in mispriced securities is what I look for most, wide moats can sometime provide more confidence than discounted valuations. I broadly focus on what falls between these two categories.
Analyst's Disclosure: I/we have no stock, option or similar derivative position in any of the companies mentioned, and no plans to initiate any such positions within the next 72 hours. I wrote this article myself, and it expresses my own opinions. I am not receiving compensation for it (other than from Seeking Alpha). I have no business relationship with any company whose stock is mentioned in this article.
Seeking Alpha's Disclosure: Past performance is no guarantee of future results. No recommendation or advice is being given as to whether any investment is suitable for a particular investor. Any views or opinions expressed above may not reflect those of Seeking Alpha as a whole. Seeking Alpha is not a licensed securities dealer, broker or US investment adviser or investment bank. Our analysts are third party authors that include both professional investors and individual investors who may not be licensed or certified by any institute or regulatory body.