According to the National Retail Federation's annual report on the 100 largest retailers selling within the United States, Amazon.com (NASDAQ:AMZN) was the nation's fastest growing retailer, growing by 46 percent and making Amazon.com the 19th largest within the United States.
The second fastest growing retailer is Apple (NASDAQ:AAPL), at slightly over 32 percent, on the strength of both online sales of products, apps and content, as well as at Apple's often busy Apple Stores. According to the Federation, Apple was the 21st largest retailer within the United States.
Amazon.com and Apple are likely to improve their positions on the largest retailers list this year. The National Retail Federation is likely to provide its next report in the summer. Both may move up a position or two in the rankings at that time. Most other retailers of their size or smaller were growing at a significantly slower rate.
The other last reported fastest growing large retailers all represent varied retail businesses. The top five also included RadioShack (NYSE:RSH), Tractor Supply Co. (NASDAQ:TSCO) and Williams-Sonoma (NYSE:WSM). Below are the recent share performance rates for the five fastest growing large retailers within the United States.
(Click chart to enlarge)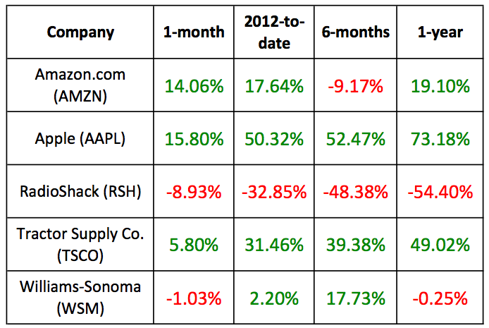 So far in 2012, Apple is the best performing equity, followed by Tractor Supply Company and then Amazon.com. All three are outperforming the broader market and also appear to represent growing trends in U.S. retail consumption, including the adoption of technology as well as a growing preference for organic, locally grown and often self-grown food.
The only listed retailer that is down within 2012 is RadioShack, which sustained a sharp move down at the end of January when it provided revised and lowered guidance. It is also the worst performing listed equity over all the listed time frames.
These retailers represent varied industries and many benefited from poor comparable numbers in 2009, the elimination of competitors and an active U.S. consumer in 2010 and 2011.
Disclosure: I have no positions in any stocks mentioned, and no plans to initiate any positions within the next 72 hours.
Disclaimer: This article should not be construed as personalized investment advice as it does not take into account your specific situation or objectives.