iShares Asia region country-based ETFs posted mixed results last week, with iPath ETN India (NYSEARCA:INP) leading advancers, +6.4%, and iShares Singapore (NYSEARCA:EWS) taking up the bottom-end, -1.8%. Trading has been mixed across the region after U.S. markets were closed Monday.
iPath ETN India reversed course from two weeks ago, when it lost 0.5% for the week, the only fund surveyed to trade lower amidst a bullish rebound. INP is now up more than 20% on the year.
iShares FTSE/Xinhua China 25 (NYSEARCA:FXI) continued to climb higher, gaining 4.6% and now up a leading (among the funds surveyed) 34.9%.
A 3% gain for iShares South Korea (NYSEARCA:EWY) took its ytd return back near 30%. iShares Hong Kong gained 2% to raise its ytd return above 15%.
iShares Japan (NYSEARCA:EWJ) rose less than a percent and is down about a percent for the year -- the only regional fund in negative territory ytd.
See the chart below for last week's results. There are two sets of returns for each ETF: the past week [light blue] and year-to-date [purple].
Note, the bars for the iShares S&P 500 index (NYSEARCA:IVV) are colored differently for comparative purposes.
Click to enlarge chart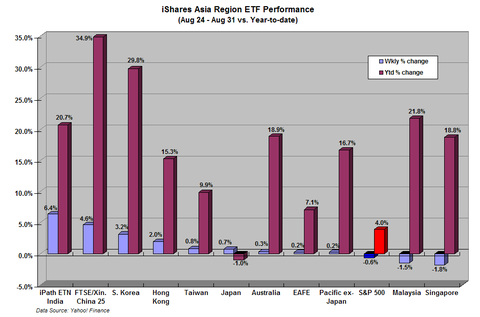 Disclosure: The author does not own shares of any funds mentioned in this article.
Here is a list of the relevant ETFs and their tickers.
iShares Australia (NYSEARCA:EWA)
iShares FTSE/Xinhua China 25 (FXI)
iShares Hong Kong (NYSEARCA:EWH)
iPath ETN MSCI India (INP)
iShares Japan (EWJ)
iShares Malaysia (NYSEARCA:EWM)
iShares Singapore (EWS)
iShares S. Korea (EWY)
iShares Taiwan (NYSEARCA:EWT)
iShares EAFE (NYSEARCA:EFA)
iShares Pacific ex-Japan (NYSEARCA:EPP)
iShares S&P 500 (IVV)