FARO Technologies: Weak And Uninspiring
Summary
FARO Technologies is one of the worst-performing tech stocks, with a share price decline of 76% over 5 years.
The company's financials suggest a longer rough ride for shareholders, with no dividend and currently a high short interest.
FARO's consolidation plan and shrinking operations raise concerns about its ability to increase earnings and attract investors.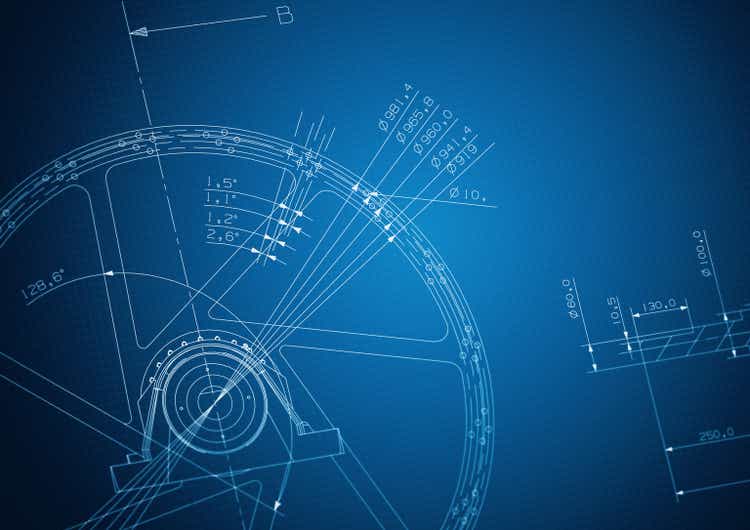 The Tumble
FARO Technologies, Inc. (NASDAQ:FARO) is one of the worst-performing tech-sector stocks in the last 29 months. We do not believe its immediate future presents a worthwhile potential opportunity for retail value investors. FARO's share price is -76% over 5 years, it is -55% over the last 12 months, and -45% YTD. In contrast, The Technology Select Sector SPDR Fund ETF (XLK) shares rose in price 125% over the last 5 years, +15.5% during the last year, and ~+37% YTD.
Shareholders suffered brutal losses that we warned might be coming. It is nearly impossible to stop a freight train rolling downhill and turn it around in a short time for greater rewards. We are extending our Sell assessment of FARO at this time, though we had high hopes for FARO as a good investment opportunity in 2021.
FARO and XLK Shares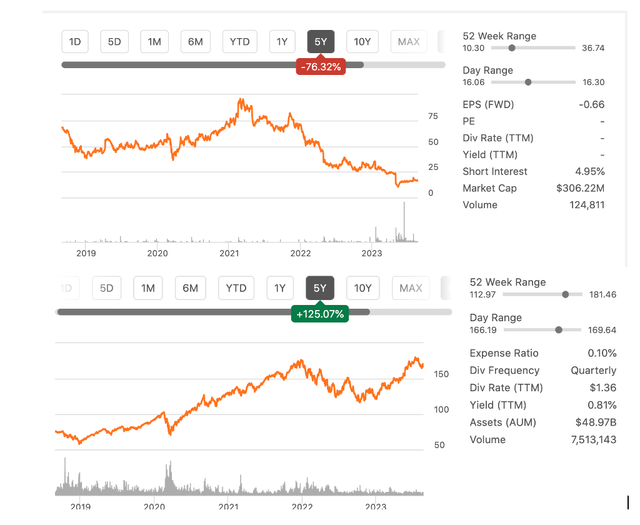 Profile
FARO is a global technology company specializing in reality capture technology products and services. It employs 3D measurement, imaging, and realization solutions to ensure accuracy in data collection and speed up decision-making. FARO sells to more than a dozen industries.
For example, FaroArm is a computerized, portable, articulated measuring device with CAM2 software programs. Laser Tracker is a portable large-volume laser measuring device. FARO has other equipment it can deploy in the field including handheld 3D laser scanners. The data from the hardware can be merged to achieve faster and more effective workflows and applications.
A decade ago, a science magazine named FARO Technologies' Focus3D product was among the best for innovations. A business magazine recognized FARO as one of the fastest-growing companies. FARO has grown in part through M&As acquiring 14 companies since its founding in 1981; that includes 5 in the last 5 years. 29% of the acquisitions were IT companies and 29% were in software development.
Company R&D, manufacturing, and sales are spread across a host of countries. The core of the company is R&D. In Q2 '22, FARO introduced FARO Sphere, a cloud-based, global access platform "that is the foundation to our new software and solution strategy." Management has not provided anticipated revenue and profit numbers for FARO Sphere; thus, shareholders might be left wondering about the ROI to the company and shareholders.
FARO tumbled from +$95 per share in 2021 to $10.32 hitting a 52-week bottom in May '23. August '23, FARO rose to $17.96 per share. The stock settled back to $16.61 at the end of August. The recent uptick may have been in anticipation of an encouraging Q2 '23 earnings announcement when FARO got legs in June and July '23. But despite an encouraging report announced on August 2, '23, the company's financials suggest shareholders are in for a longer rough ride.
Other pragmatic factors making this a poor potential investment for retail value investors at this time in our opinion are:
There is no dividend.
Short interest is a relatively high 4.95% for a stock hit so hard for so long.
Infront Analytics pegs the leveraged Beta at a whopping 1.78.
NASDAQ.com reports the Price/Earnings ratio for FY '22 was -11.07 and estimates the PE for 2023 and 2024 will be 0.02.
Cash flow from operations was -$24.9 in December '22. TTM is estimated at -$34.8M.
The cash burn is over $50M per year, so FARO has slightly more than a year of cash runway. That is risky in our opinion with talk of inflation resurging and GDP growth expected to slow to 1.9% in 2023 and 0.5% in '24.
Will Smaller Be Better
In June 2023, management informed the USSEC about a consolidation plan that would financially affect earnings and cash in the future. The plan substantially includes RIFs with employee severance costing in FY '22 and Q2 '23 over $4M and another $4.8M in related health benefits; consolidation of cloud-based offerings from 3 platforms into a single customer offering will cost an estimated $22M to $28M through the end of fiscal year 2023; shuttering facilities in Lake Mary, Florida, Stuttgart, Germany and Portugal might cost up to $3.7M; and abandoning select legacy products will cost $8.1M in the second quarter of 2023.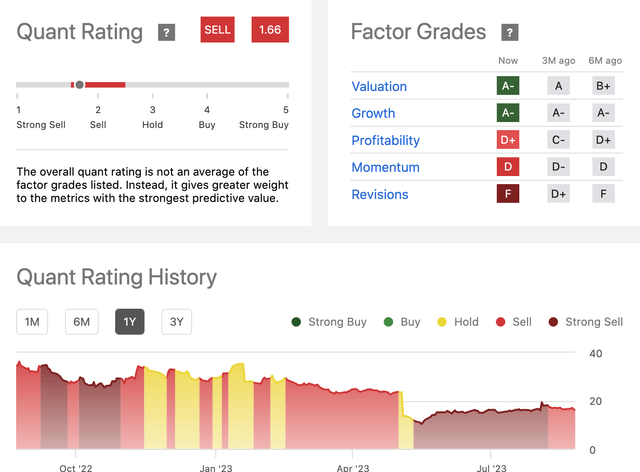 No Turnaround in Sight
Seeking Alpha recently issued a "Warning: FARO is at high risk of performing badly" assigning grades of Ds and Fs for price performance, momentum, and revisions resulting in a Sell stock rating. The S A Quant Rating has firmly been a Strong Sell for a long time but, as the share price tumbled, S A upped the Quant Rating to Sell heading for a Hold rating.
We concede the shares may be undervalued. FARO's price-to-sales ratio is 0.8x compared to its peer average of 21x. Plus the Enterprise Value-to-sales gets an A- as does price-to-book. Regarding the Q2 '23 earnings report, Organic revenue increased in Q2 '23 by 10% but recurring revenue fell 4% Y/Y. The gross margin in the quarter dived to 37.8% from +50% Y/Y; management blames the falling numbers on issues related to the consolidation plan discussed above. In the USSEC filing, management warns of the risks from a softening of the global economy and problems in specific industries FARO serves.
Operating expenses jumped to $58.7M in the quarter compared to $49.4M in the prior year. The net loss skyrocketed to +$28M (EPS $1.49) versus last year's quarterly net loss of $8.6M or $0.47 per share. The EPS in Q3 '22 was three cents but is more likely to be -$0.20 or more in Q3 '23. These numbers are largely worse than analysts had forecasted.
There is nothing notable in the media about FARO, few analysts cover the stock, and the average volume is ~124K shares traded. There is no reason to expect an upsurge in momentum which is why it deserves a D from S A. The next earnings report announcement is expected around October 21, '23.
Positive Rumblings
By Q4 '23, the impact of the consolidation plan might positively (+$0.13) affect the EPS after 3 sequential quarters of losses. As of the last earnings report, assets are nearly double liabilities. Short-term assets exceed both short and long-term liabilities. The company last reported cash on hand of about $88.5M; its debt is $90.3M giving FARO a ~26% debt-to-equity ratio. However, the company generated $75M in debt from general unsecured senior notes maturing in February '28 that were issued in January '23.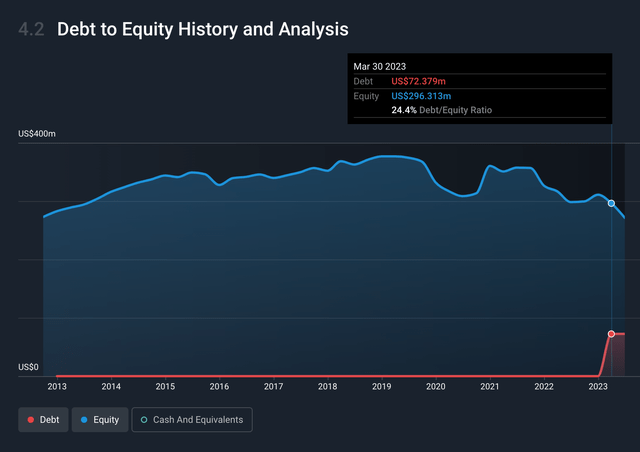 In Q3 '21, 9 hedge funds owned shares when they sold for +$70 each. The number of hedge funds steadily increased over the next 2 years numbering 21 in Q2 '23 when the share price topped $17. Among the top 5 funds owning shares, 2 have slightly decreased the number of shares while 2 significantly increased their holdings of FARO stock. Corporate insiders placed informative Buys of shares totaling $166.8K in the last 3 months.
Takeaway
The debt and cash burn appear to us to be manageable especially if revenue grows. But FARO's consolidation plan is going to have management trying to do more with fewer resources, less attention to expanding, and more to managing the shrinking operations from consolidation. In the long term, management might be able to increase earnings with a smaller company but revenue has been flat for several years; comparing FARO to the Scientific and Technical Instruments average revenue growth of +10%, retail value investors ought to give pause about investing in FARO at this time.
We do not anywhere read about the company's foray or the impact of AI on its products. That ought to be a major focus to attract shareholders. The stock we feel may be oversold, which is why finds and insiders are in a buying mode. But the low stock price reflects the uninspiring numbers and forecasts from the company coupled with the blues and uneasiness about the economy, the stock market, and bonds. Altogether, we see little potential for value in FARO for small investors and assess it as a Sell at this time.
This article was written by
I write for retail value investors who cannot afford to lose money but sometimes like to take a risk. I speak for free to community and school groups. I was teaching business, social/political activism, and Middle East politics to international university students in Tel Aviv b4 the pandemic hit. A college in Jerusalem hired me to teach business and American Politics beginning in the fall of 2023. I consult with startups and mid-level companies. I co-manage Goldmeier Investments LLC with my son Daniel. I founded the Sappanos Decorating Centers, Chicago, with more than 70 employees and real estate holdings in excess of $15m. I am a former Research and Teaching Fellow at Harvard and Assoc. Prof Tufts Medical School.
Analyst's Disclosure: I/we have no stock, option or similar derivative position in any of the companies mentioned, and no plans to initiate any such positions within the next 72 hours. I wrote this article myself, and it expresses my own opinions. I am not receiving compensation for it (other than from Seeking Alpha). I have no business relationship with any company whose stock is mentioned in this article.
Seeking Alpha's Disclosure: Past performance is no guarantee of future results. No recommendation or advice is being given as to whether any investment is suitable for a particular investor. Any views or opinions expressed above may not reflect those of Seeking Alpha as a whole. Seeking Alpha is not a licensed securities dealer, broker or US investment adviser or investment bank. Our analysts are third party authors that include both professional investors and individual investors who may not be licensed or certified by any institute or regulatory body.