NVR: Still Undervalued Despite The Surge This Year
Summary
Warren Buffett's Berkshire Hathaway invested $814 million in homebuilders in Q2 2023.
NVR, one of the recipients, has strong fundamentals and is expected to benefit from favorable supply-demand dynamics.
The stock is undervalued, trading at lower multiples compared to historical averages, presenting an upside potential if high mortgage rates continue.
Editor's note: Seeking Alpha is proud to welcome The Alpha Oracle as a new contributor. It's easy to become a Seeking Alpha contributor and earn money for your best investment ideas. Active contributors also get free access to SA Premium. Click here to find out more »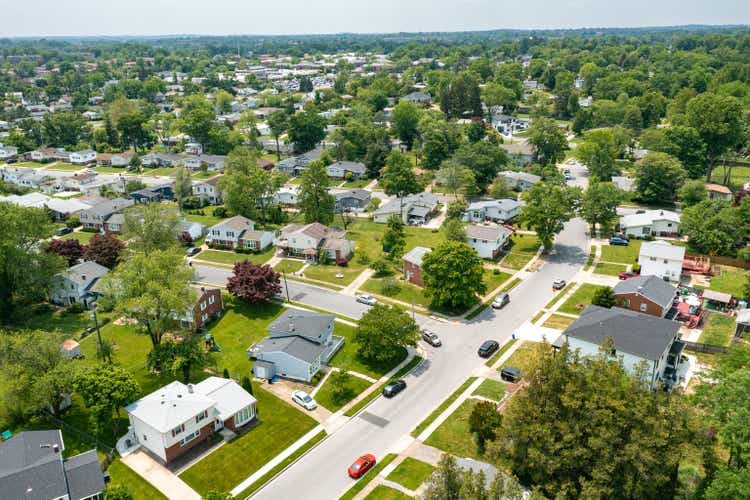 Investment Thesis
There have been many talks in the real estate industry. People initially thought we would have another housing crisis and sold everything they could find related, thinking they were the new Michael Burry. Well, the overall demand might be down, but the industry is very much alive. Different parts of housing behaved differently in the face of rising mortgage rates. There are now fewer buyers as rising mortgage rates mean buying a house gets costlier. There are just fewer people that can afford housing. People don't want to lock in 7% mortgage rates. But that is also true for homeowners. Existing homes are out of the market, as homeowners don't want to leave their 2% mortgage rates and buy a new house at a 7% rate. All the demand, even though it is lower, now goes to homebuilders.
One of them is NVR (NYSE:NVR). The company benefited immensely from these dynamics and will continue to do so as long as the rates stay high. And we see this high interest rate environment sustained for a longer time. The market doesn't see this and undervalues the stock. Therefore, we rate NVR a "Buy" with a long-term investment horizon.
Introduction
Warren Buffett's Berkshire Hathaway just unveiled a huge bet on U.S. homebuilders. The company invested a total of $814 million in D.R. Horton (NYSE:DHI), Lennar (NYSE:LEN), and NVR in Q2 2023.
This investment comes at a time of high interest and mortgage rates, which is seen as a big trouble for the housing market. If mortgages are costly, fewer people are going to be able to afford to buy houses, reducing the demand. This is exactly why these transactions by Berkshire deserve more attention. This might be yet another trade that will be discussed in ten years.
Out of the three homebuilders, we are more interested in NVR because of its shining fundamentals. We'll talk about what the company does, its recent performance, and possible future to understand why Buffett made such an investment decision.
Company Description
NVR is one of the largest homebuilders in the U.S. constructing and selling single-family homes, townhomes, and condominium buildings. It also operates a mortgage banking business to help customers finance their purchases. This business is supported by its huge amount of cash and short-term investments.
Unlike many other homebuilders, NVR does not own any land. Instead, it directly acquires finished building lots to mitigate risks that come with land ownership. They don't have to deal with land development, which lets them focus on their core operations: building. All they do is find the building lot, acquire it, pre-sell the house, and build on the lot. It's a simple business.
The competitive advantage of a homebuilder comes from its history, relationships, and scale. The bigger you are, the more opportunities you find to grow faster. NVR has a substantial footprint in 15 states and 35 metropolitan areas. In each of those areas, NVR has built strong relationships that allow it to spot the right building lots and negotiate. Not to mention that it is sitting on $2.6 billion in cash that helps it secure deals as fast as possible. This ability is essential to be able to compete with other big players in the industry such as D.R. Horton and Lennar Corporation.
The company operates five business segments, four of which are also geographical segments. These are Homebuilding Mid Atlantic, Northeast, Mid-East, South East, and Mortgage Banking. The business was historically concentrated in the Mid-Atlantic region, which has been growing at a 10% annual growth rate since 2012. The fastest-growing segment is South East with 23% annual growth since 2012. Mortgage banking has been a very stable business that grows along with total revenue.
The Industry Has Been Very Volatile Recently
At the beginning of 2022, investors thought that high inflation would result in high mortgage rates, which would be the end of homebuilders. That idea was only partly true. The Fed has indeed aggressively hiked interest rates which caused mortgage rates to skyrocket, but homebuilders are up and going. High mortgage rates usually mean less demand for housing as it gets costlier to borrow money. However, quarterly results showed that homebuilders were not only still strong but stronger than before. See how NVR performed when the market thought it would collapse.
Well, it didn't take much time for the market to realize what they thought wasn't true. Homebuilders were not collapsing. That made the same investors, who thought the big housing crisis might be coming, invest heavily in homebuilders. That is why homebuilders underperformed the S&P500 in 2022 but recovered fast and this time overperformed the index in 2023.
Now, one question remains: Why? The builders were still strong, but that wasn't supposed to happen, right? That is exactly what the market missed.
High mortgage rates did cause demand for housing to fall. Costly mortgages mean it is less affordable to get a house. However, the same thing is true for homeowners. No homeowner would want to sell their home and get a new one. That would mean losing the mortgage that they locked in at a 2% rate and getting a new one at 7%. So, existing homes are out of supply. Even though the overall demand is lower, it is not zero. Some people have to buy homes. They might be starting a new family, have changed jobs, or just moving for a new life. And all that demand has been going to the new houses, and to the homebuilders that build them. They haven't faced such a drastic fall in demand, but the opposite, they've seen a surge.
NVR Benefited A Lot From This
People say the housing industry is cyclical. It's not totally wrong. In the last twenty years, it has either been booming or in a crisis. NVR is of course affected by those big trends, but it has been an incredibly stable business since the Great Recession. Its gross margins have ranged between 17% and 20% until 2020. In the meantime, the company focused on cutting administrative costs. As it moved from land development and builder to a pure-play builder business, its SG&A margins fell from 9% in 2011 to 3.7% in 2020.
The pandemic was a big shock to all industries. But NVR managed to benefit from that as well. The government and the Fed worked on protecting the consumer with quantitative easing policies. That meant everyone suddenly had more money in their pockets. Higher savings mean higher spending, higher house sales, higher house prices, and even higher house sales. NVR saw a demand boost for its properties which helped improve margins. Even though those policies have changed, and we have high interest rates now, NVR continues to prosper thanks to the supply-demand dynamics we discussed. As a result, the company's gross margins from core operations (excluding the finance division) rose from 19.5% in 2020 to 26.1% in 2022.
Valuation
Even though fundamentals look intriguing at the moment, a good business doesn't always mean a good investment. We will use two methods to understand if the stock trades at a premium, par, or discount.
The first one is the discounted cash flow (DCF) analysis. It is easy for companies to boost earnings or invest heavily in asset growth if the management wants to do so. These numbers are volatile and provide less insight when looking into the future. The one metric that is structurally difficult to change is the return on assets (ROA).
As you can see below, NVR has been consistently generating around 30% ROA until 2017. Its transformation to a pure-play builder that doesn't deal with land development helped it improve its returns in time, and it averaged an ROA of around 37% between 2018 and 2021. 2022 was an exceptionally good year thanks to the demand boost for new houses. The ROA reached 49%. Even if we have a soft landing and don't head into a recession, this high interest rate environment will persist for longer. That will keep the current supply-demand dynamics that help NVR and other homebuilders.
We expect the company to continue benefiting from these supply-demand dynamics in the short term and that extra demand to slowly fade away to historical levels in the next 5 years. That means ROA slowly falling from 49% in 2022 back to 40% by 2027.
This ROA translates to an adjusted free cash flow of $1.66 billion in 2023 and $1.57 billion in 2027.
We will use a very conservative terminal growth rate of 2%, in line with long-term inflation targets. The cost of equity is calculated as 7.87% using a long-term risk-free rate of 2%, a market risk premium of 5.7%, and the stock's 5-year equity beta of 1.03. The cost of debt is taken at 5%, considering the 3% interest NVR pays on its $900 million debt that was offered in 2020, and the recent surge in credit spreads.
Using these numbers, we find an equity value of $29.198 billion, which means a target share price of $8,945. This is a 40.4% upside over the current share price at the time of this article's writing.
Additionally, we will see a similar scenario when we observe the multiples the company is trading at. Have a look:
We have seen that the business is fundamentally in a better place than it was in the last 15 years. First, the quantitative easing, and second, the demand boost for new houses helped them improve the business as a whole.
The charts above show that the company's stock is trading at 4.1x adjusted price-to-book (P/B), which is the lower end of the range in the last decade. Similarly, the stock is trading at a 12.3x adjusted price-to-earnings (P/E), which is the historical company average. We know that the company is in a better position now than in those years, but the market's concerns about high mortgage rates and a potential housing bubble prevent it from being fairly priced. That means there could be an upside potential if we continue to have high mortgage rates.
Considering the asset-intensive and cyclical nature of homebuilders, the adjusted P/B multiple can be a more stable way of understanding future earnings. We think the stock has the potential to repeat its high multiples in the last decade as the market understands how much better the business is. That means reaching a 7x adjusted P/B. Keeping the adjusted book value constant, this would result in a market capitalization of around $30 billion, which means a 44.3% upside potential at the time of this article's writing.
Risks
Like every other investment thesis, this one has its risks. First of all, the economic slowdown may create such a scenario where it gets so difficult to afford a home, the demand for new houses falls significantly. That would hurt sales a lot and might be a catalyst for a downward movement in the stock.
Additionally, the company may continue to improve operations and generate higher returns on investments in the upcoming quarters, however, the market might continue to be concerned about a possible housing crisis. That is the reason multiples declined in the first place. In that scenario, the improving fundamentals may not be reflected in the stock price.
Finally, the stock has been rising since November 2022. Even though I think the company is still undervalued, there might be downward volatility as investors take profits. It is important to realize that this is a long-term thesis and it does not focus on having an upside the following week or month.
Conclusion
The investment from Berkshire gives us an interesting direction to look at. Contrary to belief, homebuilders have been resilient to the volatility in the market and rising mortgage rates. They might continue to prove fruitful as an investment. Being one of the largest homebuilders, NVR managed to use its strong competitive advantages to benefit from quantitative easing during the pandemic, and favorable supply-demand dynamics right after. It is now a much better business than it was in the last decade.
Even though the market saw how resilient homebuilders are and the stock price recovered a bit, it is still not pricing in the fact that margins are better, they are making more money, and seeing higher sustained demand. NVR might continue to do so if the mortgage rates remain high. Warren Buffett sees this and, I believe, so should you.
This article was written by
Independent research analyst with a Master's degree in Finance and a background in financial research. My research is focused on finding undervalued stocks following the steps of great minds such as Benjamin Graham and Warren Buffett. You will find articles about companies that benefit from the current macroeconomic environment and gems that fly under the market's radar. The market inefficiency creates a lot of opportunities to be realized in the long term, however, the stock prices show a random walk in the short term. Therefore, my investment horizon is mostly 5+ years. I do my own research and do not use any AI tools for my articles. These are my personal opinions and do not represent investment advice of any kind. Please conduct your own research and analysis before making investment decisions.
Analyst's Disclosure: I/we have no stock, option or similar derivative position in any of the companies mentioned, and no plans to initiate any such positions within the next 72 hours. I wrote this article myself, and it expresses my own opinions. I am not receiving compensation for it (other than from Seeking Alpha). I have no business relationship with any company whose stock is mentioned in this article.
Seeking Alpha's Disclosure: Past performance is no guarantee of future results. No recommendation or advice is being given as to whether any investment is suitable for a particular investor. Any views or opinions expressed above may not reflect those of Seeking Alpha as a whole. Seeking Alpha is not a licensed securities dealer, broker or US investment adviser or investment bank. Our analysts are third party authors that include both professional investors and individual investors who may not be licensed or certified by any institute or regulatory body.