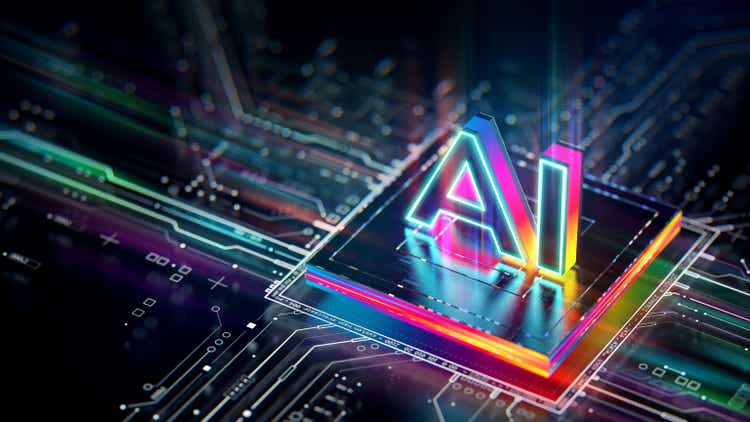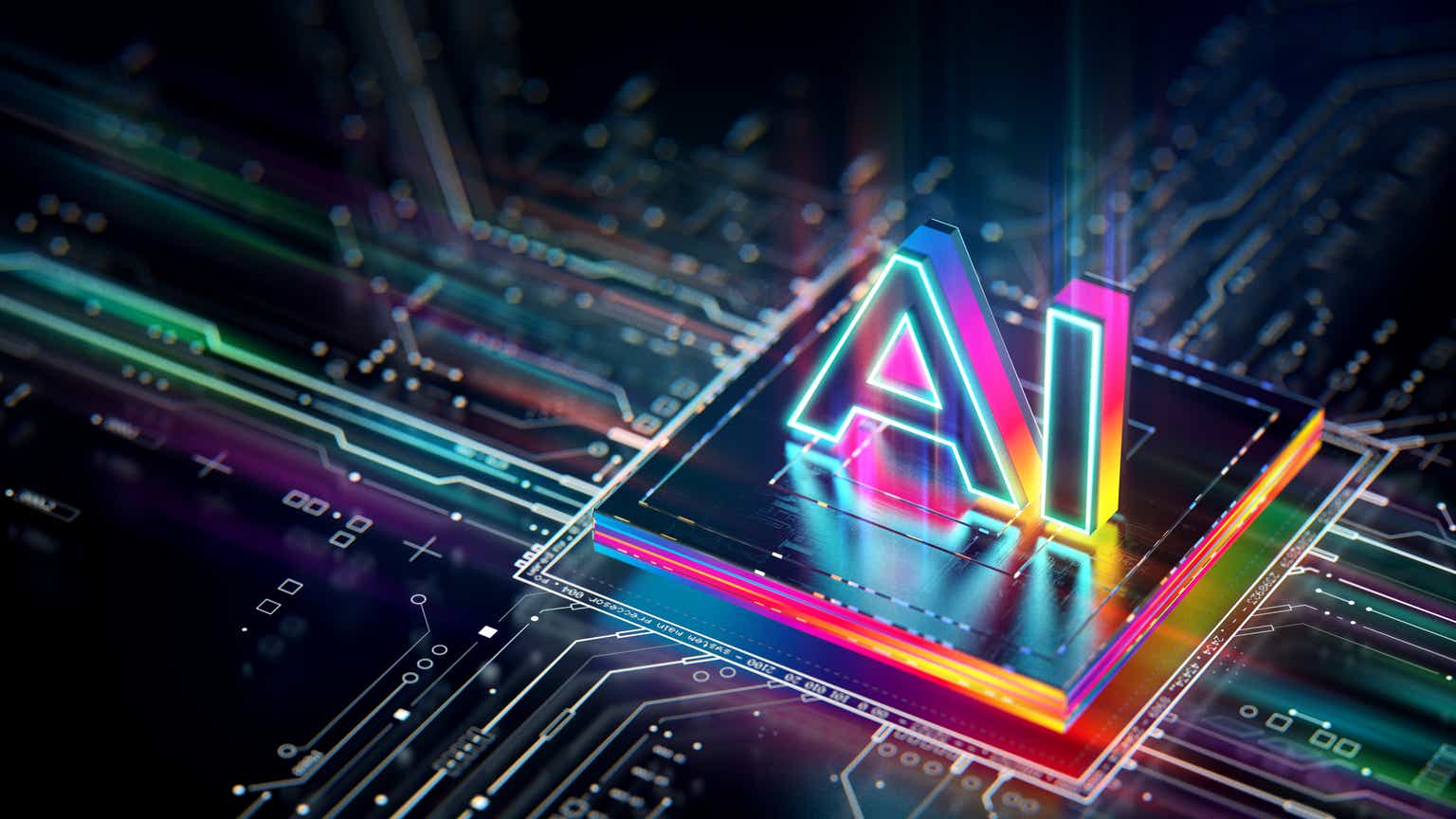 With the rise and subsequent fall of Bitcoin (BTC-USD) in recent months, the public miners have been incredibly volatile over the same timeframe.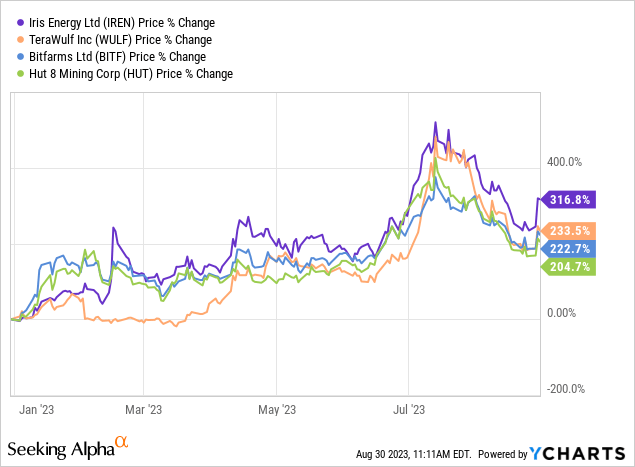 After having more than doubled from a share price near $3 in early June up to over $8 in mid-July and then falling back below $5 more recently, it has been a wild ride in Iris Energy (NASDAQ:IREN) shares to say the least. Given the company's approach to treasury management, Iris' strategy of selling all production worked very well in July as the company was able to sell 423 BTC at an average rate of just under $30k. With Bitcoin now ranging between $26k and $28k, those sales look great with the benefit of hindsight.
However, we now have roughly seven months until the next Bitcoin halving event and scaling efforts by the company appear to be shifting more toward artificial intelligence than Bitcoin mining. As we don't yet have updated financials from the company since my last article covering Iris Energy. In this update we'll instead look at the recently announced AI investment, July BTC production vs peers, and large holder figures.
Yet Another Miner Moving to AI
In a recent press release, Iris Energy disclosed a $10 million investment in NVIDIA (NVDA) H100 GPUs. The company plans to use these GPUs for high performance computing with a focus on the generative AI market. Iris is far from the only public Bitcoin mining company that is now focusing on growing an AI segment.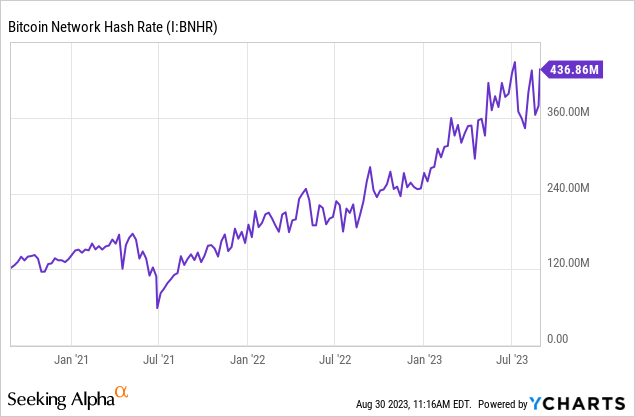 With global mining network hash rate growing more than 300% over the last three years, it is becoming increasingly difficult for individual miners to generate a return on their mining rig investments due to the increased competition for the block reward. With the looming halving in early Q2-24, I view Bitcoin miners needing at least one of four things to happen to be profitable following what will be a 50% overnight reduction in new BTC issuance:
a sticky increase in transaction fees as a percentage of the block reward
a decline in global hash rate as uncompetitive miners exit the market
higher BTC prices in perpetuity
a new business model
Number one simply isn't happening yet with any consistency. Number two seems unlikely if the chart above is an indication. Number three is likely not possible. Number four appears to be the most viable path for these companies as it's the only option that each individual company truly has control over. Hence, the company's move to HPC.
AI Party Already Over?
It's not surprising seeing miners starting to transition to HPC services and generative AI renderings given the apparent synergy of data center management as a core competency. But what is much less clear is how much revenue the company expects to generate from the $10 million it just spent on GPUs and over what timeframe.
| Visits (millions) | OpenAI | Midjourney | Stability AI |
| --- | --- | --- | --- |
| April | 1,900 | 35.5 | 3.9 |
| May | 1,700 | 28.5 | 2.9 |
| June | 1,500 | 26.8 | 3.2 |
| 2mo Change | -21.1% | -24.5% | -17.9% |
Source: Similar Web
It certainly isn't perfect, but one way we can take a bit of a temperature check on AI is through search and web traffic data. For assessing these trends, I decided to look for web traffic data for popular AI developers OpenAI, Stability AI, and Midjourney. All of them are down between 18 to 25% over the last two months.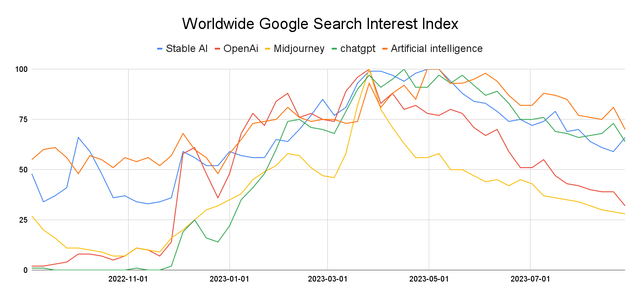 Search interest in each is also well off highs from the April/May time period. Even "Artificial Intelligence" as a search term, while higher than the individual developers, appears to have peaked in May and is trending back down to where it was a year ago. I want to be clear, I'm not saying AI is a fad necessarily. But I think it's very difficult to predict how much consumer interest there will be for these tools and protocols. And until we see some hard revenue numbers on enterprise usage, I think Iris Energy's investment in GPUs takes the company further out on the risk curve than some of the more pure play mining peers.
BTC Production
All that being said, Iris Energy still has a highly efficient mining fleet and plans to scale production to 9.1 EH/s by early 2024.
| July 2023 | BTC Mine | EH/s | BTC per EH/s |
| --- | --- | --- | --- |
| Iris Energy | 423 | 5.6 | 75.5 |
| HIVE Blockchain (HIVE) | 263 | 3.5 | 75.1 |
| Bit Digital (BTBT) | 133 | 1.8 | 73.9 |
| Bitfarms (BITF) | 378 | 5.3 | 71.3 |
| TeraWulf (WULF) | 330 | 4.7 | 70.2 |
Source: Company filings, Top 5 miners sorted by July BTC per EH/s
In the month of July, Iris generated 423 BTC on 5.6 EH/s for a BTC per EH/s figure of 75.5 - this was the highest EH/s in the sector and well ahead of the competitors with higher production capacity.

In an update from the company that preceded its July production figures, Iris Energy also noted expansion plans for 13.5 EH/s in long lead items ordered. It appears the company is aiming to address the impending margin problem from the halving by simply scaling capacity.
The "Tutes"
In the very first article that I wrote about Iris Energy for Seeking Alpha last year, I commented on what appeared to be a smaller portion of institutional exposure to IREN shares than several sector peers at just 7.6%. The company provided a thorough explanation for why they believed those numbers were wrong. Over a year later, we have can now observe a more favorable setup in institutional holder metrics.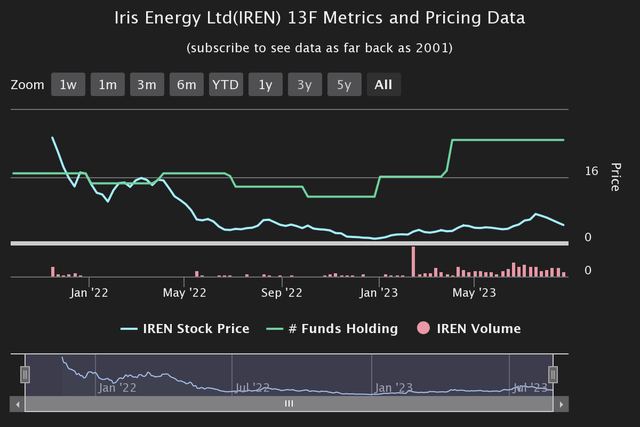 Whale Wisdom had the number of funds holding IREN shares at 24 near the end of 2022. That number is currently up to 41 based on the latest 13F filings. We can also see through Seeking Alpha's data that institutional holdings are up to 21.5% - which is far more in line with the peers mentioned in my May 2022 article:
| Share Ownership | Insider % | Institutional % |
| --- | --- | --- |
| Iris Energy | 24.0% | 21.5% |
| Marathon Digital (MARA) | 0.6% | 40.4% |
| Hut 8 Mining (HUT) | 0.8% | 13.9% |
| Riot Blockchain (RIOT) | 5.4% | 38.0% |
| HIVE Blockchain (HIVE) | 0.2% | 16.0% |
Source: Seeking Alpha
But the biggest takeaway from the table above is the insider holdings. This is where IREN is really in a class of its own at around 24%. Of the five companies selected, only Iris has seen gains in both insider holdings and institutional holdings as a percentage of shares outstanding since my first article covering Iris.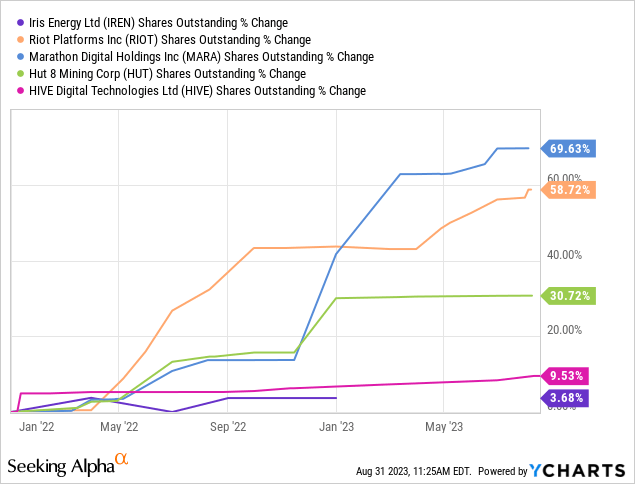 In my view, this discrepancy in insider holdings is likely due to the propensity for shareholder dilution seen by most of the other public miners. However, it should be noted that IREN shareholders aren't out of the woods here.
Risks
As a company in both the Bitcoin and HPC space, there are numerous risks in going long IREN shares. Bitcoin's price is historically volatile. The volatility in Bitcoin miners is even larger with daily share price swings that are often as much as 5 to 10% intraday. They're great for trading. But buying and holding these kinds of companies require high levels of personal risk tolerance. Bitcoin bulls may be better off simply buying and holding BTC directly. On the HPC side, AI is still highly speculative and there is very little clarity about how much revenue those efforts will ultimately produce.
Separate from the risks mentioned above, Iris Energy also may have ongoing litigation risk as the company recently provided an update to a hearing involving its limited recourse equipment lender:
The Court noted that based on the submissions to date, the discrepancy between the value that the Company received for the hashpower and the consideration paid to the Non-Recourse SPVs is between $3 million and $11.9 million
Iris Energy disagrees with the decision and is considering an appeal.
Finally, if the company can't organically grow through revenue from mining Bitcoin, Iris Energy may need to go to the debt markets or raise outside capital to fund growth.
Summary
I've been in and out of Iris Energy over the last year or so. It continues to be a company that I'm intrigued by and I believe it's arguably the best stock in the space in terms of management's alignment with shareholders. I'm less convinced that chasing generative AI will be a fruitful endeavor any time soon as I believe we're already seeing interest declines with those applications. Furthermore, the data center space is seemingly becoming fairly competitive - particularly with Bitcoin miners. But I'd love to be proven wrong there. As a Bitcoin proxy bet, I think IREN still works very well. I like IREN heading into the halving and will reassess my "buy" call when we have another quarter or two of financial data.