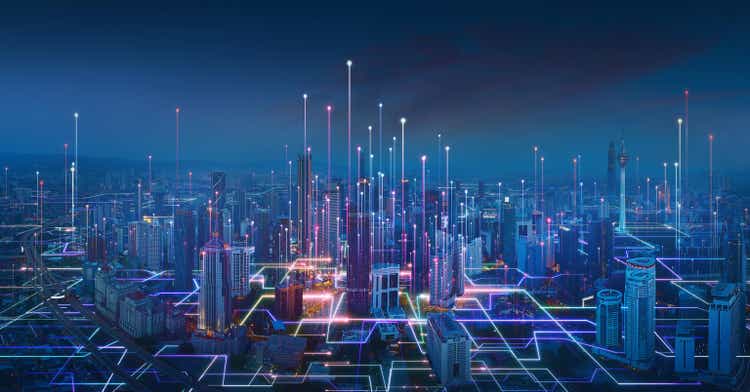 Entry into HPC Data Center Market
Iris Energy (NASDAQ:IREN) recently announced that it had purchased 248 Nvidia H100 GPUs for $10 million. This purchase signifies the expansion into using the company's existing data centers for "adjacent computing markets, including generative AI, is enabled through:"
Next-generation data centers designed, tested and proven for power dense computing.

Proprietary, high-efficiency cooling systems
100% renewable energy

760MW of available power capacity
Management team track record & experience
Dan Roberts, the company's CEO, stated:
"Leveraging our next-generation data centers into generative AI is an exciting opportunity, particularly given current industry shortages in rack space and compute. We believe demand for sustainable computing is unlikely to go away, and feel we are uniquely positioned to capture ongoing growth in the broader industry; whether that be ASICs for Bitcoin mining, or GPUs for generative AI and beyond."
Free Option
To be clear, the company's main business remains Bitcoin (BTC-USD) mining, and I as laid out in my first article on the company "Iris Energy: Reasonable and Renewable Play on Bitcoin", the business is nicely profitable at these levels and remains profitable as long as Bitcoin stays above $18,000.
Even though the shares have appreciated nicely since that first article, the entire crypto universe has appreciated and IREN remains at a tremendous discount versus other miners such as Marathon Digital (MARA) and Riot Platforms (RIOT), as well as companies like Coinbase (COIN) and MicroStrategy (MSTR) whose business models and valuations make no sense in my opinion.
Since the market values IREN's existing Bitcoin mining operation at a large discount to its peers, it would appear it's not ascribing much, if any, value to this foray into AI/HPC data centers. in a market where all things AI are bid up to the moon. I find that odd. The stock was up over 20% the day of the Nvidia purchase announcement, but it's hard to tell whether the announcement was the cause or the Grayscale ETF announcement drove that move.
I have a lot of trouble quantifying the opportunity here, as the move to AI/HPC data center is so nascent, and many business models in the space sport enormous market valuations despite incurring significant GAAP losses and burning cash. C3.ai (AI), for example, lost $284 million of EBITDA on $266 million in revenue in the most recent fiscal year and burned over $100 million of cash even after adjusting for working capital. Yet, the market ascribes it a ~$3 billion enterprise value and over $3.7 billion market cap. Digital Realty (DLR) has burned cash for its normal operating activities every year of its existence, has a highly leveraged balance sheet, and yet still sports a $40 billion market cap and $60 billion enterprise value.
I'm not calling for anything near that level of value on IREN. Frankly, I don't have to for the stock to perform nicely. As of its May operational update filing, the company had ~$55 million. Based on the table below and Bitcoin's performance, I estimate that the company has been conservatively running at a $65 million annual EBITDA level year to date, perhaps higher.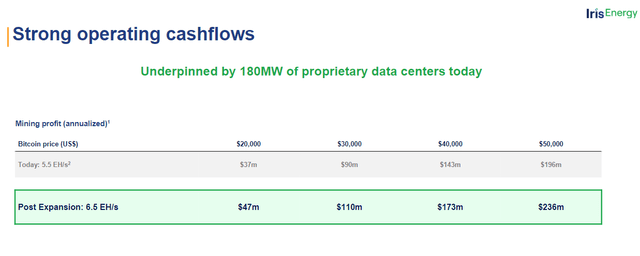 With ~60 million shares, the company sports ~$300 million market cap and ~$250 million enterprise value. At just ~4x multiple of its Bitcoin mining EBITDA (an effort that generates cash) and a market cap that is peanuts to companies that burn cash annually, I think it's fair to say that even a fraction of the value ascribed to DLR, C3.ai, MARA, or RIOT would have big implications to IREN. Again, I struggle to come up with a dollar impact on the stock. Sell-side target prices range from $8 to $24, so they have difficulty pricing this opportunity as well. Just taking the lower end of that range versus the stock's current price of $5 is decent appreciation and still ascribes little dollar value to this entry into Ai/HPC data centers. I believe it's fair to say that should this purchase of Nvidia chips act as a starting point for much bigger effort, there is a lot of potential embedded value in the stock that could be realized as people start looking at this company as an AI play.
Risk
All crypto (and now all AI-related names) are inherently volatile. This company has the added risk of much of its profitability being tied to Bitcoin pricing and its ability to mine Bitcoin profitably. I believe entry into AI/HPC computing offers mitigation to that risk as well as upside as a separate business line, but it will take some time and investment to get Ai/HPC to the same scale and profitability as the Bitcoin mining effort.
Conclusion
In a market where a lot of companies trade at sky-high valuations despite non-existent profits, weak balance sheets, questionable regulatory viability, and uncertain business models, I continue to find IREN a name that offers a solid balance sheet, high-margin profits, a sustainable competitive advantage, low regulatory risk, confidence-inspiring management, and now a second, potentially-explosive business line all for a reasonable absolute and relative valuation. This company has the odd combination of value and growth. The stock has moved up nicely since I first wrote about it. I think the low end of the sell side's target price range of $8 (close to my original assertion of a potential double when I first wrote about the company (~$7.50 target) is a fair and likely conservative target.
My new investment group, Catalyst Hedge Investing, is live. The launch has been terrific. The chat board is live and active as is the best ideas portfolio. There are still generous introductory prices for early subscribers that will continue for the life of your subscription. Come join the fun!