Tyler Technologies: Recommending Buy Rating Based On Strong Demand Trend
Summary
TYL is a major provider of integrated information management solutions for the public sector.
The company's revenue and operating margin have exceeded 2Q23 expectations, driven by growth in SaaS and subscription revenue.
Tyler Technologies is well-positioned for future growth, with strong demand, a healthy deal flow, and a successful transition to cloud-based solutions.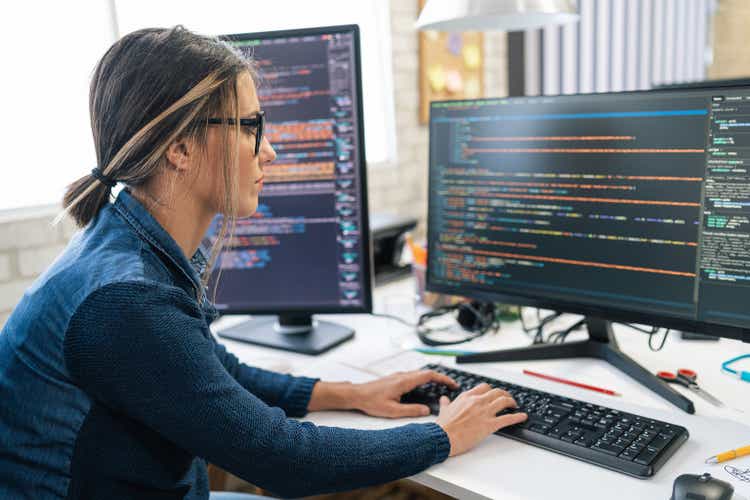 Summary
Tyler Technologies (NYSE:TYL) is a major provider of integrated information management solutions and services for the public sector. Tyler's has a broad line of software solutions and services to address the information technology needs of major areas of operations for cities, counties, schools, and other government entities. The business reports in two key segments: enterprise (68% of revenue) and platform technologies (32% of revenue). I am recommending a buy rating for TYL as I am positive growth will accelerate as demand trends remain strong, especially with regards to converting legacy on-premise users to SaaS.
Financials/Valuation
TYL's revenue of $504 million in 2Q23 was higher than the $491 million predicted by consensus. SaaS revenue grew by 20% year over year, and subscription revenue grew by 16% year over year in 2Q23, contributing to a 10.8% increase in recurring revenue. TYL's operating margin has also recovered from the 1Q23 to 23%. As a result, 2Q23 EPS of $2.01 beat consensus predictions of $1.88.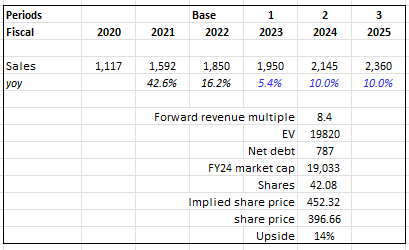 Based on my view of the business, TYL should see its growth accelerate in the coming years as management continues to accelerate its transition of on-premise users to SaaS at a higher rate and as deal flow continues to convert to revenue. Importantly, the demand trend remains solid, which gives comfort in terms of modeling the business's near-term growth. In terms of comps set, TYL typically trades at a premium to other application software businesses like Guidewire Software (GWRE) and Blackbaud (BLKB), which are trading at 6.7x forward revenue and 4.27x forward revenue, respectively. Given the difference in revenue size and margin profile (TYL is positive while the other two are still loss-making), I believe TYL will continue to trade at a premium, as it has historically done so.
Comments
I am positive about TYL business after the 2Q23 results release. There are three things that have me feeling optimistic: (1) demand trends are strong; (2) deal flow is strong, as evidenced by a healthy pipeline of large deals; and (3) the shift to the cloud is making steady progress.
To begin, there has been no letup in demand, specifically, management observed that RFP and demo activity is at or above pre-COVID levels. Also, even in a highly competitive final market, demand for ERP systems has remained consistently high. Moreover, I believe the increase in property prices over the past decade has provided local governments (they receive cash inflow from property taxes as a % of nominal property prices) with a lot of funding to pursue TYL products. Secondly, regarding deals flow, Public Safety win rates seem to be improving. 2Q23 was a banner quarter for TYL's public-safety division, the company's most competitive large product set where it won the contract of Oregon State Police and Missouri State Highway Patrol, according to management in the call. Management also highlighted that all business units are exceeding sales and pipeline targets. The company has also extended or renewed 7 state enterprise agreements and signed 132 new payment deals.
Finally, 94 of TYL's on-premise customers switched to the company's SaaS offering during the quarter (up from 73 in 1Q23). Since Tyler plans to convert over 20,000 current customers over the next 8-10 years, I anticipate a surge in conversions beginning in 2H23. This amounts to roughly 2,000 conversions annually, or 170 monthly (500 per quarter), more than double the going rate. This should accelerate SaaS growth from its current level to greater heights. New SaaS deals accounted for 82% of the value of all new software contracts in 2Q23, and SaaS revenue grew by 20% year over year. More public safety agencies are also showing an interest in migrating to the cloud, as reported by management. If we just do a simple comparison here, at 94 conversions, SaaS revenue grew 20%; if TYL can get it to 500 a quarter, SaaS revenue growth should be much higher. Moreover, the advancements in version consolidation that have been discussed by management should also hasten the transition to the cloud.
I thought I'd also talk about TYL margin, since growth without profit is pointless. TYL's EBIT margin increased to 23% from 22% in 1Q23. Over the next few years, I anticipate an increase in margins as the company's revenue mix continues to lean toward SaaS. The exit of 2 data centers should also reduce operating costs, and other initiatives, such as consolidating different variants across product, would save on R&D cost (less resources to support various version).
One of the, I guess hurdles to getting people into the cloud and getting them upgraded and migrated is, some of them are on older versions, and that's something that we're consciously tackling across all our product lines. And I'm trying to get to version collapse some divisions are little head

And our goal there is to evacuate all of those customers from our private cloud, move them into AWS, and basically get out of the data center business. Source: 2Q23 earnings
Risk & conclusion
TYL is at the mercy of local government funding and their willingness to allocate funds to adopt TYL solutions. While funding has been healthy so far, the nature of governments is that they are typically very pragmatic and slow to adopt new technology. Hence, an increase in funding might not necessarily translate into revenue growth. In conclusion, I recommend a buy rating for TYL based on several positive factors that have emerged following the 2Q23 results release. Demand remains robust, with RFP and demo activity at or above pre-COVID levels, indicating sustained interest in TYL's offerings. The company's deal flow is also strong, with a healthy pipeline of large deals and improving win rates in the public safety division. Additionally, TYL's progress in converting on-premise customers to SaaS solutions is accelerating, further supporting SaaS revenue growth.
This article was written by
Both a full-time investor and a full-time operations manager. I've learned about investing over the years by reading and researching businesses that, in my opinion, have a significant competitive advantage that can sustainably produce returns above its cost of capital.
Analyst's Disclosure: I/we have no stock, option or similar derivative position in any of the companies mentioned, and no plans to initiate any such positions within the next 72 hours. I wrote this article myself, and it expresses my own opinions. I am not receiving compensation for it (other than from Seeking Alpha). I have no business relationship with any company whose stock is mentioned in this article.
Seeking Alpha's Disclosure: Past performance is no guarantee of future results. No recommendation or advice is being given as to whether any investment is suitable for a particular investor. Any views or opinions expressed above may not reflect those of Seeking Alpha as a whole. Seeking Alpha is not a licensed securities dealer, broker or US investment adviser or investment bank. Our analysts are third party authors that include both professional investors and individual investors who may not be licensed or certified by any institute or regulatory body.