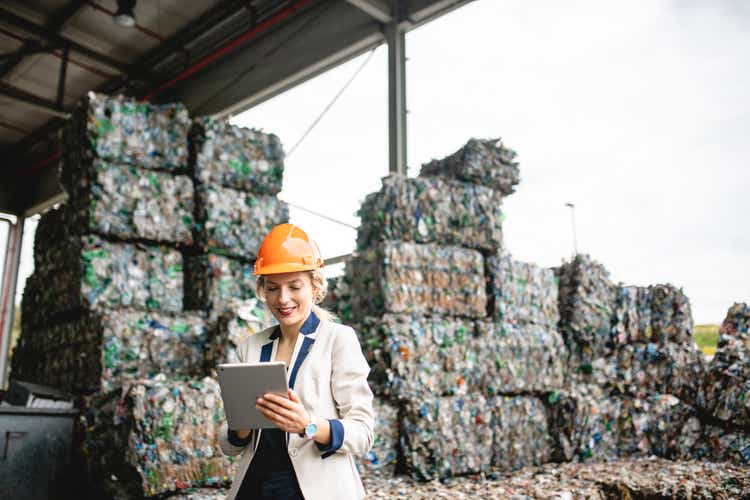 Investment Thesis
Republic Services (NYSE:RSG) offers investors the chance to own a part of a business that is resilient, underpinned by high barriers to entry, and trading at a compelling valuation. As the second-largest player in the solid waste industry, RSG has assets and a business model that are very hard to replicate. A chunk of the company's intangible assets are landfills. According to Statista, in 1990, there were 6326 municipal waste landfills, and as of 2018, there were 1269. The tight government regulations and "not in my backyard" activism have made it difficult to open or receive approval for new landfills. Landfills are expected to keep decreasing, making them even more scarce and a precious asset. With scarcity comes pricing power.
I believe the resiliency of the business stems from the industry. Just like its peers, RSG isn't that affected by economic conditions. As you can see from the chart below, revenue has been steadily growing throughout the years. During the GFC, revenue increased by ~14% (due to the merger with Allied Waste). However, in 2020, revenue did decline by ~1% (nothing too major). It is understandable for demand to remain stable because we human beings will produce waste regardless of the economic condition. I believe the increase in production of solid waste will be driven by population growth and income expansion.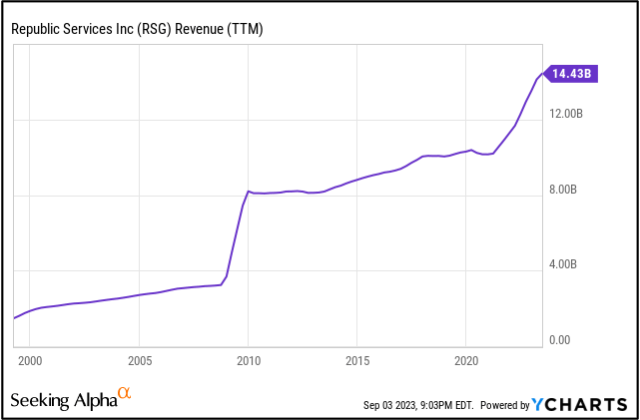 As you can see from the graph below, RSG's strong pricing power has allowed them to increase prices at a rate outpacing inflation. Except for 2022, because inflation climbed so quickly that if the company increased prices at the same rate, they could've lost customers. They did, however, recuperate some of those losses in Q2. For the Q2 inflation rate, I took the average of the months of April, May, and June.
I believe RSG is at a disadvantage when compared to Waste Connections (WCN) because it operates in urban areas, competing with the largest solid waste disposal company Waste Management (WM), and if the company hikes prices too much, customers can switch over. On the other hand, WCN operates in rural areas where there is very little competition. You can read my deep analysis of WCN here. I believe RSG's long-tenure contracts and strong core pricing should allow for free cash flow growth.
Company Overview
Republic Services was born out of the 2008 merger of Allied Waste and Republic Services, which forged the second-largest waste company in the U.S. As of December 31, 2022, RSG operated in 41 states through 353 collection operations, 233 transfer stations, 206 active landfills, and 71 recycling processing centers. RSG also operated 73 landfill gas and renewable energy projects and had post-closure responsibility for 128 closed landfills. Revenue is derived from five different sources.
Recent Performance
RSG reported strong Q2 earnings, beating expectations across the top and bottom lines. Revenue came in at $3.73 billion, +9% Y/Y (+4.7% organic growth and +4.4% from acquisitions). ADJ EPS was $1.41 above consensus by $0.09. The EPS beat was mainly attributed to core pricing (price increases).
Adjusted EBITDA margin improved by 40 bps (30% YoY). The company raised its full-year guidance for total revenue of $14.813 billion, an increase of $88 million. Adjusted EBITDA of $4,350 million (increase of $50 million), translating into a margin of 29.4%. Adjusted free cash flow increased by 1.7% to $1,913 million and adjusted EPS by 3.2% to $5.36. All of the figures are at the midpoint.
Valuation
I used the EV/EBITDA valuation method and arrived at a price target of $163.74 for 2024. I assumed revenue would grow by 7.5% CAGR in the next three years, driven by strong pricing power and volume growth. Using an Adj EBITDA figure of $4.5 billion and a multiple of 14.00x, I got a price target of $163.74 by the end of fiscal year 2024 (15 months).
I estimated that diluted shares would decrease by 0.50% in 2023 ($183 million on buybacks) and 0.60% in 2024 ($347 million on buybacks). I kept the same amount of shares from 2024 for 2025 because the company is currently not forecast to deploy any capital toward buybacks, but that might change in the future. 14.00x multiple is in line with the current multiple of 14.10x and 1.6% discount to the three-year average (14.23x).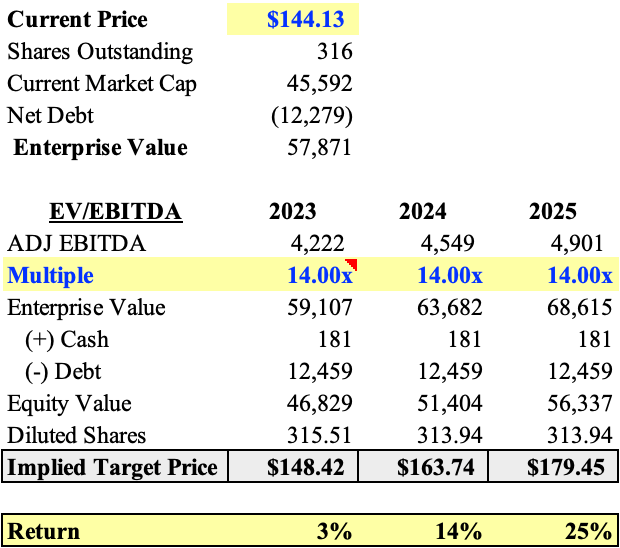 As you can from the chart below, RSG has historically traded at a discount to WCN, the same scenario for WM, but I believe if RSG is able to achieve similar margins such as EBITDA and FCF conversion then it will perhaps trade at a similar valuation.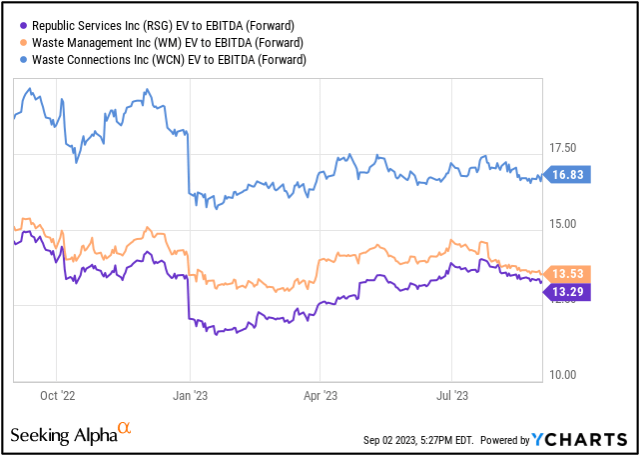 Risks
1) RSG, just like its two peers, is an active acquirer of small businesses to increase its landfill ownership. Going forward, acquiring a company at an attractive price can get competitive given the larger resources of WM and WCN.
2) Tighter regulations on landfills can also hurt the company's top line; just like regulations protect the big three, they can also hurt them by forcing the closure of certain landfills due to environmental reasons.
Takeaway
The bottom line is that RSG is a leading company operating in an industry with high barriers to entry. The firm has a large set of assets and networks that are almost impossible to replicate. I expect revenue growth to be driven by strong pricing power and volume growth. The tight regulations around landfills are only going to increase the company's pricing power. As we saw in the last quarter, thanks to core pricing, RSG was able to post better-than-expected earnings. My valuation indicates an implied price target of $163.74 by December 31, 2024, which translates to a return of 14%.