Ionis Pharmaceuticals: Mid-Sized Pharma Is A Strong Buy Opportunity For All-Comers
Summary
Ionis Pharmaceuticals is a pioneering drug developer with a focus on antisense technology.
The company has successfully developed four commercially approved drugs for various diseases.
Ionis has a strong pipeline of late-stage candidates, including Eplontersen, Olezarsen, and Donidalorsen, with the potential for significant market opportunities.
Ionis counts major Pharmas such as AstraZeneca, GSK, and Biogen and could earn >$20bn from milestone payments alone.
By 2027, Ionis may well have secured >10 new drug approvals, and revenues ought to be pushing several billion per annum. With many of the usual drug development risks mitigated, shares, therefore, look significantly undervalued.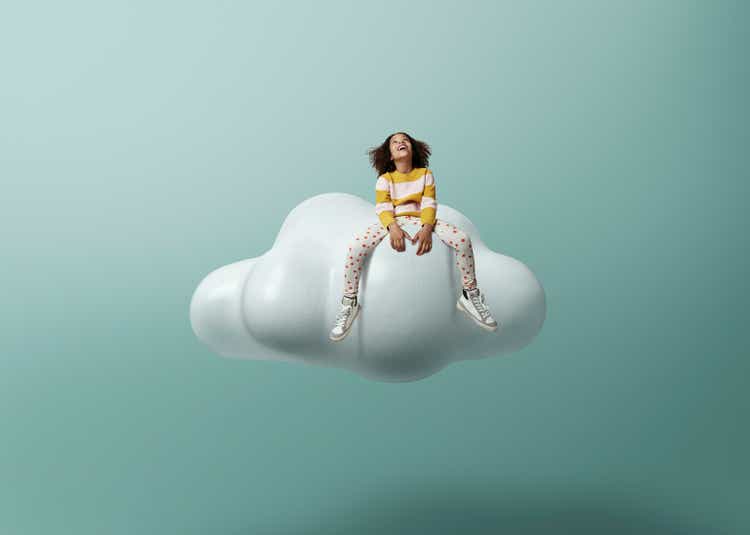 Investment Overview - Ionis Remains An Antisense Pioneer 30 Years After Founding
Ionis Pharmaceuticals (NASDAQ:IONS) may be a 30-year old company but it remains a pioneering drug developer with a unique focus on antisense technology, which has produced 4 commercially approved drugs - QALSODY, SPINRAZA, TEGSEDI and WAYLIVRA - indicated for superoxide dismutase 1 amyotrophic lateral sclerosis ("SOD1-ALS"), spinal muscular atrophy, polyneuropathy caused by transthyretin amyloidosis with polyneuropathy ("ATTRv-PN"), and genetically confirmed familial chylomicronemia syndrome ("FCS").
According to Ionis' 2022 10K submission (annual report):
All of the medicines currently in our clinical pipeline use our antisense technology — an innovative platform for discovering first-in-class and/or best-in-class medicines. Antisense medicines target RNA, the intermediary that conveys genetic information from a gene to the protein synthesis machinery in the cell.

By targeting RNA instead of proteins, we can use antisense technology to increase, decrease or alter the production of specific proteins. Most of our antisense medicines are designed to bind to mRNAs and inhibit the production of disease-causing proteins.
In other words, while the messenger-RNA technology that underpinned the COVID vaccines used MRNA to instruct cells to manufacture certain proteins, RNA-interference stops MRNA from passing its messages to cells, or changes the instructions, to produce higher or lower amounts of certain beneficial / negative proteins.
Added to this is Ionis' Ligand Conjugated Antisense ("LICA") technology, which "involves attaching a molecule called a ligand that binds with receptors on the surfaces of cells in a highly specific manner". Ionis says data shows that LICA can increase the potency of liver targeting drugs by "20-30-fold over our non-LICA antisense medicines", with a stronger safety profile. The efficacy and safety are further enhanced by Ionis' "generation 2.5 chemistry" - developed in 2022, generation 2.5 is 10x more potent than the formerly used generation 2.0 technology.
The trickiest aspect of antisense technology is delivery, given strands of RNA are large and tend to be broken up by the immune system before reaching their intended target. Ionis uses a sugar molecule called GalNAc, or N-acetylgalactosamine, that is abundantly expressed on liver cells ("hepatocytes") to gain access to the liver, but has struggled to successfully reach extra-hepatic targets, hence why most of its pipeline - and 2 of its approved drugs - target liver disease. Both QALSODY and SPINRAZA are administered via lumbar puncture, allowing them to target the central nervous system directly. This situation may well be alleviated, however, with the advent of new delivery techniques such as Lipid Nanoparticles ("LNPs").
Approved Products & Recent Performance
As we can see below, Ionis' revenue generation has historically fluctuated significantly from year-to-year, which is primarily due to license fees earned from collaborative partners.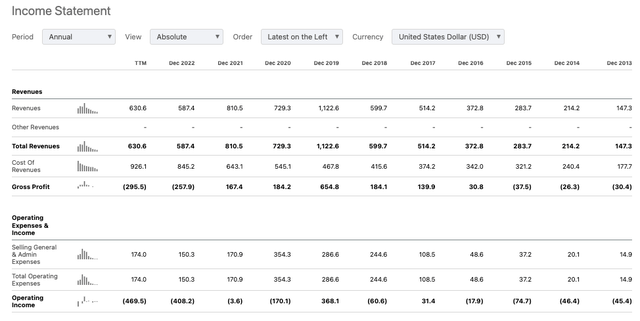 For example, in 2019, Ionis earned $352m of commercial revenue from SPINRAZA, TEGSEDI and WAYLIVRA, but also received $246m of out-licensing fees from Pfizer (PFE), $150m from Swiss Pharma giant Novartis (NVS), and $136m from Central Nervous System ("CNS") giant Biogen (BIIB), whilst Roche (OTCQX:RHHBY), GSK (GSK) and RNA-interference specialist Alnylam all made contributions <$50m.
That illustrates the value that the world's leading Pharma companies see in antisense technology, and Ionis' unique approach to working with it, but it also, arguably, masks the fact that the company's approved drugs are not major revenue drivers, for Ionis, at least. In FY22, SPINRAZA earned royalty revenues of $242m, and TEGSEDI and WAYLIVRA $30m between them. Biogen is responsible for marketing and selling SPINRAZA, and the drug earned revenues of $1.8bn in 2022
Nevertheless, Ionis continues to work with major Pharma partners, listing its main collaborators as AstraZeneca (AZN), Biogen, GSK, Novartis, and Roche, and stating in its 2022 10K that:
We have the potential to earn more than $23 billion in future milestone payments, licensing fees and other payments from our current partnerships. In addition, we are eligible to receive up to mid-20 percent royalties under our partnerships.
In January this year, Ionis entered into a royalty agreement with Royalty Pharma (RPRX), in which Royalty agreed to pay $500m upfront, and up to $625m in milestone payments in exchange for, according to a press release:
25% of Ionis' SPINRAZA royalty payments through 2027, increasing to 45% of royalty payments in 2028, on up to $1.5 billion in annual sales. Royalty Pharma's royalty interest in SPINRAZA will revert to Ionis after total SPINRAZA royalty payments reach either $475 million or $550 million, depending on the timing and occurrence of certain events; and
25% of Ionis' pelacarsen royalty payments.
Milestone payments from collaboration partners are clearly a significant aspect of Ionis' business, but the deal with Royalty was done primarily to fund development of an impressive late stage pipeline of assets - including Novartis partnered pelacarsen, included in the deal above - through the approval and commercialisation process.
Across 2022 to date, Ionis has earned $319m in revenue - up 40% sequentially, and 16% year-on-year - whilst recording an operating loss of $150m, as a result of $469m in operating expenses. For FY23, Ionis is forecasting for revenues of >$575m, with operating expenses of $970 - $995m, implying a net operating loss of <$425m. The Royalty deal means that Ionis will comfortably absorb those losses, however, as it has ~$2bn of cash at its disposal.
Currently trading at $39 per share - a 14% discount to the traded price 5 years ago, and down 10% across the past 12 months - with a market cap valuation of $5.6bn, Ionis could be considered over-priced based on its forward price to sales ratio of ~10x, and heavy losses incurred in 7 of the past 10 years, with net losses reaching $(270m), $(29m), and $(480m) across the past 3 years.
Like most larger Pharmas - and particularly those with a pipeline as strong as Ionis' - the company ought to be judged on what revenues and profitability in 3-5 years' time, however, as opposed to today. If we do that, then the investment case becomes significantly more bullish.
Ionis - Pipeline Overview - Several "Blockbuster" Approval Shots
In its most recent corporate presentation, Ionis provides an overview of its late-stage pipeline, and when to expect the next major data readout.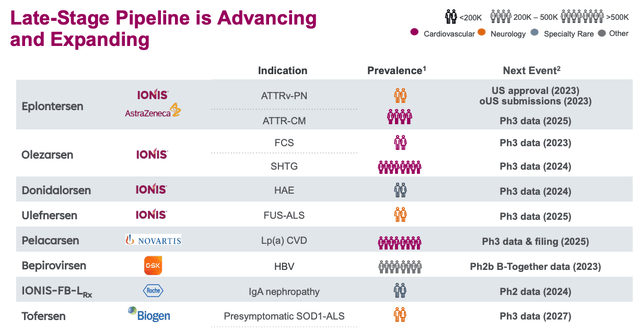 The most exciting near-term catalyst looks to be AstraZeneca partnered Eplontersen, a candidate AstraZeneca paid Ionis $200m to acquire the rights to, in exchange for co-commercialisation rights in the US, and sole commercial rights ex-US. AstraZeneca also funds 55% of development costs (according to Ionis' latest quarterly report).
The drug met its 3 co-primary endpoints in a Phase 3 study in ATTRv-PN last year, and the FDA has already accepted Ionis' New Drug Application ("NDA"), allocating an approval decision date of December 22nd this year. Recent data shows the drug is still effective at halting neuropathy progression and improving Quality of Life ("QoL") at 85 weeks, suggesting Eplontersen is likely to be approved in December.
That will open up a substantial market opportunity for Ionis and AstraZeneca, although there will be a major rival in the marketplace in the form of 2 approved drugs developed by Alnylam - the RNA-interference ("RNAi") specialist that can be considered Ionis' main rival.
Alnylam's ONPATTRO, which is approved in ATTRv-PN, earned $558m in 2022, and its long-term replacement AMVUTTRA earned $94m of revenues last year, but will likely cannibalise ONPATTRO sales as patients switch over from the older drug, since studies show that AMVUTTRA has the edge on efficacy. Both AstraZeneca and Ionis are very confident that their candidate will be able to take market share away from AMVUTTRA.
Alnylam has also submitted its NDA for approval of ONPATTRO in ATTR-CM, which has a significantly larger patient population than ATTRv-PN. Pfizer's Vyndaqel, for example, the only current drug approved to treat ATTR-CM, earned ~$2.5bn of revenues last year.
BridgeBio's (BBIO) acoramidis has also returned some solid data in the ATTR-CM indication, so if Ionis does secure an approval here, it will face some intense competition, although thanks to the advent of better medicine and diagnostics, the ATTR-CM market could be worth as much as $10bn by the end of the decade. Ionis management are confident that Eplontersen is "positioned to deliver the most robust data" in the field, although Phase 3 data will not arrive until 2025.
Meanwhile, Ionis is developing 3 wholly owned candidates in Olezarsen, Donidalorsen, and Ulefnersen. The largest market opportunity is for Olezarsen in severely elevated triglycerides ("TGS"), which breaks down into 2 indications, Familial chylomicronemia syndrome ("FCS") and Severe hypertriglyceridemia (SHTG) - a patient population of >3m - that Ionis believes presents a peak sales opportunity of >$1bn per annum.
Olezarsen, which targets apoC-III, a "key regulator of triglyceride metabolism in the blood", has returned positive data from a Phase 2 study, meeting its primary endpoint of significant triglyceride reduction at 6 months, with a favourable safety and tolerability profile. With a Phase 3 data readout in FCS due this year, the drug could be on the market before the end of 2024, although it may be another 12 months at least before an SHTG approval can be secured.
Donidalorsen is estimated by Ionis management to be a ~$500m peak sales opportunity. The drug targets the prekallikrein pathway, which Ionis believes is the "root cause of Hereditary Angioedema ("HAE")", which causes potentially fatal swelling of the arms, legs, face, and throat.
Phase 2 data showed a 97% reduction in monthly HAE attacks, which, if repeated in a Phase 3 study, ought to be sufficient for the drug to be approved with a "best-in-class" profile. Competition consists of 2 drugs developed by Japanese Pharma Takeda (TAK), Takhzyro and Cinryze, plus BioCryst's (BCRX) Orladeyo - a drug which earned >$250m of revenues in 2022, and which is slated for peak sales of >$1bn.
Despite the deal with Royalty, Ionis could earn some healthy revenue royalties from Pelacarsen in Lp(a) Driven Cardiovascular Disease, if approved. Phase 3 study results are not expected until 2025, but as ever, Ionis is confident that its ~7.6k patient pivotal study will deliver "robust efficacy".
Data from a Phase 2 study of Bepirovirsen, indicated for Hepatitis B ("HBV"), was sufficiently positive - showing "potential to suppress both the surface antigen and the virus of hepatitis B, leading to the possibility of functional cure", according to a GSK press release - for GSK to green light a Phase 3 study in this ~300m patient population.
GSK has forecast peak sales of ~$2bn for the drug, whose main rival is likely to be Arrowhead Pharmaceuticals (ARWR) and Johnson & Johnson's (JNJ) ARO-HBV, which is in an earlier stage study. There are ~$260m of milestone payments, and a share of net sales in the "low-teens" for Ionis should GSK gain approval for Bepirovirsen. If the rug does provide a permanent cure, analysts have suggested the market opportunity could rise substantially.
Tofersen has already secured an approval in ALS, albeit in a limited patient population, restricting peak sales expectations to ~$300m, but if a label expansion can be secured, this drug could also become a meaningful revenue driver.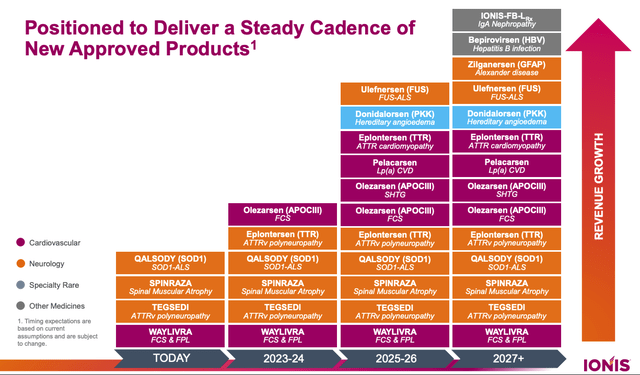 In summary, as we can see above, if all of Ionis' "shots at goal" were to succeed, the company would complete an impressive transformation from a commercial Pharma with <$500m commercial sales potential, to a mid-sized Pharma of genuine significance, with the profits to show for it.
Ionis has developed its technology and medicines very much in the public eye, which has had positive and negative implications. Positive, as several major Pharmas have bought into the technology, and helped fund the pipeline development, and negative, as Ionis has struggled to address larger markets, sidelining the company in many investors' eyes.
Looking Ahead - A Suitable Valuation For The Medium & Long Term
My take on Ionis is that the more patient investors are prepared to be, the better Ionis stock is likely to perform. If expectations are met, and Olezarsen hits the market in the next 12-18 months, along with Eplontersen, these 2 drugs alone could add as much as $1.5bn to Ionis top line revenues by 2027, by which time, Donidalorsen could also be approved, as well as Bepirovirsen, and Eplontersen could be approved in the larger ATTR-CM indication.
Normally, when considering peak sales of pipeline drugs, analysts will factor in a substantial discount owing to the risks of drugs failing late stage trials, or being denied approval by regulatory authorities, on grounds of safety or lack of efficacy (even if management may not agree with the authorities).
In the case of Ionis, however, the good thing is that each of the partnered drugs will have already been subject to intense scrutiny from collaborating Pharmas, including giants like AstraZeneca, Novartis, and Biogen, and the failure rate of Big Pharma in late stage trials is typically lower than that of smaller biotechs. In short, Big Pharma has already completed much of the due diligence on these assets, and concluded that they are more likely than not to make it to market.
For Ionis wholly-owned drugs, investors can take additional comfort from the fact that they have a similar mechanism of action ("MoA") to the partnered and approved drugs, meaning proof of concept is already established, and the risk of failure reduced. The drugs will not be copyable by rival Pharmas either.
Of course, that does not mean that every asset in Ionis' portfolio is a "slam dunk" approval shot, but it goes a long way to mitigating many of the risks that can put investors off investing in a biotech company, or a new approach to drug development.
What this suggests to me is that by 2027, Ionis could be well on its way to realising revenues of (by my calculation) ~$3bn per annum - a figure that could perhaps be reached by 2030 - reducing the forward price to sales ratio from ~10x, to <2x, and making Ionis stock - at current price - a good buy opportunity.
In terms of profitability, although Ionis continues to incur heavy annual losses at present, the large pharmaceutical industry is characterised by significant net profit margins - usually >20%. Drug development has become a particular focus of the Big Pharma industry - Johnson & Johnson, Merck & Co, and GSK have all recently ditched their legacy brands / consumer health divisions in order to ramp up their focus on drug development - in part due to the lengthy patent protections handed to new drugs, allowing the Pharma's to dictate pricing. As such, although Ionis' current and past income statements do not make the bull case, by 2030, profitability could become an unexpected hallmark of the business in time.
Concluding Thoughts - One Of The Better, More Validated Pipelines In Pharma - Ionis Is A Very Solid Buy and Hold Opportunity
In this post I have discussed Ionis' pioneering focus on antisense technology, and how, over time, it has been able to enter the liver with its LICA technology, and the CNS via lumbar puncture, resulting in 4 drug approvals.
I have discussed the limited market opportunities in play for those approved drugs, and Ionis' traditionally heavy losses, which likely put many people - from retail investors to VCs and Hedge Funds - off investing in the company, restricting share price momentum.
I have then looked at Ionis' ability to win partnerships with major Pharma companies, and taken a closer look at the pipeline, which contains several "blockbuster" (>$1bn per annum) approval shots, both partnered and wholly-owned, implying a peak sales opportunity for the company that could rise >$3bn by the end of this decade. It is also worth noting that all of Ionis' assets have patent protection secured into the next decade.
I have also expressed the opinion that the risk of late-stage study failures of failed approval shots is mitigated significantly by the presence of big Pharma partners - who are also a reliable source of regular, triple-digit milestone payments - meaning aggressive discounting of the company valuation to factor in risk is not necessary, or at least less required than a biotech investor would typically think.
Given all of these factors, and Ionis' current share price of $39 - substantially discounted to former highs of $62 achieved in 2021, when the outlook was arguably less promising than it is today - and market cap valuation of ~$5.6bn, which will surely increase if Ionis achieves e.g. 75% of its stated goals, Ionis stock looks like a very solid Buy opportunity at this time. The numerous upcoming data readouts additionally offer plenty of near-term price spike opportunities, while the breadth of targets guards against heavy losses based on a single negative trial outcome.
If you like what you have just read and want to receive at least 4 exclusive stock tips every week focused on Pharma, Biotech and Healthcare, then join me at my marketplace channel, Haggerston BioHealth. Invest alongside the model portfolio or simply access the investment bank-grade financial models and research. I hope to see you there.
This article was written by
Edmund Ingham is a biotech consultant. He has been covering biotech, healthcare, and pharma for over 5 years, and has put together detailed reports of over 1,000 companies. He leads the investing group Haggerston BioHealth.
The group is for both novice and experienced biotech investors. It provides catalysts to look out for and buy and sell ratings. It also provides product sales and forecasts for all the Big Pharmas, forecasting, integrated financial statements, discounted cash flow analysis and market by market analysis.
Learn more
.
Analyst's Disclosure: I/we have no stock, option or similar derivative position in any of the companies mentioned, but may initiate a beneficial Long position through a purchase of the stock, or the purchase of call options or similar derivatives in IONS over the next 72 hours. I wrote this article myself, and it expresses my own opinions. I am not receiving compensation for it (other than from Seeking Alpha). I have no business relationship with any company whose stock is mentioned in this article.
Seeking Alpha's Disclosure: Past performance is no guarantee of future results. No recommendation or advice is being given as to whether any investment is suitable for a particular investor. Any views or opinions expressed above may not reflect those of Seeking Alpha as a whole. Seeking Alpha is not a licensed securities dealer, broker or US investment adviser or investment bank. Our analysts are third party authors that include both professional investors and individual investors who may not be licensed or certified by any institute or regulatory body.