Littelfuse: Dividend Growth Doesn't Overcome Broader Industry Challenges, Rate Hold
Summary
Littelfuse, Inc. has seen a decline in its stock price and Q2 numbers due to industry-wide headwinds and inventory destocking.
The acquisition of a wafer fabrication facility in Germany is a strategic move that could expand its capacity.
LFUS' profitability and return on investment are decent but not exceptional, and the stock is currently priced richly, suggesting that its earnings power may already be priced in.
Net-net, rate hold.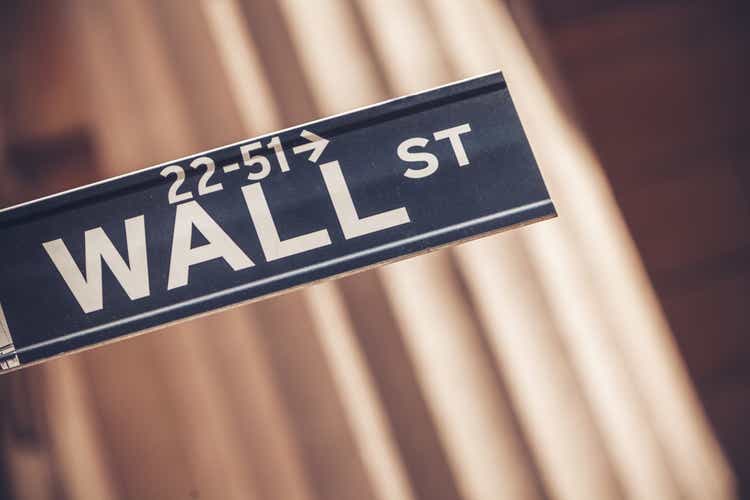 Investment briefing
After catching a strong bid throughout 2023 Littelfuse, Inc. (NASDAQ:LFUS) has turned sharply and now sells back in line with its May '23 range. The company's Q2 numbers didn't help the situation, and industry-wide headwinds in its end-markets impacted revenue volumes and margins down the P&L. LFUS is a profitable entity that spins off reasonable amounts of cash to shareholders. But findings here question its reinvestment runway and what returns it can produce on ~$3.4Bn of capital deployed required to run the business. Valuations reflect this sentiment in my view, and the company is priced richly based on the assets and earnings it can produce going forward. Net-net, I rate LFUS a hold, eyeing $229/share as a fair range.
Figure 1.
Critical investment facts forming hold thesis
1. Q2 FY'23 numbers—inventory destocking + corrections, Dortmund

acquisition
LFUS booked Q2 revenues of $612mm, down 1% YoY. Critically, its core business was down 800bps YoY, offset by 700bps of acquisition-related growth. It pulled this to EBITDA margins of 22.5% on earnings of $2.79/share.
Deeper analysis of LFUS' numbers shows a number of industry–wide headwinds plagued the quarter. For starters, its book-to-bill ratio was <1.0 a quarter end. As a reminder, a ratio of >1.0 is preferred, as it suggests orders received outpaced orders shipped (i.e., a strong order log). Two factors drove the reduction:
Inventory destocking in its core markets. I'd note this isn't unique to the company or the electronic components industry. Multiple adjacent and completely separate industries 'overstocked' in FY'22 amid the supply chain fiasco last year. Hence, there's plenty of delinquent inventory lying around, and the destocking trends are resulting in broad inventory corrections, plus slowing order volumes.
Second, LFUS' lead times have normalized to pre-COVID levels across its portfolio. This has reduced order volumes in a similar fashion.
Given these destocking trends (which, as you'll see today, have hit LFUS' numbers quite hard, and were worse than expected) management projects a 12% YoY decrease in Q3 sales. It now calls for $570mm—$595mm at the top line. No talk on full-year revenues, and this is quite frustrating for me. LFUS gives more granular details like "[a]t current foreign exchange rates, we expect the $0.35 unfavourable impact on EPS and no material impact to sales". Okay, you've provided the FX impact to earnings per share (non-meaningful in the long-run or to the actual business returns). Why not just give the top-line forecasts as well?
Figure 2.
As to the divisional breakdown, the following points are relevant:
The electronics business was down 2% YoY to $350mm. Growth was impacted by the inventory destocking issues outlined earlier. Sales in the underlying business slipped 13%, saved by an 11% growth from its C&K acquisition. Operating margins for the segment came to ~23%, on adj. EBITDA margins of 28.5%.
Its transportation segment were down 5% to $172mm. As a positive, passenger vehicle sales grew 7% YoY, a key driver to its LFUS's automotive portfolio. But its commercial vehicle business booked a 17% decline.
The headline act for LFUS' Q2 numbers was its industrial segment. It booked 15% YoY sales growth 15%. Critically, LFUS secured wins across various higher growth and newer end markets, instrumental to the $90mm in sales it put up in the quarter. It pulled this to a segment EBITDA margin of ~21%.
Regarding cash flows—it clipped OCF and FCF of $98mm and $82mm, respectively. It's produced $110mm in FCF in H1, on a conversion rate of 69% from earnings, solid numbers.
It left Q2 on at 1.4x leverage (net debt-to-EBITDA). But perhaps most critically here, it increased quarterly dividends by 8%, $2.60 annualized. I'd say this is one of the strong points in LFUS' investment debate. It has compounded its dividend at 12% since inception, more than 12 years of consecutive upsides.
Figure 3.
Acquisition of Dortmund wafer fabrication facility
In June, the company unveiled its intention to acquire a 200-millimeter wafer fab located in Dortmund, Germany. The site previously owned by Elmos Semiconductor. No doubt this is a strategic move—it squares off with LFUS' growth plan for power semiconductors. Beyond the bricks and mortar, the acquisition brings on board a proficient team of technologists with extensive 200-millimeter manufacturing and development experience, along with a high-grade wafer processing facility.
There are a couple more positives from LFUS buying this site in my view. For one, it will enable LFUS to broaden its capacity into adjacent markets. Second—and perhaps more critically—it can ratchet up supply to its power conversion customers, a reasonably high growth market.
This is important to LFUS growing in an already competitive corner of the market. The profit pool is shared between those focused on multiple industrial sectors—think renewables, energy storage, automation, power supplies, e-mobility and so forth. Financially astute investors would appreciate the stock returns some of the more highly positioned companies have delivered to their shareholders this year on the back of these dynamics.
2. Economic factors to growth
Analyzing LFUS' profitability as a function of resources employed to produce them is telling. Figure 4 shows the gross profit produced from total assets employed in the business on a rolling TTM basis since 2020. All core and non-core assets are included.
It has rotated back $0.25 for every $1 assets employed in Q2, up from $0.18 in 2020, but down from highs of $0.28 in 2021. Not surprising given the market dynamics back then. Still, $0.21 on the dollar isn't bad—but it isn't high. Anything >$0.30 is high, above $0.50 is exceptional.
A positive is that its return on investments made has ratcheted up from 2020 levels, as seen in Figure 5. Around $136/share in capital at risk produced $17.45 in NOPAT/share last period (TTM values), down from $18/share on $124.37/share invested in Q2 FY'22. This equates to a 12.8% return on investment, and marginally above our required rate of return that we employ across our equity holdings (12% here).
The benefits are driven at the margin, with LFUS pulling in 17.4% post-tax margins last period on capital turns of 0.73x. This tells me it is employing a cost differentiation strategy, pricing its offerings at above-industry levels. This bodes in well with an inflationary environment. It also spun off $18.3/share in cash to shareholders, including the upsized dividend, up from $10/share in 2020 and 2021 (shown as 'owner earnings' below). This shouldn't be discounted in my view, and balances the investment debate.
Valuation and conclusion
The stock sells at 21.65x forward earnings and 17.8x EBIT, both single-digit premiums to the sector, respectively. Despite the dividend increase, you're looking at a c.1% yield at the current market value as I write.
This begs the question—how much of the company's earnings power is already priced in at a $7Bn EV? Figure 6 consolidates this well. It shows the prevailing returns on capital compared to our 12% hurdle rate, and compares this to the premium it sells to invested capital ("EV/IC"). Both approximate returns on the firm's capital—one shows business returns, the other shows market returns on its investments.
A very handy comparison, because comparing the 2 shows what may or may be priced in, and it would appear investors have captured most of its growth prospects at 21x earnings/~18x EBIT. I'd also be looking more to >3x EV/IC to suggest the market values LFUS's investments highly—i.e., that it would foresee large sums of cash flows produced on these. The PEG ratio is also 1.80x on this, supporting this view.
The other thing to consider—incremental returns on capital were negative 64% into Q2 FY'23 (TTM values). Taking the TTM EBIT of $521 for the period and carrying this forward at a 64% decline gets you to ~$318mm, and presuming the same 18x forward multiple, this gets you to an EV of $5.72Bn or $229 per share (18x (521/1.64) = 5,178). This supports a hold view.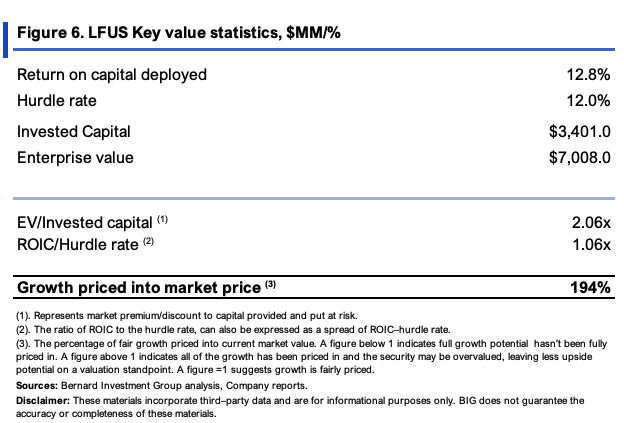 Net-net, LFUS is chugging along nicely in its financial performance, and has taken the industry-wide challenges in stride this year (inventory destocking, slowdown in order volumes, and so on). But there are no standout features to speak of in my view. Economic levers are reasonable, with its capital spinning off reasonable returns of ~12–13%. But this is $3.4Bn put at risk to produce $434mm in trailing NOPAT. It took a $989mm investment to grow NOPAT ~$240mm from 2020–2023, so in theory, to get another $240mm it would need this kind of investment going forward. Problem is, it guides to lower financials for H2 FY'23 and these could carry forward to '24. Further, the stock is richly priced, with its current earnings power potentially already priced in. Collectively, these points have me neutral on the company for now. Rate hold.
This article was written by
Strategist, global markets, at Bernard Holdings. Objective view on the directional bias of markets. Technical expertise bridges the complex relationships between value drivers, capital flows and price action. Clients are represented over the cross-section of financial markets, from speculators, hedgers, long-term traders and the public. Research covers investment securities and futures markets.Shoot me a message to talk trade ideas or portfolio construction. Disclaimer:All research is strictly for informational purposes only. Not to be considered investment advice. Please remember to conduct your own due diligence.
Analyst's Disclosure: I/we have no stock, option or similar derivative position in any of the companies mentioned, and no plans to initiate any such positions within the next 72 hours. I wrote this article myself, and it expresses my own opinions. I am not receiving compensation for it (other than from Seeking Alpha). I have no business relationship with any company whose stock is mentioned in this article.
Seeking Alpha's Disclosure: Past performance is no guarantee of future results. No recommendation or advice is being given as to whether any investment is suitable for a particular investor. Any views or opinions expressed above may not reflect those of Seeking Alpha as a whole. Seeking Alpha is not a licensed securities dealer, broker or US investment adviser or investment bank. Our analysts are third party authors that include both professional investors and individual investors who may not be licensed or certified by any institute or regulatory body.