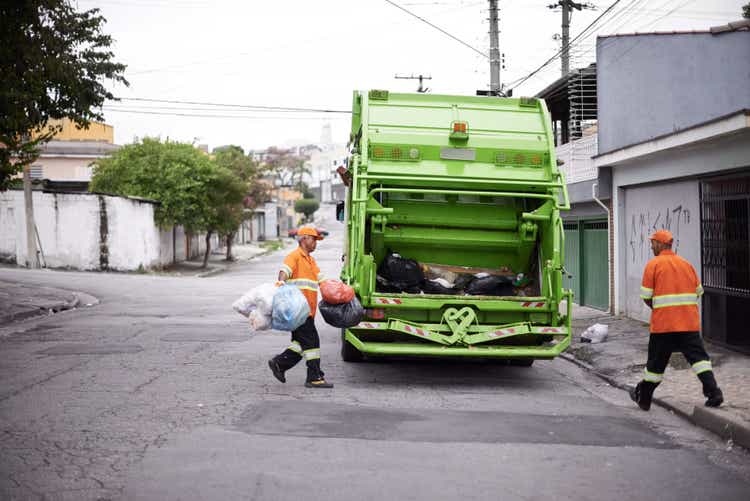 Investment action
I recommended a buy rating for Waste Connections (TSX:WCN:CA)(NYSE:WCN) when I wrote about it the last time, as I expected volume would improve as the seasons began to shift in WCN's favor and that the business was fundamentally sound. Based on my current outlook and analysis of WCN, I continue to recommend a buy rating as the business continues to execute as planned, increasing margin by shedding low-margin contracts and pushing out price increases at a higher magnitude vs. peers. I expect valuation to continue sustaining at a premium level for the foreseeable future.
Review
Despite a decline in volume of 1.9%, WCN reported 2Q23 results that surpassed expectations. This was largely due to price increases (a posted core price of 9.8% in 2Q23). This decrease in volume may be attributable to a more subdued seasonal uptick in activity, but I suspect it is more likely attributable to the deliberate elimination of contracts with low margins. Since inflation shows no signs of abating, I believe WCN will reap the benefits of price increases for the foreseeable future. GFL Environmental (GFL), Waste Management (WM), and Casella Waste Systems (CWST) all reported price increases of 9.3%, 5.8%, and 7.7%, respectively, in 2Q23, illustrating a similar trend in the waste management industry. The fact that WCN demonstrated a greater price increase than its competitors is noteworthy because it exemplifies the company's pricing power. For the rest of FY23, management is sticking with their previous forecast of a 9.5% increase in the core price. In addition, the 3Q23 core price forecast from the company is 9%. Given that more than 85% of the price for 2023 is already set, there is little room for price fluctuations outside of this range. That said, the continuous focus on shedding low-margin contracts should continue to be a minor headwind to the business.
Despite the lower volume headwind, I believe this pricing power will flow at a high incremental margin to the EBIT line. Management's emphasis on lowering employee turnover rates should also have a positive effect on the business as a whole and contribute to the expansion of profit margins. Management disclosed during the call that employee turnover peaked at 35% in 4Q22 and has since dropped to under 29% as of the end of 2Q23. By the middle of next year, management hopes to have achieved a turnover rate of at least 20%. Management has revealed that, thanks to improved retention rates, they anticipate a 100-bps increase within the next 1.5–2 years. While 100bps might not seem like a lot on an absolute basis, it is a 6% increase in earnings relative (1% / 17% LTM EBIT margin).
I still think the company will do well because its increased proportion of franchise contracts and secondary market proportion will lead to higher route density and higher pricing power. I also take note of WCN's current leading margin in its field relative to competitors. WCN's most recent acquisition of Arrowhead is accretive to both revenue and earnings and should strengthen the company's competitive position in the market. To provide some context, Arrowhead manages an interconnected transportation and disposal network connecting several East Coast transfer sites with its namesake landfill in Alabama. I have a positive outlook on the transaction because it creates possibilities for internalization across the capacity-constrained Northeast US, improving its margin profile over the long term, and making it possible to make further acquisitions in the region.
Valuation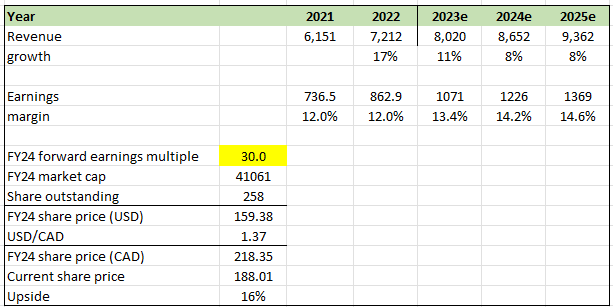 I believe WCN will continue to see strong growth in FY23 as guided, which I believe is accurate given the contracted nature of revenue and that guidance was updated in August. Post-FY23, growth should step down a little, as I don't expect the same pricing benefit, and inflation should start to cool down. Margin should continue to improve, however, as WCN sheds low-margin businesses and improves employee retention rates. The latter point on driving margins higher is important as it would further extend WCN's lead vs. peers in terms of margin. The higher margin is the key reason why I think the stock will continue to trade at a premium compared to peers.

Final thoughts
WCN continues to exhibit strong potential for investors. Despite a slight decline in volume, the company's robust pricing power, demonstrated by its impressive price increases outpacing competitors, underlines its market strength. The deliberate removal of low-margin contracts should enhance profitability in the long term. WCN's focus on reducing employee turnover rates is a positive sign, promising higher margins and earnings growth. The recent acquisition of Arrowhead bolsters its competitive position and offers strategic advantages for further expansion in the Northeast US market. While growth may taper post-FY23 due to reduced pricing benefits and moderating inflation, the ongoing margin improvement initiatives should sustain WCN's premium valuation compared to peers.