EnLink Midstream Grows Their CCS Division
Summary
EnLink's stock has entered a long-term trading range between $8.50 and $13.50 per unit.
The company plans to invest $1.5 billion in CCUS projects over the next 7 years to meet growing demand.
EnLink has signed a transportation service agreement with Exxon Mobil to move CO2 captured from CF Industries and Nucor Steel to a sequestration site in Louisiana.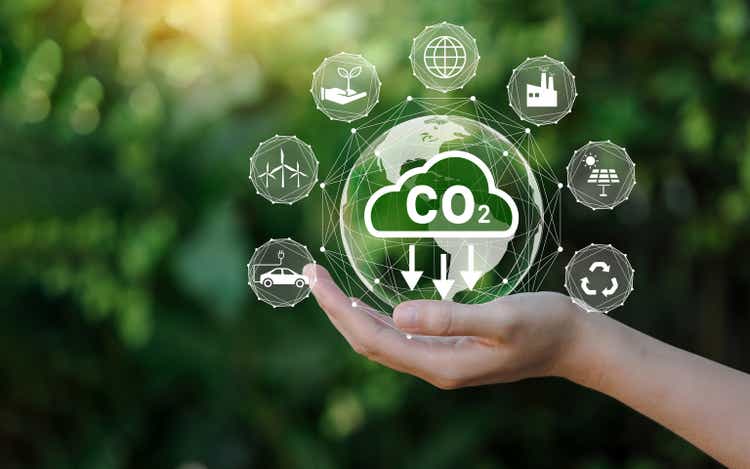 EnLink's (NYSE:ENLC) go-go days of 2022 (as M&A activity peaked) are now behind us, but we still have a lot of positive news to report. The ridiculously easy money was made climbing from a unit low of $0.88 per unit reached on March 30th 2020 until the recent high on January 13, 2023 of $13.58. We now appear to be in a long-term trading range between $8.50 to $13.50 per unit going back to early 2022. If we convert that trading range to a price per EBITDA multiple, EnLink is trading at a multiple of 7.24x EBITDA to 8.97x EBITDA, based on EnLink's midpoint of their 2023 guidance of $1.355B. 2024 EBITDA estimates of $1.4B to $1.425B suggest a one-year price target of $12.21 (midpoint of $9.85 to $15.21 potential range).
Although Q2 2023 came in a bit soft, EnLink reiterated the mid-point of their 2023 EBITDA guidance of $1,355MM. They believe that well completions are being delayed from summer into the fall and winter to manage capital budgets and take advantage of the contango in the natural gas markets. EnLink remains a long-term buy because I believe the company is small enough to continue growing at 17-20% per year. This is double the 30-year return of the S&P 500 of 9% per year.
In EnLink Midstream: Riding The Wave of LNG Export Growth we discussed EnLink inevitable climb to the $2B EBITDA mark by 2028. To reach that milestone, EnLink needs to find $3.6B in new investments in the next 5 years. Right on cue, EnLink outlined their growth projections to 2030 in CCUS (carbon capture utilization and sequestration) on the Q2 earnings call.
As a reminder to the readers, CCS and CCUS are the processes of capturing CO2, from manufacturing operations like steel and fertilizer production, that would otherwise be vented to the atmosphere and either sequestering it permanently underground (CCS) or utilizing it for other purposes like enhanced oil recovery or providing the CO2 fizz in carbonated beverages (CCUS).
The reason to remove CO2 from smoke stacks is to prevent carbon buildup in the atmosphere and therefore CCS/CCUS is one major tool in the battle against climate change. Saying the CCS/CCUS industry is in its infancy is an understatement. Although there are various pilot program in the US that have been launched over the years, we are barely out of the gates on this process. It will take decades to fully ramp CCS/CCUS and recent legislation (notably the IRA - more on this below), has provided the incentives to boost CCS/CCUS.
To embrace this momentum, EnLink plans to spend $1.5B on these high-return projects over the next 7 years to meet the growing demand at a 5x EBITDA multiple. For a further primer on CCS/CCUS in the US, see Carbon Capture Attracting Investment - Denbury Leading the Charge. Denbury (DEN) is EnLink's primary competitor in the Louisiana CCUS space. Most likely recognizing this, Exxon Mobil (XOM) scooped them up in a $4.9B acquisition, making Exxon Mobil, the de facto leader in the US CCUS arena. EnLink's growing opportunity in the CCUS space will be this article's topic of conversation.
Exxon Mobil
EnLink signed a transportation service agreement with Exxon Mobil to initially move 2 Mtpa (million tons per year) of CO2 captured from CF Industries' Ammonia plant and 0.8 Mtpa from Nucor Steel and transport it to Exxon Mobil's sequestration site in Vermilion Parish, Louisiana. Both facilities are in proximity so they can leverage the same pipeline infrastructure. The CF Industries project is scheduled to come online in early 2025 and the Nucor Steel project in 2026. The agreement also has a long-term reserved capacity of up to 10 Mtpa with an initial reserved capacity of 3.2 Mtpa commencing in 2025.
There are three major items driving the recent activity for Exxon Mobil. One is the signing of the deal with CF Industries (CF) which is leading to more conversations with other companies. Two is the recent passage of the Inflation Reduction Act (IRA) which has major incentives for carbon capture, utilization and sequestration (CCUS) and even better incentives for carbon capture and sequestration (CCS). With the passage of the IRA, congress increased the tax rebates available to CCS/CCUS making many previously uneconomical projects viable, and this is driving a lot more conversations.
The third reason for the increased activity is the EPAs decision to grant Louisiana primacy over Class VI wells. To sequester CO2, you need a Class VI well drilled and monitored. According to the EPA, Class VI wells are wells used for injection of carbon dioxide (CO2) into underground subsurface rock formations for long-term storage, or geologic sequestration. The approval of these wells has been the domain of Environmental Protection Agency and their approval process has been glacially slow. However, states can gain "primacy" over this process by petitioning the EPA to take over the duties of approving and monitoring these wells.
Louisiana To Gain Primacy Over Class VI Wells
On May 2nd of this year, the EPA announced its intention to grant Louisiana primary over their class IV wells. The proposed revision would allow the Louisiana Department of Natural Resources (LDNR) to issue injection permits for geologic carbon sequestration facilities as Class VI wells and ensure compliance. The approval will no doubt accelerate the development of CCS projects in Louisiana with the first wells coming online in 2025.
Assuming more infrastructure gets built in Louisiana, then the state becomes a major hub for selling "clean" products such as ammonia and steel. If the "clean" products garner premiums for their products or allow these companies greater access to global markets due to the recent progress, then we could see a rush to duplicate the results in other industries and relocate some global plants from areas which are suffering from poor economics due to high energy prices, lack of sequestration options and lack of public support for infrastructure. Louisiana is advantaged in all three areas, although there may be some public environmental pushback in some parishes.
EnLink's Louisiana Pipeline System Repurposed
EnLink has built their Louisiana natural gas and liquids pipeline system slowly over the years - through acquisition and organic growth. EnLink's Louisiana Intrastate Gas (LIG) system, one of the largest intrastate pipelines in Louisiana, consists of 2,000 miles of gas gathering and transmission pipelines in 29 parishes and was purchased by EnLink in 2004 for a mere $75MM. The natural gas pipeline system serves power plants, municipal gas systems and industrial markets located principally in the industrial corridor along the Mississippi River between New Orleans and Baton Rouge. It draws natural gas from wells within the state, the GOM, other pipeline systems and from the Haynesville shale basin. To grow their Louisiana footprint, EnLink paid Chevron (CVX) $235MM in 2014 for Bridgeline and other natural gas assets which added 1,400 miles of natural gas pipeline and storage assets in southern Louisiana. The purchase added redundancy in the Mississippi corridor which can be repurposed for CO2 service. The deal also allowed EnLink to build key relationships along that route.
The transportation route for the Exxon Mobil deal will use a small portion of LIG - a 36" section of unused natural gas pipeline that will be converted to CO2 service. A compressor station will be built at the junction between the 36" pipe and a smaller diameter newbuild pipe which will stretch the final distance to the sequestration site in Vermilion Parish, Louisiana. Normally, when you transport natural gas, the compressor stations would be powered by natural gas, but this compression system will most likely be electrically driven to reduce overall emissions. The initial compression at CF Industries' Donaldson plant will be paid for by CF industries who will spend $200MM on CO2 capture and compression equipment. If we had any doubts about the pace of the energy transition, the economics of this deal should give us a clue. There are over $500 million in capital costs to decarbonize a tiny fraction of our ammonia/fertilizer supply.
The use of this small 50-mile section of LIG will save a lot more than $75MM in CAPEX (the price paid for all 2000 miles of LIG back in 2004)! Because the pipeline diameter is so large, it can move CO2 in a gaseous state before connecting to the final section which will be built with a smaller, thicker-walled pipeline capable of moving CO2 in the super critical phase (a more condensed form of the molecule - the most efficient way to move CO2).
CCS Returns
Those pipes don't come cheap and the entire project additions with compression, pipeline and connections will run $200MM and earn an initial return of 8x EBITDA, or $25MM per year. Over time, EnLink believes Exxon Mobil will sign other emitters in the next 12 to 18 months driving the potential EBITDA return through the pipeline to $75MM per year. The final return on the project will earn a low single digit return (let's call it a 3-4x EBITDA return) or up to $75MM per year in EBITDA with relatively small amounts of CAPEX to increase compression.
EnLink currently has the coveted last mile of pipeline to over 80 Mtpa of emissions and for this reason, the CO2 transportation business could prove lucrative. It also makes them a stronger takeover/merger target. Large midstream companies like Kinder Morgan (KMI) or Williams (WMB) might be interested in purchasing EnLink to shore up their energy transition portfolios. The CO2 business is one pathway for them.
A key point to note about CCS, unlike natural gas gathering, the flow of molecules doesn't decline (like natural gas and oil wells) so the revenue stream through EnLink's infrastructure is consistent. The Exxon Mobil deal is a 25-year commitment and other potential deals range from 12-25 years in duration. The CCS business is also a long-term hedge on the energy transition. If electric vehicles (EVs) begin to subtract US gasoline usage in the 2030s, then the CCS business can counteract potential declines in their fractionation business. For example, butane is used to support the gasoline pool for refiners in Louisiana. Although I suspect that whatever gasoline or natural gas liquids aren't used in the US will simply be exported to other countries eager to grow their standards of living.
Risks
You might also wonder whether Exxon Mobil and Denbury combining forces would diminish the opportunity for EnLink and I suppose it does, but EnLink's CEO Jesse Arenivas addressed this on the earnings call:
"Our competitive advantage is having multiple pipes across the State of Louisiana, especially heavily weighted in the industrial emissions corridor there. We've proven we can work with Exxon Mobil. So we think that transaction has opened more doors [then it has closed]…we see the pie is growing beyond the 80 [Mtpa]. And I think…it's going to take multiple parties to solve that from a transportation perspective. But we feel like…our position hasn't changed. If anything, we've just got more options today than we had prior to the [Exxon Mobil-Denbury] transaction."
I agree with this assessment. Typically, you don't see a single entity winning every bid, and due to the size of the CCUS opportunity in Louisiana, Denbury's CO2 pipeline will soon max out, putting them on equal footing with EnLink for new bids. Winning bids typically go the least cost route. I see Denbury/Exxon Mobil dominating this space, but EnLink will surely win their fair share of business.
Conclusion and Positioning
The value of EnLink grows as their EBITDA grows. It's that simple. The growth of their EBITDA is a function of finding new investments with attractive returns. We've estimated that EnLink needs to find $3.6B in new investments over the next 5 years to reach the coveted $2B EBITDA mark by 2028 from $1.355B today. The CCS opportunity in Louisiana can help that endeavor and is lucrative for several reasons. It's a large opportunity and will require $1.5B in new capital, exactly what you want to see for a growing company. The return on invested capital exceeds their current investments, 5x EBITDA versus 5.5x EBITDA for their other businesses. The increased returns are driven in part because the opportunity leverages underused assets which can be repurposed for CO2 transportation.
Another major attraction arises because the transported molecules don't decline over time like typical well connects for oil and natural gas, and the transportation agreements have a longer duration than many of their existing contracts - 12 to 25 years. Finally, the business as whole makes sense both as a hedge on the energy transition and because it will make EnLink a more attractive take-over target. Exxon Mobil purchased Denbury for this reason in my view. I recommend buying EnLink on any pullbacks to the sub-$10 area (assuming we get there) and holding it long-term (5-8 years) due to the strong growing returns. Short-term swing traders can take profits north of $13 and reload at lower prices. Patience is key because the wave patterns in EnLink's unit price are currently taking about 36 weeks to make the round trip from high to low and back again.
This article was written by
I have over 30 years of personal investing experience. My articles cover mostly small to mid sized midstream companies and larger topics like the energy transition and macro questions, like when will we hit peak shale? I consider myself a value investor and recommend companies that produce high returns over a 3-8 year time horizon. As value returns to other sectors, I will broaden my articles to include other names.
Analyst's Disclosure: I/we have no stock, option or similar derivative position in any of the companies mentioned, and no plans to initiate any such positions within the next 72 hours. I wrote this article myself, and it expresses my own opinions. I am not receiving compensation for it (other than from Seeking Alpha). I have no business relationship with any company whose stock is mentioned in this article.
Seeking Alpha's Disclosure: Past performance is no guarantee of future results. No recommendation or advice is being given as to whether any investment is suitable for a particular investor. Any views or opinions expressed above may not reflect those of Seeking Alpha as a whole. Seeking Alpha is not a licensed securities dealer, broker or US investment adviser or investment bank. Our analysts are third party authors that include both professional investors and individual investors who may not be licensed or certified by any institute or regulatory body.