Monster Beverage: The Energy Behind A 500% Surge And Counting
Summary
Monster Beverage Corporation is a dominant player in the energy drinks market, leveraging sports partnerships for effective promotion.
Despite inflationary challenges, MNST has achieved record sales and implemented resilient pricing strategies.
Key acquisitions and strategic expansion position the company for future growth, making it an enticing investment option.
Looking for a helping hand in the market? Members of iREIT on Alpha get exclusive ideas and guidance to navigate any climate. Learn More »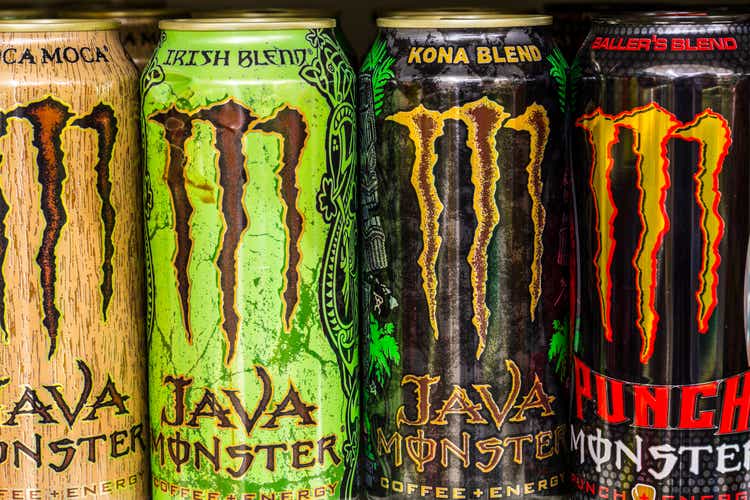 Introduction
I was 17 when I had my first energy drink - can you imagine? The first time I tried it was when I had to study for a few important exams. I went with a generic brand that got the job done: I was awake for almost the entire night.
Then, I tried a can with the big green M from the Monster Beverage Corporation (NASDAQ:MNST). I thought I was about to get a heart attack.
At this point, I need to add that this may have been caused by me being a bit of a hypochondriac. Although the CDC has a list of health risks associated with energy drinks, the number of cases is so small that it won't hurt to enjoy an energy drink every now and then.
- Dehydration (not enough water in your body).

- Heart complications (such as irregular heartbeat and heart failure).

- Anxiety (feeling nervous and jittery).

- Insomnia (unable to sleep).

(Via CDC)
After testing a few energy drinks, I stuck with Monster. I liked the taste of it and didn't have any issues anymore. I had so much of it that I had the feeling that it stopped working.
Fast forward more than ten years, and I do not consume any energy drinks anymore. I'm also staying away from sugar (with some exceptions).
However, that didn't stop the MNST stock from rising, as it has returned more than 500% over the past ten years. I wish I had bought MNST stock back then instead of wasting my money on sugary drinks.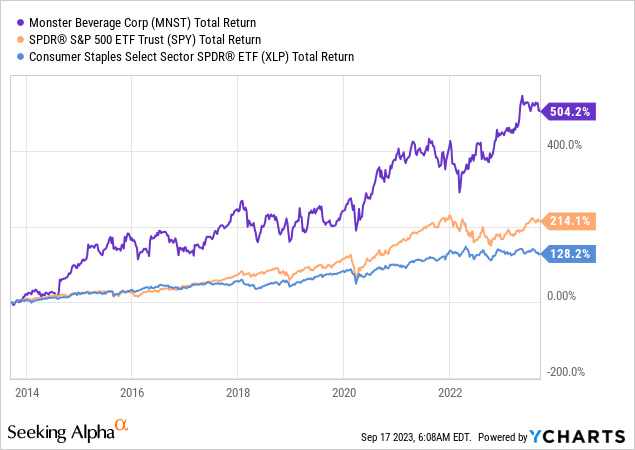 With that in mind, I'm writing this article for a few reasons.
I wanted to dive into MNST again, as it's a fascinating company. While I do not drink nor recommend its products, it has mastered the art of selling products in a highly competitive industry. This includes marketing, distribution, and so much more.
With a market cap of roughly $60 billion, MNST is the only large-cap consumer staple stock that does not pay a dividend.
In an inflationary environment where most defensive consumer stocks are struggling, MNST is shining bright, enjoying strong pricing power and rising demand for its products.
In this article, we'll discuss all of this, including the risk/reward of buying the MNST ticker at these levels.
So, let's get to it!
A Consumer Staples Powerhouse
One of the company's top ambassadors is Lewis Hamilton. The 7x Formula One world champion is one of the biggest rivals of the current champion, Max Verstappen. If you're not familiar with Formula One, Max Verstappen drives for the Red Bull Racing F1 team, a constructor with the goal of using F1 as marketing for its own product, the Red Bull energy drink.
While the consumer staples sector is highly competitive, in general, the energy drinks business takes it to the next level.
There are countless brands on the market, each with different tastes. In this world, it's all about marketing and being as efficient as possible.
Monster, which sells roughly 30 energy brands, uses sports as a way to promote its product, including (but not limited to) NASCAR, Formula One, rallying, drag racing, and truck racing.
Another (related) major driver is name recognition, as its products with the big green M stand out. I believe that's why I went for it more than ten years ago.
We believe that one of the keys to success in the beverage industry is differentiation, making our brands and products visually appealing and distinctive from other beverages on the shelves of retailers. We review our products and packaging on an ongoing basis and, where practical, endeavor to make them different and unique. The labels and graphics for many of our products are redesigned and refreshed from time to time to maximize their visibility and identification, wherever they may be placed in stores, which we continue to reevaluate from time to time. - MNST 2022 10-K
Moreover, like Red Bull, the company is increasingly outsourcing to enhance margins and focus on driving topline growth.
For example, in 2022, manufacturing for energy drink products was outsourced to third-party bottlers and contract packers.
Monster sources ingredients, like flavor ingredients, concentrates, sweeteners, juices, supplements, cans, bottles, caps, labels, trays, boxes, and more from suppliers. Third-party bottlers and co-packers add the necessary ingredients and package the products.
The company has also outsourced distribution, including a major deal with Coca-Cola (KO). On a side note, I recently covered the Atlanta-based soda producer in an article you can access here.
For example, in 2014, Coca-Cola bought 16.7% of Monster Beverage, placing two directors on the board. It currently owns 19.5% of the company.
This deal also resulted in the transfer of certain businesses. Monster got Coca-Cola's energy brands and transferred its non-energy business to Coca-Cola.
Additionally, Monster is using Coca-Cola's distribution network.
The company's customers include full-service beverage bottlers/distributors, retail chains, wholesalers, club stores, e-commerce retailers, and the military.
Almost all of its sales come from domestic and international full-service bottlers and distributors.
| | | | |
| --- | --- | --- | --- |
| Revenue per segment | 2022 | 2021 | 2022 |
| U.S. full-service bottlers/distributors | 48% | 51% | 56% |
| International full-service bottlers/distributors | 39% | 39% | 34% |
| Club stores and e-commerce retailers | 9% | 8% | 8% |
| Retail grocery, direct convenience, specialty chains and wholesalers | 2% | 1% | 1% |
| Alcohol, direct value stores, and other | 2% | 1% | 1% |
Thanks to an increasing focus on efficient operations, the company has a much higher return on assets than its peers, Coca-Cola and PepsiCo (PEP), although I have to add that both of its peers have more diversification and different businesses.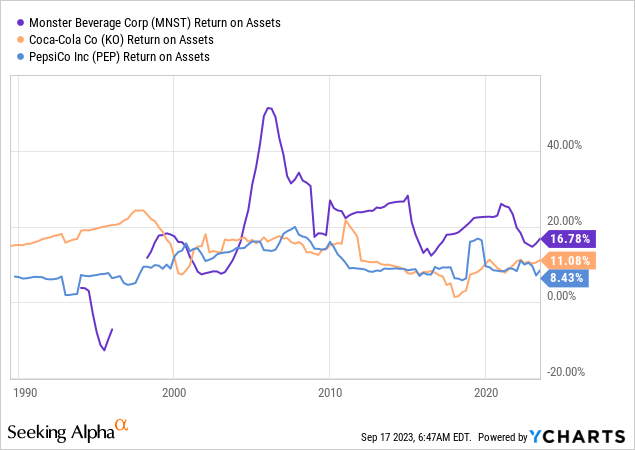 Furthermore, thanks to higher margins, the company has turned 12.1% annual compounding revenue growth over the past ten years into a 16.0% net income CAGR.
These numbers are impressive and explain why MNST is performing so well on the stock market.
Having said all of this, the company continues to fire on all cylinders, even in this tricky environment of elevated inflation and very low consumer confidence.
What Weakness? MNST Keeps Going
Inflation is sticky. Consumers often opt for generic brands, leaving established brands with increasing struggles to incorporate pricing strategies without losing volumes.
MNST is different.
In the second quarter of this year, Monster achieved record net sales of $1.85 billion, marking a 12.1% increase from the same period in 2022.
The gross profit margin rose to 52.5%, which was attributed to pricing actions, reduced operating costs, and increased aluminum can expenses.
Operating income saw a substantial increase of 14.4% to $523.8 million compared to the prior year.
Net income also surged by 51.4% to $413.9 million, leading to a diluted earnings per share increase of 52.8% to $0.39.
Due to ongoing cost pressures, the company implemented pricing actions, particularly in the United States and several international markets, with plans for further increases throughout 2023.
The strategic focus on proximity production, purchasing aluminum cans locally, and addressing supply chain challenges are central to Monster's operations.
These efforts aim to mitigate inflationary pressures and align with a dynamic global supply chain environment.
So far, the company is doing a great job.
In the energy drink category, Monster maintained market share leadership, with notable growth in various markets. In the U.S., sales for the energy drink category increased by 13.6%.
Similar positive growth trends were observed in other key international markets like Canada, Mexico, Argentina, Brazil, and Chile.
According to the company (emphasis added):
The market share of the company's energy drink brands was 42.4%, up 2.4 points, Monster sales increased 25.6% and its market sharing increased 3.3 points to 38.1% NOS's sales decreased to 5.8% and its market share decreased 0.3 over point to 1.3%. Full Throttle sales decreased 43.2% and its market share decrease 0.3 over point to 0.3%. - MNST 2Q23 Earnings Call
In general, the energy drinks business is doing quite well.
Even better, and with regard to the company's overseas operations, the company expanded its market share in several European countries, including Belgium, Czech Republic, Denmark, France, Germany, Great Britain, Italy, Norway, the Republic of Ireland, Spain, and Sweden.
Adding to that, Monster Energy successfully acquired substantially all of the assets of Vital Pharmaceuticals Inc., commonly known as Bang Energy, for roughly $362 million. This acquisition includes Bang Energy beverages and a production facility in Phoenix, Arizona.
Like its other products, the distribution of Bang Energy has been integrated into Coca-Cola's network in the third quarter.
Furthermore, the company ended the prepared remarks of its 2Q23 earnings call by focusing on nine pillars that are expected to maintain strong future growth. I summarized the ones that stood out to me, especially with regard to the bigger picture of hiking prices without sacrificing volumes (the second point).
Global Energy Category Growth: The energy drink category shows continued growth on a global scale.
Resilient Pricing Actions: Implemented pricing actions to mitigate inflation without a significant impact on consumer demand.
Improved Flavor Supply Chain: IFF labor facility in Ireland enhances flavor supply for better EMEA service levels and cost efficiency.
Upcoming Product Innovations (2023): The company anticipates new product launches, including Monster Energy Zero-Sugar, Ultra Strawberry Dreams, Rainstorm, Tour Water (U.S.), and Monster Energy Lewis Hamilton 44 Zero-Sugar (EMEA).
Strategic Expansion of Affordable Energy Brands: A continuing strategic expansion of affordable energy brands into additional international markets is expected to fuel growth.
Valuation
MNST isn't cheap. The company is trading at almost 30x LTM EBITDA, which is a significant premium compared to companies like Coca-Cola and PepsiCo.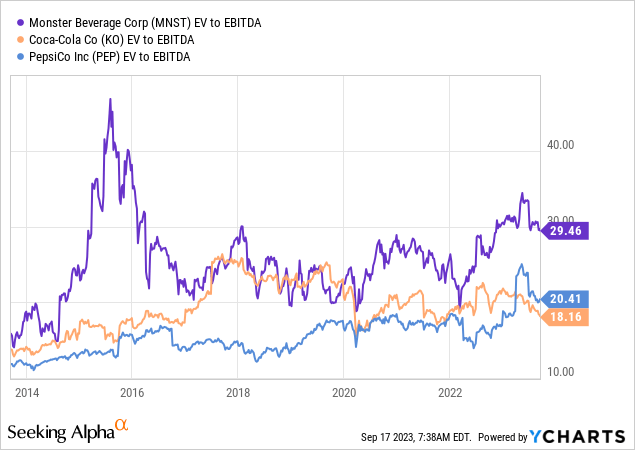 However, MNST has high growth expectations.
Analysts expect the company to maintain double-digit annual EBITDA growth, in line with longer-term growth rates.
The company currently trades at 26.3x 2023E EBITDA. That number drops to 20.0x using 2025E EBITDA. On a side note, the company is expected to end up with $3.4 billion in net cash in 2024, which means it has more cash than gross debt, which is a sign of a very healthy balance sheet.
If we apply a longer-term multiple of 22x EBITDA, the fair price target is $61.60, which is 10% above the current price.
The current consensus price target is $62.2.
If the company is able to grow even faster, I believe that a higher multiple is warranted. However, in this challenging environment, 22x EBITDA is likely the way to go here.
Takeaway
The Monster Beverage Corporation is a powerhouse in the highly competitive energy drinks market, boasting impressive growth and market share.
With a focus on differentiation and leveraging sports partnerships for promotion, MNST has mastered the art of selling its products effectively.
Despite being a consumer staple in a challenging inflationary environment, MNST continues to outperform, with record sales and resilient pricing strategies.
Key acquisitions and strategic expansion further position the company for future success.
While trading at a premium, MNST's high growth expectations and healthy balance sheet make it an enticing investment, offering the potential for solid returns.
If I were looking for an entry (I will stick to dividend growth stocks for now), I would wait for a minor correction before diving in to improve the risk/reward a bit.
Test Drive iREIT© on Alpha For FREE (for 2 Weeks)
Join iREIT on Alpha today to get the most in-depth research that includes REITs, mREITs, Preferreds, BDCs, MLPs, ETFs, and other income alternatives. 438 testimonials and most are 5 stars. Nothing to lose with our FREE 2-week trial.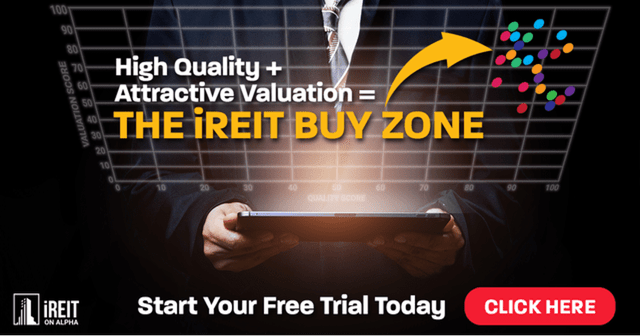 And this offer includes a 2-Week FREE TRIAL plus Brad Thomas' FREE book.
This article was written by
Leo Nelissen is an analyst focusing on major economic developments related to supply chains, infrastructure, and commodities. He is a contributing author for iREIT on Alpha.
As a member of the iREIT on Alpha team, Leo aims to provide insightful analysis and actionable investment ideas, with a particular emphasis on dividend growth opportunities. Learn More.
Analyst's Disclosure: I/we have a beneficial long position in the shares of PEP either through stock ownership, options, or other derivatives. I wrote this article myself, and it expresses my own opinions. I am not receiving compensation for it (other than from Seeking Alpha). I have no business relationship with any company whose stock is mentioned in this article.
Seeking Alpha's Disclosure: Past performance is no guarantee of future results. No recommendation or advice is being given as to whether any investment is suitable for a particular investor. Any views or opinions expressed above may not reflect those of Seeking Alpha as a whole. Seeking Alpha is not a licensed securities dealer, broker or US investment adviser or investment bank. Our analysts are third party authors that include both professional investors and individual investors who may not be licensed or certified by any institute or regulatory body.