CenterPoint Energy: Improved Valuation, Strong Balance Sheet Make For A Haven
Summary
CenterPoint Energy, Inc. is a regulated electric and natural gas utility operating in six states in the central U.S.
The company's natural gas business is unlikely to be threatened by the push for electrification due to the cost efficiency of natural gas for heating.
CenterPoint Energy's growth prospects lie in population growth in its service territory and increasing its rate base through capital investments.
The company is positioned to deliver an average annual total return of around 10% through the end of the decade.
The company has a strong balance sheet and a reasonable valuation.
Looking for a helping hand in the market? Members of Energy Profits in Dividends get exclusive ideas and guidance to navigate any climate. Learn More »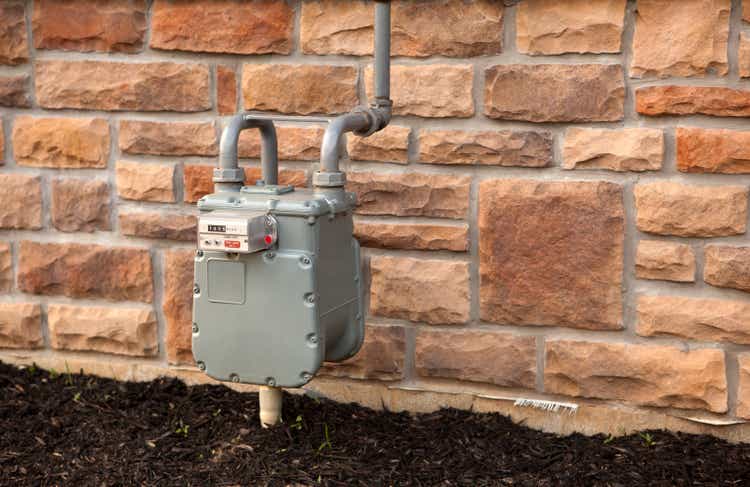 CenterPoint Energy, Inc. (NYSE:CNP) is a large regulated electric and natural gas utility that operates in six states throughout the central part of the United States. These six states include Texas, Indiana, Louisiana, Minnesota, Mississippi, and Ohio. As such, the company is one of the largest utility companies in the nation. However, as I pointed out in my previous article on this company, it is perhaps not its size that is the most important thing here, as CenterPoint Energy is also well-positioned to deliver a significant amount of growth over the next few years. This is one reason why the company is frequently included among the largest positions of many energy infrastructure funds. Unfortunately, the company was incredibly expensive relative to its peers when we last discussed it back in January. As has been the case with most utilities, CenterPoint Energy has declined somewhat in price since that time:
As we can see, the stock is down 1.92% year-to-date, which is not nearly as much as some of its peers. However, analysts have since increased their estimates of the company's earnings per share growth to levels that make much more sense given its capital investment program and rate base growth. As such, the company still looks somewhat expensive, but not ludicrously so and the company could be a reasonable investment for someone who does not mind its low 2.61% dividend yield.
About CenterPoint Energy
As stated in the introduction, CenterPoint Energy is a regulated electric and natural gas utility that serves customers in the states of Texas, Indiana, Louisiana, Minnesota, Mississippi, and Ohio. The majority of these states are only served by the company's natural gas operations, however. CenterPoint Energy only provides electricity to customers in Houston, Texas and southwestern Indiana. The remainder of its service territory consists solely of natural gas customers. In total, CenterPoint Energy has approximately 2.8 million electric and four million natural gas customers.
The fact that the company's business is weighted more heavily toward natural gas than electricity is something that may be concerning to some investors. After all, the media has been heavily pushing the electrification narrative, which would involve consumers switching away from the use of hydrocarbons and to electricity for their heating and cooking needs. This would obviously significantly reduce the business prospects for natural gas utilities. However, at the moment there does not appear to be any real risk of that happening. As I pointed out in a previous article, natural gas is far more efficient than electricity at producing heat. As such, it is much cheaper to heat a building with natural gas than to heat that same building with electricity. The United States Energy Information Administration even points this out: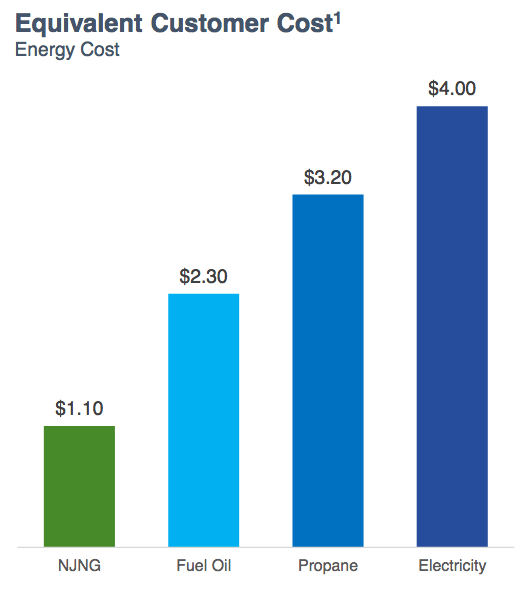 As we can see, the United States Energy Information Administration states that it is almost four times as expensive to heat a house with electricity as it is to heat that same house with natural gas. This would naturally have a major impact on the decision-making process of a typical person who is attempting to decide on the heating system that is used inside their home. This is perhaps one reason why an Escalent survey (referenced in the article that was just linked) determined that consumers are willing to pay an average of $50,000 more to purchase a house heated with natural gas than an all-electric house. As such, it seems highly unlikely that CenterPoint Energy's natural gas business is in any real danger of obsolescence today. While it is possible that technology will eventually overcome these problems, that seems unlikely to occur within the next twenty years.
Unfortunately, one of the problems with investing in natural gas utilities is that the cash flows tend to be seasonal. We can see this by looking at CenterPoint Energy's operating cash flow from quarter to quarter. Here are the company's numbers for the past year:
(all figures in millions of U.S. dollars.)
The company had an operating cash flow of $580.0 million in the first three months of 2022, which continues the trend that we see above. In short, CenterPoint Energy's cash flow is a lot stronger during the fourth and first quarters of any given year than it is during the summer months. I explained the reasons for this in my previous article on the company:
This is important for the company's cash flows because the primary use of natural gas is for the space heating of homes and businesses. This results in much higher consumption during the fourth and especially the first quarters of the year relative to the second and third. This obviously causes CenterPoint Energy to see its greatest cash flows during those quarters in which the consumption of natural gas is higher. It, therefore, would make sense to look at the company's cash flows over a twelve-month period in order to balance out the effects of this seasonality and better show its stability.
I included the company's trailing twelve-month cash flows for every quarter that the company had reported in that previous article. However, since that time CenterPoint Energy has announced three new quarters of results. As such, it would be wise to include an updated version of the company's operating cash flows. Here they are for each of the past eleven quarters:
The one thing that we note here is that CenterPoint Energy's twelve-month operating cash flows are generally much less volatile than its quarterly cash flows. That is because the twelve-month period naturally removes seasonality from the company's financial results. However, they are certainly not perfect as there were a few events that had an adverse impact on the company's financial performance. The first of these is that the winter of 2022 to 2023 was one of the warmest winters that the United States has experienced in the past forty years. As such, the company's customers used less natural gas than normal to heat their homes and businesses. This is the primary use of the company's product, so naturally reduced demand would have a major impact on its financial performance. Fortunately, the Farmer's Almanac is predicting that the coming winter will be much more normal, if not colder than normal, so we should see the company's cash flows quickly return to their normal levels during the coming quarters. The event that had a negative impact on the company's results in 2021 was Winter Storm Uri, which was a once-in-a-century event that froze natural gas pipelines as far south as Texas and temporarily caused natural gas prices to skyrocket. The company itself suffered a negative impact since it was not allowed by regulators to pass on the impact of this to its customers, but it still had to purchase natural gas at extraordinarily high rates to deliver to the customers. These impacts were so significant that the company was forced to make a special bond issuance. As the company explained on its webpage:
To recover the company's extraordinary natural gas costs incurred during Winter Storm Uri and provide Texas natural gas customers with rate relief, CenterPoint Energy has filed an application with the Railroad Commission of Texas to securitize the costs pursuant to H.B. 1520. H.B. 1520 allows natural gas utilities to request Commission's approval for the Texas Public Finance Authority to issue Customer Rate Relief bonds to recover natural gas costs from Winter Storm Uri. The use of securitization financing is expected to provide the most cost effective and affordable method of recovering these costs and would benefit the company's more than 1.8 million residential and commercial customers in Texas. If securitization financing is approved, natural gas customer bills would begin to reflect the recovery of Winter Storm Uri costs upon issuance of CRR bonds, which is expected in 2022.
As Winter Storm Uri was a once-in-a-century event, we can expect that the company will not suffer such adverse consequences from such an event on its operating cash flows again in the near future. Overall, the takeaway here is that CenterPoint Energy should enjoy reasonably stable cash flows regardless of what could be coming in the future.
I explained why this could be important in a recent article on Spire (SR), one of CenterPoint Energy's peers:
[We are seeing numerous signs that] consumers are getting weaker. For example, a growing number of people are having difficulty paying off their credit cards in full and, indeed, for the first time ever more people are carrying a balance than paying off their credit cards every month. The Bureau of Labor Statistics recently stated that the number of job openings fell to under nine million for the first time since March 2021.

For quite some time now, I and numerous other analysts have been stating that nearly every economic indicator except for jobs and consumer spending has been pointing to a recession for months. Now, we see that even the jobs market is showing signs of breaking. It seems almost certain that consumers will, at some point, be forced to cut back on discretionary spending and pay down their revolving debt.
CenterPoint Energy should be much more insulated from such an event than many other companies. One major reason for this is that most people will not want to have their natural gas or electricity cut off in their homes, especially considering that winter is rapidly approaching. As such, they will almost certainly direct their income to pay the bills that CenterPoint Energy sends them before they purchase something "fun." In fact, if the winter is severe enough, we might have people who simply opt to stay home all day rather than go out. This will allow CenterPoint Energy to maintain its financial performance going forward, although it may come at the expense of companies in the consumer discretionary sector.
Growth Prospects
Naturally, as investors, we are unlikely to be satisfied with mere stability. After all, we like to see any company in which we are invested grow and prosper with the passage of time. CenterPoint Energy is well-positioned to do that. There are two methods through which the company will be able to accomplish this growth:
Population growth in its service territory

Increasing its rate base.
As I pointed out in a recent article, the state of Texas is experiencing a significant amount of industrial growth. The area around Houston, Texas, and the rest of the Gulf Coast is benefiting from the emerging liquefied natural gas export industry and the partial recovery of the Permian Basin shale drilling companies from the depths of the pandemic. We have also been seeing companies such as Tesla (TSLA) opting to relocate their operations to Texas from elsewhere in the nation. This is attracting new people to the area, which has made Texas one of the fastest-growing states in the nation. Unfortunately, that has not been a great benefit to CenterPoint Energy, which only serves the Greater Houston area. Houston's population declined by 0.51% over the past year and nearby Pasadena, Texas saw a population decline of 1.8% over the same period. With that said, some of the areas around Houston County, Texas are growing such as Mont Belvieu, Texas. This is beneficial to CenterPoint Energy because almost half of its natural gas customers and the majority of its electric customers are located in the Greater Houston area.
However, the truth is that demographic growth rarely produces the kind of earnings growth that investors want to see. Texas has the third-highest population growth rate in the country, but it is only 1.80%. No investor is going to be satisfied with only a 1.80% annual earnings growth rate. As such, the company needs to do better in order to attract investor dollars. Fortunately, it is very well positioned to do that by increasing its rate base as stated above.
I explained the concept of rate base in my previous article on CenterPoint Energy:
The rate base is the value of the company's assets upon which regulators allow it to earn a specified rate of return. As this rate of return is a percentage, any increase to the rate base allows the company to increase the price that it charges its customers in order to earn that specified rate of return. The usual way by which a company will increase its rate base is by investing money into upgrading, modernizing, or even expanding its utility-grade infrastructure.
CenterPoint Energy recently announced a plan to invest $43.4 billion through the end of 2030 into its rate base. This is a bit longer than most of the company's peers have guided to, but that is very nice to see. After all, one of the most important things for us as investors is making accurate predictions about where a company will be at some point in the future. The more information that we have about the company's capital investment plans, the easier it is to make such predictions. The overwhelming majority of the company's peers have only provided capital plans for the 2021 to 2027 period, but a few others like fellow Texas utility Entergy (ETR) have only provided guidance through 2025. The fact that CenterPoint Energy is providing a longer period of guidance is something that we should very much be able to appreciate.
This plan to spend $43.4 billion actually represents an increase over the previous plan that the company provided back in 2022, which is the one that we discussed the last time that we talked about CenterPoint Energy. At that time, the company had only planned to spend $43.0 billion, so this is a $400 million increase to its planned spending. While we do not know exactly why the company increased the size of its plan, there are a few possibilities. For example, inflation is pushing up the cost of steel, most other metals, labor, and numerous other things that the company needs to purchase in order to construct or upgrade electric and natural gas distribution equipment. In addition, it is possible that the population or economic growth of certain parts of its service territory has resulted in the company's expectations of its future load draw going up. Regardless, the company will now end up spending $400 million more than it previously was planning to and this added expense will need to be financed through the issuance of either debt or equity.
This capital investment program is expected to grow CenterPoint Energy's earnings per share at a 6% to 8% rate, although the company itself expects that it should be able to achieve a growth rate that is north of 7% through 2030. When we combine this with the company's current 2.61% dividend yield, we get an average annual total return of 8.5% to 10.5% over the period. This is relatively in line with the total return that most of the company's peers should be able to deliver, so there is nothing especially impressive here. However, as mentioned, the company is expecting that it should be able to achieve a 7% or higher earnings per share growth rate, which pushes the average annual total return pretty close to the 10% or higher level. That is very reasonable for a utility company.
Financial Considerations
It is important that we investigate the ways in which a company is financing its operations before investing in it. This is something that is especially important today because the high interest rate environment has already started to pressure the financial performance of some of the company's peers (see here) and there is a possibility that interest rates will rise further given the recent increases in the consumer price index.
One method that we can use to evaluate the financial structure of a company is the net debt-to-equity ratio. On June 30, 2023, CenterPoint Energy had a net debt of $16.2370 billion compared to a shareholders' equity of $10.3660 billion. This gives the company a net debt-to-equity ratio of 1.57 today. This is, unfortunately, substantially higher than the 1.50 ratio that the company had the last time that we discussed it, which is concerning. This could be a sign that the company depended too much on debt to finance its capital investments and other operations during the first half of the year. However, the fact that the company's operating cash flow was a bit below normal during this past winter could also play a role here.
Here is how the company's net debt-to-equity ratio compares to its peers:
| | |
| --- | --- |
| Company | Net Debt-to-Equity |
| CenterPoint Energy | 1.57 |
| CMS Energy (CMS) | 1.91 |
| Entergy Corporation | 1.92 |
| The AES Corporation (AES) | 4.05 |
| Ameren Corporation (AEE) | 1.48 |
As we can clearly see, CenterPoint Energy continues to compare quite well with its peers, which could be a sign that the company is not employing an excessive amount of debt to finance its operations. However, with the exception of Ameren, all of the above-listed peers are among the most heavily leveraged utilities in the industry. If we were to include some of the more conservatively financed utilities though, CenterPoint Energy would still not do too poorly. The most concerning thing here is that the company's leverage ratio increased over the past several months, not so much that it is using an excessive amount of debt to finance itself. This is something that we should keep an eye on going forward if only to ensure that the company does not increase its leverage further.
Dividend Analysis
One of the primary reasons why investors purchase shares of utility companies is that they frequently have significantly higher yields than many other things in the market. Unfortunately, CenterPoint Energy's yield is not particularly impressive for the sector although it does not do too badly overall. As of the time of writing, the company boasts a 2.61% yield, which is substantially higher than the 1.47% yield of the S&P 500 Index (SPY). Unfortunately, it is not especially high compared to the U.S. Utility Index (IDU), which boasts an identical 2.61% yield. The company's current yield is well below that of both money market funds and U.S. Treasuries, which may reduce its appeal among certain investors. After all, those people who are primarily interested in safe income will gravitate towards those investments as opposed to utility stocks in the current environment.
One nice thing about CenterPoint Energy is that it has historically tried to grow its dividend on an annual basis, but it has certainly not managed to achieve a perfect track record:
The big disappointment here is the dividend cut in 2020, which CenterPoint Energy claimed was to redirect money toward improving its liquidity and financial strength. This is the same argument that the midstream energy companies that chose to cut around that same time used, but it makes much less sense for a utility to make this excuse and indeed most utilities did not cut their dividends. The fact that the company has been increasing its dividends since then is commendable though, since it will both help to offset the adverse effects of inflation and ultimately give an investor who purchases the stock today a much higher yield on cost after only a few years.
As is always the case though, we want to ensure that the company can actually afford the dividend that it pays out. After all, we do not want to be the victims of another dividend cut that reduces our incomes and almost certainly causes the company's stock price to decline.
The usual way that we evaluate a company's ability to pay its dividends is by looking at its free cash flow. During the twelve-month period that ended on June 30, 2023, CenterPoint Energy reported a negative levered free cash flow of $1.9300 billion. This is obviously insufficient to pay any dividends, yet CenterPoint Energy still paid out $515.0 million to its investors over the period. At first glance, this is quite likely to be concerning, as the company is not generating sufficient cash internally to cover both its capital expenditures and its dividend payments.
However, it is quite common for utilities like CenterPoint Energy to finance their capital expenditures through the issuance of both equity and debt. The company will then pay its dividends out of operating cash flow. This is done because of the extremely high costs involved in constructing and maintaining a utility-grade infrastructure network over a wide geographic area. During the twelve-month period that ended on June 30, 2023, CenterPoint Energy reported an operating cash flow of $3.3140 billion. That was more than sufficient to cover the $515.0 million that the company paid out in dividends and still leave it with a lot of money left over that could be used for other purposes. Overall, the company should have no trouble sustaining its dividends going forward, especially if this coming winter proves to be much more normal in terms of temperature.
Valuation
According to Zacks Investment Research, CenterPoint Energy will grow its earnings per share at a 7.51% rate over the next three to five years. This estimate is very much in line with the figure that we used earlier to calculate total return based on rate base growth, so it should be pretty accurate. This gives the company a price-to-earnings growth ratio of 2.60 at the current price. Here is how that compares to the company's peer group:
| | |
| --- | --- |
| Company | PEG Ratio |
| CenterPoint Energy | 2.60 |
| CMS Energy | 2.36 |
| Entergy Corporation | 2.56 |
| The AES Corporation | 1.16 |
| Ameren Corporation | 2.88 |
Admittedly, CenterPoint Energy looks a bit more expensive than most of its peers, but not dramatically so. This could be because, as we saw earlier, CenterPoint Energy has a stronger balance sheet than any of these companies except for Ameren Corporation. Not coincidentally, Ameren Corporation is also the company that appears to be more expensive than CenterPoint based on its forward earnings per share growth. This allows us to conclude that there could be a risk-reward tradeoff here as the market evaluates the risks of each company's debt load in a high-rate environment. Overall, CenterPoint Energy could be a very reasonable choice here considering that its valuation is not that much higher than some of its peers, but its balance sheet is stronger. It could be worth picking up shares of the company right now, especially since its valuation looks much more attractive than the last time that we discussed this company.
Conclusion
In conclusion, CenterPoint Energy could have some investment potential today for anyone who is seeking a degree of growth and safety in the currently uncertain environment. As discussed, consumers continue to suffer a great deal of financial stress right now but even in a worst-case scenario, they will not stop paying their utility bills. CenterPoint Energy should thus be pretty resistant to any economic problems that could arise in the near future. The company also has a reasonably strong balance sheet relative to its peers, which insulates it a bit from the pressures of rising interest rates. When combined with an acceptable valuation, it might be worth buying today.
At Energy Profits in Dividends, we seek to generate a 7%+ income yield by investing in a portfolio of energy stocks while minimizing our risk of principal loss. By subscribing, you will get access to our best ideas earlier than they are released to the general public (and many of them are not released at all) as well as far more in-depth research than we make available to everybody. In addition, all subscribers can read any of my work without a subscription to Seeking Alpha Premium!

We are currently offering a two-week free trial for the service, so check us out!
This article was written by
Power Hedge has been covering both traditional and renewable energy since 2010. He targets primarily international companies of all sizes that hold a competitive advantage and pay dividends with strong yields.
He is the leader of the investing group
Energy Profits in Dividends
where he focuses on generating income through energy stocks and CEFs while managing risk through options. He also provides micro and macro-analysis of both domestic and international energy companie.
Learn more
.
Analyst's Disclosure: I/we have no stock, option or similar derivative position in any of the companies mentioned, and no plans to initiate any such positions within the next 72 hours. I wrote this article myself, and it expresses my own opinions. I am not receiving compensation for it (other than from Seeking Alpha). I have no business relationship with any company whose stock is mentioned in this article.
Seeking Alpha's Disclosure: Past performance is no guarantee of future results. No recommendation or advice is being given as to whether any investment is suitable for a particular investor. Any views or opinions expressed above may not reflect those of Seeking Alpha as a whole. Seeking Alpha is not a licensed securities dealer, broker or US investment adviser or investment bank. Our analysts are third party authors that include both professional investors and individual investors who may not be licensed or certified by any institute or regulatory body.