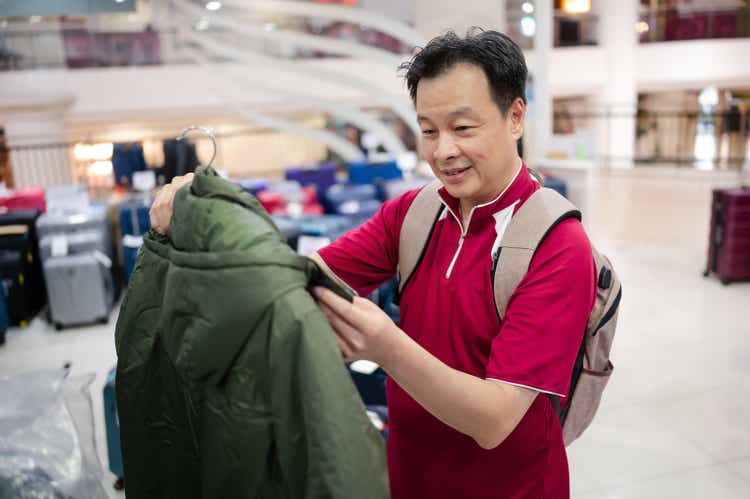 Overview
My recommendation for Nordstrom (NYSE:JWN) is a buy rating, as I believe sales trends are going to improve from here and that margins will see a similar positive trend supported by improving gross margin and cost management. The variance here vs. the market is that I expect JWN to grow as guided, unlike the consensus view.
Business
JWN operates luxury department stores that focus on fashion apparel, shoes, and accessories for men, women, and children. The business has an omnichannel experience across multiple retail channels, including discount stores, boutiques, catalogs, and on the digital front. Retail is the main business, representing 97% of revenue and 100% of operating income in FY22. JWN has a minor business in credit cards, which is loss-making as of 2Q24. The three big peers that JWN competes with are Dillard's (DDS), Kohl's (KSS), and Macy's (M). The business has continuously grown through the years until it faced the COVID situation, which led to a major decline in revenue from $15.5 billion to $10.7 billion over 2 years. As of 2Q24, the business is now back to its pre-covid revenue level of ~$15 billion.
Recent results & updates
In 2Q23, JWN reported a decrease in net sales by 8.2% to $3.66 billion. This decline was primarily due to the negative impact stemming from the phased closure of the company's Canadian operations and the adverse effects resulting from a timing shift related to the Anniversary Sale. In terms of profitability, there was a 20bps drop in gross margin, which settled at 35%. Operating expenses as a percentage of revenue stood at 32.8%, resulting in a 20bps improvement in EBIT margin, reaching 5.3%. At the EPS level, JWN reported $0.84, significantly surpassing the consensus estimate of $0.44. This outstanding performance was primarily attributed to better-than-expected margins, driven by effective cost management.
A significant factor behind the stock's poor performance following the earnings report, in my opinion, was due to management's comments regarding the sales trend in August. While management did highlight the improvement in sales trends throughout each month in the second quarter of 2023, they also pointed out that this trend had slowed down in the early part of the third quarter (specifically mentioned on August 24th), as consumers continued to exercise caution. This negative comment seems to have overshadowed the positive aspects, such as the strength in conversion rates and the amount spent per customer, even though overall customer traffic was weaker across all banners.
Breaking it down by banner, Nordstrom saw a 10.1% year-over-year decline in sales, and the Rack business experienced a 4.0% drop. However, in the full-line business, the company observed robust inventory turnover and increased customer engagement during this year's Anniversary sale event. In the case of the Rack business, management also noted a consistent upward trend throughout the year, with July being the standout month in the second quarter of 2023.
After a slow August, it looks like things are picking back up. Management highlighted recent choppy trends, but better September trends compared to August in their presentation at the Goldman Sachs Global Retailing Conference. Since the Anniversary Sale was a good precursor to holiday sales, I have high hopes that the upward trend will continue. According to management, this typically bodes well for a healthy holiday result.
"Yes, I'm happy to maybe start there. So first you noted, we're very, very pleased with the first 2 quarters, sequential improvement, delivering above our commitments. But given the -- just the dynamic of the back half of the year, while we saw a great success in the anniversary, which tends portend a good holiday." from: Goldman Sachs Global Retailing Conference.
Additionally, management was upbeat about the Rack banner's execution improvements (recalling that the Rack segment experienced a 500 bps headwind due to the elimination of full-line digital order fulfillment in stores). Despite the banner's strength in well-known brands in the areas of athletic footwear, beauty, and handbags, overall performance remains fairly mixed across categories. While this is still something to keep an eye on, it's encouraging to see management doubling down on strategic brand investments and remaining bullish on the company's ability to increase its unit count. I note that Rack stores are an important source of new customer acquisition for JWN and that management not taking their feet away from the accelerator here was a good decision (i.e., they continued to invest rather than shifting resources away). To elaborate, Rack is JWN's online storefront; from my perspective, it serves as a portal through which the company can connect with today's tech-savvy youth. For JWN, this is not just a way to generate leads for future sales; it's also a way to acquire "members" to whom the company can send push notifications or marketing deals at a fraction of the cost of, say, broadcasting those same offers on billboards and other paid media.
As JWN works through the surplus of inventory from last year, I anticipate a rise in gross margins. In 2Q23, JWN had $2.4 billion in stock, while 2Q24 saw a decrease to $1.9 billion. This should alleviate some pressure to lower prices in order to move existing stock. Which also means that the gross margin should improve. According to management's comments at the Goldman Sachs Conference, 4Q24 will see a more significant uptick in performance than 3Q24 did. Improving gross margin, combined with a management focus on increasing supply chain productivity, should help JWN achieve its long-term EBIT margin target of 6%. In particular, EBIT margin is expected to grow rapidly in the near future as it outpaces the challenging comparisons from the previous year.
Valuation and risk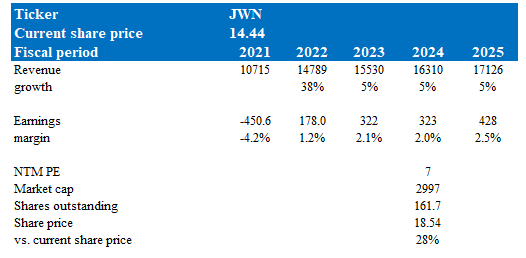 According to my model, JWN is valued at $18.54 based on my FY25 estimates. This target price is based on my growth forecast of mid-single digits over the next 2 years: FY24 using management's guidance and FY25 based on my expectation that growth can continue at this rate. The Goldman Sachs conference was a key driver of my confidence, and I encouraged readers to listen to the webcast for more information. On the margin front, I believe it should be able to achieve its historical net margin of 4 to 5% as it gradually recovers: cycling through elevated inventories, improving supply chain productivity, and optimizing its cost base.
JWN generally trades in line with its peers. It currently trades 7x forward earnings, which is in line with the rest (except Macy's, which is in the phase of closing stores and restructuring). I expect JWN to continue trading in line with the industry, as all of them are facing the same weakness: a weak consumer spending environment.
I think the risk here is that I may have underestimated how much consumers are being hurt by the inflationary environment. Growth might not be 5% as management guided, which is what consensus is expecting (~$14.4 billion in sales vs. $16.3 billion). If JWN underperforms, it would confirm the consensus bearish narrative, and the stock might see further pressure from here.
Summary
In summary, I recommend a buy rating for JWN with the expectation of improving sales trends and favorable margin trends. Although concerns arose from management's comments on August sales trends, recent commentary suggests an upward trajectory, particularly in the Rack segment. JWN is also actively managing inventory and supply chain efficiency to improve margins and reach its long-term EBIT margin target of 6%.