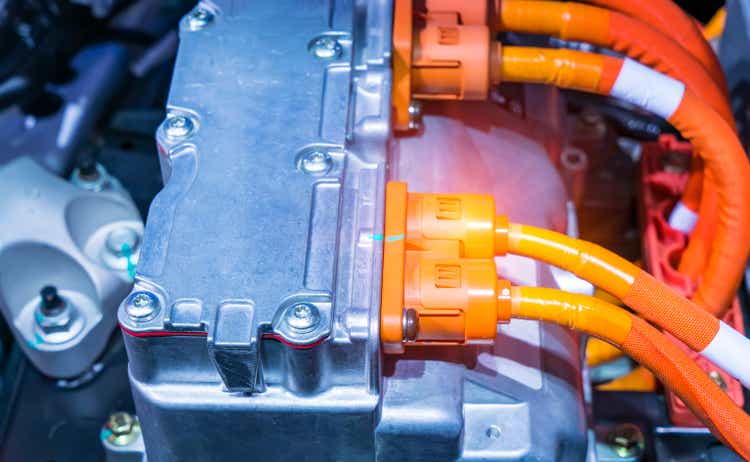 Owning shares in French auto parts supplier Valeo (OTCPK:VLEEY)(OTCPK:VLEEF)(FR.PA) continues to be an exercise in frustration, as the Street continues to focus on short-term challenges in the business at the expense of any sort of holistic or long-term view of the company. While it's true that the company's efforts to build up its electric powertrain and advanced driver assistance system (or ADAS) offerings cost money and depress margins in the short term, and it's also true that the near-term outlook for auto production isn't great amid a weaker global economy, it's also true that the company is outperforming many of its peers and winning significant orders that will fuel growth in 2025 and beyond.
Valeo shares are up slightly since my last update (the ADRs are down slightly on currency moves), underperforming comparables like BorgWarner (BWA) and Visteon (VC) and significantly underperforming Vitesco (OTCPK:VTSCY). I believe this underperformance is unwarranted and Valeo continues to look undervalued, but it is clear that the Street is unlikely to reward the company's progress until margins are meaningfully better than recent levels.
Healthy Growth On The Back Of Electrification And ADAS
Despite some challenges from mix and expiring contracts, Valeo has logged some good quarters lately in terms of outperforming underlying vehicle production. The second quarter saw 3% outperformance relative to underlying vehicle production (10% on an adjusted basis) after 7% outperformance in the first quarter and 15% outperformance in Q4'22, after slight underperformance in Q3 of 2022.
Revenue for the company's original equipment business rose 26% on an adjusted like-for-like basis, with stronger outperformance in both the EU (3% reported, 17% adjusted) and China (7% reported, 6% adjusted) as North American results were impacted by mix and the expiration of a large contract with a Japanese automaker.
Both electrification and advanced driving assistance systems are fueling this growth. The Comfort segment reported 24% adjusted growth in the second quarter, with the ADAS business up 26% (versus 10% growth in the interiors business), and outperforming adjusted global production by 15%. Valeo has logged some significant wins with automakers like BMW (OTCPK:BMWYY) and Stellantis (STLA) that will start delivering in 2024 and 2025, and the company has been seeing strong demand for both its camera and software solutions (including its software-defined vehicle concept).
Powertrain was the star in the last quarter, growing 42% and outperforming underlying production by 26% on an adjusted basis. High-voltage EV product sales rose 108% on a like-for-like basis, with the business doing well since Valeo bought out its partner Siemens (OTCPK:SIEGY) in 2022.
Neither of the other two businesses, Thermal and Visibility, performed badly, with the former seeing 21% growth in adjusted original equipment revenue and the latter seeing 18% growth, and with both growing in excess of underlying production.
Margins Still Weak, As Investments And Launch Costs Pressure Profitability
The bear thesis on Valeo is basically that the company is at risk of locking itself into "profitless prosperity" – spending significant sums to develop its offerings in areas like high-voltage electrification (48V systems) and L3/L4 ADAS to log order wins, but at prices that will never allow for significant long-term margin leverage.
How profitable EV components will be for suppliers like BorgWarner, Valeo, and Vitesco has been a point of contention for years between bulls and bears and we're not really any closer to an answer. The CEOs of these companies have forcefully refuted the idea that they're booking low-margin business and that future EV components will be intrinsically less profitable than traditional vehicle components. Likewise, vehicle software content continues to increase, and I believe this is an underappreciated potential margin driver for Valeo down the line.
In the meantime, I cannot and will not argue that Valeo has strong margins. The company has already seen better margins in the high-voltage business over the past year (smaller losses), but the fact remains that this is still an investment phase for these major suppliers. Likewise, new products/projects rarely start off with robust margins – there are costs and inefficiencies tied to new platform launches, and OEMs often push hard for discounts on the front-end of these launches.
Gross margin ticked up slightly in the first half of this year (Valeo reports sales every quarter, but only publishes semi-annual profit numbers), with the company still seeing pressure from higher wages and input costs, but offsetting that with efficiency efforts. EBITDA likewise improved, with margin rising by about a point to 11.6%, and operating margin improved by two points to 3.2%, but a low double-digit EBITDA margin is historically not really something to celebrate in this sector (likewise a low single-digit operating margin).
I do still believe that margins will start to inflect upwards as major EV and ADAS projects launch in 2024-2026. Orders were up about 18% in the first half of the year, including 72% growth in powertrain electrification orders, and management said that they're seeing higher profits in the orders they're booking. What's more, more than half of this order growth has come from its ADAS offerings, and this has historically been the most profitable part of the business.
Management is looking to get to 14%-plus EBITDA margin in 2025, and while the Street seems to be skeptical that they'll hit that target, I'd note that there should be even more improvement in the 2026-2030 period as the volume of vehicles with electrified powertrains and/or L3/L4 ADAS systems continues to grow, allowing the company to see better scale, and as R&D spending eases.
The Outlook
Valeo's performance through the first half of 2023 has been fine; the growth Valeo reported wasn't bad next to the 20% revenue growth from BorgWarner in Q2'23 (including 31% growth in ePropulsion and 25% growth in the drivetrain and battery business), nor the 14% growth at Vitesco (including "core" and electrification growth of 24%). Profitability is certainly not impressive next to BorgWarner's 10% operating margin, but then Vitesco's 3.1% adjusted operating margin wasn't any better than Valeo's.
I do see some risk in the second half of 2023. Pretty much all of the world's major economies are seeing weakness now (at least in terms of metrics like PMI), and consumer confidence could certainly lead to weaker sales. The UAW strike in the U.S. is also a risk, though I'd note that Valeo generates less than 20% of its sales in the U.S. I do also see some risk that OEMs may look to push out new vehicle launches in light of a weaker consumer spending environment and higher costs (like batteries).
Longer term, though, I continue to like Valeo's leverage to powertrain electrification and more advanced driver technology packages. I'm looking for long-term revenue growth around 5%, and I expect BorgWarner and Valeo to be among the leaders in outsourced EV powertrain components (my longstanding believe has been that insourcing won't work as well as auto OEMs believe).
How much, and how soon, margins improve remains a key debate. My EBITDA estimate for 2023 is 5% lower than before, and this is a company that can ill-afford negative revisions (I'd note that the company has been executing relatively well next to its own guidance/targets). From around 12% EBITDA margin in 2023 the company is looking to expand to 14.5% in 2025, and I think there's further upside into the high teens through 2030 as R&D projects convert to real revenue. Long term, I expect FCF margins in the 3% range, and that's enough to support high single-digit to double-digit FCF growth. I do believe, though, that FCF margins are likely to be below the long-term trailing average (2% to 2.5%) through at least 2027.
Discounting the cash flows back, I believe Valeo is meaningfully undervalued, but it's also clear that the Street isn't willing to look that far out. Looking instead at what the market has historically paid for EBITDA margin in this sector, the valuation still seems too low – generally speaking, a company with an EBITDA margin around 12% could expect a forward revenue multiple of 0.55x to 0.65x. Even allowing for a discount for Valeo being European (European suppliers have historically traded at a discount to North American suppliers), a 0.5x multiple to my 2023 revenue estimate suggests more than 50% undervaluation.
The Bottom Line
Time will tell if my bullishness on Valeo proves to be patience or folly. I do believe that Valeo is executing to plan (if not better than, at least in terms of order growth), but I also believe that the Street wants to see the money (better margins), or at least a clear path to it, before a meaningful rerating. I continue to believe that patience will prove to be the right call, and that the shares are meaningfully undervalued, but this is definitely a contrarian call at this point.
Editor's Note: This article discusses one or more securities that do not trade on a major U.S. exchange. Please be aware of the risks associated with these stocks.