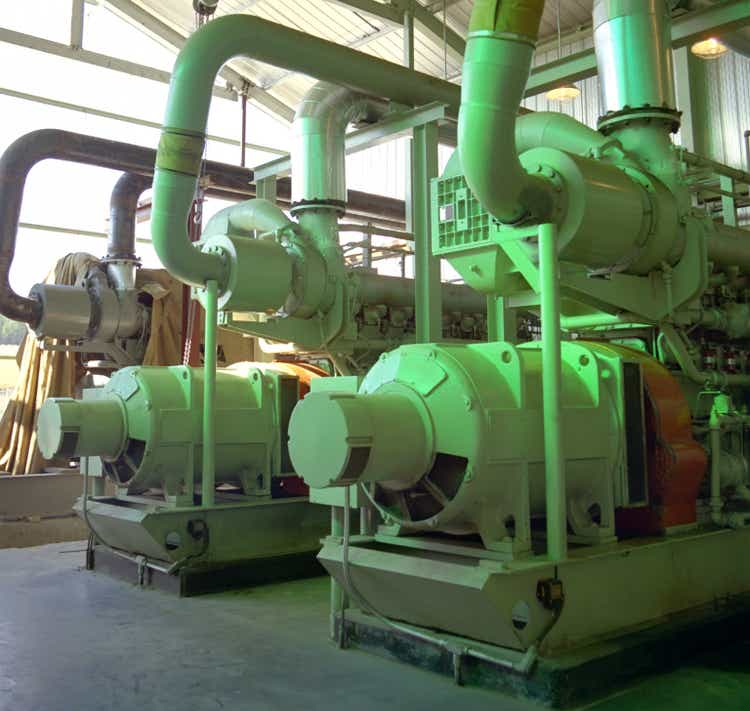 It's not uncommon to see the shares of cyclical companies, particularly well-run cyclical companies that have made investors a lot of money over the years, be slow to respond to deteriorating underlying end-market conditions. That sets up a situation reminiscent of old Wile E Coyote cartoons where as long as nobody looks down things are fine, but once somebody does look down trouble ensues.
Atlas Copco (OTCPK:ATLKY) shares have continued to outperform since my last update (the local shares have done even better), beating the larger industrial sector by about 5%, though lagging Ingersoll Rand (IR) and, surprisingly (to me, at least), VAT Group (OTCPK:VACNY). At the same time, the macro environment has gotten more challenging, with China's economy noticeably weak and many industrials starting to report weaker orders and evidence of inventory destocking among customers.
Atlas Copco is almost never conventionally cheap, so if you're waiting for that, you're going to be waiting a long time (and likely will need a very weak stock market). Even so, and even though I consider Atlas Copco a supremely well-run company, I do have concerns that we could still be in for some negative revisions for many industrial companies before 2023 is over, Atlas Copco included. This is a name I'd love to revisit at a lower price, and I'd be hesitant to suggest long-term shareholders need to sell, but it's hard to argue for paying a premium at this point in the cycle.
Can Process And Growth Markets Offset Short-Cycle Weakness?
Maybe the biggest question around Atlas Copco right now is where the Compressor Technique business goes over the next year to 18 months. This one segment generates close to half of the company's operating profits, and while it is a diverse business, it has historically been sensitive to trends in short-cycle industrial markets.
Those trends are not our friends today. Global PMI has been below 50 (indicating contraction) for 12 months now, though the last reading (49.6 in August) was a modest improvement from July's 48.6, the first sequential improvement in four months. At the same time, credit is tightening around the globe, China's economy seems to be getting weaker, and more and more companies are talking about seeing evidence of inventory destocking.
I'm not suggesting a crisis or anything, but many quality industrial companies, including Atlas, Siemens' (OTCPK:SIEGY) Digital Industries, and Sandvik (SDVKY) saw their book-to-bills go below 1.0 in the second quarter, and more will likely follow in the third quarter. Likewise, while organic revenue growth across the industrial sector was quite good in the second quarter (around 6%), average volumes contracted slightly and I'm not sure there's much pricing power left.
The bear case, then, is that Atlas is going to see more pronounced weakness in its Compressor Technique business as global manufacturing slows further. Orders were up 4% in the second quarter (versus low double-digit growth at Ingersoll Rand, helped by that company's greater U.S. exposure), but small/mid-sized compressor orders were flat, as were industrial orders overall. On top of all that, organic orders peaked at a level about a third higher than pre-pandemic levels.
Still, it may be premature to assume that the business will just fall off a cliff. Longer-cycle process industries have held up well, including oil/gas, refining, and chemicals. Looking into 2024, I don't see much evidence of weakness in oil/gas and I see growth opportunities in areas like refining and especially in LNG. Moreover, there are new growth opportunities like clean energy and battery manufacturing – U.S. battery manufacturing capacity is likely to grow at a pretty extreme rate between 2022 and 2025 (I've seen estimates of a 14-fold increase in capacity) – as well as ongoing reshoring of manufacturing. I'd also note some potential uplift from infrastructure construction projects, though this could be offset by some weaker trends in commercial construction (offices, et al).
The Semi Capex Cycle Is Another Big Unknown
While there's no debate now that the semiconductor equipment sector is in a correction cycle, the depth and magnitude is very much up for debate, and that creates uncertainty for the Vacuum Technique business at Atlas. With semiconductor (and flat panel) markets making up about 70% of this business, decreases in lead-times, reports of more inventory work-downs, and equipment deferrals from major fabs is hardly good news.
So far Atlas has held up better than some of its comps. Orders declined 27% in the first quarter, better than the 46%-54% declines at ASML (ASML) and VAT Group, and likewise in the second quarter – Atlas's 28% decline was better than the 47%-56% declines at ASML and VAT Group. Idiosyncratic customer exposure could, perhaps, explain some of this and there are other factors supporting the business (like increasing vacuum intensity at newer nodes), but I do still see some risk that Vacuum could have further negative revisions in the near term. For what it's worth, Shin-Etsu Chemical (OTCPK:SHECY) (a manufacturer of wafers) has suggested that the corrective cycle could be over around January of 2024, but that still leaves some uncertainty in the near-term outlook for Atlas.
The Outlook
In case I haven't been clear enough on this point, I want to emphasize that my concerns about Atlas Copco are short term in nature and have more to do with expectations and valuation than anything fundamental to the business. Looking at the midterm and beyond, I continue to believe this is a very strong company in the industrial space.
As mentioned above, Atlas has growth opportunities in emerging markets like battery and EV production, LNG, and renewable energy, and likewise longer-range opportunities tied to the ongoing growth of semiconductor volumes. Atlas also has underappreciated opportunities in factory automation (especially automated assembly and machine vision) and some leverage to infrastructure construction.
I still expect mid-single-digit annualized revenue growth from Atlas Copco (something in the 5%-6% range), and ongoing small-scale M&A is still core to the business. To that end, the company has the resources to enter more industrial growth verticals (perhaps more in automation and controls?) if it so chooses, but I expect management to be cautious here as I'm not sure there are a lot of businesses that would offer a clear path to higher incremental returns versus the current portfolio.
On the margin side, I still expect ongoing incremental improvement sufficient to push free cash flow margins from the high teens to around 20%, helping drive double-digit FCF growth.
There's a lot to like here for valuation, including above-average organic growth prospects, strong margins and ROIC, and above-average FCF growth. The valuation anticipates a lot of that, though, and I can't say the shares look particularly undervalued on discounted cash flow. I could argue for an EBITDA multiple as high as the high teens (around 18x, for instance) on the basis of what the market has paid for "compounders" in the past, but even then that only gets me to around 10% undervaluation.
The Bottom Line
If you're waiting for Atlas shares to get to an indisputably cheap valuation, you're likely in for a long wait, as companies of this caliber don't often trade at bargain prices. That said, I'd be careful about rushing to pay up today, as I do still think there are more risks in the company's end-markets than seem to be reflected in the valuation. Definitely a name to consider on a pullback, this is more of a "favored hold" today.
Editor's Note: This article discusses one or more securities that do not trade on a major U.S. exchange. Please be aware of the risks associated with these stocks.