Time For An Upgrade For Martin Marietta Materials
Summary
Martin Marietta Materials has shown strong financial performance, with revenue, profits, and cash flows all increasing.
MLM's increase in sales was driven by favorable pricing, despite a decrease in the amount of tons shipped.
Management expects continued growth and plans to acquire production in new markets, while also returning capital to shareholders.
Shares aren't cheap, but the strong growth of the business and its plans for the future make this a decent prospect to consider.
Looking for a helping hand in the market? Members of Crude Value Insights get exclusive ideas and guidance to navigate any climate. Learn More »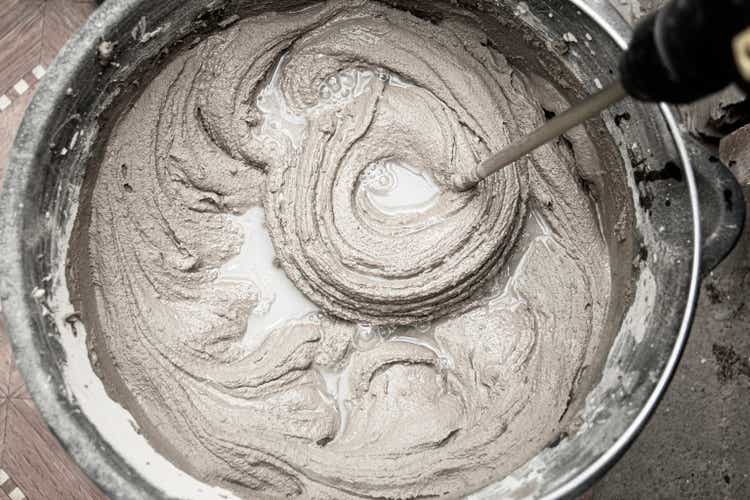 I don't know about you, but when I look at a road or a building or a bridge or some other structure, it is sometimes easy to forget all that goes into the construction that comprises the world we know today. But when you really sit back and think about it, it's remarkable how we take baser materials and transform them into the infrastructure that defines much of our lives. One of the companies responsible for providing these materials is Martin Marietta Materials (NYSE:MLM). It provides customers with aggregates such as crushed stone, sand, and gravel. It also provides cement and other products related to it. Over the past year or so, financial performance achieved by the company has been quite remarkable. Revenue, profits, and cash flows, have all risen nicely. Having said that, shares of the company are not exactly the cheapest. On an absolute basis and relative to similar firms, the stock looks a bit pricey. But for those who are focused on long term potential, I think a case could be made that the company might make for a good prospect at this time.
Great performance
Truth be told, I have not always been bullish on Martin Marietta Materials. The last time I wrote about it, in an article published in February of 2022, I rated it a 'hold' to reflect my view at the time that shares should achieve upside or downside that would more or less match the broader market for the foreseeable future. In that article, I talked about how financial performance had been weakening up to that point. That did not stop me from concluding that the long-term picture for the company was positive. But because of how shares were priced, I could not bring myself to rate it any higher than the 'hold' I ultimately assigned it. Since then, shares have handily outperformed the market, generating a return for investors of 8.1%. That is significantly higher than the 0.1% decrease seen by the S&P 500.
You would think that, because of the increase in share price, that I would be even less enthusiastic about the enterprise today. But the fact of the matter is that management is doing a really solid job. To see what I mean, it would be helpful if we touch on financial performance covering the current fiscal year. Revenue for the first half of 2023 came in at $3.18 billion. That represents an increase of 10.5% over the $2.87 billion management reported one year earlier. Almost every one of the company's revenue categories came in stronger year over year. Most impressive to me was the aggregates business under what management calls the East Group. Revenue for this category jumped 15.7% from $1.09 billion to $1.26 billion. There were other areas of improvement as well. For instance, aggregates under the West Group portion of the company jumped from $762.8 million to $845.2 million, while cement under that same portion of the business shot up from $300.8 million to $366.2 million.
Interestingly, this increase in sales came even at a time when the amount of tons shipped by the company decreased. For instance, the company went from selling 99.9 million tons of aggregates in the first half of 2022 to 96.3 million the same time this year. Cement, ready mixed concrete, and asphalt, all reported year over year declines as well. What more than offset this, however, was favorable pricing. The price of aggregates per ton shot up 20.3 per cent from $16.27 to $19.57. Cement pricing shot up 26.5% from $134.79 per ton to $170.55 per ton. Even the ready mixed concrete part of the company, a part that reported a significant decline in volume, reported a 21.5% increase in pricing compared to what the company reported the same time last year.
Management attributed the reduction in volumes to project delays in certain markets, as well as to a decrease in the residential market because of housing affordability issues. These issues ultimately have resulted in a drop in housing starts as seen in the image above. The good news on this front is that the pain on the residential side is likely to be very temporary. As I wrote about in two prior articles, one here and the other here, the housing market is showing impressive signs of a turnaround. And since the residential market accounts for 24% of the company's aggregates shipments, that should bode well for shareholders.
The increase in sales reported by the company also brought with it higher profits. Net income went from $317 million in the first half of 2022 to $473 million the same time this year. Other profitability metrics followed a similar trajectory. Operating cash flow nearly doubled from $286.2 million to $518.5 million. Even if we adjust for changes in working capital, it shot up from $458.8 million to $730.9 million. Meanwhile, EBITDA for the company grew from $675.5 million to $920 million. As you can see in the chart above, this comes off of a really impressive 2022 fiscal year where the company, in most respects, outperformed what it achieved in 2021.
When it comes to the 2023 fiscal year in its entirety, management expects revenue to come in at between $6.73 billion and $6.86 billion. This should be in spite of the fact that the company recently reached an agreement to sell a cement plant in California for $317 million. This growth in revenue year over year should allow net profits to come in, at the midpoint, at around $1.10 billion. Using the guidance management provided, I estimated that operating cash flow should be around $1.58 billion, while EBITDA should come in at around $2.05 billion.
Using these figures, I was able to easily value the company. On a forward basis, the price to earnings multiple is 24.2. This is actually cheaper than when I last wrote about the company. The forward price to adjusted operating cash flow multiple is 16.7, while the EV to EBITDA multiple is 14.8. As the chart above illustrates, all of these metrics are lower than if we were to use data from 2022. In terms of similar firms, shares are a bit lofty. As you can see in the table below, I compared the company to five similar enterprises. On a price to earnings basis, three of the five companies ended up cheaper than it. This number was again three firms using the price to operating cash flow approach and rises to four firms when we use the EV to EBITDA approach.
| | | | |
| --- | --- | --- | --- |
| Company | Price / Earnings | Price / Operating Cash Flow | EV / EBITDA |
| Martin Marietta Materials | 24.2 | 16.7 | 14.8 |
| Summit Materials (SUM) | 22.9 | 10.6 | 9.4 |
| Vulcan Materials (VMC) | 38.7 | 21.1 | 18.2 |
| Eagle Materials (EXP) | 13.2 | 11.3 | 9.2 |
| Compass Minerals International (CMP) | 126.8 | 11.7 | 8.9 |
| James Hardie Industries (JHX) | 24.0 | 17.2 | 13.6 |
Beyond this year, we have a lot to look forward to. According to the management team at Martin Marietta Materials, the total U.S. market for aggregates comes out to roughly 3 billion tons worth of production each year. 67% of this production is held by private companies, many of which are smaller in size. Between this and the firms that are publicly traded, management believes that it can acquire production totaling around 235 million tons on an annual basis, including in markets in which it does not presently operate.
Already since launching this plan in early 2021, management has allocated $3 billion toward acquisitions and $1.2 billion in the form of capital investments. But for investors worried that this might prevent the company from rewarding shareholders directly, I would say that the concern is not worth losing sleep over. And that is because, during that window of time, the company has returned $675 million of capital to shareholders. So it's highly probable that some mixture of acquisitions, organic growth, and direct shareholder returns, will continue moving forward.
Takeaway
Based on the data provided, I believe that I was being overly conservative when I last wrote about Martin Marietta Materials. To be fair, while shares of the company have increased in price, the valuation has dropped thanks to performance. But between that improvement and the progress management has made toward further growing the enterprise, I believe that a soft 'buy' rating is appropriate at this time.
Editor's Note: This article discusses one or more securities that do not trade on a major U.S. exchange. Please be aware of the risks associated with these stocks.
Crude Value Insights offers you an investing service and community focused on oil and natural gas. We focus on cash flow and the companies that generate it, leading to value and growth prospects with real potential.
Subscribers get to use a 50+ stock model account, in-depth cash flow analyses of E&P firms, and live chat discussion of the sector.
Sign up today for your two-week free trial and get a new lease on oil & gas!
This article was written by
Daniel is an avid and active professional investor.
He runs
Crude Value Insights
, a value-oriented newsletter aimed at analyzing the cash flows and assessing the value of companies in the oil and gas space. His primary focus is on finding businesses that are trading at a significant discount to their intrinsic value by employing a combination of Benjamin Graham's investment philosophy and a contrarian approach to the market and the securities therein.
Learn more
.
Analyst's Disclosure: I/we have no stock, option or similar derivative position in any of the companies mentioned, and no plans to initiate any such positions within the next 72 hours. I wrote this article myself, and it expresses my own opinions. I am not receiving compensation for it (other than from Seeking Alpha). I have no business relationship with any company whose stock is mentioned in this article.
Seeking Alpha's Disclosure: Past performance is no guarantee of future results. No recommendation or advice is being given as to whether any investment is suitable for a particular investor. Any views or opinions expressed above may not reflect those of Seeking Alpha as a whole. Seeking Alpha is not a licensed securities dealer, broker or US investment adviser or investment bank. Our analysts are third party authors that include both professional investors and individual investors who may not be licensed or certified by any institute or regulatory body.