Littelfuse: E-Mobility And M&A Could Bring Substantial Market Attention
Summary
Littelfuse is a global industrial technology company that may benefit from investment trends in sustainability, connectivity, and security.
The company's business model focuses on three segments: Electronics, Transportation, and Industrials, offering solutions for sustainability and connectivity.
Littelfuse has a strong balance sheet with a significant amount of cash, making it well-positioned for further inorganic growth and acquisitions.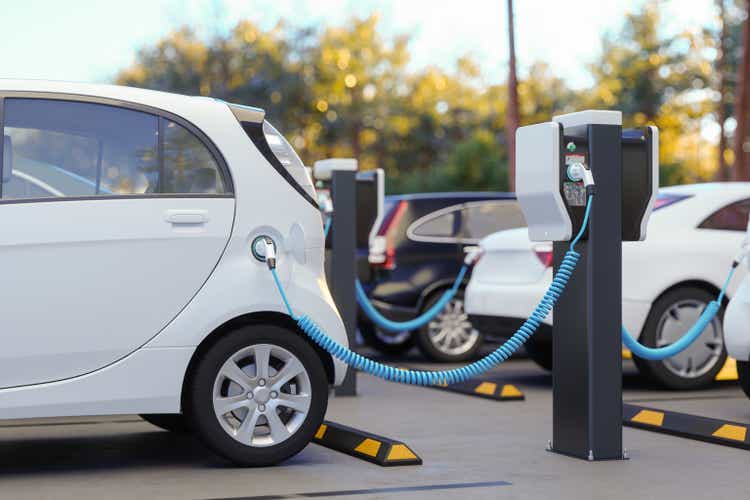 With a rich history and a lot of accumulated knowledge since 1927, Littelfuse, Inc. (NASDAQ:LFUS) is a global industrial technology company, which may benefit from growing investment trends in sustainability, connectivity, and security. With several business segments focusing on electronics, transportation, and industry, Littelfuse knows well how to acquire new companies. Besides, it holds tons of cash in the balance sheet for further inorganic growth, and recently made acquisitions of companies operating in growing target markets like the e-Mobility off-board charging infrastructure sector. With all these factors in mind and even considering supply chain risks and competition, I think that Littelfuse looks undervalued.
Business Model
Littelfuse, founded in 1927, is an industrial technology company operating in more than 20 countries with approximately 18,000 employees. It focuses on three segments, such as Electronics, Transportation, and Industrials, offering components and solutions to boost sustainability, connectivity, and security.
Its extensive portfolio spans diverse markets such as electronics, transportation from passenger vehicles to commercial applications, and industrial. Demand in these markets is driven by electrification, energy efficiency, automation, connectivity, and sustainability. Littelfuse stands out for innovative and reliable products, creating growth opportunities and contributing to a more sustainable and safer world.
Littelfuse's business model is based on a global sales strategy involving direct sales teams, distribution partners, and manufacturer representatives. Its direct sales force collaborates with global OEMs, major automotive customers, and engineering consultants to design and market a wide range of products. The company operates sales offices and direct sales channels in several countries. Channel partners provide fulfillment services, including activities related to electronic manufacturing and demand generation.
First Assumption: Exposure To Sustainability, Connectivity, And Security Trends Could Bring Growth Of Close To 5%-7%
Littelfuse is located at the center of global trends in sustainability, connectivity, and security. It aims to achieve 5-7% annual organic growth. In my view, this will most likely be achieved through increased content and presence in high-growth markets, key geographies, and niche applications. Investment in talent, customer experience, and operating systems may also allow to capitalize on technological convergence opportunities.
I Believe That We Can Expect M&A To Bring Significant Net Sales Growth
Littelfuse has maintained double-digit sales and earnings growth over the past five, ten, and fifteen years. I believe that we may see further double digit growth thanks to both inorganic growth and organic growth.
In the past, previous acquisitions brought net sales growth thanks to further addition of new applications and exposure to new markets. Besides, the company obtained new competences like firmware capabilities, engineering expertise, and expansion of OEM customer base. Considering the expertise in the M&A markets and current amount of cash in hand, I think that we could see further M&A growth in the coming years.
It is also worth noting that Littelfuse expects to report double-digit operating margin in the coming years. I think that economies of scale could play a major role in enhancing the FCF margin. As a result, I believe that we may see significant FCF acceleration.
Acquisitions In The e-Mobility Off-board Charging Infrastructure Sector May Enhance FCF Growth.
I believe that investors may most likely study the recent acquisition in Germany, which is expected to close in 2025. As a result of the transaction, if the deal was properly designed, the company may experience FCF growth.
On June 28, 2023, the Company entered into a definitive purchase agreement to acquire a 200mm wafer fab located in Dortmund, Germany from Elmos Semiconductor SE. The acquisition of the Dortmund Fab is expected to close in early fiscal year 2025. Source: 10-Q
I also believe that the acquisition of a company in Ireland related to the e-Mobility off-board charging infrastructure sector may bring significant attention from market participants. Let's keep in mind that we are talking about a target market, which could be growing at more than 28% from 2022 to 2030.
On February 3, 2023, the Company acquired Western Automation Research and Development Limited for approximately $162 million in cash. Headquartered in Galway, Ireland, Western Automation is a designer and manufacturer of electrical shock protection devices used across a broad range of high-growth end markets, including e-Mobility off-board charging infrastructure, industrial safety and renewables. Source: 10-QElectric Vehicle Charging Market size was valued at USD 14.49 billion in 2021 and is predicted to reach USD 128.13 billion by 2030 with a CAGR of 28.2% during the forecast period, 2022 to 2030. Source: Electric Vehicle Charging Market size
Littelfuse Reports A Significant Amount Of Cash In Hand
As of July 1, 2023, the company reported $480 million in cash, with close to $1.4 billion in current assets and total current liabilities worth $495 million. With these figures, I believe that Littelfuse does not have liquidity risks as the current ratio is larger than 2x, and cash in hand is substantial.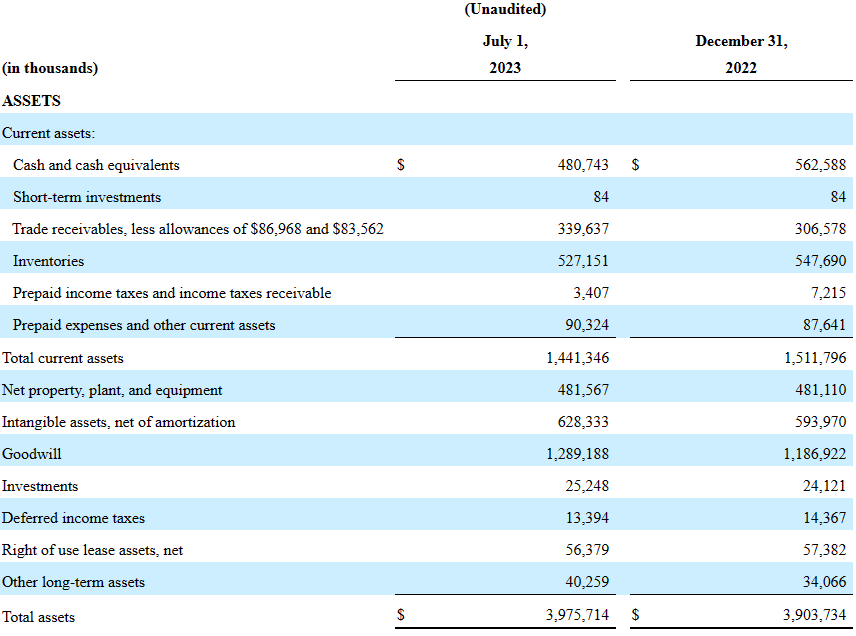 The list of liabilities is also not significant. Investors may want to have a look at the total amount of long term debt, which stood at $864 million in the last quarterly report. However, the assets/liability ratio appears very healthy. Hence, I believe that the balance sheet appears quite solid.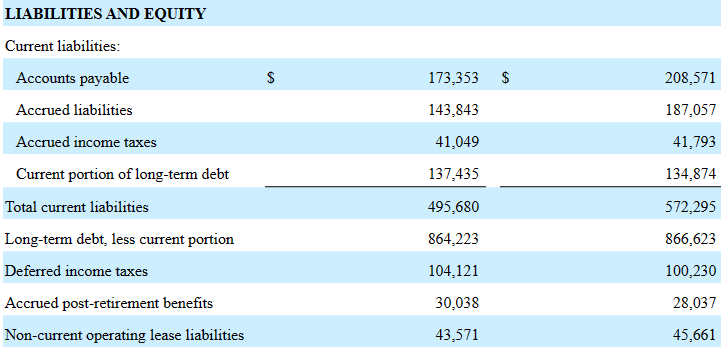 I studied Littelfuse's contractual obligations. The company may have to pay the largest part of its debt in 3 to 5 years. Taking into account the current amount of cash in hand, I believe that Littelfuse has sufficient cash in hand to pay most of its contractual obligations in 1 to 3 years.
Market Forecasts
Analysts out there expect net sales growth in 2023, 2024, and 2025, operating margin growth, and positive and stable FCF margin. I did use some of the figures of other analysts in my own estimates, so I believe that readers may want to have a look at their estimates.
Expectations for Littelfuse include net sales of $2.784 billion, 2025 EBITDA of $682 million, and 2025 net income close to $383 million. 2025 free cash flow is expected to be close to $437 million, which would imply a FCF margin of 15.7%.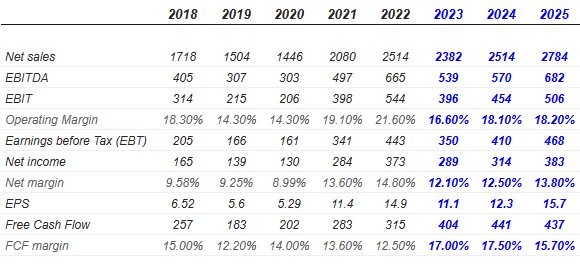 Valuation Of Competitors
The company faces significant competition in its 3 segments. In Electronics segment, rivals, such as Eaton Corporation (ETN), Bourns Inc., TDK (OTCPK:TTDKY), ON Semiconductor Corporation (ON), Infineon Technologies (OTCQX:IFNNY), STMicroelectronics NV (STM), Semtech Corporation (SMTC), and Vishay Intertechnology Inc. (VSH), compete in protection and detection products.
In the Transportation segment, competitors, such as Eaton Corporation, Pacific Engineering, MTA, Amphenol Corporation (APH), Sensata Technologies Holding NV, and TE Connectivity Ltd. (TEL), are key players. Meanwhile, in the Industrial segment, Eaton Corporation, GE Multilin, and Mersen (OTCPK:CBLNY) are notable competitors. The company stands out for innovation, quality, design, and customer support to maintain a solid position in a competitive market. Most competitors trade at around 11x-36x FCF. I believe that the terminal EV/FCF multiple used may be close to these figures.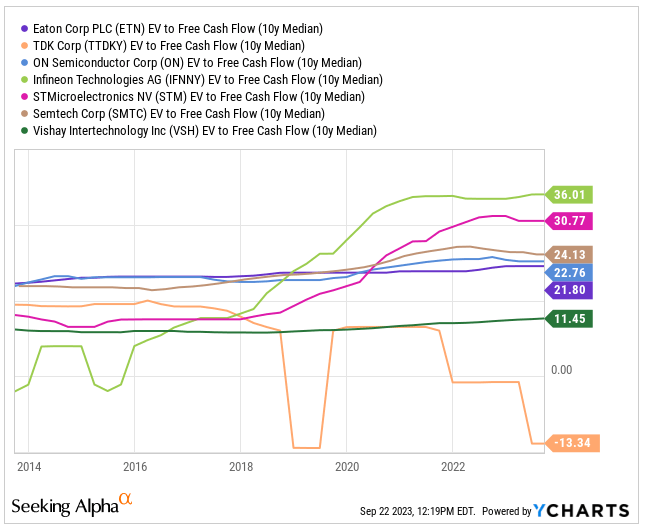 FCF Expectations
I designed a DCF model with numbers from 2024 to 2033 because the company reports close to double digit sales growth. With my previous assumptions, I obtained single net income growth from 2031, but double digit growth from 2024 to 2030. I also assumed that both the CFO and FCF will most likely grow in the coming years.

More in particular, my numbers include 2033 net income of $1.651 billion, net income growth of 7.5%, 2033 depreciation of about $122 million, and amortization of intangibles close to $151 million.
Also, taking into consideration non-cash pension settlement charges of about -$38 million and impairment charges worth -$131 million, deferred revenue would be close to $8 million. Now, if we assume 2033 stock-based compensation of about $56 million, changes in inventories close to -$411 million, changes in accounts payable worth -$375 million, and accrued liabilities and income taxes of about -$160 million, 2033 CFO would be $1.244 billion.
Finally, with a capex of about -$350 million, 2033 FCF would be $894 million. Notice that I assumed that capital expenditures will most likely increase from 2024. However, I believe that we may see larger CFO growth than capex growth.

For valuation purposes, I used a sensitivity analysis assuming a WACC ranging from 5% to 11% and a terminal FCF multiple between 14x and 19x. I also included the cash in hand, short-term investments, long term debt of $864 million, and accrued post-retirement benefits of $30 million, resulting in a price forecast ranging between $301 and $595 per share, and a median close to $419 per share.
Risks
The company faces labor risks, such as work stoppages resulting from union disputes or problems in collective bargaining negotiations, which could negatively affect its operations. Additionally, supply shortages due to financial problems, strikes, natural disasters, or production difficulties at suppliers could adversely impact the supply chain. The strategy of growth through acquisitions presents risks, such as poor performance of the acquired businesses and challenges in integration. There could also be unanticipated liabilities. Disruptions in the manufacturing, distribution, or supply chain, caused by disasters or political instability, could negatively affect the company's production and reputation, impacting its financial condition and operating results.
My Takeaway
In my opinion, Littelfuse has a rich history since 1927, standing out as a global industrial technology company, focused on sustainability, connectivity, and security. It has a diversified business model, which involves direct sales, distribution partners, and manufacturer representatives, offering it an effective reach in markets such as electronics, transportation, and industry. I think that successful M&A transactions, further acquisitions of new applications, and expansion of the OEM customers base will likely bring FCF growth. I do not think that the market is fully aware of the double digit growth that management recently proposed. There are risks from labor, supply chain, integration, and competition from leading companies in the industry. With that, I believe that Littelfuse appears significantly undervalued.
This article was written by
I worked for a large investment group for some years. Right now, I only take care of my stocks. I do valuation models, and focus on FCF growth. You can contact met if you need more information about my articles, and my models. I am not a financial adviser. I do not give readers financial advice. The information I offer does not constitute financial advice or recommendation and should not be considered as such.
Analyst's Disclosure: I/we have a beneficial long position in the shares of LFUS either through stock ownership, options, or other derivatives. I wrote this article myself, and it expresses my own opinions. I am not receiving compensation for it (other than from Seeking Alpha). I have no business relationship with any company whose stock is mentioned in this article.
Seeking Alpha's Disclosure: Past performance is no guarantee of future results. No recommendation or advice is being given as to whether any investment is suitable for a particular investor. Any views or opinions expressed above may not reflect those of Seeking Alpha as a whole. Seeking Alpha is not a licensed securities dealer, broker or US investment adviser or investment bank. Our analysts are third party authors that include both professional investors and individual investors who may not be licensed or certified by any institute or regulatory body.