Being a titan always seems to come with strings attached - Atlas had to bear the weight of the world, Prometheus ended up chained to a rock, and Brasil Foods (NYSE:BRFS) carries the burden of sky-high expectations. While it is indeed a good thing to be the second-largest food company in Brazil and one of the ten largest in the world, Brasil Foods' current valuation practically demands excellence if shareholders are going to see market-beating returns from this point.
Disappointing Q4 Results Highlight A Key Vulnerability
On the whole, Brasil Foods had a pretty mixed fourth quarter. Revenue did rise 11%, but higher production costs and salaries pulled EBTIDA down 4% compared to the prior year.
Revenue broke out as 9% domestic growth and 14% export growth (on 1% volume growth); the former being slightly ahead of most projections, while export revenue missed most projections. Gross margin dropped more than a full point, and a 25% year-on-year increase in labor costs helped push EBTIDA margins down about two points from the prior year.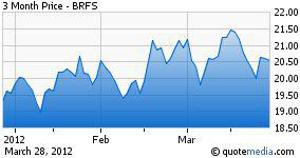 All in all, Brasil Foods is not suffering from added competition from Marfrig, JBS, or ex-Brazil food rivals like Hormel (NYSE:HRL) or Nestle (OTCPK:NSRGY) within Brazil. What's hurting Brazil is its export market. Roughly half of the company's export sales (or nearly 20% of overall sales) come from poultry sales in Japan and the Mideast, but sales have slowed here due to high inventory levels. As these sales also carry higher margins, the improvements in domestic margins (up about 40bp year on year) were overshadowed.
Challenging International Environment Will Impact The First Half
It's going to take a few quarters for the inventory levels of poultry in Japan and the Mideast (especially Saudi Arabia and Egypt) to work itself out, so what had been a tailwind will be a headwind for at least a couple of quarters. At the same time, sanctions on Iran and a Russian on again/off again ban on certain Brazilian meat exports aren't helping either and are all but completely out of company management's control.
Brasil Foods isn't just ignoring the long-term ramifications of this problem. Management knows that commodity volatility isn't good for the business and is looking to beef up its overseas processed foods business. Although the company passed on Sara Lee (SLE), there are other options out there and management seems to appreciate the virtues of more exposure to packaged/processed foods (like Hormel) as opposed to commodity protein.
That's not to say that Brasil Foods should expect a free ride. Other major protein producers like Tyson (NYSE:TSN) and Smithfield (NYSE:SFD) appreciate the virtues of more packaged/processed sales and they are targeting many of the same growth markets as Brasil Foods (including Latin America and China).
The Question Of Value
As it stands today, it looks like very demanding growth expectations are already built into this stock. After all, this is a food company and it carries a double-digit EBTIDA multiple. In fact, there are not many food companies around the world that look as expensive as Brasil Foods on a trailing basis.
That said, trailing valuation numbers are not the full picture of a company's value. For starters, the company still stands to wring hundreds of millions of dollars of synergies now that its merger has been finalized. Keep in mind, too, that sell-side analysts are still well below management's own guidance; while the company has targeted R$50 billion of revenue in 2015 (along with mid-to-high teens margins), the current sell-side estimate average is below R$37 billion.
That sounds like a bold target, and it clearly is as 2011 revenue was about half that. Still, this is a company that sells relatively little to the U.S., Western Europe, and China - and if the company can meet the notoriously strict standards of Japan, it doesn't seem so outrageous to think that it can penetrate other markets.
Investors should always consider a full range of options, and some Chinese food producers (like Mengniu and China Food) offer pretty attractive stories in their own right. That said, I am disinclined to get out of the Brasil Foods story just yet. I acknowledge that valuation and expectations are running high and that first half growth could be sluggish. I also acknowledge that Brazil is not the most stable of markets. All of that said, I believe this is an excellent management team and a company that could run up the charts in terms of its global ranking as a food company.
With fair value in the low-to-mid $20s, I'm inclined to continue holding Brasil Foods and would suggest buying shares if the stock sold off back into the teens.
Disclosure: I am long BRFS.