Copart: Valuation Is Gradually Reverting To Historical Average
Summary
Copart's 4Q23 revenue and EBIT exceeded expectations, indicating sustained near-term top-line growth.
The market is gradually devaluing CPRT's valuation, which may offset potential gains despite positive growth indicators.
The Company's strong balance sheet and net cash position offer financial stability and potential for strategic acquisitions.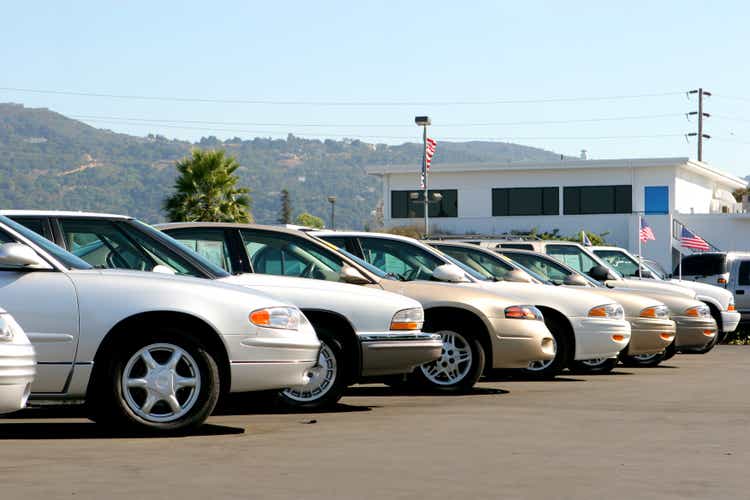 Summary
Readers may find my previous coverage via this link. My previous rating was a hold, as I believed the Copart (NASDAQ:CPRT) valuation was not attractive at the previous level. While positive growth indicators and continued revenue growth support the company's prospects, I had concerns regarding the margin trajectory. I am reiterating my hold rating as I believe valuation will continue to derate downwards to 25x PE (CPRT historical average) as the market gradually recognizes that CPRT is returning to its low-teens growth profile and not the same as FY21/22.
Financials/Valuation
CPRT's revenue in 4Q23 was $998 million, which was above the consensus estimate of $963 million. CPRT also reported a much higher EBIT than expected of $391 million, which equates to a margin of 39.2%. Adjusted diluted earnings per share came in at $0.34, which was slightly higher than the consensus estimates of $0.33. Global inventory levels were up 9.5% year-over-year globally by July 2023's end, with US levels up 8% year-over-year, pointing to sustained near-term top-line growth.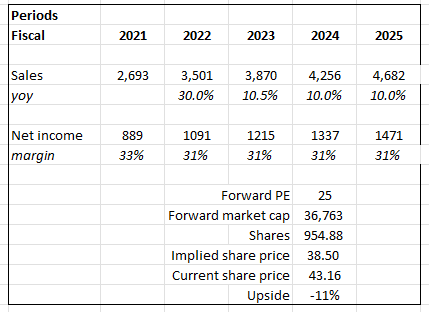 Based on my view of the business, CPRT should be able to grow at the same rate over the near future, given the ongoing tailwinds and momentum it is seeing so far. The problem is that CPRT is still trading at 31x forward PE, which I don't think is the right multiple given the 10% growth profile. Remember that CPRT used to trade at 25x forward PE on average until the past 2 years, when the business saw 20-30% growth, which drove the valuation up to 30+x. The business normalizes back to low-teen growth (historically mid-cycle growth rate).
I believe my previous take on CPRT valuation is playing out as the market is gradually devaluing CPRT multiple downwards (now trading at 31x forward PE). While the business might continue to grow as I expected, the decline in the near term is likely to eat away at any potential gains.
Comments
4Q23 performance tracked better than forecast, demonstrating that CPRT business remains robust. During the earnings call, management also made some optimistic comments about the state of the industry (discussed below). From an objective standpoint, I think the results of late have shown that the expansion's momentum is not abating. One example is how CPRT's core insurance business in the US is thriving: year-over-year premium growth of 9%, with unit growth of 8% thanks to market share gains and a further recovery in vehicle utilization that has led to increases in both accident frequency and severity. TLR (total loss ratio) increased 170 bps to 18.8%, further driving 2Q23 volume growth as the used vehicle value market softened while repair cost inflation remained elevated. Aside volume, I believe pricing dynamics remain in favour of CPRT. For instance, even though Manheim's sales dropped by 11%, CPRT's ASPs rose by 2%, suggesting continued resilience in CPRT's mix thanks to a healthy weighting to the company's robust overseas buyer base.
Even internationally, the growth trend has not abated. Exports increased by 22% year-over-year, while BluCar and dealer sales increased by 13.8 % and 5%, respectively. I anticipate this trend to persist as CPRT utilizes its sizable core auction marketplace to spark a flywheel effect across its growth initiatives. From a growth perspective, CPRT's growth runway has also been lengthened thanks to the increasing demand for their salvage services in new markets like Germany and Spain, as well as the traction they've gained in the US wholesale market.
Taking a broader view, the entire industry is also moving in a positive direction, which bodes well for CPRT. During the 2Q23 conference call, company management reported that a crucial indicator, total loss frequency, rose to 18.8%, up from 17.1% a year ago. I foresee a sustained recovery in total loss frequency in the coming years, eventually surpassing pre-pandemic levels. This is attributed to the increasing complexity of vehicles and the rising costs of repairs. Additionally, the recent series of severe weather events is expected to drive up insurance unit volumes, with 2023 projected to have nearly a 70% higher likelihood of storms compared to 2022.
Another reason to be bullish about the business is that the CPRT balance sheet has further strengthened in 4Q23, where its net cash position has increased from $2 billion to $2.2 billion. Notably, the improvement in cash position over the course of this year was driven by the ~$850 million FCF generated. This is huge for CPRT as the $2.2 billion net cash position can continue to yield around 5.3% annual interest income (4Q23 interest income: $29 million / 4Q23 net cash position of $2.2 billion). Assuming the same rate for FY24 at an increase in net cash position of ~$3 billion ($2.2 billion + ~$850 million FCF), FY24 could see interest income of $156 million, which is more than 10% of FY23 net income. The increased net cash position also opens up the possibility for CPRT to conduct M&A, which could drive growth further.
Conclusion
My prior assessment of CPRT remains consistent as I reiterate a hold rating. Despite positive indicators, such as historical average revenue growth, market share gains, and increasing demand for salvage services in new markets, the market appears to be gradually reevaluating CPRT's valuation downwards as the growth profile of the business is no longer the same as it was over the past 2 years (20 to 30% growth), which drove the valuation up to 30+x. The business growth is now normalizing back to low-teen growth (historically mid-cycle growth rate).
While CPRT may continue to grow, this near-term decline in valuation could offset potential gains. On a positive note, CPRT's strong balance sheet, marked by a net cash position of $2.2 billion and growing interest income, offers financial stability and potential for strategic acquisitions to drive future growth. In conclusion, while CPRT's business remains strong and industry trends are favorable, the evolving valuation landscape suggests a "hold" position for now.
This article was written by
Both a full-time investor and a full-time operations manager. I've learned about investing over the years by reading and researching businesses that, in my opinion, have a significant competitive advantage that can sustainably produce returns above its cost of capital.
Analyst's Disclosure: I/we have no stock, option or similar derivative position in any of the companies mentioned, and no plans to initiate any such positions within the next 72 hours. I wrote this article myself, and it expresses my own opinions. I am not receiving compensation for it (other than from Seeking Alpha). I have no business relationship with any company whose stock is mentioned in this article.
Seeking Alpha's Disclosure: Past performance is no guarantee of future results. No recommendation or advice is being given as to whether any investment is suitable for a particular investor. Any views or opinions expressed above may not reflect those of Seeking Alpha as a whole. Seeking Alpha is not a licensed securities dealer, broker or US investment adviser or investment bank. Our analysts are third party authors that include both professional investors and individual investors who may not be licensed or certified by any institute or regulatory body.